The Halo Booletin: 10.30.13
10.30.2013 16:40

One of my favorite things about working at 343 Industries is the ability to watch various concepts go from sketches on a pad to full-fledged experiences. As you can imagine, being a part of top secret codenamed projects is exciting for plenty of reasons. It can also be tough to keep my mouth shut when working on awesome, unannounced things.

When I first started at 343, I often visited the test lab where everybody from designers to testers to artists were running around the first iterations of the play spaces from the Majestic Map Pack. Even though everything was gray with default textures, there was great excitement around the fact that these in production, small-scale maps would be available to players around the world in just a few months.

Sometimes I'm able to work very closely with projects such as these day in and day out - this was the case with the Halo 4 Global Championship. Originally titled the "Halo 4 World Championships," the project started with sketches and high-level ideas, and ended with a massive finale. To see this go from a sketch to a production this size was nothing short of incredible, and something I know neither the team nor myself will forget.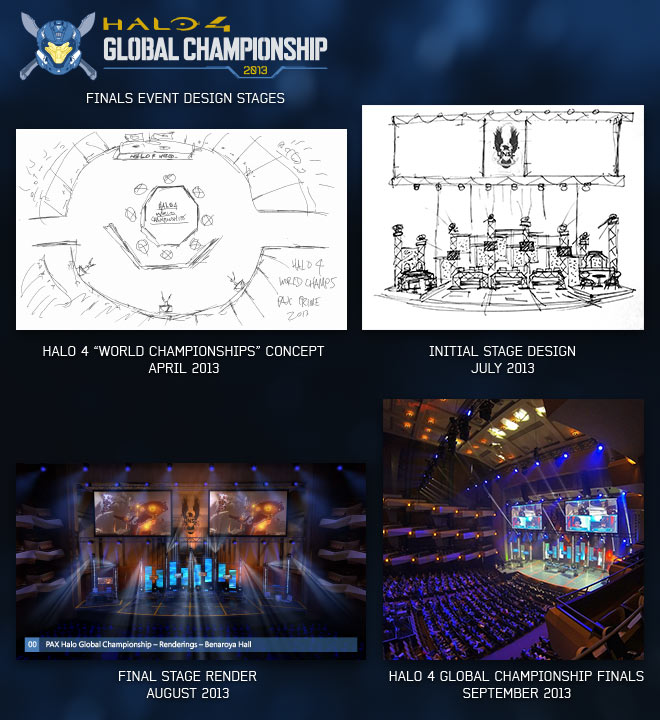 The designs for the finals of the Halo 4 Global Championship from initial sketches to final production.
Other times the work largely falls on different teams, and I receive updates to relay to all of you. I've watched Halo: Spartan Assault go from "Bootcamp" to a final product, and had the pleasure of showcasing it at events like E3, San Diego Comic-Con, and PAX Prime. At these events, the number one community requested feature was the ability to play on console. For a while, we've known that the team was hard at work on accommodating this request, and yesterday we announced just that.
Halo: Spartan Assault


When we first announced Halo: Spartan Assault, many of you immediately asked when you might be able to play it on your Xbox. After several months of work, we announced yesterday that Halo: Spartan Assault, the fastest selling game in the Windows Store is coming to the Xbox One and Xbox 360!

Here are some new features that you'll find on Xbox One and Xbox 360:
A brand new online Co-op mode with new missions featuring the Flood
The Operation Hydra DLC expansion pack
An expanded arsenal that brings you more weapons, armor abilities, and upgrades
In the event you'd like to celebrate the announcement with us, we've got the following wallpapers ready for your desktop:
For everything Halo: Spartan Assault, including the new trailer, an overview of the game, your Service Record, and leaderboards, head over to the Halo: Spartan Assault main page.
Smashing Punkins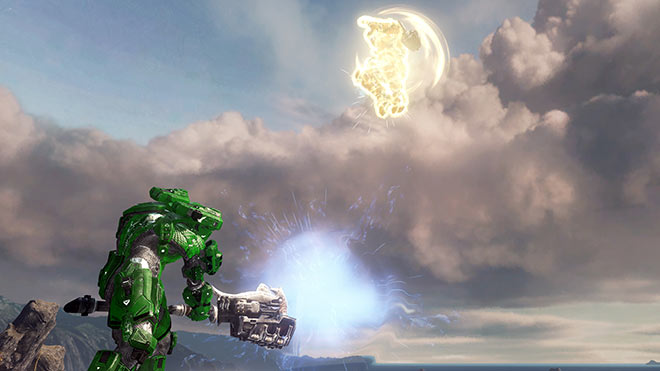 Come celebrate Haloween in the Smashing Punkins playlist! (Note: We've chosen this name because "punkins" are cooler than pumpkins, and our lawyers told us to avoid using names of world-renowned musical acts as our playlist names.) As we detailed last week, the 48-hour only playlist features Oddball-based Gravity Hammer gameplay that is scientifically proven to get you into the Haloween spirit. When playtesting this game type over the past few weeks, we've found the chaotic gameplay not only addicting, but also hilarious. With punkins getting smashed around every corner, Oddballs launching hundreds of feet into the air, and the excitement of becoming the punkin for a mere few seconds, this game type is certainly one of a kind. We hope you like the playlist and we look forward to creating unique experiences like this in the future. If you haven't yet hopped into the playlist, make some time to do so before it's gone.

Those of you who have your calendars marked will also know that we've got another Halo-related celebration coming up.
Guilty Spark Emblem Unlock


Next week is Halo 4's first birthday! Over the course of the past 12 months, millions of players have played Halo 4. Whether you spent your time in Matchmaking, Forge, Theater, Campaign, Spartan Ops, or elsewhere, we'd like to say thank you for playing our game. In fact, along with thanking you, we'd also like to give you a teeny-tiny-in-game-gift. All players who complete a game in War Games or Spartan Ops matchmaking on November 6th, 2013 will earn the Guilty Spark emblem.

This emblem has not yet been released in Halo 4, and we hope that you hop online with some friends to celebrate the birthday of our first game and also snag a rare emblem. After, you can rock the emblem proudly and brag to your friends about how you attended the birthday party, and they did not. We've got also got some Matchmaking fun in the form of a 24-hour playlist planned for this special day, so keep an eye on Halo Waypoint for all the details.
Team Slayer Update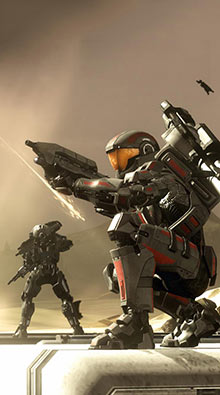 As I mentioned earlier, I sometimes have the pleasure of working on projects from beginning to end. Since the conclusion of the Halo 4 Global Championship, one of the things that we've been working on is the Team Slayer CSR program that I've been detailing over the past few weeks. In conjunction with designers such as Josh Menke and Quinn DelHoyo, we've been developing a program that highlights and showcases the top-ranked players in the Team Slayer playlist. We're planning on launching this program within the next month or so, and we've got some new details about the update:
Team Slayer will be moved to a team-based CSR rather than individual when the program launches
Top players will be able to regularly see where they stand against other players on Halo Waypoint
Team Slayer will see a CSR reset when the program launches in order to have all players start on a level playing field, and also to accommodate the update to the CSR format
Moving forward, the Team Slayer playlist will see predictable CSR resets as we start new periods
We'll also be evaluating other playlist details (voting options, map / game type offerings, and more) as we look to optimize this playlist and program. We're really excited to discover which players will step up and prove themselves in the Team Slayer playlist. Be on the lookout for more details and the launch date in upcoming Bulletins.
Community Choice: Multi-Team Game Types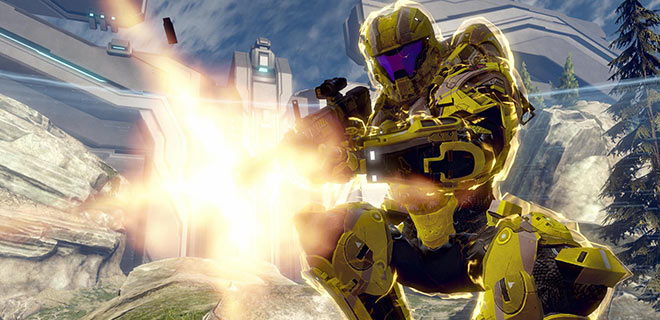 Last week, Shotgun Ricochet won our inaugural Community Choice Poll, edging out Legendary Ricochet and Quickochet by only a few dozen votes, and the game type is now available in the Community Forge Ricochet playlist. This week, we're back with another poll, and this time asking which game type you'd like to see added to the Multi-Team playlist in the next Matchmaking Update. Your three options are: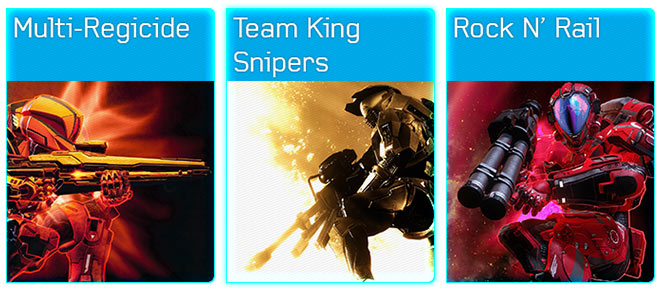 Multi-Regicide
Multi-Regicide takes the strategy of Team Regicide and pits all teams against each another in attack / defend mode. Will you guard your King, or go on the offensive and rush to take out enemy Kings? The choice is yours and if it's one you'd like to make, vote for Multi-Regicide.

Team King Snipers
Team King Snipers allows players to prove just how brave they are. With UNSC Sniper Rifles in the hands of all players, you'll need to work with your team to lock down important lanes during each hill. Otherwise, the player who's crouching in a corner picking off players who enter the hill each time will keep killing you. Over, and over, and over.

Rock N' Rail
Rock N' Rail is currently available in the Action Sack playlist, and equips players with Rocket Launchers, Railguns, and Jetpacks. In a Multi-Team setting, you'll have multiple teams flying around with highly explosive projectiles. Now that's what we call a party!

Head here to vote on the Waypoint forums. Voting will be open for approximately four days. Next week, we'll announce the Community Choice winner along with the Matchmaking Update!

Next up, bs angel and team have been hard at work to select our favorite Haloween themed community creations. Check them out below!
Community Haloween Gallery

Last week, we turned the spotlight on Oddball. This week, we decided to share our Haloween community creations! Take a look at the following Pumpkin Carvings, Mister Chief art and cosplay! The Screenshot Spotlight will return in next week's bulletin.

For your chance at being in the next spotlight, take a screenshot that features an ODST helmet, and then tag it with "ODST" and "Halo Waypoint", and maybe, just maybe, yours will be featured in the next Halo Bulletin!
That'll do for this week's update. We hope you have a happy and safe Haloween, and that you get in some games of Smashing Punkins before (or after) you fill up on candy. We'll be back next week with more Matchmaking details, the winner of this week's Community Choice Poll, and more. Talk to you then!

Bravo