The Halo Bulletin: 11.6.13
11.06.2013 19:08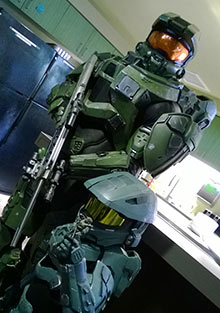 Exactly one year ago today, I woke up in Dallas, Texas (after commentating the first ever Halo 4 tournament), hopped on an early morning flight to Los Angeles (to participate in a Halo 4 live stream at the Machinima HQ), and hours later got on another flight to Seattle (where one of the official Halo 4 launch events was taking place). Across all three cities, Halo 4 was the only thing on my brain. Fast forward to today: Not only is Halo 4 still the only thing on my brain (and by only thing, I mean one of two things, the other having something to do with cloaked super soldiers and sand-covered creatures), but I also found myself faced with an even bigger challenge: a birthday cake needed to be cut, and lucky for the studio I just so happen to have a very unique skillset perfect for that job.

While everyone gathered in the studio kitchen, I snuck off to a conference room to suit up. A black undersuit, several pieces of green armor, and one honeycombed helmet later, I was officially the Master Chief.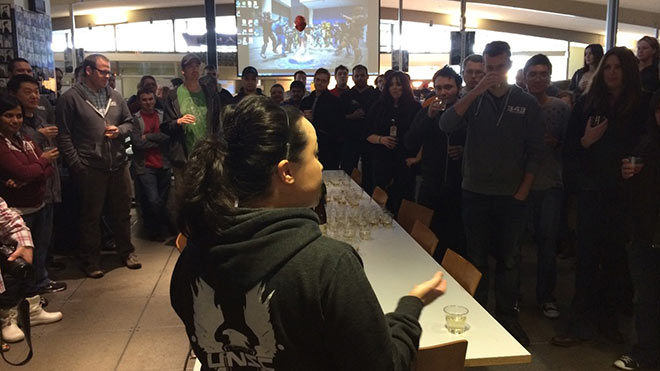 bs angel addresses the team in celebration of Halo 4's first birthday
During our mini celebration, we reflected on the last year, watched some video footage from the development of Halo 4 (we may show this to you in the near future) and consumed mass amounts of Halo 4 birthday cake and adult inebriants. I was then lucky enough to cut the cake, with the assistance of a tiny (and rather adorable) helper:
Wearing the Master Chief armor was a pretty unique experience. The official suit is made up of around 15 lightweight foam pieces, a skintight jumpsuit, a helmet with a built-in fan, and a 30 lb. Battle Rifle, which gets pretty heavy after around an hour. I always loved the BR, but now I'm not exactly sure how easy it'd be to land four-shot kills (or even carry the thing) after a few hours.

The amazing thing about the suit is that immediately after stepping out of the conference room and into the halls of the studio, I actually felt like I was pretty darn powerful. The visor turns everything yellow and somewhat distorts peripheral vision, the low roar of the fan makes it nearly impossible to hear anything except your own breathing [bs angel edit: his happened to be heavy], and each footstep (in a size 16 UNSC-armored boot) is done with great power and purpose, whether you're trying to do so or not. Most importantly, however, you cannot fit through most doorways, so do not try. After some assistance from Mini Chief, I - er Chief - was able to make the first cut into the Halo 4 Birthday cake, and the party was officially underway.

In addition to the above festivities, we've been celebrating all week on Halo Waypoint, and we've also got an in-game party goin' down in Halo 4 Matchmaking today. Continue reading for all the details!
Halo 4 Birthday Fiesta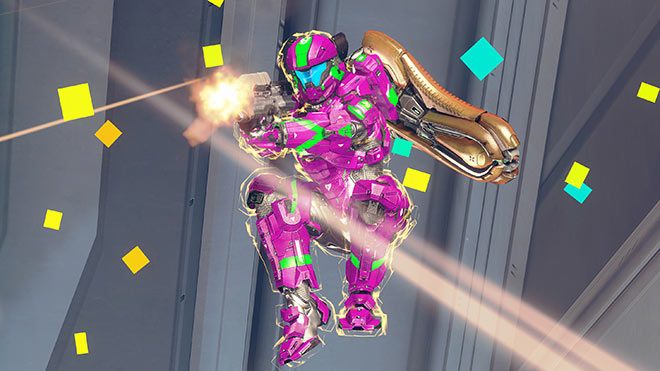 If you are reading this on Wednesday (or any time prior to 10 A.M. UTC on 11/7/13), the in-game birthday festivities are still ongoing! We've got a special edition giveaway and a 24-hour only playlist available, so if you haven't yet hopped into Halo 4 Matchmaking, you may want to fire up your Xbox while you continue reading. Or, you may have already fired up your Xbox and may no longer be reading.

As we announced last week, to celebrate Halo 4's first birthday, we've put together a special edition, 24-hour Slayer playlist with Fiesta settings and other surprises, such as confetti-filled explosions, slightly smaller Spartans, and armor colors that are exclusive to today's game type. If you'd like to join the party, head into the Halo 4 Birthday Fiesta Playlist!

I really won't hold it against you if you're now playing instead of reading. If you are still here, though, we've also got a small gift we'd like to offer to say thank you for playing our game. All players who play a match of War Games or Spartan Ops Matchmaking today (11/6/13) will receive the Guilty Spark emblem as a free unlock. The emblem will be made available to you within the next few weeks, and is the official tattoo of Halo 4's first birthday party. Wear it proudly. For more details about this week's birthday related fun, check out this article.

In addition to the birthday festivities, the Matchmaking Systems Team has also been working on this coming Monday's Matchmaking Update. Read on for the details!
Matchmaking Playlist Update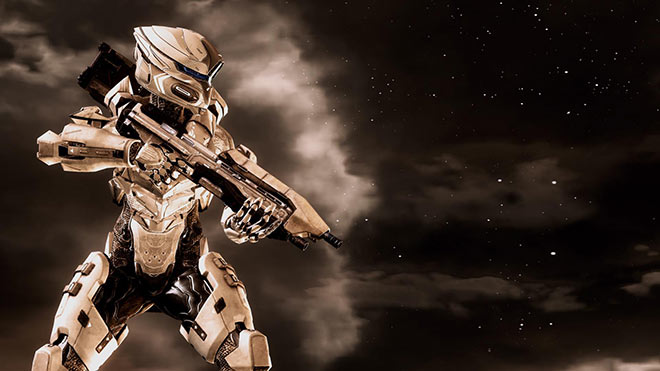 This coming Monday, Multi-Team will return as our featured Matchmaking playlist! This time around, the playlist will feature four teams of three players each (rather than six teams of two players each). We'll also be offering Multi-Regicide, which was the clear favorite in last week's Community Choice Poll.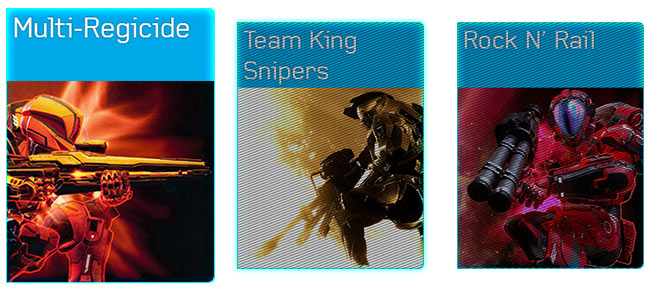 In Multi-Regicide, each team of three must choose to go on the offensive and attack other teams (and their King) or to defend an area in hopes that the opposition will come to them. The flow of the gameplay has similarities to Halo 3's "VIP" game type, and we very much look forward to hearing your feedback. Also, be sure to check back for next week's Halo Bulletin where we'll have a new Community Choice Poll for you to vote on.

We're planning on launching the Team Slayer update later this month which will involve a CSR reset, a move to Team-based CSR, and the profiling of the top players on Halo Waypoint. We'll have a closer look at this update and more details as we get closer to the launch.

If you're thinking about jumping into the Multi-Team Playlist on day one next week, well, so are we.
Community Playdate: Multi-Team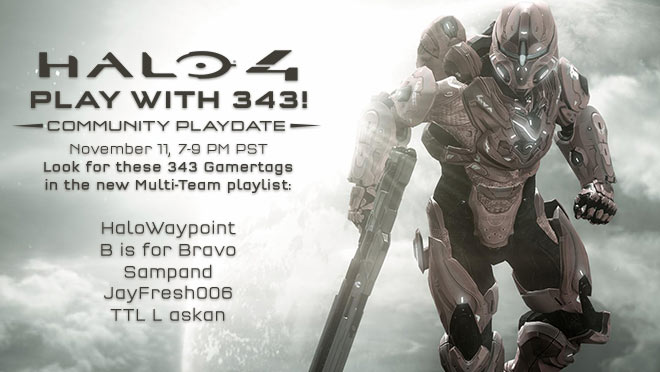 On Monday, the 343 team will be heading into Matchmaking to play the new Multi-Team playlist from 7-9 P.M. PST. Myself and several other 343'ers will be bravely searching in the playlist, and undoubtedly be assigned random teams and teammates. We'll have around five of us total, which means that if you match with us, your performance may very well determine the allocation of bragging rights amongst the 343 team, and possibly whether or not someone keeps their job. Just kidding. Maybe.

Be on the lookout for the following gamertags this Monday:

HaloWaypoint
B is for Bravo
Sampand
JayFresh006
TTL L askan

We hope to see you online, and as always, we'll post the results of our matches in next week's Bulletin! Before we close, I'd like to show off some of the best Halloween costumes (and one spectacular punkin) that we saw last week at 343. Check out some of our favorites below!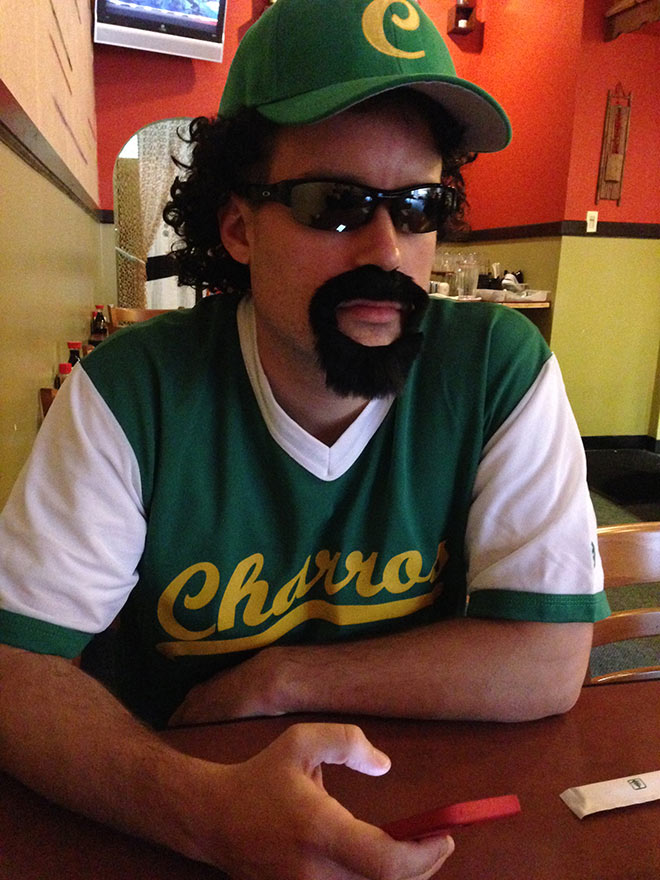 Josh Holmes as Eastbound and Down's Kenny Powers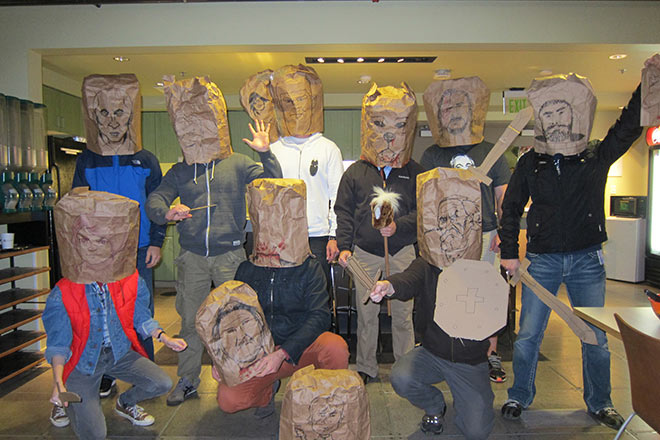 Lame of Thrones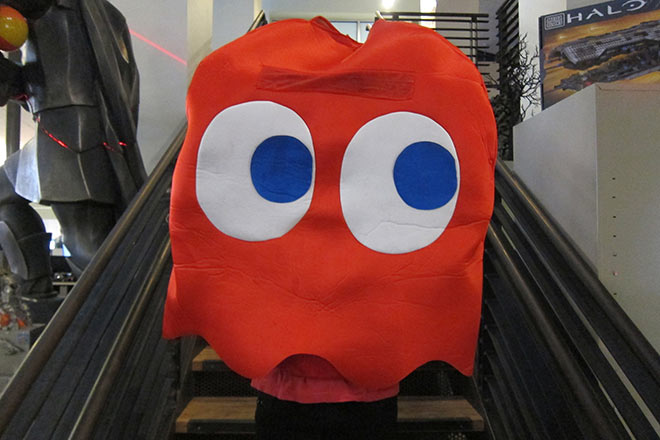 Unknown as Pac-Man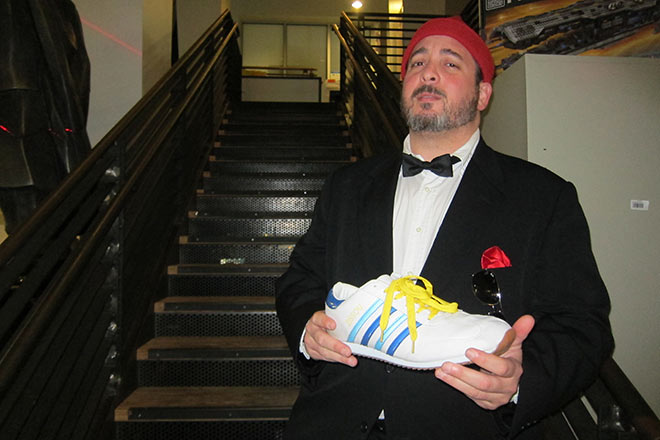 Vic DeLeon as The Life Aquatic's Steve Zissou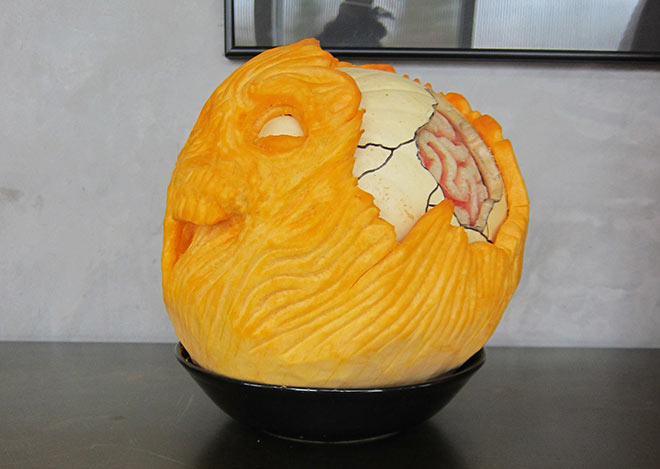 CJ Markham's Prize Pumpkin
Screenshot Spotlight - ODST

Two weeks ago, we turned the spotlight on Oddball. This week, we decided to go with a rather shocking type of trooper. Take a gander at the following ODST screenshots, and then capture your own for your chance at being featured in a future Bulletin.

For your chance at being in the next spotlight, take a screenshot that features a Gravity Hammer, and then tag it with "Gravity Hammer" and "Halo Waypoint", and maybe, just maybe, yours will be featured in the next Halo Bulletin!
With that, this week's Bulletin comes to a close. Thanks for your support over the past year, and we hope you'll join us for many more.

Bravo