Spoilers are currently disabled.
(All newsposts are visible.)

View the Archives:
| | | |
| --- | --- | --- |
| | March 2014 | |
March 2014 Archived News
News March 8 2014

March Madness: The Death of Wu
The first week of competition in the B.org March Madness Tournament is coming to a close - and CHa0s filmed two of her team's three matches. Plenty of 'You killed Louis Wu's in there. Go watch! (Louis Wu 17:12:49 UTC) (permalink)

Bringing the Old to the New
SEspider has been messing with the Project Spark beta - and the first thing he decided to build was Halo's Silent Cartographer. You can watch a runthrough in this video, or actually download the map to play with here. (Louis Wu 17:07:19 UTC) (permalink)

Fails of the Weak Ep 181
Fails of the Weak is up to episode 181 - it's another mix of Halo 3, Halo 4, and Reach. Some are fun, some are... fails. Watch it on AH.com or YouTube, with thanks to our resident Failman, Nikko B201. (Louis Wu 17:04:17 UTC) (permalink)

News March 7 2014

The Codex - Full-length
Whoa, blast from the past. Back in 2005, Edgeworks Entertainment released The Codex, a 20-part Halo 2 machinima project that was popular and impressively made. Last week, they released the full-length (unsegmented) version of the film, as seen on their Sponsorship DVD more than 8 years ago. If you missed this - it's worth seeing. Go check it out! Thanks, thereIwasn't. (Louis Wu 20:50:06 UTC) (permalink)

News March 6 2014

In Which Bravo Whines About Rain
Yesterday was Wednesday, so a visit to Halo Waypoint would have shown you the latest Halo Bulletin - it contains info about an upcoming community playdate on the new Medal Madness playlist, changes coming in the near future to playlists in general, new avatar items in the Xbox store, some cool answers from 343 fiction masters to fan-asked questions, and a gallery devoted the FOTUS armor. As always, you can read it in our Halo Bulletin Archive, if you choose to. (Louis Wu 22:38:30 UTC) (permalink)

Top Ten Blunders in Video Games
SEspider noticed a Machinima Ten FTW vid counting down the Top Ten Blunders in Video Games - things your character does wrong (or sometimes things that just happen in the storyline) that are really, really bad news for the universe in general. And yeah, there's a doozy in the Halo series. Go watch! (Louis Wu 22:32:22 UTC) (permalink)

Vadum - a map you probably won't play
Wow. gamecheat13 sent us a link to a video showing off gameplay on Vadum, a map he converted from Halo 3's campaign's Shadow of Intent playspace (with some help from Lord Zedd) - this is not playable without a modded Xbox, but it shows the sort of thing that COULD have been if Halo 3 had been released for the PC with mod support. Pretty cool! (Louis Wu 22:25:42 UTC) (permalink)

GrifballHub Kickstarter Funded
Kal let us know that GrifballHub's Kickstarter to bring a booth to RTX has hit its initial goal of $4800 in just 72 hours - now they're shooting for $8,000 to double the size of the booth. Go help 'em get there! (Louis Wu 22:19:41 UTC) (permalink)

News March 5 2014

Thirsty, Cowardly, Final and Dreaming
MixMaker1 put together the four Grunt easter eggs (from Halo, Halo 2, Halo 3, and Reach) into one video - if you've missed any of these, it's a fine way to catch up! Loved this blast from the past... go watch it yourself! (Louis Wu 20:50:59 UTC) (permalink)

News March 4 2014

Halo/Captain America Mashup
I noticed this at Halo Waypoint: Gugga Leunnam mashed up audio from The Winter Soldier trailer with Halo visuals... really nicely done. Check it out! (Louis Wu 23:28:03 UTC) (permalink)

News March 3 2014

More info on Cortana
The Verge got hold of a couple of screenshots of the upcoming 'Cortana' digital assistant for Windows 8 phones - looks like Microsoft is going with an animated circle instead of a female avatar. Thanks to Revenant1988, who found this at Engadget. (Louis Wu 21:51:29 UTC) (permalink)

News March 2 2014

so currency much coin - buy helmet
I... I don't even know how to describe this. The 'Doge' meme which exploded on Tumblr spawned a cryptocurrency last December - Dogecoin is an alternative to Bitcoin, and even though it's satire, you can buy stuff with it. Halo-related stuff, even. Like, say... pepakura Halo helmets. Wow. (Thanks, RVideo.) (Louis Wu 18:01:11 UTC) (permalink)

The Spirit of Fire Returns with a vengeance
On Friday, Halo Waypoint highlighted a 7-foot-long model of the Spirit of Fire, created entirely out of Halo Mega Bloks. Very cool! (Compare it to the 7-foot Spirit of Fire we mentioned a month ago... made of LEGOs.) (Louis Wu 17:59:17 UTC) (permalink)

News March 1 2014

A Tool of Mass Juicing
We got a pretty funny email from Tim '343 Guilty Spark' Dadabo this morning - guess what he found at the market?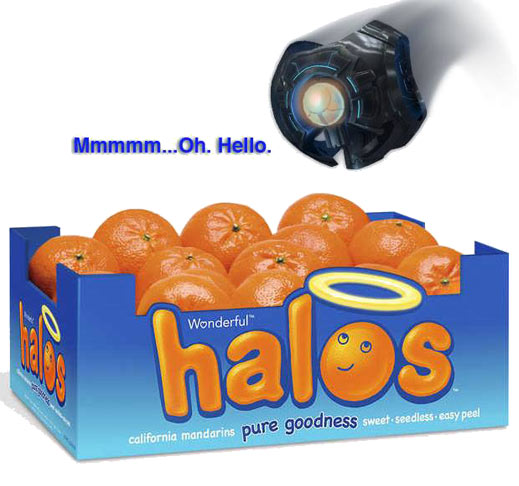 Here's hoping he doesn't destroy them all! (Louis Wu 17:19:11 UTC) (permalink)

Fails of the Weak 180
Jack and Geoff are back for Fails of the Weak 180 (that's a lot of FotW episodes!) - you can watch it on AH.com or YouTube, as always. My favorite this week - the massive Red Death on Exile. Both Jack and Geoff saw the slaughter coming when 6 Reds got together in a narrow hallway - both seemed to miss the fact that death did not come from a Blue, but from the Red in the middle with a rocket launcher. It's not just a one-shot Killtrocity - it's a one-shot Killtrocity betrayal. Wonga! Thanks, Nikko B201. (Louis Wu 17:17:07 UTC) (permalink)

Women of Xbox 30: Ceulex Reviews Halo 4
The Tyrant pointed us towards the latest Women of Xbox video - Ceulex gets her hands on Halo 4 for the first time, and reviews it. Better late than never, right? Go watch! (Louis Wu 17:12:47 UTC) (permalink)

| | | |
| --- | --- | --- |
| | March 2014 | |