The Halo Bulletin: 10.23.13
10.23.2013 14:30

Pieing is the act of throwing a delicious confectionery delight at a person or people, and can often be an act of political disagreement. Or, if you work at 343 Industries, it can also be a loving, philanthropic act in which you meticulously aim and forcefully chuck desserts at your co-workers to raise money for charity. Just last week we held our very own pie-throwing event, where employees could purchase a pie, throw it at someone's face, and the proceeds were donated to a very worthy cause.

Earlier in the week, an email was sent to the entire studio notifying everyone that they could anonymously nominate someone to be hit in the face with a pie. This excited many, and also resulted in several employees sending an immediate follow-up mail letting everyone know that they would be sick that day. Come Friday morning, a hit list of would-be pie recipients hit our inboxes, and as some started to make pies in the kitchen, others crept away to their cars and left work several hours early. In retrospect, I cannot blame them.

The pies, pre-madness. Do you recognize these tables?
The afternoon kicked off with bs angel announcing the rules of the event (Always, always aim for the face!), and wide-eyed team members lining up one after another to get a pie (or seven) thrown in their general direction. Some strategically wore coveralls, while others held up signs threatening to do away with our budget, or worse, Friday morning donuts. Others actually went home. I wasn't kidding.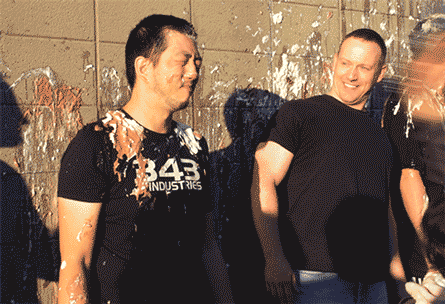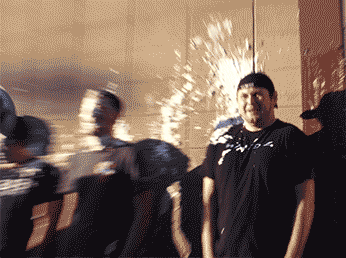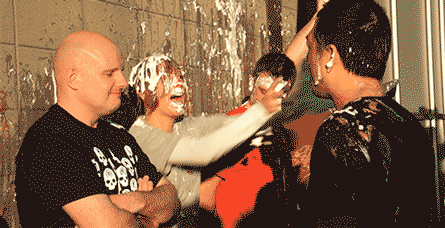 Upon the conclusion of the festivities, we did what any mature working group of adults would do with leftover pies. Oh yes, an outdoor food fight battle royale commenced. This resulted in some people slipping in pie, others being covered in pie, and those with electronics and small children heading for the hills. A few employees washed off in the bathroom, only to head back outside and get pelted with a brand new pie (after seeing this, I decided it was best to not go back outside). Most drove home covered in sugar and likely did permanent damage to the interiors of their vehicles.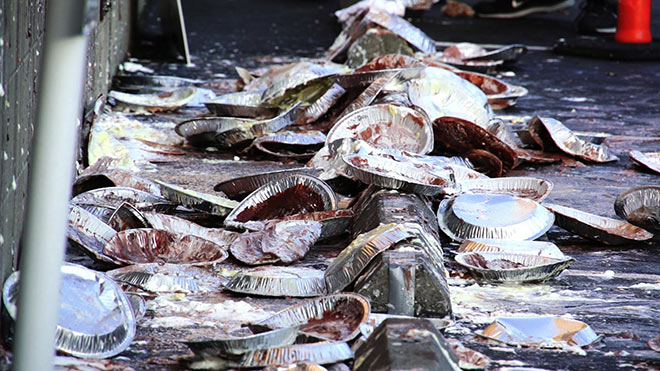 The Aftermath.
In the end, we made a pretty huge mess. In fact, I believe some unlucky employees are still pressure washing the studio walls and parking lot as we speak.

While it was one of the most fun and memorable (and maybe a little crazy) things to happen within the walls of the studio, I'm even prouder to say that the funds raised during those few hours of unbridled fun were put towards sponsoring some very special Make-A-Wish Foundation wishes. We have had the privilege and honor of fulfilling wishes in the past, and thanks to last week's events, we now get to be the benefactor of some as well.

If you think our particular method in madness sounds like a slightly ridiculous way to accomplish our goal, you're absolutely correct. If you think that people will jump at the opportunity to throw a pie at their manager or co-worker, you're also correct. Thankfully, our efforts were not only put towards making one another look absurd (this is pretty typical), but also towards a good cause.

Naturally, the Matchmaking team took time out of their busy schedule to pie and be pied. Thankfully, they also found the time to put together an update for next Monday. So, let's check out what's coming to Halo 4 next week.
Matchmaking Playlist Update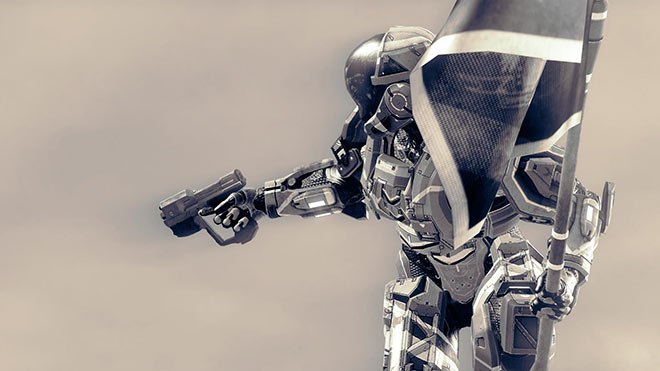 We've got some new stuff coming to Halo 4 Matchmaking on Monday, and one of these is Neutral Flag CTF. The tug-o-war game type has been a favorite in previous Halo titles, and we're looking forward to its Halo 4 premiere. If you haven't yet had a chance to play Neutral Flag CTF, let's break it down.

Neutral Flag

Neutral Flag uses the same map layouts as currently offered in the Capture the Flag playlist, but places a single flag in a neutral (central) position on the map, and either team is able to capture the flag by bringing it back to their own base. This generally results in a fantastically chaotic rush to the middle of the map, with one team frantically running the flag through the smoke and gunfire back to their base. After a flag is captured, it is returned to the neutral position, so be sure to time when you capture the flag!

We'll be offering Neutral Flag on the following maps. Check out each map's image for the location of the neutral flag stand.
Pitfall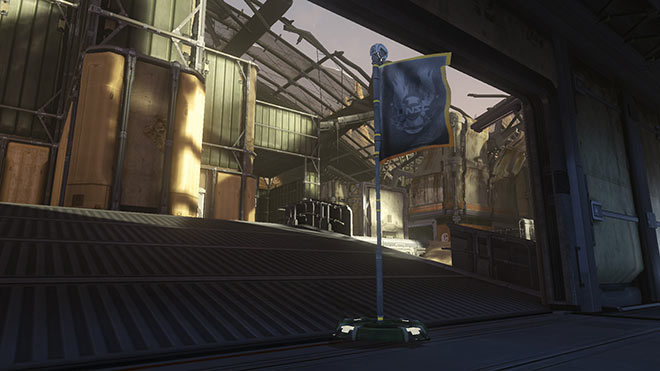 Monolith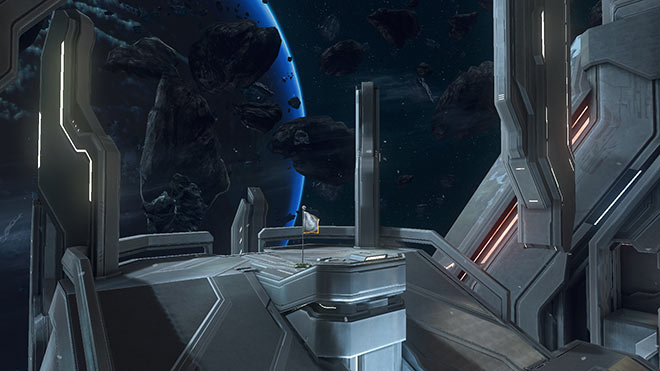 Skyline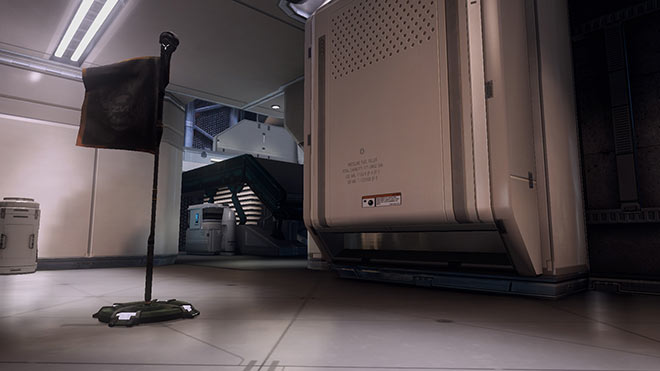 Rangarok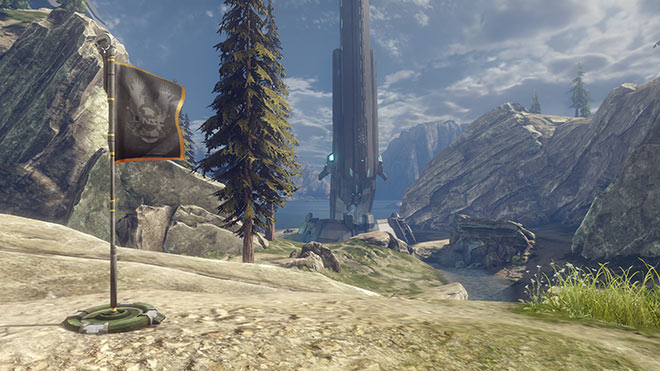 Exile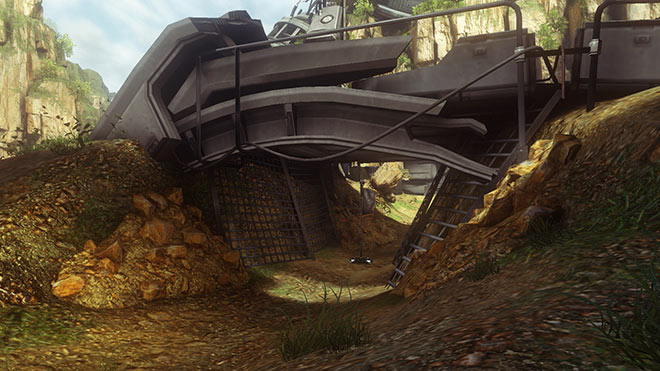 Additionally, we've removed Abandon and Meltdown from the Capture the Flag playlist due to community feedback and gameplay flow, and reorganized the voting options to prominently feature Neutral Flag. We hope you enjoy this game type and look forward to hearing your feedback on the game type, map selection, and more.

Community Forge Ricochet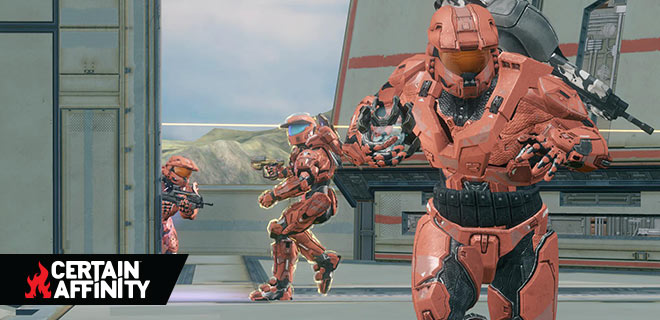 The Halo 4 Ricochet Forge Contest presented by Certain Affinity and the Community Cartographers has come to a close! Over the past few weeks, aspiring Forgers have submitted their finest creations for consideration, and the top six finalists have been selected and will be featured in the upcoming Community Forge Ricochet playlist. While I've had the pleasure of dancing on these community created canvases, I recently sat down with NOKYARD, one of the Community Cartographers, to gain insight into the Ricochet Forge Contest and learn about each of the six maps that will be available in the playlist.
Hey, NOKYARD here.

One of my favorite tasks as a Community Cartographer is to sift through contest submissions and assign them a preliminary pass/fail grade based on their adherence to the contest rules. You may think sorting maps would be mind numbingly boring but I take great delight in cracking open a freshly baked Forge creation to see how the builder interpreted the recipe.

In past contests, more builders got the recipe wrong than got it right so narrowing the field was a fairly straightforward process. That wasn't the case with this contest. Out of all of the maps that were submitted, only 30 were disqualified for being mini-games, disqualified for technical infractions like not supplying Ricochet Goals or not featuring basic necessities like Respawn Points, or were sent packing for other rules-related transgressions. This left many, many fully functioning Ricochet maps to test. Night after night, we played your creations, discovering some creative and impressive maps along the way.

The most difficult phase of any contest is narrowing the field down to the final handful, so we applied the original contest specifications to each entrant. Maps which best adhered to the guidelines were moved forward until only six remained. The six finalists in the Halo 4 Ricochet Forge Contest are:

Parallax by thefro3po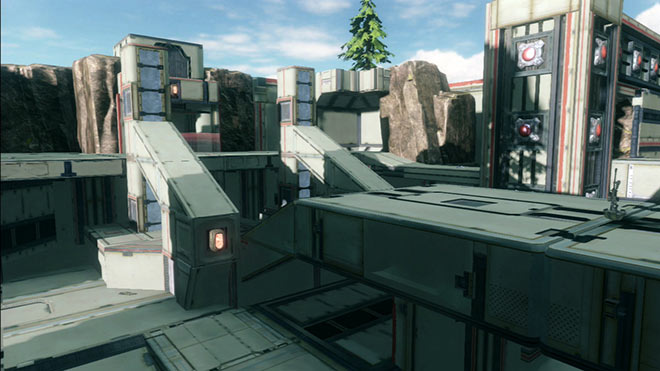 Parallax is a two base, two level map that features an opening Sniper Rifle rush and goals on elevated platforms which make scoring quite a challenge.

Butter by Purely Fat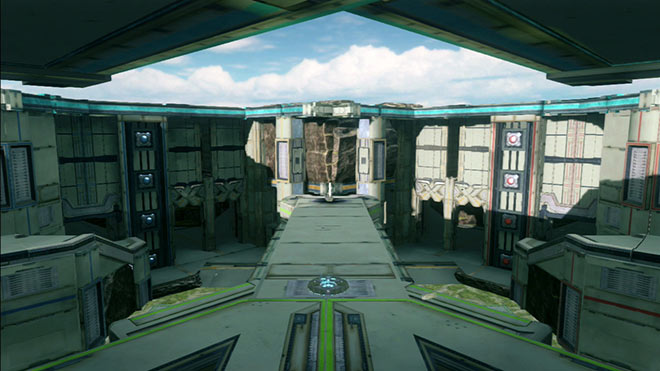 Butter features tight quarters and the goals on this map are much closer to one another compared to other maps. It rewards coordinated teams and punishes those who let their guard down.

Hekau by MrGreenWithAGun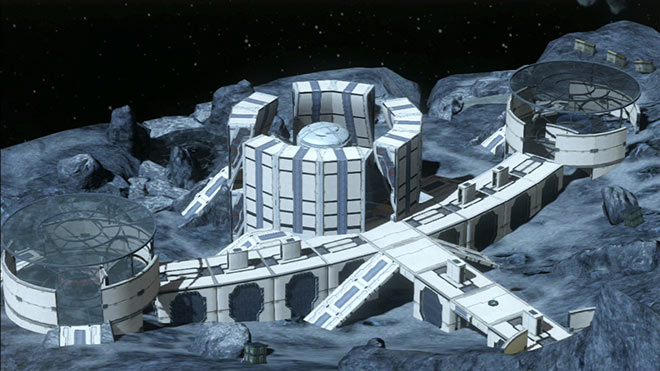 Hekau is an outdoor map which provides intense back and forth combat. A sniper rifle is your best friend on this map as it has long lines of sight from the middle of the map towards the bases.

Breezeway by GrenadeGorilla8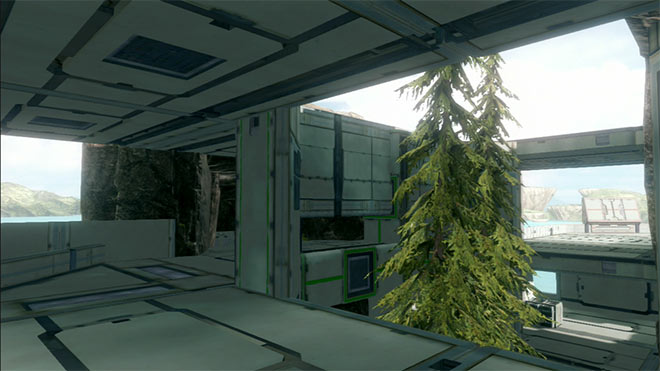 Breezeway is a unique map with transitions from natural to structure geometry. Thanks to symmetrical design and a mix of tight spaces and open quarters this map provides excellent game play and flow.

Firestone by Boxing Beats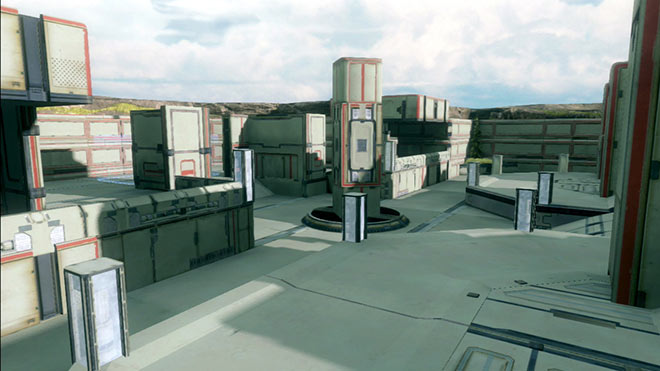 Firestone has three very distinctive streets (or lanes) with an underpass joining the outside two. Each street provides unique angles towards the goal. Because the map is segregated into these zones passing can be the key to scoring.

Inheritor by Squally DaBeanz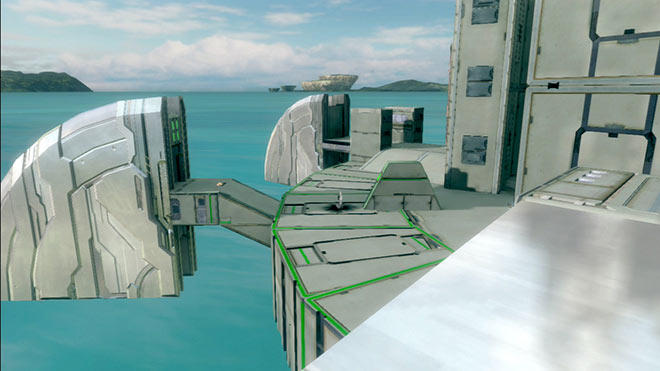 Inheritor mixes tight spaces around the middle and bases with a wide open platform where rockets can be found. There are three ways into each base, and the team that is able to outsmart and out maneuver their opponents will be victorious.

The winners of the contest will be announced on November 13th. Until then, you can check out all six in one of the following ways:
Play them in the Ricochet Community Forge Playlist for two weeks, starting October 28.
Download the maps and play customs with your friends.
Join the upcoming RicochetHub competitive ladder, which will feature all six maps placed into a rotation and chosen at random when teams issue and accept challenges with each other.
Thanks, NOKYARD! I'd like to thank the Community Cartographers for their work in the Ricochet Forge Contest, as well as all who submitted their creations. I am super excited to see these maps make their way into Matchmaking for the next two weeks, and also to hear who the panel of judges selects as the top three maps in the contest early next month.

Once you've played some (or all) of the maps, head over to the War Games Feedback section and let us know what you think. Any insight you can provide on map fixes or adjustments will be of great help to the Community Cartographers and Matchmaking Systems Team as they prepare to possibly include some of the finalists into the Ricochet playlist at a later date.

In addition to these six maps being playable in this playlist, we'll also have Shotgun Ricochet available on all six maps. This game type won our inaugural Community Choice poll, edging out Legendary Ricochet and Quickochet by just a small margin.

Shotgun Ricochet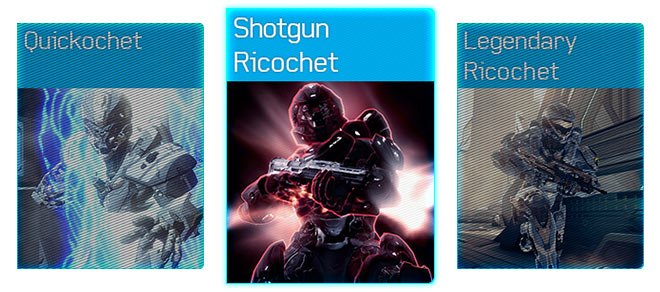 As refresher, players are equipped with Shotguns, Plasma Grenades, and Thruster Packs in Shotgun Ricochet. We've found that this results in some pretty awesome encounters, cross map sticks, and last second dodges. We approve of all three, and are looking forward to hearing your feedback! Tune in to next week's Bulletin for the next Community Choice Poll, where you'll have three new options to choose from.

In addition to all of the above, the team has been rather excited about Halloween, and, as I alluded to last week, willing to do pretty much anything to make the holiday into Haloween. The Matchmaking Systems Team has spent a bit of time crafting a new, limited time only game type for Halo 4...

Smashing Punkins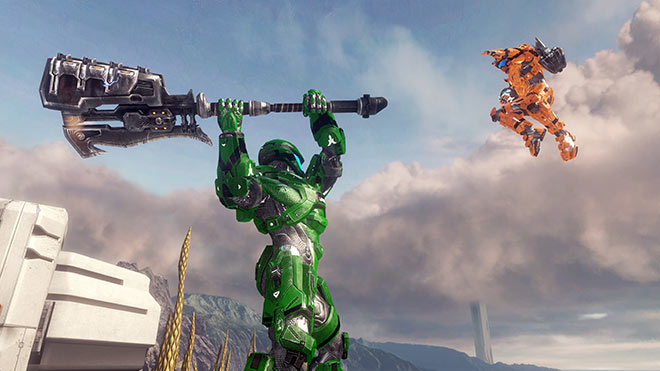 Here at 343, we support smashing things, especially when it comes to pumpkins (we affectionately refer to them as punkins) and Gravity Hammers. This Haloween, it seemed logical to create a game type in Halo 4 that would unite these two things. Smashing Punkins will be a limited time playlist, available for October 30th and October 31st. The game type will be FFA Oddball, and if you pick up the ball, you'll immediately turn "punkin orange," which is a gorgeous gourd-like color currently not available in Halo 4. Those trying to smash the punkin will be a shade of green that we estimate to be the exact color of a healthy pumpkin (sorry, punkin) stem. Players who have the ball should run, and players who do not have the ball should find the punkin, and then smash it. We look forward to celebrating the holiday with some Oddball fun.

Halo 4's birthday is also next month, and we've got some things planned for Matchmaking that we look forward to highlighting in next week's Bulletin. Additionally, we've decided to move the upcoming CSR program that we first announced in the 9.18 Bulletin to the Team Slayer playlist in order to provide an optimal experience to our largest 4 vs. 4 audience. This program will highlight top performers in the Team Slayer playlist each week on Waypoint, and also likely involve a CSR reset to give everyone a fresh start on a level playing field. The program is currently slated to launch next month, and we look forward to fully detailing and unveiling this program within the next few weeks. Lastly, while we messaged that we expected our update for the Champions Bundle known issues would fall this month, we've unfortunately encountered unexpected issues and we're still actively investigating these issues. We realize that Loadouts resetting is a painful experience and we'll be sure to provide more information when things are closer to being solidified.

We hope you're looking forward to all of the above Matchmaking goodies, and we'll see you online!

Next up, bs angel is back with a screenshot spotlight on the current featured playlist, Oddball.
Screenshot Spotlight: Oddball

Last week, we turned the spotlight on Active Camo. This week, we decided to go with a rather ghoulish globe. Take a gander at the following Oddball screenshots, and then capture your own for your chance at being featured in a future Bulletin.

For your chance at being in the next spotlight, take a screenshot that features an ODST helmet, and then tag it with "ODST" and "Halo Waypoint", and maybe, just maybe, yours will be featured in the next Halo Bulletin!
With that, this week's Bulletin comes to a close. Tune in next week for our Haloween special, which will feature some of our favorite community made Halo-themed pumpkins, costumes, and Mister Chief illustrations! If you'd like to show us your creations, head here for pumpkin stencils and instructions on how to show us your Haloween spirit.

Bravo