The Halo Bulletin: 7.10.13
07.10.2013 16:55

Rooster Teeth Expo (RTX) is an awesome event for many reasons. However, the most important reason is that just about every person in the convention center is a huge Halo fan. As you can imagine, meeting up with thousands of people who love Halo generally results in a pretty good weekend, and Rooster Teeth Expo 2013 was no exception.

Action kicked off at the Halo 4 Global Championship booth on Friday afternoon, where the first rounds of the tournament began with long-time professional Halo players such as StrongSide, Tsquared and Snip3down, all competing at their respective stations against hundreds of Free-For-All hopefuls. After a jam-packed weekend of matches, Sunday afternoon saw the final 64 players battling it out for six tickets to the finals in August, when they will head to Seattle and fight for the $200,000 grand prize.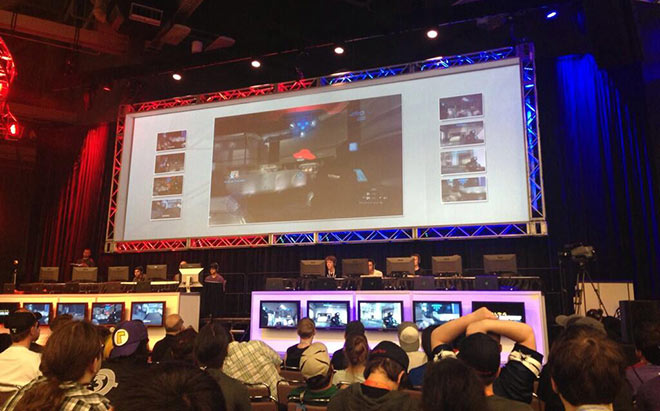 The RTX Halo 4 Global Championship main stage.
If you missed Sunday's matches or would like to relive them, check out the rebroadcast of our tournament live stream, which contains the intense final matches of the day, including all main stage Free-For-All and 1v1 matches. Spoiler alert: Congrats to our top 6 finalists from RTX, who have earned a ticket to the finals: Snip3down, Goofy, Toxik Nate, Strongside, footedpanda, and Dale967.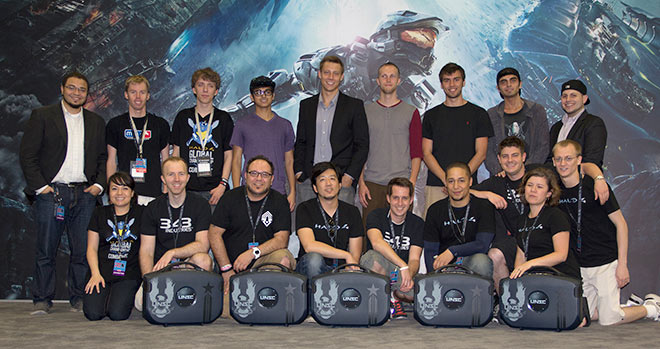 The RTX finalists with 343 Industries staff.
We'd like to extend a big "thank you" to all of our competitors and attendees, Rooster Teeth for their hospitality and all of you at home for watching and supporting the first event of the Halo 4 Global Championship! As you're likely aware, the online qualifiers begin this coming Monday. We'll dig into those details in just a bit.

We announced the Halo 4 Champions Bundle at Saturday's "What's Next: Halo 4 Summer 2013" Panel. Based on the response in the room and online, we think it's safe to say that some of you are excited about it, so we're gonna jump into the details. If you missed the panel live stream, pay attention 'cause it's about to get good.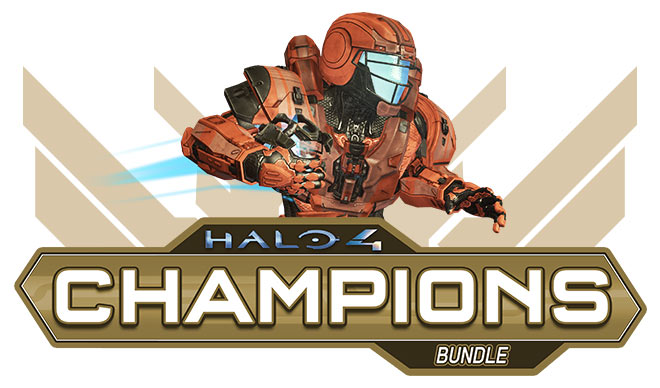 The Champions Bundle contains three DLC packs, as well as bonus content, including:
Bullseye Pack (Includes Ricochet, a new game type)
Steel Skin Pack
Infinity Armor Pack
Bonus content, including new stances, armor and weapon skins, and a new armor mod
All of this content makes the Champions Bundle unique from other DLC, and each of the aforementioned packs can be purchased separately or as a group. For example, if you're most interested in the Bullseye pack, you can download it as a separate piece. However, bonus content is included with the entire bundle. Let's break it down:
Bullseye Pack

Vertigo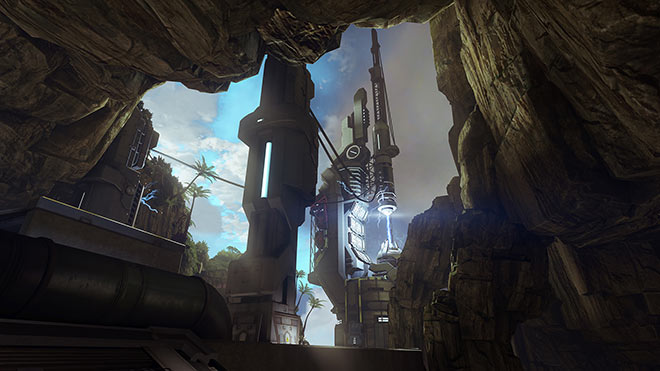 Vertigo is an asymmetrical map that provides a wide variety of indoor and outdoor combat. The map lends itself best to Slayer and Extraction game types and is best played with anywhere from 8 to 10 players. Vertigo also touts the return of a dynamic, interactive element in a Halo multiplayer map: Each base has a trigger point that depletes the shields of all players in range when shot. The map also contains a series of caves on each side as well as three levels of verticality, providing players with several different routes for attacking each base.
Pitfall

When we first showed off Pitfall, a remake of Halo 3's The Pit, the crowd at our panel was pretty excited. Not only will Pitfall add another medium-sized symmetrical map to Halo 4 Matchmaking, but the remake also includes updated features (such as strategically placed crates and ledges) that provide increased pace and flow. Whether you're playing Capture the Flag, Slayer or the new Ricochet game type, Pitfall will bring back memories of sweet, sweet carnage on The Pit. We're excited to integrate both of these awesome maps into Halo 4 Matchmaking next month.

Ricochet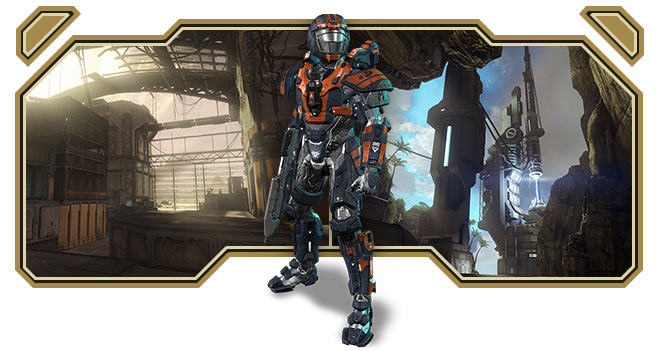 If you checked out our RTX panel, you know that I'm quite excited about Ricochet due to the pacing, strategy and unique mix of attack/defend dynamics. The objective of the game type is to protect your team's goal (a zone that is similar to a Hill in King of the Hill) while scoring in the opposing goal, either by throwing or running the ball into the goal. Running the ball into the goal earns you 50 points, while throwing the ball into the goal gets you 20 points. If you'd like to see a live demo of the game type, you can check it out around the 58:40 mark of our panel live stream, where 343 staff were joined by our friends at Rooster Teeth for a little exhibition match—check it out! The game type will be exclusive to the Bullseye Pack for a limited time of 2 weeks, after which it will become available to all players. The Bullseye Pack also includes the Ricochet armor (pictured above).
Infinity Armor Pack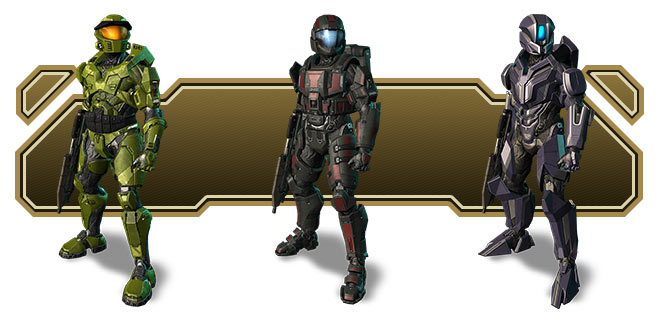 Three new armors await in the Infinity Armor Pack: the legendary and classic Mark V armor from Halo: Combat Evolved, ODST armor and Forerunner armor. I cannot choose between the Mark V and the Forerunner armor, but it's safe to say that I will likely be wearing one or the other at all times. Here's the details for each.

MARK V Armor
DESIGNATION: MJOLNIR Powered Assault Armor System [GEN1] - MARK V
MANUFACTURER: Materials Group
TESTING SITE: Damascus, Vhalkem - CHI CETI IV

ODST Armor
DESIGNATION: MJOLNIR Powered Assault Armor System [GEN2] - ORBITAL DROP SHOCK TROOPER
MANUFACTURER: Cascade Stronghold Technologies
TESTING SITE: Mindoro, Lhopat - CASCADE

PREFECT Armor
DESIGNATION: MJOLNIR Powered Assault Armor System [GEN2] - PREFECT
MANUFACTURER: The Watershed Division
TESTING SITE: Denegroth, West Conamara - EUROPA
Steel Skin Pack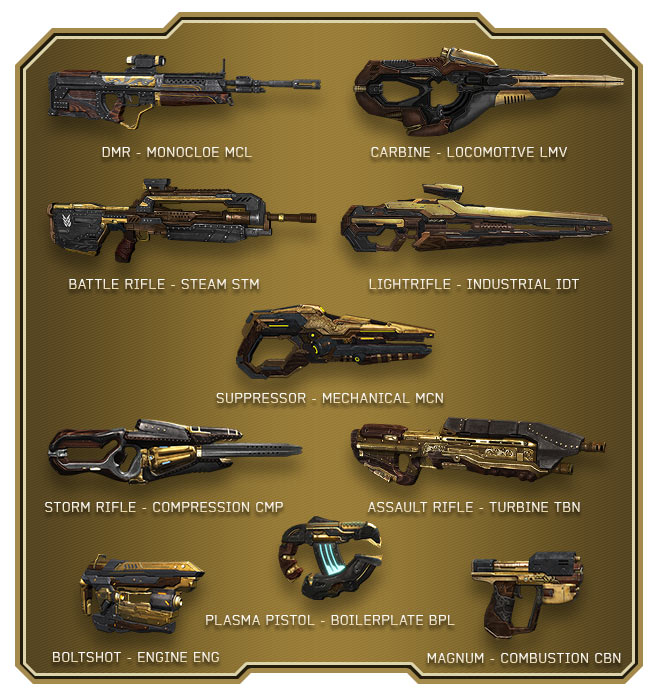 Inspired by classic steampunk aesthetics, the Steel Skin Pack covers all loadout weapons with ten elegantly crafted industrial textures. The above skins are included.
Halo 4 Champions Bundle Bonus Content

Five new weapon skins: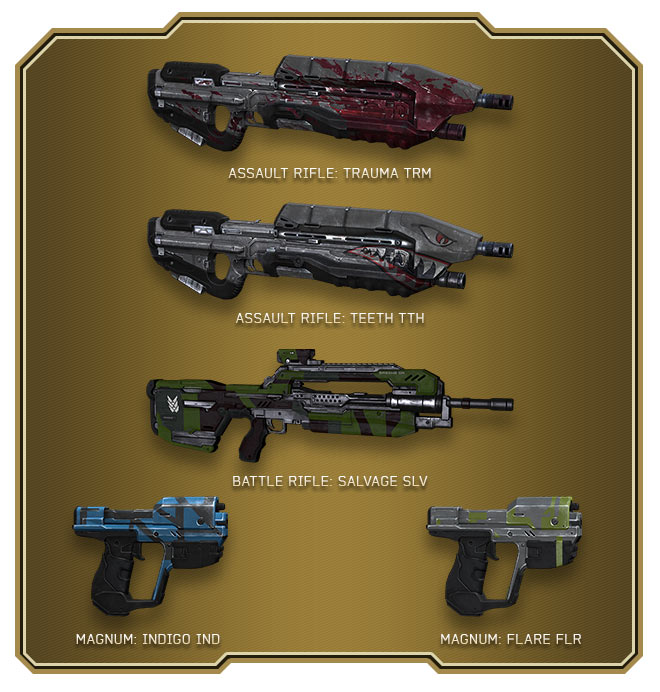 Eight new stances for your Player Card: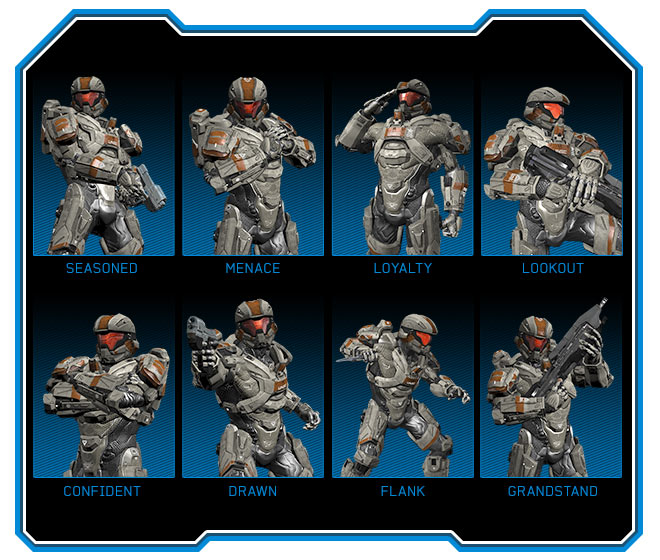 Five new armor skins:
Tracer
Column
Python
Bayonet
Solid
Resistor Tactical Package:

The Champions Bundle will include a sneak peek to the Resistor armor mod, which allows players to retain full mobility despite taking fire for a few moments. The armor mod will eventually be made available to all players in Halo 4 Matchmaking free of charge.
Halo 4 Armor Mod Update

In addition to the Halo 4 Champions Bundle bonus content, we'll be releasing two additional armor mods free of charge for the community to enjoy. We're currently planning on releasing these one day before the Champions Bundle releases on August 20, and you'll immediately be able to incorporate these new mods into your loadout and experiment with them.
Survivor ejects you out of a vehicle if it's about to explode.
Recharge decreases the time it takes for your shields to recharge.
We'll have more information about these armor mods at our San Diego Comic-Con panel, and we're excited to announce that fans at SDCC will have a chance to experiment with them at the Xbox Gaming Lounge. Read on for more Comic-Con details later in the Bulletin.

For now, let's dive into the Matchmaking portion of this week's Bulletin for some juicy details about the Global Championship playlist and more!
Matchmaking Playlist Update


The Halo 4 Global Championship online qualifiers are about to begin! If you have not yet registered for the tournament, head here to get signed up. The online portion of the tournament will include five weeks of gameplay, with new winners, game types and prizes each week. For a recap of the details of the Halo 4 Global Championship online qualifier and scoring system, check out last week's Halo Bulletin. As a reminder, we're using a scoring system that ranks you based on your performance across all of your matches.

Online qualifier scoring system, by placement:

1st - 8 points
2nd - 7 points
3rd - 6 points
4th - 5 points
5th - 4 points
6th - 3 points
7th - 2 points
8th - 1 points
Quit - 0 points

Over the course of all of your games, your average will be calculated. For example, a player who plays and wins 20 matches during a week of the Halo 4 Global Championship is given an average score of 8 points. A player who places first in 19 matches and places second in match 20 receives an average score of 7.95.

In the event that two players are tied with the same average at the end of the week (or at any point during the week), the leaderboard will automatically use the following tie breakers to determine each player's rank:
Most games played
Most first-place finishes
Most kills
Fewest deaths
Most assists
Fewest quits
Earliest date and time of first qualifying game played
Earliest date and time of tournament registration
For example, if the top two players for week 1 both have an average (perfect) score of 8, the player who plays (and wins) a twenty-first game would be ranked higher for having more games played as well as more first-place finishes. However, keep in mind that if that player places even as low as second in match 21, that player's average would drop below 8. This system maintains a high-skill factor and leaves no room for error or loss at the top of the leaderboard. In the event that two players have 21 games won, the next tiebreaker would be most total kills for the week, then fewest deaths for the week, and so on. These tiebreakers ensure that the players who perform the best across all of their games will advance to the finals.

As announced last week, the game type for our first week of competition will be Infinity Rumble, which has received some subtle tweaks for tournament gameplay. Here are the full details:
| Mode | Pro |
| --- | --- |
| Score to Win | 250 |
| Time Limit | 12 minutes |
| Infinity Rumble Options | |
| Kill Points | 10 |
| Loadout Usage | Personal Loadouts |
| Ordnance | |
| Initial Ordnance | Enabled |
| Random Ordnance | Disabled |
| Infinity Settings | |
| Personal Ordnance | Enabled |
| Personal Ordnance Options | |
| Customize Personal Ordnance | Enabled |
| Left | |
| Only Possibility | Frag Grenade |
| Middle | |
| Only Possibility | Plasma Grenade |
| Right | |
| Only Possibility | Pulse Grenade |
| Equipment | |
| Motion Tracker | Enabled |
This game type will be played on the following maps, which have been updated and modified with optimized respawn points, initial ordnance and on-map weapons:
Haven
Solace
Adrift
Abandon
Landfall
Monolith
Skyline
The Halo 4 Global Championship playlist will be available at the top of the War Games Lobby playlists and will use new parameters and settings that are optimized for competition. Also, the Global Championship playlist will replace the Rumble Pit playlist during the tournament. Here's some of the things you can expect in the playlist each week:
There will be no map voting in the playlist. Once you search and find a match, a map will be auto-selected and a three-second countdown will begin, during which players will not be able to leave or "back out." Leaving the lobby or game through any method after this point will be counted as a Quit.
After the game concludes, you'll have an opportunity to view your post-game stats, and then you'll be returned to the War Games Lobby rather than another searching phase. This will ensure that players do not accidentally hop straight into another game. To hop back in, simply search the playlist again.
Join-in-Progress is disabled throughout the entirety of the tournament.
The Max Party Size is 1, restricting players to solo-searching.
Each week's winners will undergo a full account and game history investigation. As a result, we will not be announcing the official winners immediately at the end of each week. Wait for the official winner announcement on Halo Waypoint each week. Best of luck to all Global Championship competitors! Be sure to tag your tweets with #Halo4GC throughout the tournament. We'll be retweeting our favorites from the Halo Waypoint account!

Legendary Slayer

At PAX East, we announced that we were working on a new playlist named Legendary Slayer. After much iteration, discussion and playtesting, we're excited to announce that it is (almost!) here and (almost!) ready for your enjoyment. Legendary Slayer is a variant that focuses on basic gameplay with only one loadout, on-map weapons and motion tracker enabled. Here are the key settings:
4 vs. 4 Slayer
Default starting weapon (Assault Rifle)
No Armor Abilities
Motion Tracker enabled
All weapons and grenades located on map (no initial, random or personal ordnance)
The singular loadout is:
Starting weapon: Assault Rifle
Secondary weapon: None
Armor Ability: None
Grenades: Frag x2
Support upgrade: Explosives
Tactical package: Resupply
We're excited to deliver a brand-new experience to Halo 4 Matchmaking that will focus on even starting weapons and map control, with players fighting to gain control of all rifles, power weapons and each map's power positions. The Legendary Slayer playlist launches Monday, July 15, on the following maps, which have been custom-created specifically for this playlist:
Haven
Solace
Adrift
Abandon
Landfall
Monolith
Skyline
Shutout
As always, we'll keep a close eye on community feedback and Matchmaking statistics for this playlist and are very excited to play with you! Lastly, Crimson DLC will be replacing Majestic DLC as our featured DLC playlist. We will continue to monitor the population and activity of this playlist as we rotate and optimize DLC content in Halo 4 Matchmaking.
San Diego Comic-Con 2013

As you may have seen on Major Nelson's Blog, we'll be at the Xbox Gaming Lounge at this year's San Diego Comic-Con! Both Halo: Spartan Assault and Halo 4 Champions Bundle will be playable in the lounge. We'll have Ricochet, Pitfall and Vertigo playable for the first time ever, with prizes and giveaways. We'll also be running mini-tournaments on the new maps and game type from 5:30 to 8:00 PM PDT on Friday and Saturday, July 20 and 21. You'll need an SDCC pass to enter the lounge. We hope to see you there!

Additionally, we'll have a panel that will provide some insight into the making and fiction of Halo: Spartan Assault:
Inside the Looking Glass: Building "Halo" Worlds and Wonders, Past, Present and Future
Room 6BCF, San Diego Convention Center
Thursday, July 18, 11:45 AM to 12:45 PM PDT
If you can't be in town, don't worry. As always, Halo Waypoint will have all of the news you need from the event, so stay tuned. I do believe bs angel made time to find some sweet screenshots this week. I can only hope that they do not involve cats. No promises.
Halo 4 Screenshot Spotlight: Mark VI

Previously, we turned the spotlight on scenery. This week, we decided to go with the sixth version of the MJOLNIR Powered Assault Armor. Take a gander at the following images of the Mark VI helmet, and then capture your own for your shot at being featured in next week's Bulletin.

For your chance at being in the next spotlight, take a screenshot that features an Assault Rifle. Then tag it with "Assault Rifle" and "Halo Waypoint," and maybe, just maybe, yours will be featured in the next Halo Bulletin!
You've officially got four days left to practice for the Halo 4 Global Championship online qualifiers, so you might want to turn on your Xbox 360 and hop into Rumble Pit...now. Until next week.

Bravo

P.S. Discuss.