The Halo Bulletin: 7.17.13
07.17.2013 13:38

Believe it or not, it's time for San Diego Comic-Con, which seems a bit crazy because it feels like I was just writing about RTX last week. This is probably because I was indeed writing about RTX last week, and bs angel is still complaining about her feet hurting. To be fair, though, when is she not?

By the time you read this, several members of the 343 team (myself included) will be in San Diego for this year's cosplay-filled pop culture festivities. We hope to see some of you there. If you won't be in town, we've still got stuff to show and share with you, so let's start doing just that.
San Diego Comic-Con 2013

As you may have already heard (perhaps from the preceding paragraphs even), we'll be at the world-famous San Diego Comic-Con this weekend. The team will be in the Xbox Lounge at the Manchester Grand Hyatt San Diego, showing off Halo: Spartan Assault as well as the Halo 4 Champions Bundle. If you aren't quite up to speed on this particular assortment of virtual goods or want a refresher, check out last week's Bulletin. Better yet, if you have an SDCC pass, swing by the lounge from 11 AM to 8 PM PDT Thursday through Saturday or 11 AM until 5 PM PDT on Sunday to get your hands on both upcoming releases.

In addition to the aforementioned activities, we'll also be showing off the Halo 4 Champions Bundle live on our offical Twitch.tv channel on Friday and Saturday from 6 to 8 PM PDT. We'll be showcasing Ricochet, Pitfall and Vertigo in a 4v4 King of the Hill–style competition, where the winning team stays on the station and the losers walk! The longest win streaks each day will play against one another for sweet prizes: All four members of the winning team each evening will receive Nokia Lumia 928 phones and complimentary Champions Bundle DLC codes, ready to be redeemed once it's officially available. I'll be joining Quinn DelHoyo on stream as we break down the new maps and game type, so be sure to tune in to get an exclusive sneak peek at the Champions Bundle.

Interested in getting some insight into the making and fiction of Halo: Spartan Assault? Then you'll definitely want to check out our SDCC panel.

Inside the Looking Glass: Building "Halo" Worlds and Wonders, Past, Present and Future
Room 6BCF, San Diego Convention Center
Thursday, July 18, 11:45 AM to 12:45 PM PDT

Panel Description:
Join Franchise Development Director Frank O'Connor, Executive Producer Dan Ayoub, and other 343 Industries guests as they celebrate the launch and discuss the exciting new addition to the Halo universe (Halo: Spartan Assault), the new comic book series from Dark Horse Comics (Halo: Initiation) and more.

Following the panel, 343 Industries staff will be hanging out at the main stage of the Xbox Gaming Lounge until 12 PM PDT. Come say "hi" before the Champions Bundle competition begins!

Halo Collectible Pins at SDCC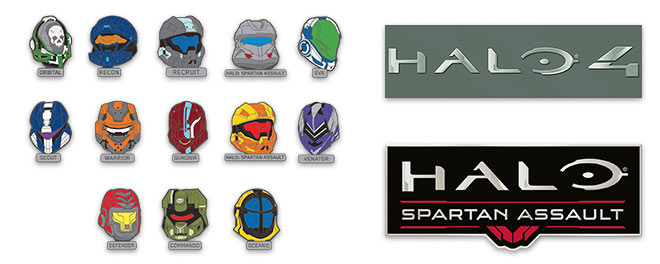 We'll also be giving away Halo-themed collectible pins this weekend at San Diego Comic-Con. To start collecting, begin at the Halo area of the Xbox Lounge in the Hyatt. Demo the Halo 4 Champions Bundle, and there you will receive your starter pack which consists of a Halo lanyard, pin and pin card. Then, play a round of Halo: Spartan Assault, stop by our Halo panel and head to our partners' booths on the show floor to collect the rest of the pins. Supplies are extremely limited, so make sure to start your day early at the Xbox Lounge!

If you're keeping up from home, stay tuned to Halo Waypoint as well as our official Twitter account throughout the weekend for the latest news from San Diego Comic-Con.
Halo 4 Global Championship Update


Week 1 of the Halo 4 Global Championship is underway! As many of you know, the tournament (which boasts more than $500,000 in prizing) has a five-week online qualifier, in which players compete for a trip to the in-person finals. For a full breakdown of the tournament, head to Halo4GlobalChampionship.com. This week's featured game type is a slightly modified version of Infinity Rumble. To see the full settings of this game type, check out last week's Bulletin. This week, we've already seen quite a few players record a perfect score (as I write this, more than more than 31 players have a perfect average of 8). Here's what the top of the leaderboard looks like as of this afternoon: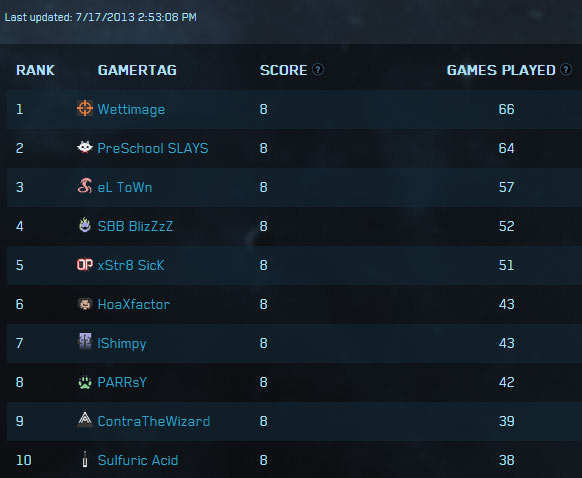 Congrats to players eL ToWn for recently moving into third place, and SBB BlizZzZ for moving into fourth place. Keep an eye on the leaderboard as the week closes out - HoaXfactor, IShimpy, and xStr8 SicK will all undoubtedly be looking to reclaim a spot in the top 4 and a trip to the finals.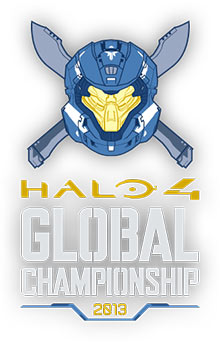 You can check out the leaderboard any time by clicking here. As you can see above, the first tiebreaker in the Halo 4 Global Championship is games played, demanding that the players on the leaderboard hold their spot by continuing their win streak. The studio has been keeping a close eye on the leaderboard as competitors have traded places with one another, and we're also monitoring tournament feedback. Remember, even if you aren't at the top of the list, you're still eligible to win one of at least 750 weekly prizes by registering and playing 20 games in the Global Championship playlist. Each week will not only have new leaderboards, winners and game types, but also new weekly prize winners. To see the breakdown of each week's schedule, including weekly prizing, head here.

We'll continue to watch the leaderboard closely and investigate the accounts of all top players to ensure that legitimate players are advancing to the finals. That said, we'll be officially announcing each week's finalists after thorough investigation. Keep an eye on Halo Waypoint every week during the tournament for the announcement of each week's winners.

Next week's Global Championship will be Rumble SWAT. As you know, this game type is extremely hectic and fast-paced, so we're expecting to see the competition on the leaderboard become even tighter.

Game types included next week:
Rumble SWAT
Rumble SWAT BRs
Rumble SWAT Rifles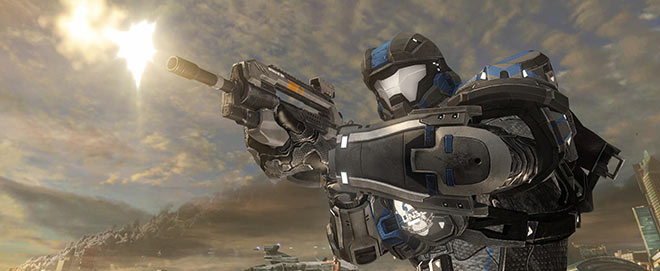 While the settings of these game types vary slightly, here are the overall settings across all three game types.
| Game Settings | |
| --- | --- |
| Score to Win | 250 |
| Time Limit | 12 minutes |
| Kill Points | 10 |
| Respawn Settings | |
| Respawn Time | 5 Seconds |
| Personal Ordnance | Disabled |
| Equipment | |
| Motion Tracker | Disabled |
Next, here are the Loadouts and maps for each game type:
(all Loadouts have grenades, Armor Abilities, Tactical Packages, and Support Upgrades disabled)


Rumble SWAT
(played on Haven, Adrift, Abandon, Landfall, Monolith, and Skyline)
| Loadout Alpha | SWAT DMR |
| --- | --- |
| Primary Weapon | DMR |
| Secondary Weapon | Magnum |
| Loadout Beta | SWAT BR |
| Primary Weapon | Battle Rifle |
| Secondary Weapon | Magnum |
Rumble SWAT BRs
(played on Haven, Abandon, Monolith, and Skyline)
| Loadout Alpha | SWAT BR |
| --- | --- |
| Primary Weapon | Battle Rifle |
| Secondary Weapon | Magnum |
Rumble SWAT Rifles
(played on Haven, Solace, and Landfall)
| Loadout Alpha | SWAT DMR |
| --- | --- |
| Primary Weapon | DMR |
| Secondary Weapon | Magnum |
| Loadout Bravo | SWAT BR |
| Primary Weapon | Battle Rifle |
| Secondary Weapon | Magnum |
| Loadout Gamma | SWAT Carbine |
| Primary Weapon | Carbine |
| Secondary Weapon | Magnum |
| Loadout Delta | SWAT LightRifle (Scout) |
| Primary Weapon | LightRifle |
| Secondary Weapon | Magnum |
Week 2 will provide the Halo 4 Global Championship with new winners, prizes and of course, lots and lots of headshots. Be sure to swing on over to the Global Championship feedback thread to let us know about your experiences with the playlist each week.

If you haven't yet registered for the tournament, it's not too late, as there is still time to start competing in week 1 and each week thereafter. Head here to get signed up, and then hop into the Global Championship playlist in Halo 4 Matchmaking. Best of luck to all competitors!

In Spartan Ops, we'll be continuing the "vehicular mayhem" theme, and offering the following missions in Matchmaking:
Episode 6, Mission 3: Need to Know
Episode 8, Mission 3: Lancer
Episode 9, Mission 4: Revenge
Episode 10, Mission 3: Seize the Power
Episode 10, Mission 4: Out the Other
Despite her achy feet, bs angel still gathered her favorite screenshots from the past week. Now that's dedication.
Halo 4 Screenshot Spotlight: Assault Rifle

Previously, we turned the spotlight on the Mark VI helmet. This week, we decided to go with everybody's (second) favorite UNSC automatic weapon. Take a gander at the following Assault Rifle images, and then capture your own for your shot at being featured in next week's Bulletin.

For your chance at being in the next spotlight, take a screenshot that is humorous in nature. Then tag it with "Funny" and "Halo Waypoint," and maybe, just maybe, yours will be featured in the next Halo Bulletin!
Whether it be in the Xbox Lounge or on Twitch, we'll see you this weekend!

- Bravo

P.S. Be sure to check out this weekend's Arena Gaming League Halo 4 tournament live stream, where some of the world's best players (including several of the RTX Halo 4 Global Championship finalists) will be competing! The action will run from Friday morning until the finals on Sunday evening.

P.S.S. Discuss.