The Halo Bulletin: 7.3.13
07.03.2013 12:00

Last year at RTX, I had the opportunity to host some of the pre-launch Halo 4 matches on the main stage as the hilarious Rooster Teeth staff battled it out against team after team of opponents. Fast forward one year, and I'm excited to say that I'll be back on the same stage, this time as a 343 employee, which reminds me: We've got a lot planned this weekend, so let's get to it!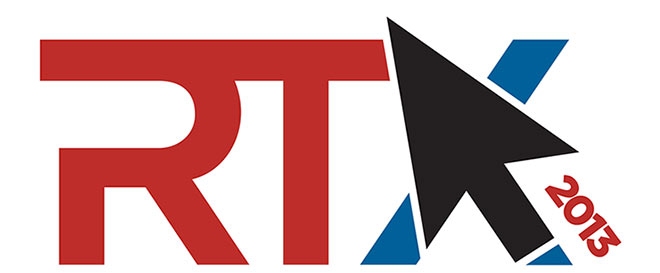 RTX 2013

As I mentioned last week, we're heading to RTX! We're very excited, and we hope you are, too. We also hope it isn't scorching hot in Austin, TX, but we realize that it probably is. If you'll be in attendance, we can't wait to hang out with you. Check out what we've got planned.

Halo 4 Global Championship Tournament Qualifier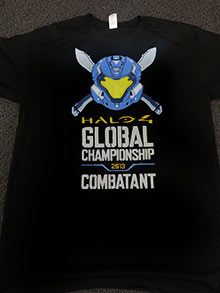 The first qualifier for the Halo 4 Global Championship will be a weekend-long FFA tournament in our booth. If you'd like to participate, we recommend registering in advance to secure your spot. To pre-register, at 9 AM CDT on Friday, July 5, go to Hall 5 (the same location as RTX attendee registration). Limited walk-up registration will be available at our booth during show floor hours as well. Oh, and if you compete in the tournament, you'll snag yourself a limited-edition t-shirt. We'll be live streaming the tournament finals from the eSports main stage from 2-5 PM CDT on Sunday on our official Twitch.tv channel, where I'll be joined by Eric "GH057ayame" Hewitt and Alex "Goldeboy" Mendez for commentary and insight into the gameplay. Be sure to tune in!

What's Next: Halo 4 Summer 2013 Panel

On Saturday from 1 to 2 PM CDT in the Main Ballroom, we'll be hosting a panel called "What's Next: Halo 4 Summer 2013." The panel will feature Frank O'Connor, Jessica "bs angel" Shea, Steve Young from Certain Affinity, yours truly and some special guests as we discuss what we've been up to and what we've got planned for Halo 4 this summer. We hope to see you there! If you hate huge lines or won't be at RTX, the panel and discussion will be streaming live on our official Twitch.tv channel.

Halo Panel Signing

We'll also be hanging out around our booth throughout the weekend, and all panelists will be at the Halo Official Store from 2:30 to 4 PM CDT on Saturday signing cool things (like limited edition posters). Keep an eye on our official Twitter account for up-to-the-minute details on RTX happenings!

Halo Official Store

We'll also have our official Halo store merchandise on the show floor at RTX! If you're in need of some Halo swag, be sure to check out the Official Halo Store at booth #224-A.
Halo 4 Global Championship

This morning, we released the details for the Halo 4 Global Championship. Spanning five weeks of online competition as well as in-person tournaments, the Free-For-All tournament will provide an opportunity for players from around the world to qualify for the finals, where the first place prizewinner will take home $200,000.

There are two ways to qualify for the Halo 4 Global Championship finals, which will be held at the end of August in Seattle:

In-Person Events

We'll be hosting in-person tournament qualifiers at events such as RTX this weekend in Austin, TX, and Gamescom in Cologne, Germany. The top players from these events will move on to the in-person finals.

Online Competition

You can compete and qualify for the finals through online play. Just hop into the Global Championship playlist and play 20 games each week to qualify and appear on the leaderboards.

Stay tuned for additional opportunities to get an invitation to the Halo 4 Global Championship finals in the coming weeks.

This tournament has been designed so that it provides an optimal competition experience for all competitors. The format is significantly different from the Infinity Challenge tournament, and we've used our past learnings to ensure that all players have the chance to qualify and win prizes, and that the best-performing players move on each week. Let's dig into the format of the online portion.

Each week, a new selection of maps and game types will be available in the Global Championship playlist. Unlike the Infinity Challenge, each week of the tournament is independent of any other week, with new game types, winners, prizes and a fresh, blank leaderboard. This way, players can compete in their selected weeks without needing to "grind." Each week, play a minimum of 20 games in the tournament playlist. Your placement in these matches will determine your place on the leaderboard. Read on for how placement works.

Using an inverted scoring system, you'll be given points based on your placement in each game that you play in the playlist. For example, if you place first in your match, you'll receive a score of 8 for that game. Should you place second in the next match, you'd receive a score of 7, and your average across these two games would be 7.5.

Online qualifier scoring system, by placement:

1st - 8 points
2nd - 7 points
3rd - 6 points
4th - 5 points
5th - 4 points
6th - 3 points
7th - 2 points
8th - 1 points
Quit - 0 points

Over the course of all of your games, your average will be calculated. For example, a player who plays and wins 20 matches during a week of the Halo 4 Global Championship would be given an average score of 8 points. A player who places first in 19 matches and places second in match 20 would receive an average score of 7.95.

The four highest scoring players each week will earn a trip to the finals. You will not appear on the leaderboard until you play 20 games each week. Once you do, you'll also automatically be entered to win additional weekly prizing, so even if you don't think you'll have one of the top averages, there are still prizes on the line. Stay tuned to Halo Waypoint throughout the tournament for details on these weekly prizes.

As you can see from the scoring list above, quitting a match will result in a score of 0 points. Due to the frequency of network complications in an online environment, we realize that not all quits are intentional. As a result, we've created a system that allows for an optimal tournament scenario in terms of network stability.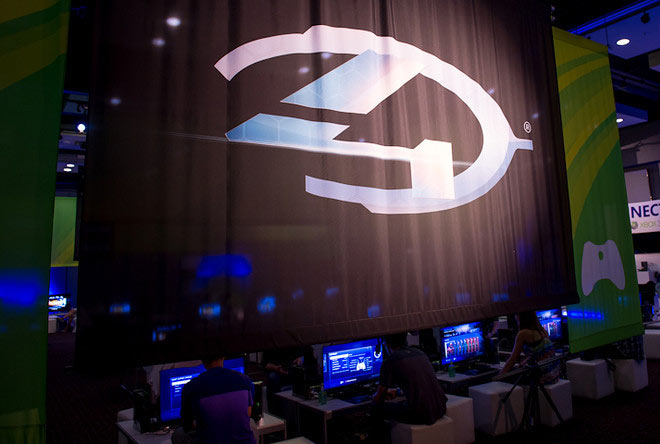 To ensure that unexpected network hiccups do not affect the outcome of the tournament, each player will have three quits that are excused from the leaderboard each week. We realize that players will be using their quits strategically, so we've publicized the fact that each player can use them to their advantage during each week of the tournament. We've worked with the network and backend teams on this solution, which prevents unexpected poor network performance from damaging tournament results. Keep track of your quits!

As mentioned above, each week will feature new game types, which will provide an opportunity for new competitors to emerge. The weekly list is below.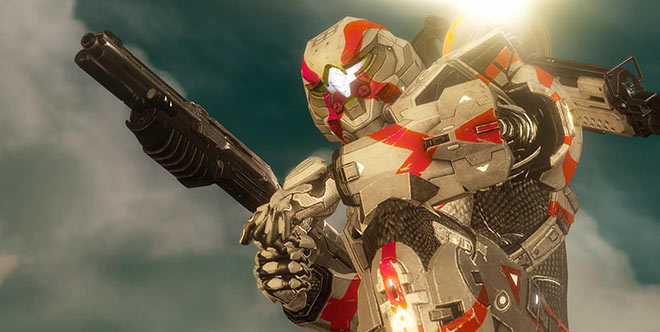 Week 1: July 15-21
"Infinity Rumble"

Game types included this week:
Infinity Rumble

Settings:
Custom Loadouts enabled
Modified Personal Ordnance (grenades only)
Five-second respawn (instant respawn disabled)

Week 2: July 22-28
"Rumble SWAT"

Game types included this week:
SWAT
SWAT BRs
SWAT Rifles

Week 3: July 29-August 4
"Rumble Pro"

Game types included this week:
Rumble Pro FFA
Slayer BRs

Week 4: August 5-11
"Rumble Grab Bag"

Game types included this week:
FFA KOTH
FFA Ball
Human Slayer
Covenant Slayer
Forerunner Slayer

Week 5: August 12-19
"Legendary Rumble"

Game types included this week:
Legendary Rumble (settings TBA)

We'll also be using the following playlist settings for the Global Championship:

Max Party Size: 1 player
8 players per match
Party Recycling is disabled
Join In Progress disabled

We'll be constantly sweeping the leaderboards and game history to ensure that competitors are playing legitimately, and winners will be fully investigated before advancing to the finals. As a result, weekly winners will not be announced immediately when each week concludes.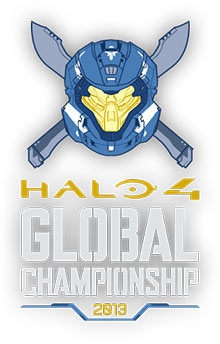 Finally, the prizing for the finals of the Halo 4 Global Championship is as follows (all amounts are in U.S. Dollars):

1st - $200,000
2nd - $75,000
3rd - $10,000
4th - $5,000
5th - $4,000
6th - $3,000
6th - $3,000
8th - $1,000

The total cash prizing for the finals event totals $300,000, and our weekly prize drawings will contain $200,000 in prizes. Once again, to qualify for the weekly prizes, just play a minimum of 20 games in the playlist each week, and you'll be entered to win.

Additional details regarding the finals and each week of the online qualifiers will be posted on Halo Waypoint in the coming weeks. We're chomping at the bit waiting for competition to get underway. This is only our second tournament, and we look forward to continuing to take our learnings and apply them in the future. Now, get practicing because we're looking to find the best players in the world. Best of luck to all competitors!

Every time I looked at bs angel's desk this week, she was doing nothing but looking at screen shots. I suspect that she has another awesome screenshot spotlight for you.
Halo 4 Screenshot Spotlight: Scenery

Previously, we turned the spotlight on the Mantis. This week, we decided to go with picturesque (and Spartan-less) landscapes. Take a gander at the following scenery images, and then capture your own for your shot at being featured in next week's Bulletin.

For your chance at being in the next spotlight, take a screenshot that features a Mark VI helmet. Then tag it with "Mark VI" and "Halo Waypoint," and maybe, just maybe, yours will be featured in the next Halo Bulletin!
If you'll be in Austin this weekend, we'll see you soon! If you'll be watching from home, we'll see you online. Until then,

-Bravo

P.S. Discuss.