The Halo Bulletin: 12.12.12
12.12.2012 12:12

Tis the Season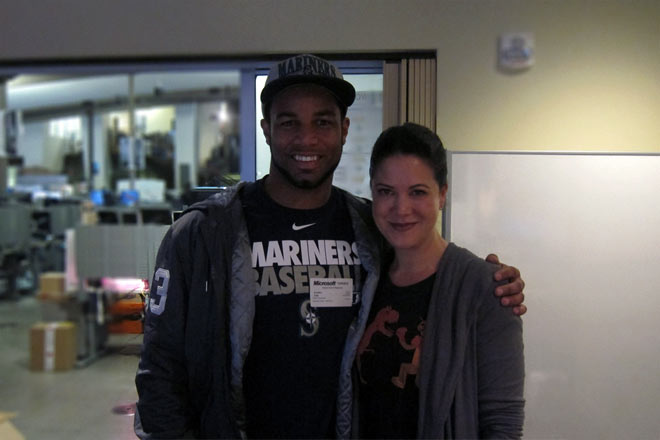 Kiki thinks about getting unnecessarily rough with one of the Seahawks
People assume I enjoy the holidays because of the overabundance of seeds nestled in shells. While I think they are delicious when roasted over an open fire and the ballet version is more than worth the two-hour time investment (not to mention that the act of gently bouncing them against a lifeless opponent's face is oddly satisfying), there's more to December than just nuts. In fact, the following things all happened in just the last 12 days:
Some Seahawks stopped by the studio to play everybody's favorite virtual sport, and after several games, they proved they know their way around balls, whether they are of the foot or Grif variety. (It's also worth noting that after visiting the studio, the Seahawks went on to score an uncontested all-time franchise record against Arizona. Coincidence? I think not.)
DJ Skee wanted to check out the Crimson Map Pack so he came to the studio and decided to stop dropping beats long enough to instead drop some lead… directly into our faces.
Jen Taylor (and Steve Downes, in spirit) joined us for the 2012 Child's Play Dinner Auction, helping us raise more than $15,000 from our numerous Halo-themed lots. The proceeds from this event go toward improving the lives of children with toys and games in over 70 hospitals worldwide.
While I could go on and on about the aforementioned festivities, I will instead let the following picture, which was a silent auction item from this year's Child's Play Dinner Auction, speak for itself. I would ask if you're jealous of its proud new (343) owner but let's face it: There's no way you couldn't be. 'Cause it's just that awesome.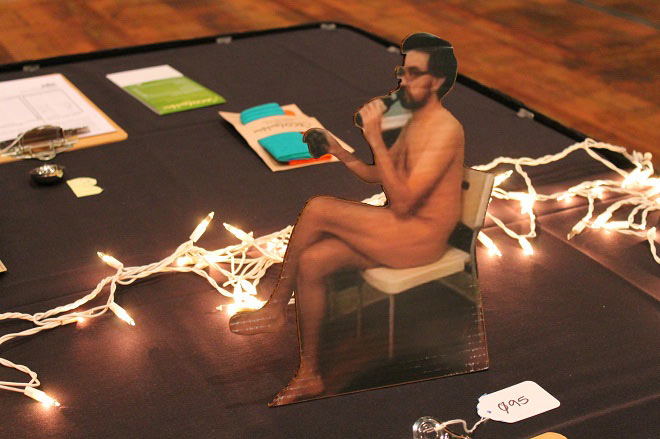 Gus Sorola cardboard standup
Now, we have a lot to talk about in not a lot of time so whad'ya say we cut the chit-chat and get straight to the news? I know, I know. You thought I'd never ask!

Weekend Award Wrap-up
Last Friday at the VGAs, amidst sharply dressed gamers and numerous world premiere videos, we released a trailer for Spartan Ops Episodes 6-10. The second half of Spartan Ops Season 1 returns on January 21, and while you can't get hands-on with the all-new environments and locales yet, you can watch a special version of the original trailer by pressing play on the above video.
That night Halo 4 had the honor of walking away with two different awards and since then, a few more virtual medals have been pinned to our collective chest. Below are the awards Halo 4 took home over the weekend.
We continue to be overwhelmed at the response to Halo 4. In the whole scheme of things, though, if you are enjoying our game, that's all that matters to us. So thank you to those of you traversing our virtual battlefields. We wouldn't want to make this journey without you.

Next Week's Matchmaking Playlist Update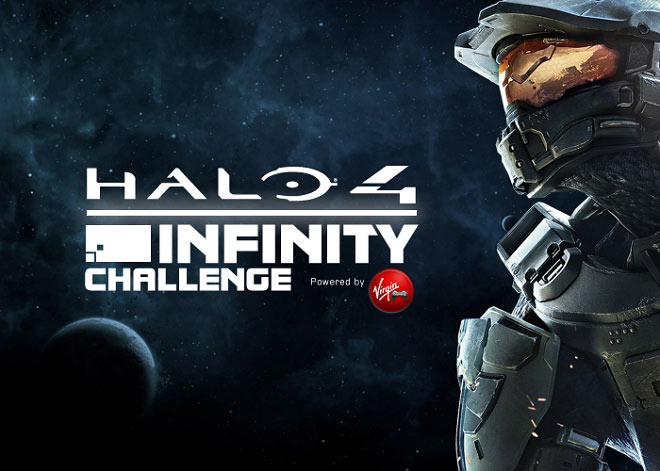 The Halo 4 Infinity Challenge starts in five days. Localized registration sites opened this morning so regardless of what region you call home, head on over to the official Halo 4 Infinity Challenge site and sign up today. Go ahead, I'll wait…
While some of you are completing the registration process, I'll go ahead and talk to the rest of you about the prizes that are up for grabs in this free-to-enter tournament. There are two grand prizes - a UNSC-themed, V8-powered 2013 Ford F-150 SVT Raptor truck and an appearance in a future Halo game - and more than 2,800 smaller prizes. Since the truck has garnered the most interest thus far, here is some additional information about this Halo-themed real life vehicle that may one day be yours.
Already packed with premium features, such as front and rear-view cameras, remote keyless entry, and a 10-speaker 700W Sony audio system, our 2013 Ford F-150 SVT Raptor has been further reimagined to live in the fiction of Halo. It was given a custom paint job that matches the style of the UNSC, and we are adding custom exhaust with electric cutouts, twin rear entertainment screens and an Xbox.
Here is a handy-dandy list of all the features:
Exterior matte olive paint with flat black trim
Ride leveling kit
18" custom Halo wheels
35" tires
Exhaust with electric exhaust cut outs
Raised hood vents
UNSC grille
UNSC front push bar with LEDs
Bed roll cage with spare tire holder
Gas can and mounts in bed
Color-match spray-in bed liner
Interior two-tone seats with rugged military look
Painted trim and chrome to look like bare metal
Wrap steering wheel and swap Ford logo to UNSC
Diamond plate sill plates on all four doors
Custom rubber floor mats
Mobile hotspot
UNSC graphics on start-up screen
Xbox 360 integration
Roush supercharger engine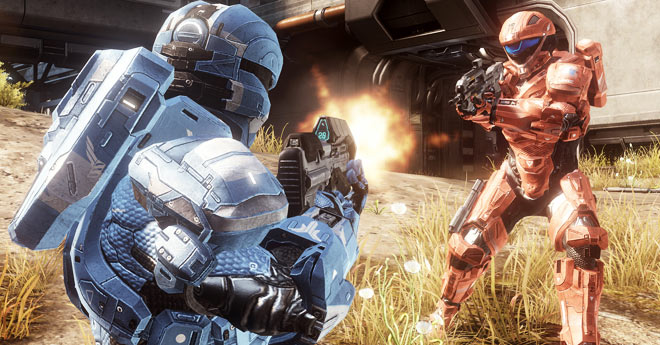 If you are wondering why the Halo 4 Infinity Challenge information is in the "Next Week's Matchmaking Playlist Update" section of the Bulletin, here is your answer: Matchmaking playlist updates from December 17 to January 19 (the duration of the tournament) will focus on the Halo 4 Infinity Challenge. Each week of the Infinity Challenge, there will be a featured playlist for you to compete in. Infinity Slayer will be kicking off the festivities, so dust off your loadouts and prepare your D-pad for some serious ordnance action.
To get to our preferred number of playlists, we will be removing Team Slayer Pro on Monday. We plan to bring it back next year, after we have time to fine-tune it and make it a more optimal competitive experience. We'll talk more about that when the time gets closer - and that goes for Double Team, Grifball, the addition of more small maps into Matchmaking and the other things we have planned for early 2013 as well.
Many of you have been asking about our design philosophies as they pertain to Halo 4 Matchmaking, so continue reading if you'd like some insight into that particular subject.

Josh Holmes: A Developer Interview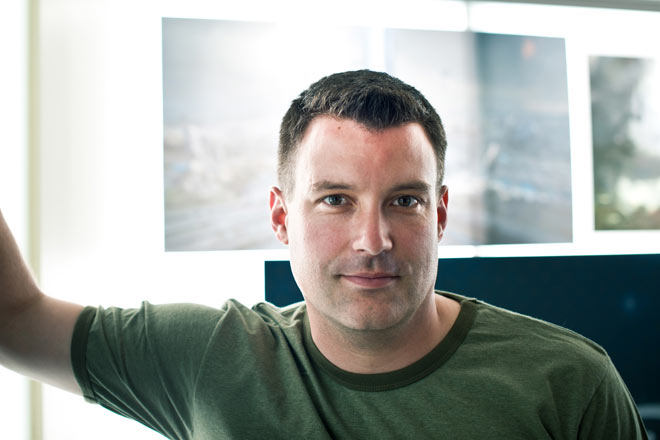 Josh Holmes, Creative Director for 343 Industries, plays an important part in everything Halo 4. He had an intimate relationship with the making of the game and continues to maintain that closeness now that we have officially transitioned to sustain mode. I've noticed several threads in our forum from those curious about our general design philosophies, so I asked Josh if he would be game for a quick interview. He said yes, and then I turned it into a long one. Go me!
Hello, Mr. Creative Director. For those who aren't sure what exactly a Creative Director does, please summarize your job responsibilities in a single sentence.
As the Creative Director for Halo 4, I'm responsible for setting the creative vision for the game. I manage all of the various creative teams (art, audio, design and narrative) and guide them to successful execution against the vision.
For the record, that was two sentences. What other things did you do in the gaming industry before landing at 343?
I've been making games for over 17 years. Prior to joining 343, I worked at Electronic Arts and at my own studio, Propaganda Games. I was producer, designer and creative director on games that included the original NBA Street, Def Jam Vendetta, Fight for NY and the Turok reboot for Disney. Since joining 343, I've worked with Bungie in a publishing capacity on Halo: Reach and then moved into the Franchise Creative Director role and Halo 4 CD.
What inspired you to make the switch to Halo?
I fell in love with Halo the first time I played Combat Evolved back in 2001, when I was a Lead Designer at Electronic Arts. I remember saying to myself at the time, "One day I want to design a game like this." Fast forward a decade and not only am I working on a game like Halo, I'm actually helping to guide the future of the Halo universe. It's like a dream.
I would pinch you, but I'd like to keep my job. Speaking of jobs, what was the best part about making Halo 4?
The best part about making Halo 4 has been working with the rest of our team, because we have so many incredible, talented people. And getting to shoot them all in playtests.
There are two sides to every coin, so what was the hardest part of the process?
The hardest part about making the game was bringing a brand new team together, most of whom have never worked with one another before. Everyone had different experiences and approaches to making games and we were simultaneously trying to build something as massive as Halo 4 while working with a new and unfamiliar engine. There were times when it felt as though we were trying to do the impossible, and it's a testament to the character of the team that we managed to overcome so many challenges to build the game.
It was a team-building experience for sure. What are some of the more memorable moments you had with everybody while making the game?
So many moments... At the end of preproduction, we had an overnight creative retreat where Pierre tried to start a beach fire with gasoline and almost burned down several nearby homes (and himself) in the process. There was a late night Kung Fu showdown between Chris and Tajeen at the bar after one too many drinks - thankfully no one got hurt. Over the course of the project, we moved the studio at least three times to accommodate growth, yet still wound up bursting at the seams with humanity by the time we entered the final stretch. One of the funniest moments happened when I was at the EB Games event in Sydney, Australia. When I was coming over, they told me that there would be a dramatic moment at the beginning of my appearance, with the Master Chief coming out of the cryotube to welcome me onto the stage. It sounded awesome. In reality, Chief turned out to be the tallest member of the PR team wearing a $30 Halloween costume from Halo 3 and climbing out of a cardboard box that someone had decorated with felt markers, all while music from Halo: CE played in the background. Oh, and he got stuck in the cardboard box and needed to be helped out. Not the proudest moment in the Chief's illustrious career.
Now that we're covered pre-launch, let's talk about post-launch. Have any of the responses to Halo 4 surprised you?
It's been humbling to receive so many messages from players who have enjoyed the game and being able to play the game in Matchmaking now that it's out in the wild. When the game was first released, I spent a week at home on my couch, playing the game online while reading reviews between matches. It's surreal to pour three years of your life into something and then finally be able to see and hear the responses from people playing it.
I was wondering where you were that first week! Now that you're back, what are our main priorities in regard to sustain?
Our first priority is responding to any unforeseen bugs or exploits that are uncovered by the community. Beyond that we are continuing to monitor playlist population and manage the rotation of experiences in Matchmaking to make sure that the most popular experiences are made available to players.
What philosophy do we use when making these decisions?
Our sustain philosophy is to support and maintain Halo 4's online community by analyzing player activity and making measured changes when necessary. We want to maintain engagement amongst the active player population through careful management of the active playlists, taking into account which experiences are most popular and addressing critical bugs and exploits as they are discovered. We also need to infuse the experience with new content in the form of authored map packs and community created maps so that the experience feels fresh and exciting for months and years to come.
Is that why we're doing weekly updates instead of monthly updates?
In the case of Spartan Ops, we chose a weekly cadence for new episodes because it felt like the right timing to keep people invested in the story over the course of the season. We approached Spartan Ops like a serialized television show, but with the added interactive component of missions. For War Games, the weekly updates to playlists allow us to monitor the community's response to different game modes and take that into account when planning. We're also able to address map exploits that may be discovered (like the hole in collision that was found in Complex and being exploited in Oddball). Going a full month between updates would prevent us from addressing these issues in a timely manner.
Another thing we're doing differently with Halo 4 is rotational playlists. Why are we taking that route this time around?
We put new playlists into rotation to keep the experience fresh each week and to test the community's response to different game types. We limit the total number of active playlists to prevent the population from becoming too fragmented so that we can provide an optimal matchmaking experience and if a playlist fails to capture or maintain population over time then it becomes a candidate for retirement, at least temporarily.
We have some great stuff in the works for 2013. What can you share about the things we currently have up our sleeve?
The second half of Spartan Ops kicks off on January 21, featuring new environments and missions along with the conclusion of the season's storyline. We also have more maps coming with the Majestic and Castle map packs, as well as some community-created maps that we will be selecting to add into Matchmaking, which will include both smaller 4 vs. 4 maps and larger Big Team maps.
Sounds good! Before I release you from my interview death grip, I have some random, fun questions now that you've tackled all the serious ones. So, Battle Rifle or DMR?
DMR, because I prefer single shot to burst fire weapons.
Frag or Plasma?
Frag, because I like to strip shields and then finish people off.
Covenant or Forerunner?
Forerunner, because I love the look and sound of the weapons.
Red or blue?
Blue, of course! Red is too angry.
Frank or Kiki?
Kiki, because she makes the best margaritas and Frank only exists to drink them.
I am suddenly thirsty, so I think we can officially call this interview done. Thanks for taking the time to share some insight into the making of Halo 4 and our general Matchmaking philosophies, Josh, and I'm sure we'll chat with you again after the New Year!

Halo 4 Housekeeping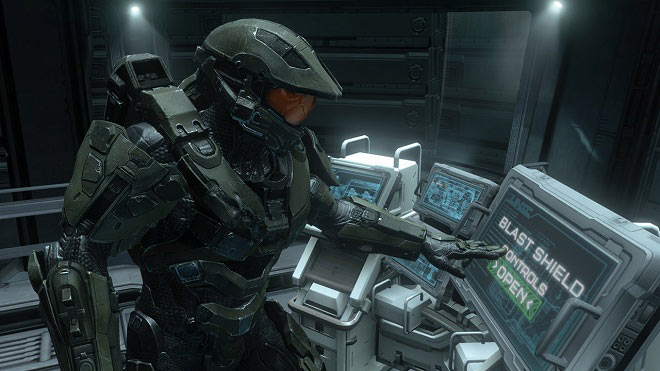 Starting on Friday, I'll officially be on vacation until January. Fret not, though, because numerous teams at the studio will continue working over the holidays (Sustain, Spartan Ops and Services, to name a few). A Bulletin or two may still get published in my absence, but they will more than likely be lighter in content and holiday-themed in nature. To make sure you're covered news-wise for the next few weeks, here are some updates about various Halo 4-related topics.
File Share
Search for in-game File Share is still offline. Custom searches (by tag, most recommended, and most downloaded) are not enabled and will return "no files found". We utilized something new for this particular Halo 4 feature, and it's taking us longer than we initially anticipated getting it to a fully functional state. We recognize this is not an optimal situation, and we'll continue working on it until it reaches shipping quality. In the meantime, here are the different actions you can take in your in-game Halo 4 File Share:
Upload files
Download files
Add to File Share
Remove from File Share
View someone else's File Share (by Gamertag)
Tag Files
Recommend Files
Receive File recommendations
This issue also affects web availability of the Halo 4 File Share. We expect both Search and web access to come online in early 2013, and we'll provide another update in January. Again, we apologize for the delay, and we know this is painful for many of you. We'll be brainstorming ways to celebrate both features' release (contests, activities, etc.), so let us know via our forums if you have any ideas in that regard.
Crimson Map Pack
The Crimson Map Pack, along with its relevant Matchmaking playlist, released on Monday. There was a delay with getting this content to War Games Map Pass and LE owners that was resolved the same day at approximately 1PM PT. There were also some initial complications with the distribution of the "14 day, Buy and Play" reward tokens, so we decided to provide the additional reward of complimentary access to the Crimson Map Pack, for a limited time, as a "thank you" to the players who contributed to the success of the Halo 4 launch. Making lemonade, if you will.
This complimentary access to the Crimson Map Pack will continue through Tuesday, December 18 at 9am UTC/GMT). At that time, the complimentary limited access will close, and "14 Day - Buy and Play" program participants will no longer be able to access the content for online play (please note anybody who has already purchased the Crimson Map Pack or owns the Halo 4 Map Pass or Limited Edition will not be impacted and will continue to have access to the content after the complimentary access period ends). If you would like to continue playing on them after that date, the Crimson Map Pack can be purchased through the Xbox LIVE Marketplace for 800 MS Points, or via purchase of the War Games Map Pass.

Section 3
/START FILE/
//CLASSIFIED/
//
//ATTENTION, OPERATIVES: THANKS TO THE INCREDIBLE EFFORT FROM ALL OF YOU, MANY CODES HAVE BEEN DECRYPTED IN THE LAST 6 WEEKS. GREAT WORK!
//
//OVER FIVE THOUSAND OF YOU PARTICIPATED IN THE 1 MILLION SIMULATION CHALLENGE, A GOAL WHICH WAS SUCCESSFULLY DEMOLISHED. THE LIST OF THE PARTICIPANTS CAN BE FOUND IN THIS THREAD:
...

// //OUR CURRENT FOCUS ON THE FIELD IS TO CLEAR SPARTAN OPS MISSIONS IN RECORD TIME, TO PROVIDE GROUND SUPPORT WHILE OUR CRYPTO SPECIALIST FINISH DECODING THE LAST SET OF UKNOWN GLYPHS:
...
//
//FOR NEW OPERATIVES LOOKING FOR A PLACE TO START, PLEASE REFER TO THIS SECTION:
...
//
//OVER TIME, IDENTIFIED GLYPH SEQUENCES WILL BECOME DECLASSIFIED AND WILL APPEAR IN THAT THREAD
//
//THANK YOU AGAIN FOR YOUR DEDICATION AND HARD WORK, OPERATIVES. SECTION 3 IS PROUD OF YOUR ACCOMPLISHMENTS AND WE LOOK FORWARD TO WORKING TOGETHER IN THE FUTURE.
//
/END FILE/
And with that, I'm going to put a bow on this sucker and call 'er done. Whether you celebrate the holidays or not, I hope you have a wonderful rest of the month. See you in January, unless I cross paths with you on the virtual battlefields before then…
<3,
bs angel
P.S. Discuss.