The Halo Bulletin: 12.06.12
12.06.2012 06:54

Halo 4 Infinity Challenge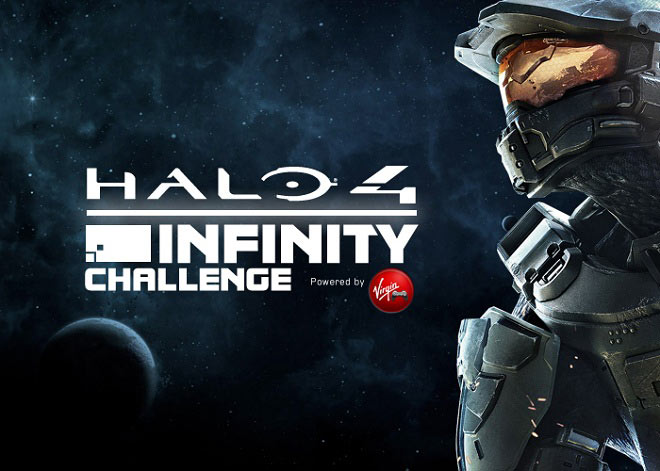 While Monday has a reputation for being the worst day of the week, that perception is about to change because on December 17, we're joining forces with Virgin Gaming and Xbox 360 to bring you the chance to win a UNSC-themed truck and/or a cameo in a future Halo game. Officially called the Halo 4 Infinity Challenge, this tournament will give you a shot at winning a real life vehicle (you virtual vehicles can suck it!) and one of more than 2,800 total prizes. What exactly will it take to score some sweet Halo swag? Why, I thought you'd never ask!
The Halo 4 Infinity Challenge on Xbox LIVE will bring gamers the biggest and most accessible Halo tournament in the world. This free-to-enter tournament will track your personal score in War Games and the number of Spartan Ops chapters you complete on global leaderboards, and your progress with relevant Halo 4 Challenges. The War Games leaderboard winner will walk away with a UNSC-themed, V8-powered 2013 Ford F-150 SVT Raptor truck designed by our artists here at 343, the Spartan Ops winner will secure an appearance in a future Halo game (don't blame me if you end up being naked and blue), and the Challenge winners will get a prize pack.
Assuming you find the aforementioned prizes appealing, register today by visiting the Halo 4 Infinity Challenge website (please note localized registration sites will be available on December 12). If you'd like to get into the nitty-gritty of how everything will work, continue reading.
The qualifier phase will take place December 17 - January 10. For that part of the tournament, you will need to climb the ranks of the global leaderboards by competing in either the Spartan Ops or War Games leaderboard. After the qualifier phase, players will be tiered into three groups (Tier 1: Consisting of the top 10% of players competing, Tier 2: Consisting of the next 11-40% of players competing, and Tier 3: Consisting of the bottom 60% of players competing) and will enter the finals phase. The finals phase will start on January 12 and end on January 19. You can also participate in Weekly Challenges for a chance to win great prizes.
During the finals, the leaderboards will reset and prizes will be awarded to the top performers in each tier. While the prizes within all three tiers will rock your socks, the grand prizes will be offered exclusively for those that have battled their way to the top tier.
For tournament and registration information, please visit: www.halo4infinitychallenge.com. Your score will only be tracked from the time you register, so sign up now, Spartans!

UNSC-themed, V8-powered 2013 Ford F-150 SVT Raptor Truck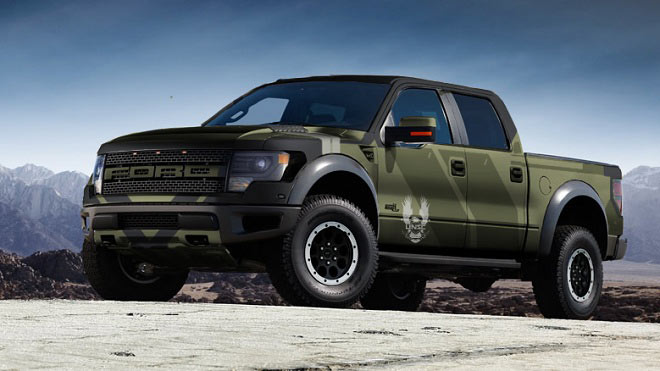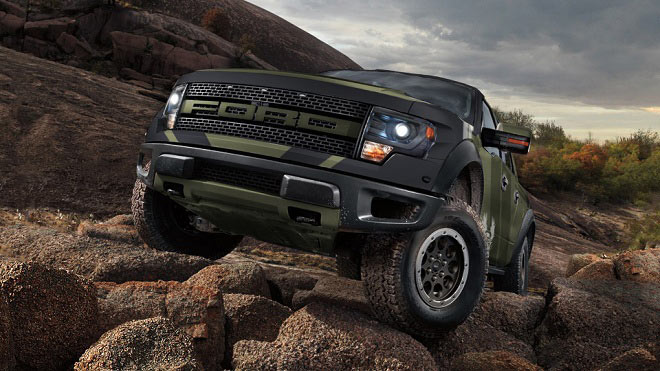 Yes, I created an entire section just to show off two pictures of the UNSC-themed, V8-powered 2013 Ford F-150 SVT Raptor truck one of the Halo 4 Infinity Challenge grand prize winners will get. Why? Because I happen to think it's that awesome. So there. Moving on...

Spartan Ops Season 1 Continues in January
Comprised of three brand new Halo 4 Multiplayer maps (Wreckage, Harvest and Shatter), the Crimson Map Pack will launch on December 10. A mere seven days after that, the Halo 4 Infinity Challenge officially begins. To give you adequate time to enjoy both, Spartan Ops will go on a mid-season break starting December 10. Fret not, though, because your entire Spartan Ops timeline will still be both accessible and playable. On top of that, we will also be featuring a Best of Spartan Ops compilation next week, made up of the following chapters:
Core - Chapter 5 of Episode 1
Hacksaw - Chapter 3 of Episode 2
Shootout in Valhalla - Chapter 4 of Episode 3
The Didact's Gift - Chapter 5 of Episode 4
Spartan Thorne - Chapter 1 of Episode 5
Then, from December 17 - January 14, episodes 1-5 will be re-entered into Matchmaking (one episode per week) to support the Halo 4 Infinity Challenge, and allow anyone who missed the first run or wants to replay a previous chapter to easily find teammates online.
The second half of Spartan Ops Season 1 will resume later in January with brand new episodes, chapters, locations and maps (as discussed in our recent Spartan Ops developer interview). Be sure to tune into the Spike TV 10th Annual Video Game Awards, live on Spike TV, December 7 at 9:00 PM ET/6:00 PM PT for more information and an exclusive first-look at the continuation of Spartan Ops Season 1!

Next Week's Matchmaking Playlist Update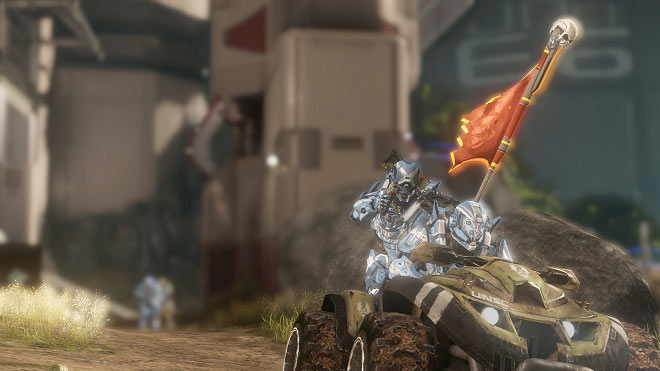 There's only one thing to say after last week's Matchmaking playlist update: We got a new King! Since Team Regicide has performed spectacularly (TWtQS), it's sticking around for another week. So is SWAT, of course. Unfortunately that means one playlist has to say goodbye. Actually, it just has to say "See you later" because it will undoubtedly be back. Leaving temporarily is King of the Hill (wipes away a single tear) and taking its place is Crimson DLC. Before we dip into the specifics of that particular playlist, let's go over the rather short list of other things included in last Monday's update.
Fixed exploit locations on Haven
Fixed exploit locations on Adrift
Introduced Ordnance drop issues on Haven (oops)
Please note that the map fixes only affect playlists and not on-disc custom game map variants, and we will fix the Ordnance drop issues in the next playlist update.
If you find yourself wondering why this change list is shorter than previous ones, it's because we've been hard at work on a Title Update, which is slated to release soon. You'll know it's out when you're prompted to download an update upon logging into Halo 4. We will detail the contents of the TU after it's out (as it contains exploit fixes we don't want abused any more than they already are while they're live). We can tell you right now that this particular TU tackles actual game and gameplay issues, not sandbox tweaks and balances. We have another TU in the works and will continue working on the timing and content of the next one. We will update everyone when we have additional information. One TU at a time, as they say.
Now, back to the Crimson maps! The 12.10 Matchmaking update will include a brand new Crimson DLC playlist, and it will also integrate the Crimson maps into existing playlists. Let's tackle the Crimson DLC playlist first. It will be 6 vs. 6 and include the following map and game type combinations:
Infinity Slayer - Shatter
Capture the Flag - Shatter
Extraction - Shatter
King of the Hill - Shatter
Infinity Slayer - Wreckage
Capture the Flag - Wreckage
King of the Hill - Wreckage
Oddball - Wreckage
Infinity Slayer - Harvest
Capture the Flag - Harvest
King of the Hill - Harvest
The following Crimson maps will be added into these existing playlists:
Infinity Slayer - Harvest
Big Team Infinity Slayer - Wreckage and Shatter
Dominion - Shatter
Capture the Flag - Harvest and Wreckage
SWAT - Harvest
Team Slayer Pro - Harvest
The Matchmaking algorithm is weighted to match players who have DLC with other players who have DLC so if you have the Crimson Map Pack and you enter a regular playlist, you should see the new maps on a regular basis. This is something we can adjust, so if the new maps aren't appearing as often as we'd like, we'll continue to tweak the formula.
If you missed last week's Crimson Map Pack announcement, continue on to the next section of the Bulletin for some walkthrough and gameplay videos.

Crimson Map Pack Videos
The Halo 4 Crimson Map Pack is the first of three Map Packs from the War Games Map Pass. Currently scheduled for release on December 10, 2012, it will cost $10.00 USD or 800 Microsoft Points (or at no additional charge for those that purchased the Halo 4 Map Pass or Halo 4 Limited Edition) and consist of three maps - Wreckage, Harvest and Shatter. You can see the screenshots and trailer we released last week here.
IGN has been releasing one new video a day about these maps, so below are the ones they've published thus far. Keep an eye on their site (or our blog) for Friday and Saturday's videos.

Art of Halo 4 Dossier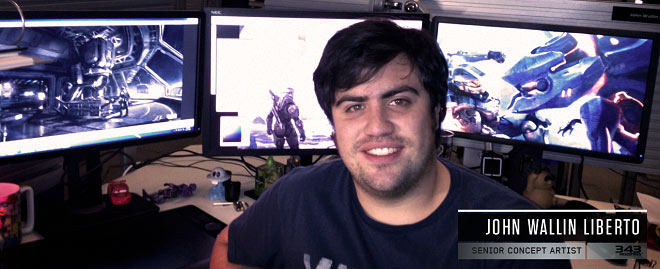 It's time for another art spotlight, this time with a rather talented man by the name of John Wallin Liberto. Marathon, the predecessor to Halo created by Bungie in the late 90's, inspired John to start with digital painting, which later led him into the gaming industry. As an aviator and gadget freak, aerospace technology is what motivates him the most when creating sci-fi art for Halo, but he also turns to nature's design when in need of inspiration. During his career, he has worked on projects such as Gears of War, Battlefield, Dust 514 and Army of Two as a freelance concept artist, and movies such as Big Fish and Harry Potter 3 as a digital matte painter. His current title is Senior Concept Artist, but I just call him Awesome for short. Enjoy the following snapshot of his work, each piece of which is accompanied by a description, penned by John himself.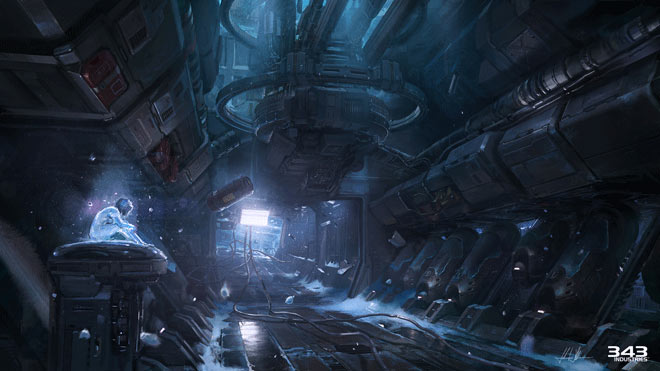 Forward Unto Dawn Cryo Room: This is one of the first concepts I had the honor to make, working closely with Art Director Kenneth Scott. We did many variants of this room until we decided to go further with the design, breaking up repetitive forms and objects leading the player into the corridor of the Forward Unto Dawn, as well as mystical, overhanging tech-objects in the ceiling.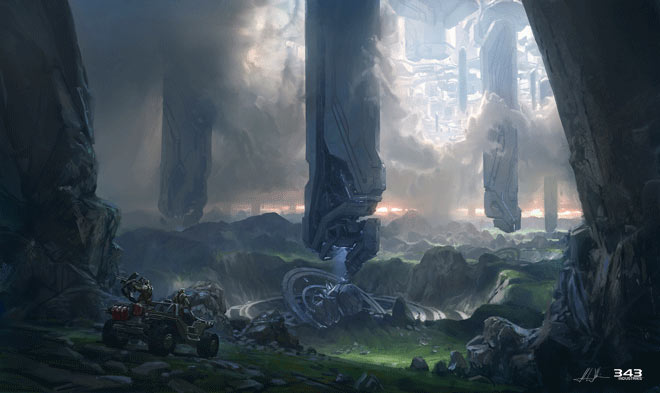 Spire Vista: One of the most important concepts is the first time you get to see the Forerunner spires within Requiem. We had to figure out how the light within the planet would affect the landscape, as well as the ceiling itself. It needed to be a magical moment, with clouds covering parts of the ceiling but at the same time not too menacing. The clouds are affected by the floating spires that sometimes even touch the surface.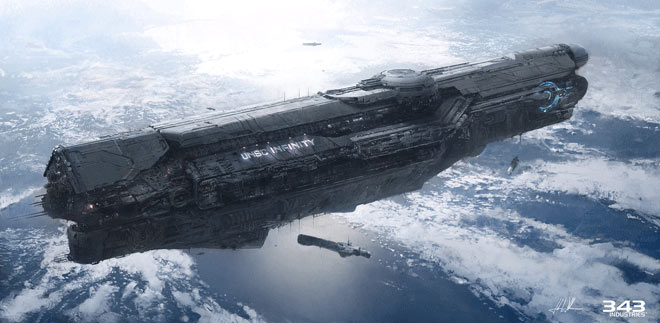 The UNSC Infinity: When designing the UNSC Infinity, there were two ways of defining the scale of such a huge ship during the concept stage: Interpret details by just hinting at them with simple brush strokes, or really get in there and define every bit of it. Knowing the 3D and texture artists would need as much help as possible, I chose to really try to define as much as I could. The original file is 12,000 pixels wide and depicts the Infinity orbiting Earth with other smaller ships.
The nose of the Infinity is cluttered with antennas and discs, giving a striking similarity to the barnacles and lumps on the nose of a Humpback Whale, an animal that symbolizes scale in our world.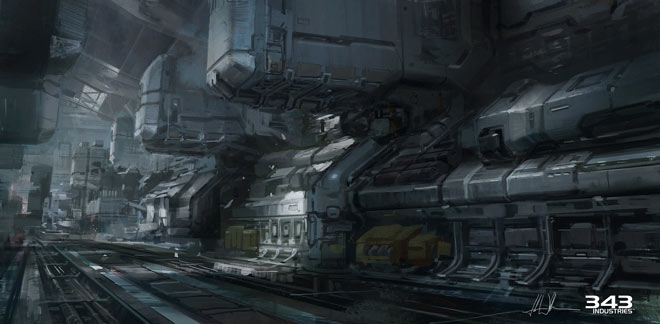 Infinity Interior: When the Infinity crashes into Requiem, it's a partly damaged, dark area. We tried to play with the light to create dramatic silhouettes of tech objects, giving the corridors a dynamic feel and breaking any repetitiveness by lighting parts of it and keeping some areas darker.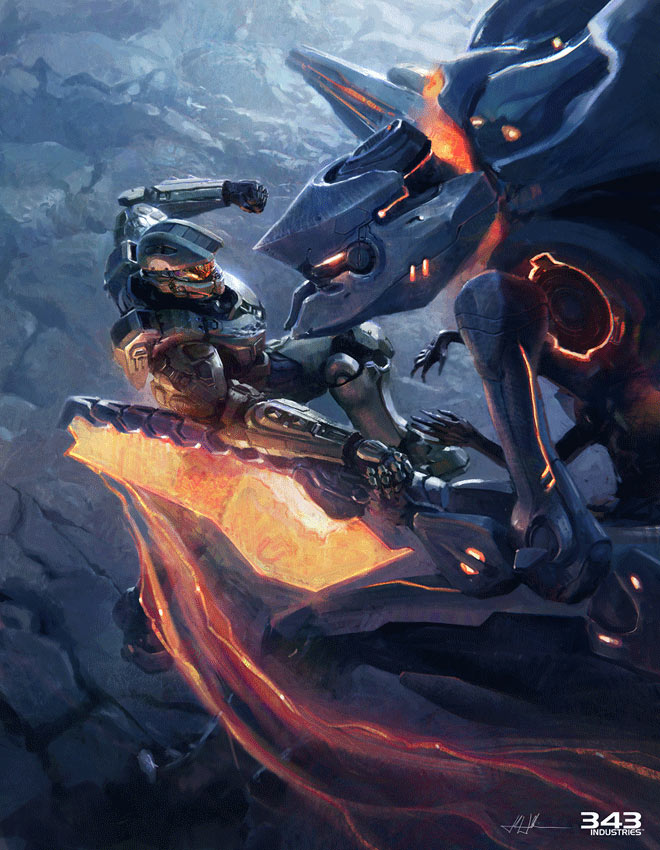 Chief vs. Knight: This is one of many promotional images done for various magazine covers such as Game Informer and Xbox Magazine, showing close combat between the Master Chief and a Promethean Knight. Playing with multiple light sources, the light from the sun as well as the light coming from the Knight's sword and glowing details, I tried to get a lot of focus on Chief's armor and visor.
Now if you'll excuse me, I need to start popping some popcorn for Friday night, as I plan on planting myself in front of the TV to watch the VGAs. Apparently there's a video game called Halo that's up for a few of their awards. Who'd a thunk?
<3,
bs angel