The Halo Bulletin: 4.30.14
by B is for Bravo
04.30.2014 17:08

As loyal readers know, the weekly Halo Bulletin has typically released late on Wednesday evening, around the same time that the sun can be seen setting over Lake Washington. Recently, I've been working with the community team (which includes many talented, fancy individuals who fix all of my typos and create pretty graphics) to get the Bulletin out to all you earlier for several reasons. One is that although the third floor multiplayer lab provides a beautiful view of the neighboring snow-capped mountains during the sunsets, we like to, when possible, leave work while the sun is still up. More importantly, though, is the fact that we like to get you each week's update as early as possible, especially because we know many of you live to the right of us, and are reading from the Midwest, East Coast, or even – gasp – the UK, where Bulletins were typically published in the wee hours of the morning. Moving forward, we're looking forward to bringing you each Bulletin at a most reasonable time. We hope this will be helpful as we begin to discuss future adventures, as we'd like for the Bulletin to disrupt the fewest sleep schedules possible.
One of the added benefits of pushing out the weekly update earlier was the ability to occasionally join the 343 indoor soccer team in their battles at the local sports-dome-complex-facility. Week after week, I'd receive emails about the team, and I'd always have to explain that Wednesday was Bulletin day, and that I wouldn't be able to make it. Last week, though, we got the Halo Bulletin out early in the afternoon, while the sun was still high in the sky, and I made my way over to the game and prepared to defend the 343 goal with honor, integrity, and 343 spirit. The good news is that after 40 minutes of play, the team had done just that, while also scoring quite a few goals of our own, and we went home with a win. The bad news is that I had my elbow stepped on in the process, and also took home an injury along with the win. As such, I sit here now typing away with only my left hand, and my right arm in a rather uncomfortable sling. It is difficult and time consuming, as is eating lunch and brushing my teeth, but the hardest thing is not being able to playtest future Halo experiences that are being built within the studio walls. That part sucks.
I've got a full month before I can pick up a controller again, but was it worth it? Yes. The 343 team was victorious, and that's really all that matters. AXIOS!
This week, we've got a few cool things to talk about, including Spartan Lasers, tournaments, and more.
Matchmaking Playlist Update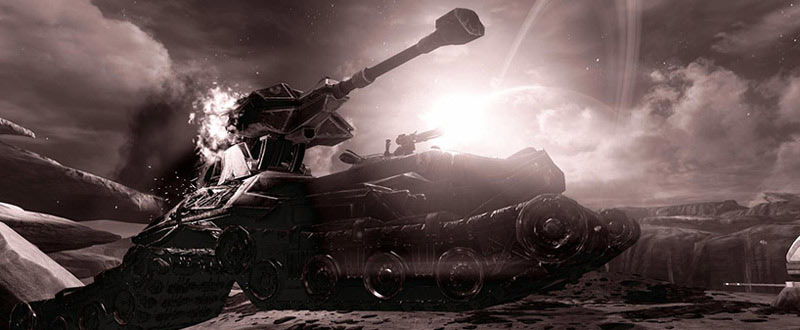 Just this Monday, we released the Heavies playlist, which returned due to an overwhelming community response. After its return on Monday, we weren't surprised to see it immediately take the #1 spot over Big Team Battle, and as I check the Matchmaking playlists now, this is still the case. We're glad to see that so many of you are enjoying the explosions and heavy machinery. We've also seen some questions regarding why Heavies wasn't rolled into Big Team Battle, and there were a few reasons why we gave Heavies its own dedicated slot. First and foremost, Heavies is a 6 vs. 6 playlist and game type, while Big Team Battle exclusively hosts 8 vs. 8 game types. Additionally, we're confident that Heavies is popular enough to sustain a healthy population, and also provides an area where we can host all of the maps from the Crimson and Castle Map Packs, which are also optimized for 6 vs. 6 game types. Lastly, having a home for 6 vs. 6 game types also allows us to look at additional options, such as Dominion. In short, we'll continue to monitor the health of each playlist to ensure that we're offering an optimal Matchmaking experience in Halo 4 across all playlists and voting options. Keep an eye on each Bulletin to read about what we're seeing in Matchmaking and thinking about in terms of playlists updates.
Multi-Team will also be available until May 12, when Dominion will return as our featured playlist. We'll have some additional update details next week, but this week, we want to know which new game type you'd like to see added to Action Sack!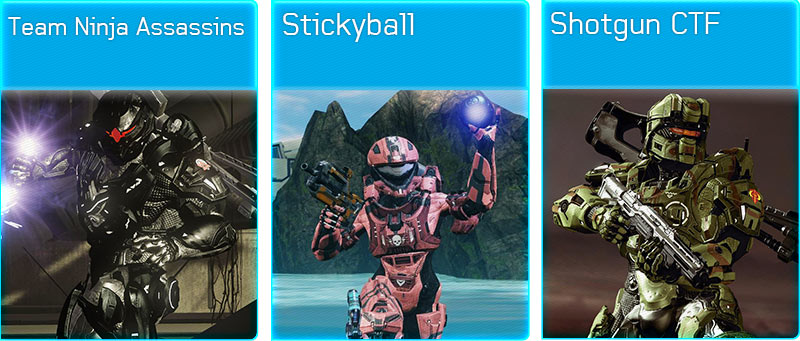 Team Ninja Assassins
A 4 vs. 4 version of Halo 4's most popular Free-For-All game type! All of the sniping, sneaking, slicing, but this time, you've got ninja teammates who will (hopefully) assist with the assassinations.
Stickyball
Sticky Detonators, Plasma Grenades, and an Oddball. Side effects may include explosions. Sticky ones.
Shotgun CTF
Similar to Shotgun Ricochet, Shotgun CTF equips players with Thruster Packs, Plasma Grenades, and a standard issue M45D Tactical Shotgun.
Head here to vote on the Halo Waypoint forums, where voting will be open for approximately four days. Check back next week to find out which game type is the winner!
The Spartan Laser Will Be Quite Operational When Your Friends Arrive

A post on r/halo led us to this completely astounding fully functioning airsoft Spartan Laser.
Our highest admiration and awe go out to Redshirt over at 405th.com. He's spent four years crafting this stunningly detailed and surprisingly functional replica of Spartan Laser terror that is not just beautiful, but ready to fire 2200 BBs per min at anyone foolish enough to cross his path in open battle.
Check this bad boy out below!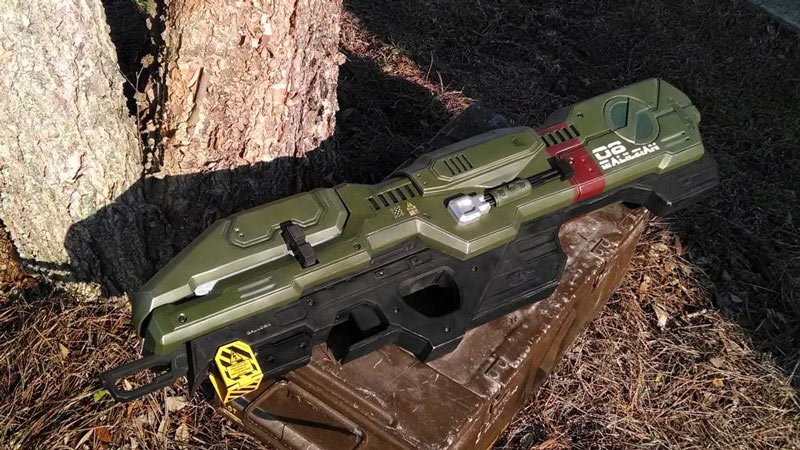 Locked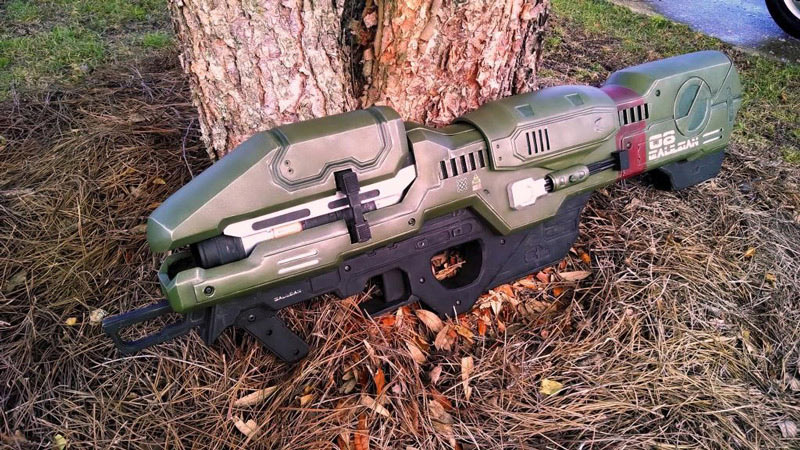 Loaded
Ready to ruin
Want to see it in action? (Warning: some poor, brave grunt volunteer was harmed in the name of science in the making of this video)
We commend Redshirt for his incredible creation and suggest that he not pack this in his carry on if he's planning to fly anywhere anytime soon.
Spring Showdown Recap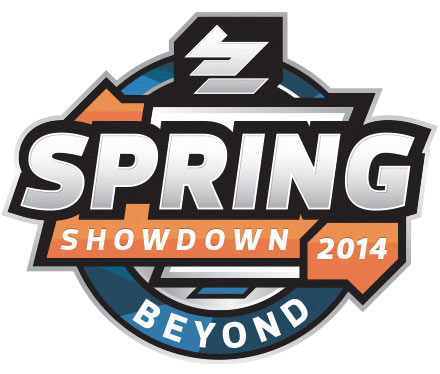 This past weekend, our friends at Beyond Entertainment hosted the Spring Showdown, a 1 vs. 1 Halo 4 tournament over Xbox Live that featured the Halo 4 Global Championship settings. Hundreds of competitors entered the tournament, and after a full day of matches, one winner emerged. Fighting to the final game on Onyx, GUNPLEX managed to win the match by one kill and become the Spring Showdown champion.
This week, I had a chance to sit down with GUNPLEX and chat about his history as a Halo player, and also bothered him for some head-to-head tips. Read on below for the details!
Hey, GUNPLEX! Congrats on winning the Spring Showdown 1v1 tournament. Tell us, did you expect to win going in?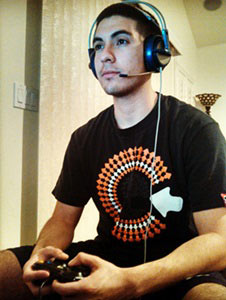 Thank you! To be honest, I would say I expected to win because I felt confident going in – I knew I could win it all if I took it one round at a time.
There were 128 total players in the bracket. Who would you say was your toughest competition?
I would say my rival and runner-up Dramis. I was undefeated throughout the whole tournament and didn't drop a game until game 2 of the Finals, and then only won by 1 kill in the final game. He was definitely my toughest opponent.
How long have you been playing competitively? Have you always enjoyed 1v1 matches throughout the Halo series?
I started playing Halo competitively back in Halo 2, and haven't looked back since. Competitive Halo has always been my greatest passion. And absolutely, 1v1 matches have always been my favorite alongside 4v4s in all the Halo series.
What are your favorite 1v1 maps from all of Halo multiplayer? Are there any maps you could play over and over again?
Some of my favorites are Lockout, Midship, The Pit, Guardian, Narrows, Zealot, Sanctuary, Onyx, Pitfall, and Haven. I would say Midship and The Pit are maps I can play over and over again.
What tips would you give to aspiring competitive players who want to improve their 1v1 game?
Relocate a lot during the game, and don't stay in the same spot - it will keep your opponents guessing. Timing the Powerups and Power Weapons is also a big key to winning. Patience is important and can give you an upper hand over other players, so don't rush out to into unnecessary deaths. In Halo 4 you need to "creep walk" or crouch walk here and there – it's the best way to be sneaky and not be heard by your opponent. Another big thing is knowing respawns and trapping opponents when they respawn. If you don't have the hang of the main respawn locations, watch your game films and learn where opponents can respawn in various situations.
Anyone you'd like to thank?
I definitely have to give a shoutout to my 4v4 team "Empowered" which consists of: PreSchool Slays, The Impulsion, Toxic KM, and myself. Also, my montage editor Riley Hastings who has been putting together a sick montage for me recently - look for it in May. Lastly, I want to give a shoutout to Tom "T2" Taylor who was my inspiration in competitive Halo and the player I looked up to.

Thanks for joining me today, and best of luck in future tournaments!
Thank you!
Screenshot Spotlight: Wraith

Last week, we turned the spotlight on melee attacks. Take a gander at the following Wraith screenshots, and maybe even find inspiration to make your own.
For your chance at being in the next spotlight, hop into the Multi-Team playlist (or grab some friends for a Multi-Team custom game) and take a screenshot featuring multi-colored teams and then tag it with "multi" and "Halo Waypoint," and maybe, just maybe, yours will be featured in the next Halo Bulletin!
And with that, this week's Bulletin comes to a close.
Until next week,
p.s. I spotted this clip from Edgify on Twitter this morning, and it gave me a special, tingly 3-for-1-bounce-shot feeling: