The Halo Bulletin: 10.9.13
10.09.2013 17:29

As a studio continues to grow, it is sometimes necessary to move different teams around to create the best workflow. Maybe the narrative team may need more space, or the sandbox team may need to be closer to the multiplayer team, or people may complain that something smells awful under bs angel's desk. With each reorganization, things are often left behind. For example, someone left a pretty nice pair of speakers behind during the last move, and they now sit on my desk. Sometimes, though, you find things that are not as pleasing.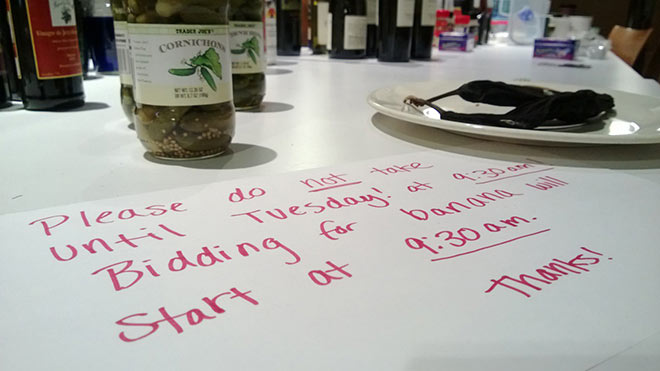 The sign reads "Please do not take until Tuesday at 9:30 a.m.! Bidding for banana will start at 9:30 a.m." If you are thinking "Bidding for bananas" sounds odd, then you are absolutely correct. If you are getting sick to your stomach due to the accompanying moldy, blackened, petrified banana that was discovered on top of one of the refrigerators, this is also the correct response. The above picture is from the latest 343 garage sale, where expired olive oil, fossilized bananas, and leftover adult inebriants were given away to brave studio members.

Note: The inebriants went pretty quick. We're not sure who ended up with the banana, but we do know that bs angel's desk isn't smelling any better.

Now that everyone is situated at their new desks, it's time to check in with the Matchmaking team to see what's up in their corner of the studio. I think they're still in that corner. Lemme go check.
Matchmaking Playlist Update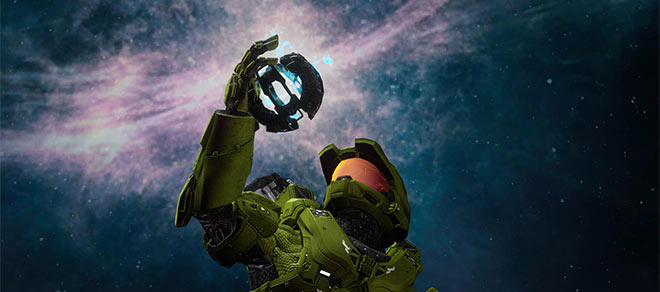 We announced in the 9.25 Bulletin that an update for the primary issues related to the Champions Bundle was slated to release this month. This update is now going through final testing, and should be released in the near future. We'll be sure to provide an update (and corresponding change list) once the release is finalized.

Also, after reviewing the last month of feedback and data from the Team Slayer playlist, we've decided to remove the Majestic DLC requirement. One of the primary goals of this experiment was to determine the feasibility of required DLC in Matchmaking, and while we knew the population of the playlist would drop, we found that the resulting numbers did not allow for the optimal Matchmaking experience for this playlist. As of this coming Monday, no DLC will be required to play in the playlist. Moving forward, we'll continue to investigate the best ways to make DLC content available in Matchmaking. If you'd like to see where all of the DLC maps have been integrated into Matchmaking, this information is always available on the Halo 4 Playlists page. We thank you for your feedback, and encourage you to hop in and enjoy!

There are only a few days left to play King of the Hill, our current featured playlist. If you enjoy the multikills and frenetic chaos that comes with 5 vs. 5 objective games, don't worry - Oddball is our next featured playlist.

Oddball

Oddball was one of the community favorites from the Team Objective playlist, and we're excited to bring it back with optimized settings, maps, and game types. The playlist will be centered on two game modes: Oddball and Legendary Oddball. The first is the original game type that shipped with Halo 4, with personal Loadouts and random ball spawning enabled. Much like Legendary King of the Hill, Legendary Oddball offers an experience with BR-start Loadouts and static ball spawning, meaning that if the ball is played (thrown off the map), the ball will return to the same central location each time. These two experiences will be available in the first and second voting slots of the playlist, respectively. One of the game types in the third voting slot will be brand new to Halo, and contain lots of explosions and sticky things. Presenting: Stickyball.

Stickyball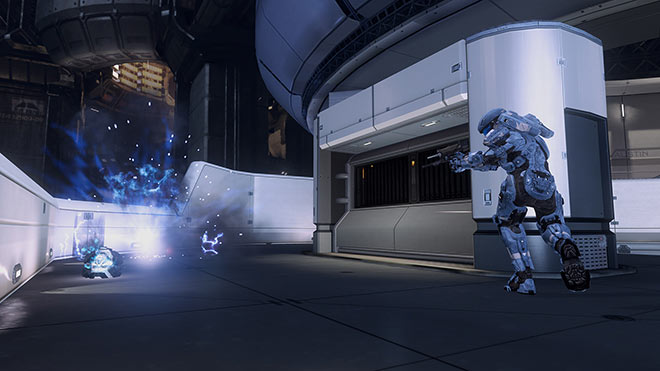 When building the Oddball playlist, we knew we wanted to offer something that was similar to Rocketball or Swordball, but we needed a new game type that only Halo 4 could bring to the table. In Stickyball, players are equipped with the Sticky Detonator and Plasma Grenades. If you're familiar with the stickiness of Halo 4's sandbox, you had probably already guessed this. With projectiles and grenades sticking to people, walls and balls, teams will fight over the Oddball while trying to avoid getting blown up. We hope you enjoy the game type and we'll be monitoring feedback for possible inclusion into the Action Sack playlist after the Oddball playlist is replaced with Community Forge Ricochet on October 28th.

In Spartan Ops, we'll be continuing with an encore of episode 5 with Grunt Birthday Party, IWHBYD and Mythic Skulls enabled. Additionally, we'd like to remind you that weekends in October feature big XP rewards, with increased values on weekend Challenges. If you're looking for some extra XP, be sure to hop in on the weekends. If you're looking to play with and against 343 staff in Halo 4, then be sure to hop into the Oddball playlist this Monday for our upcoming Community Playdate!

Community Playdate: 10.14.13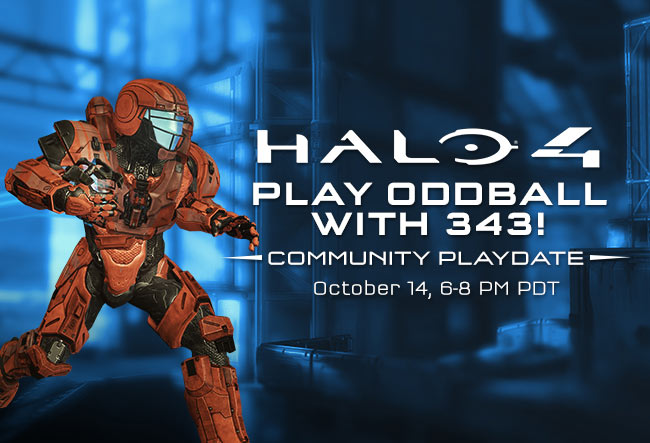 To celebrate the return of Oddball as the featured playlist, members of the 343 Industries team will be heading into the new playlist for a Community Playdate. If you'd like to get in on the action, be on the lookout for the following Gamertags:
B is for Bravo
bs angel
HaloWaypoint
We'll be searching in the Oddball playlist from 6-8pm PDT. We look forward to playing with you, and if you're really good, we hope you're on our team. See you then!

Team Throwdown Update

Team Throwdown, our premiere competitive playlist, will be updated to GH057ayame's tournament-community-standard "v5" settings this coming Monday. Extensive testing went into the updated maps and game types, and the list of 11 map / game type combinations now looks like this:
Team Slayer on Abandon
Team Slayer on Haven
Extraction on Haven
Team Slayer on Onyx
Team Slayer on Pitfall
Ricochet on Pitfall
CTF on Simplex
Ricochet on Simplex
CTF on Skyline
Extraction on Station 9
Team Slayer on Vertigo
To get the lowdown on all of the updates coming to Team Throwdown, I caught up with the community playlist designer, GH057ayame.
Community Interview: GH057ayame

In the new Team Throwdown settings, there have been updates to spawns, weapons, and more, so I grabbed GH057ayame and picked his brain a bit. Get comfy, because this guy can talk.

Hey, GH057ayame! Version 5 of your competitive Halo 4 settings are coming to Matchmaking next week. What are some of the biggest changes?

GH057ayame: Hey, Bravo! I am excited to see the finalized release of my "v5" settings hit the Team Throwdown playlist next week. We've implemented some pretty big changes that improve the playlist. For starters, almost every map variant in the eight-map rotation has received a new spawn system overhaul, so definitely be on the lookout for some new scenery. Next, you'll notice a new weapon in the playlist - the Concussion Rifle! [Bravo edit: The Concussion Rifle is Halo 4 Global Championship approved]. This weapon has proved to be very demanding in terms of technical skill as well as smarts. I'm eager to see how top competitors will fare with this newly added gun.

You'll also notice a few new maps appearing in the voting slots - Pitfall and Vertigo. Pitfall is of course a classic, and Vertigo was the asymmetrical map that we've needed as a community. Last, but certainly not least, players will have the option of Ricochet in the voting selection.

I'm personally unbelievably excited to see Ricochet played in tournaments. What about the game type specifically made you want to add it to the official list of game types?

GH057ayame: Well, before release, I perceived Ricochet to be a solid new and fun game type that somehow rolled Halo, Grifball, football and basketball all into one formula. I knew it would be a hit, but I didn't see the competitive side of it at first. However, when I finally got my hands on the game type, I knew that it had the potential to be a hyper-competitive game type, even more than some other classics.

One of the biggest reasons I like the game type is the customization options. After messing around with the options for quite some time, I finally decided on what the competitive community would enjoy. Thankfully, I was already privileged enough to see some of the professional Halo players compete on this game type, and needless to say, it was exhilarating.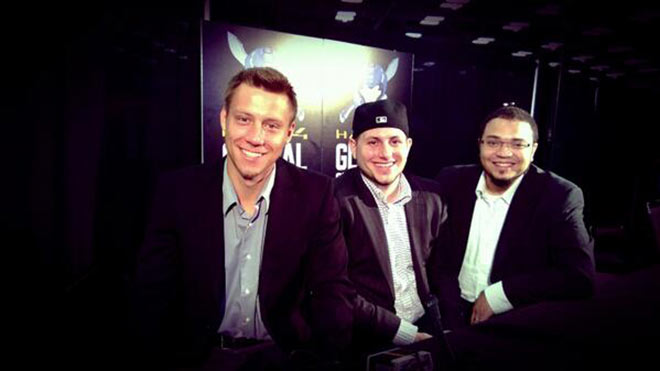 GH057ayame (middle) along with myself and Goldenboy at the first stop of the Halo 4 Global Championship in Austin, TX.
Ricochet has been added on Simplex and Pitfall. What about these two maps made you choose them?

GH057ayame: Well, each potential map variant went through extensive Forging and testing before even being considered as a possible option. Nevertheless, I wanted to keep the game type as close to the original as possible. I didn't want to alter the scoring, the goal zones, or even the ball's respawn point in an attempt to keep it native to original Ricochet. I also wanted to ensure that our competitive community played on map variants that were already in the standard Ricochet playlist.

Therefore, we ended up testing quite a few maps for our rotation - Pitfall, Haven, Dispatch, Onyx, Skyline and Simplex. At the end of the day, Pitfall and Simplex came out on top. These maps required unparalleled coordination and timing in order to win the game. They also provided very consistent and very fair spawn systems for Ricochet - a seemingly hard task to accomplish.

Slayer on The Pit was a game type in Halo 3 that always played differently - sometimes it was incredibly fast paced, and other times it was a standoff. How do you expect Pitfall Team Slayer to play in tournaments in Halo 4?

GH057ayame: Honestly, I anticipate seeing a similar turnout for Pitfall as well. During any competition, Team Slayer games can come down to the wire, and consequently, teams will hold back to create a "standoff." Whether it's Onyx or Abandon, when money and pride are on the line, players have a natural tendency to start backing off in order to take a more calculated approach. I expect no different when it comes to Pitfall Team Slayer. Even though the sprint mechanic will incline some players to rush when making plays, good timing and positioning is always rewarded accordingly.

Team Slayer on Skyline was removed for Team Slayer on Vertigo. What was it about Vertigo that made you consider it for Team Slayer?

GH057ayame: This was one of the harder decisions that I had to make this time around. I was forced to look at these two game types very objectively. Did I want to lean more towards the fast, Battle Rifle-reliant, Skyline Team Slayer? Or the premeditated, asymmetrical Vertigo Team Slayer that tests players' weapon control and map movement? Eventually, I looked at the other 10 game types that I had in place and decided to move forward with another asymmetrical map for Team Slayer. This unique dynamic truly gives players the chance to come back from a substantial deficit as long as they control the power weapons, power-ups and power positions correctly.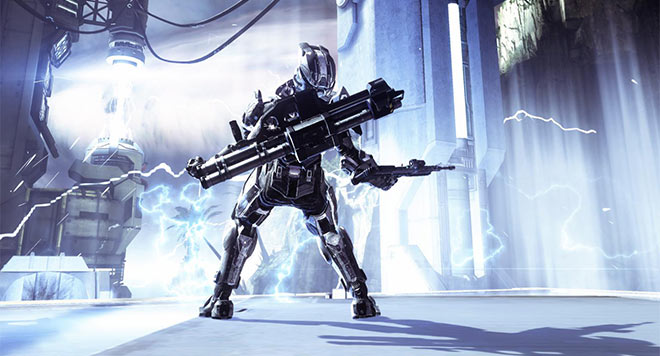 Any other things that fans should know about when the new playlist comes out?

GH057ayame: Definitely! I'm particularly pleased to inform everyone that they will be witnessing a new voting format when it comes to the Team Throwdown playlist. The first voting slot will be filled with an objective game type, the second slot will be filled with a Team Slayer game type, and the final voting slot will be a random game type chosen from the list of game types. This approach will now provide players with consistent voting options for the longevity of the Team Throwdown playlist.

Thanks for joining us today, GH057!

GH057ayame: Thanks for having me, Bravchacho!
Games with Gold: Halo 3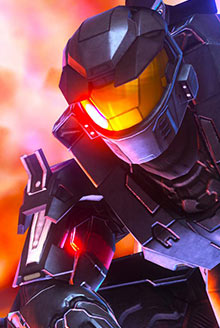 From October 16th - 31st, Halo 3 will be free for all Xbox Live Gold members as part of Games with Gold! Announced at E3 this year, the Games with Gold program gives every Xbox Live Gold subscriber two free Xbox 360 games per month until the release of Xbox One. If you haven't yet played Halo 3, would like to relive the campaign, or just want to play some multiplayer, head to the Xbox Live Marketplace to download.

We are thrilled that fans are being introduced to the precursor to Halo 4, and excited that new players may have a chance to learn about (and play) Halo through this program. Due to the limitations associated with legacy tech, we will not be consolidating or changing the playlist layout for Halo 3, but are working closely with Xbox LIVE to ensure that players have a great experience with the Games with Gold program.

If you have questions about the current Halo 3 playlist offerings, DLC, and more, head over to the Halo 3 FAQ.
Screenshot Spotlight - Forge

Last week we shined the spotlight on orange screenshots. This week we decided to go with Forge art. Take a gander at the carefully crafted creations below, then capture your own for your shot at being featured in next week's Bulletin.

For your chance at being in next week's spotlight, take a screenshot that features a Spartan using Active Camo. Then tag it with "Active Camo" and "Halo Waypoint", and maybe, just maybe, yours will be featured in the next Halo Bulletin!
With that, this week's Bulletin comes to a close. We'll see you online for the Oddball Community Playdate on Monday!

Until next week,

Bravo