The Halo Bulletin: 6.19.13
06.18.2013 21:11

Bravo here with a jam-packed post-E3 Halo Bulletin! The team endured an exciting, chaotic week at the Electronic Entertainment Expo, and we've survived to tell the tale. However, before we do so, I've got something that I am particularly excited to tell you about.

We are proud to announce that we'll be hosting our biggest Halo 4 tournament yet this summer. The tournament will be a Free-For-All competition with chances to qualify at in-person events as well as online. We'll kick off the tournament at the Rooster Teeth Expo (RTX) in Austin, TX from July 5-7. More details and pre-registration for the RTX qualifier, as well as registration for the online portion of the tournament, will be opened and detailed on July 1. Last (but certainly not least), the tournament will boast over $500,000 in prizes, so we suggest you start practicing...now. As mentioned above, all of the questions you have will be answered on July 1, so check back to Halo Waypoint for the full breakdown of the tournament.

Now that your fingers are undoubtedly tingling with excitement, continue reading below for more information on E3, Spartan Assault, Matchmaking and more.
E3 2013

The journey to E3 is not always easy. I spent the weekend in Knoxville, Tennessee, checking out and commentating on some of the matches at Arena Gaming League's Halo 4 tournament and planned on flying to Los Angeles on Sunday night. After being stuck in several airports, sprinting through the entirety of Charlotte Douglas International (with Mobility, thank goodness), and begging some airline gate agents, I somehow ended up on a flight to E3. I'd be in town for the Xbox Media Briefing the next morning. After watching each and every press conference from home for the past few years, you could say that I was excited to attend in person. After sitting in an absurd amount of traffic and watching camera-wielding members of the press begin to walk down the off-ramps, we finally arrived at the venue. Then I made a mistake and let bs angel choose our seats. She just so happened to pick the one seat in the house that had a giant camera boom arm in the way of the screen, which left me standing several feet away from her to watch all of the trailers. I usually try to stand (at least) several feet away from her anyway, so this wasn't really a big change.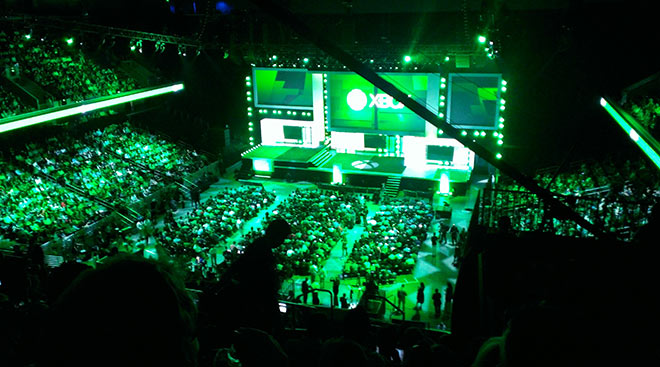 As you might have guessed, she and I were rather excited about the Halo Xbox One (working title) reveal trailer. We also became slightly (extremely) nervous when one or two of the trailers had slight audio issues. Luckily, the Halo Xbox One trailer was showcased in all of its glory: The unveiling of the Master Chief's armor and helmet sent a roar through the crowd as well as chills down my back. It was incredible to be in the room representing the studio as our very own Bonnie Ross gave insight into some of the things you can expect in 2014, such as Halo in 60 frames per second and dedicated server support. The trailer showed off a few hints, and we hope it's enough to hold you over for a while—details regarding both Halo for Xbox One and the Halo TV series from Executive Producer Steven Spielberg will be coming at a later date.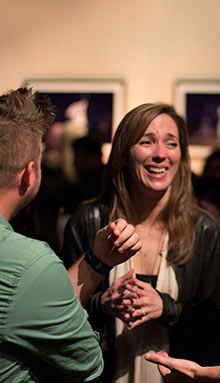 On Monday night following the Media Briefing, we had a community event where friends and fans got a chance to be some of the first in the world to play Halo: Spartan Assault. In addition to fine food and conversation, we also held a Score Attack Challenge on one of the missions in the game. At the end of the night, it was not a huge surprise to see Halo YouTuber George "Nak3d Eli" Norberg walk away with first place and a brand new Surface Pro. Congrats, Eli!

The next few days on the show floor were chock-full of smiles, high scores and more Covenant-carnage, as E3 attendees who stopped by to play Halo: Spartan Assault got a chance to demo the title. The Score Attack Challenge proved to steal the show once again; players continued to chase the highest score each and every day. A huge thanks goes out to everyone who stopped by the booth to hang out, say hello and check out Halo: Spartan Assault. The game releases next month for Windows 8 and comes with mouse and keyboard support at launch. For those of you who prefer your twin-stick action shooters to be played on a controller, we're excited to announce that Xbox controller support is on the way, and we'll provide a final date when possible. When the game launches, I'll be looking around for some high scores in the community and will also be looking to remind bs angel that I consistently get higher scores than her.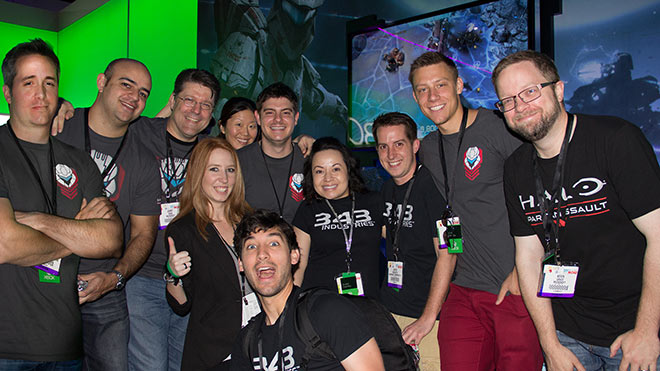 The Halo: Spartan Assault team at E3!
E3 Spartan Assault Booth Gallery

Matchmaking Playlist Update

This coming Monday, we'll be featuring a new selection of Spartan Ops missions in a brand-new Designer's Choice medley from our very own Kevin Schmitt and TJ Perillo:

Chapter 6, Mission 4: Search and Destroy

Chapter 5, Mission 3: Everything Has Gone Wrong

Chapter 4, Mission 5: Hairy Call

Chapter 3, Mission 1: The VIP

Chapter 4, Mission 3: Random Transport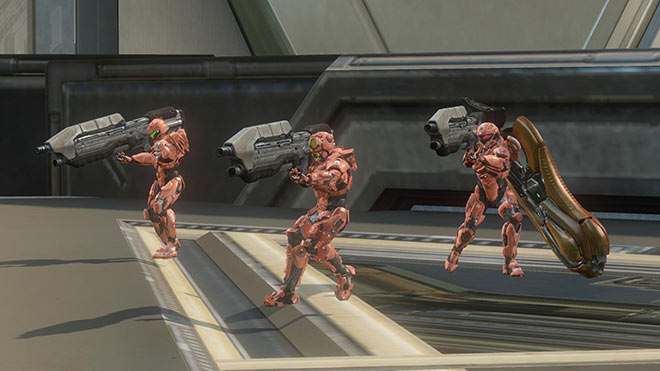 Mini Slayer-So big, everyone's doing it!
This past Monday, we introduced Mini Slayer to Matchmaking. We hope you've had a chance to dip into the Action Sack playlist and give it a shot. As I mentioned briefly in last week's Matchmaking update, the game type had been played only behind closed doors here at 343 and shown to a select few visiting community members. Getting the game variant just right was a bit tricky, so we thought it might be cool to provide some insight into the development challenges of Mini Slayer.

Spartan scaling has not been used in Halo 4 Matchmaking until now because many features can become difficult to fine tune, such as hit boxes, kill times, movement speed and actual scale of the player model. Early on in our testing at the beginning of the year, the Spartans were much smaller, and it was actually difficult to tell that they were Spartans rather than just tiny ants with really big, awesome weapons. Attempting to get the size right was important for all of the above parameters—a mini Spartan that is too difficult to kill results in long engagements and frustration, and we found that it took away from the novelty of the game type. We also tested Storm Rifle starts, maps such as Haven and Abandon, and much more until landing on the current Matchmaking map/game type combo, which is played on the community Forge map Rail with slightly buffed Assault Rifles. Melee is also disabled in this mode due to inconsistencies that occur when using extreme scaling of character models. However, it's still possible to get an assassination, so watch your back. We hope that you're getting a kick out of the regular-sized holograms, Hardlight shields and overall chaos that ensues when the game begins, and we look forward to possibly using Spartan scaling in other Action Sack modes in the future.

Next week's Bulletin will have the full details of the next Matchmaking Update, but we are currently planning on updating the Flood playlist, changing Team Objective to Big Team Skirmish and possibly more on July 1. We look forward to bringing you all of the juicy details next week!

I almost got away with writing the entire Bulletin this week. Almost. This being said, bs angel has selected a few of her favorite screenshots from last week below.
Halo 4 Screenshot Spotlight: Cone

Previously, we turned the spotlight on the color blue. This week, we decided to go with something that struck fear into the heart of all Halo 3 players. Take a gander at the following images of cones, and then capture your own for your shot at being featured in next week's Bulletin.

For your chance at being in the next spotlight, take a screenshot that features a Mantis. Then tag it with "Mantis" and "Halo Waypoint," and maybe, just maybe, yours will be featured in the next Halo Bulletin!
Until next week,

-Bravo

P.S. Discuss.