The Halo Bulletin: 3.13.13
03.13.2013 15:17

While the majority of my days are unpredictably fun and chaotically busy, Wednesdays are always the same: I go to a deserted room in the back of the studio, shut myself in and randomly hit the buttons on my keyboard until I'm left with a sizable pile of loosely related words. You recognize the result as semi-coherent rambling; I call it your weekly Halo Bulletin.
Normally I'm thankful for time away from my desk, primarily because I sit next to someone who consumes and expels mass amounts of fiber (Hi, Bravo!). Today, though, I'm more than a little bummed, as I'm missing out on some particularly fun playtests. You see, amongst our guests this week are select members of the press who are checking out the Castle Map Pack and upcoming title update. The former we revealed on Monday through a brand new trailer and screenshot-filled image gallery; the latter we announced approximately 25 words before this one. If you'd like more information about either, please continue reading, as we'll be tackling both of those subjects and more below.
Halo 4 Castle Map Pack


Earlier this week, we released the above gameplay trailer for Daybreak, Perdition and Outcast - the three playspaces that make up the Castle Map Pack. We also shared the first screenshots of each of the vehicular-friendly environments. While they're still a month away from launch, we lifted the skirt on this particular map pack a little early because we wanted to have it on the floor of PAX East - which, for the uninitiated, is a three-day long video game convention held in the lovely city of Boston.
To make sure you are fully exposed to the Castle Map Pack before its April 8th release, we will be spreading our coverage out over the next four weeks. The week of 3/18, our studio visitors will be releasing gameplay videos and flythroughs of each map. The weekend of 3/22, the Castle Map Pack will be featured in a panel and playable on the floor at PAX East. The week of 4/1, we will be featuring strategy videos, the full list of achievements and a special pre-launch live stream.
While the aforementioned articles and events will hopefully satisfy your craving for all things Castle, we want to make sure you leave here today feeling fully satiated as well. Thus, we have three brand new, exclusive screenshots for your eyes only. When you're done ogling them, feel free to adopt one (or all) of them as your new desktop adornment. We won't tell your regular wallpaper if you don't...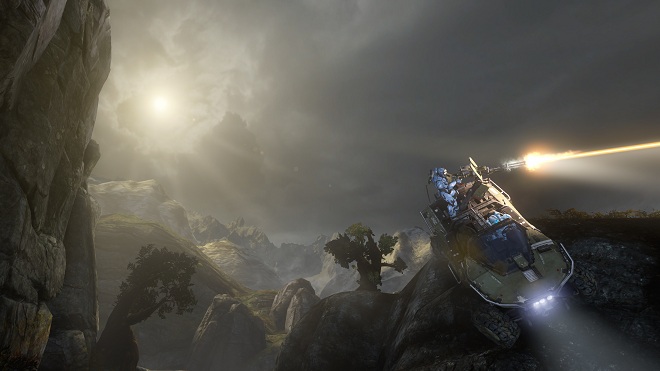 Daybreak: Although it is currently being used as a military staging ground, this fertile world will one day be colonized.
Description: Operation: Daybreak is effectively a cluster of ONI research facilities and sensor relays residing in the vast highlands of Saviron, on the blue-green planet Oban. With the destruction of so many worlds at the hands of the Covenant, this planet is now undergoing preparations to make it a home for millions of human refugees. In the meantime, the UNSC Navy continues to use it as a key staging ground for a number of highly classified military exercises.
Wallpapers: 1024x768 , 1280x720 , 1920x1080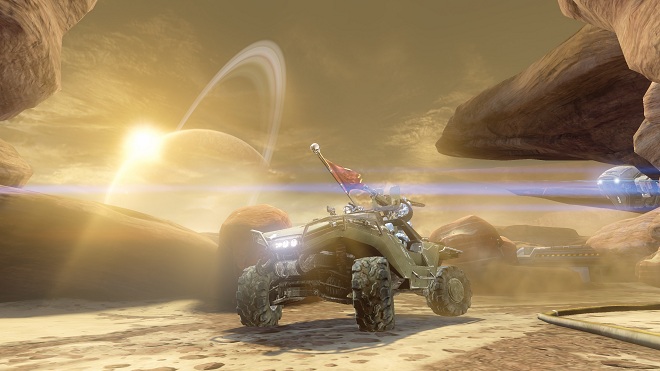 Outcast: Dissident strongholds such as this one helped foment several anti-centralization movements.
Description: One of the few worlds left unscathed by the Covenant, the remote outer colony of Talitsa has always had a strong anti-centralization and pro-colonial autonomy sentiment, even since before the war. The UNSC halted several early political uprisings in the colony's major population centers, but this only fostered a more radical form of dissent, now in the form of secluded and heavily armed redoubts. Ultimately, these sites would provide the foundation for a number of major political movements.
Wallpapers: 1024x768 , 1280x720 , 1920x1080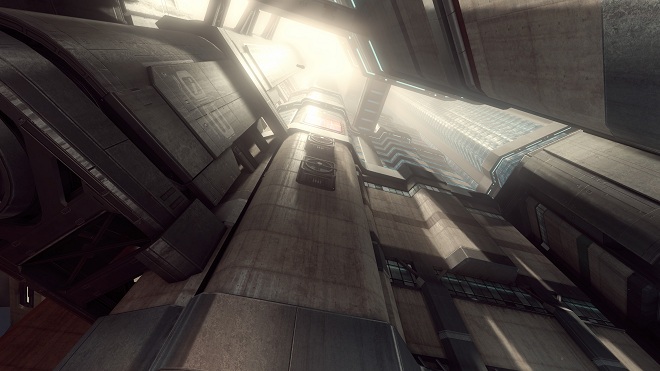 Perdition: City-wide evacuation orders have confirmed that the unstable thermal reactor cannot be contained.
Description: New Carthage has always been a prime example of a healthy, growing colony, even since before the war. Hidden below the city of Pilvros, however, one of the thermal reactors which provided clean and safe energy in the past has now gone critical. While a large-scale evacuation effort is underway, scans of the reactor section are quickly acquired to help analysts determine the root cause of this impending disaster.
Wallpapers: 1024x768 , 1280x720 , 1920x1080
As I previously noted, you will be hearing more about the Castle Map Pack next week. For now, I'll tell you this much: CTF on Daybreak rocks my socks, and I have a feeling it will have a similar effect on you. You can let me know if that's the case on April 8 or at PAX East. Speaking of PAX East, let's chat a bit about that, shall we?
PAX East


On March 22-24, thousands of people will descend upon Boston to celebrate all things video games. We'll be happily camped out in the Xbox booth, where you'll be able to play the Castle Map Pack several days before it's available to the rest of the world. We're also hosting a multiplayer-themed panel on Friday evening, the details of which are as follows: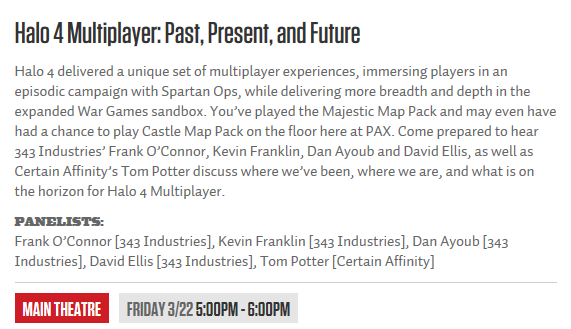 We have a special announcement planned for the panel (which may or may not involve Great Anvils), and some fun activities will be going down at our booth every day of the event. So, as they say, be there or be square! And preferably the former, of course.
Matchmaking Playlist Update


Between our just-announced-earlier-in-this-Bulletin title update and the slight change coming to our playlist update schedule, there is a lot to talk about in regard to your Halo 4 Multiplayer experience. Here to do just that is Bravo, who was kind enough to stop talking about his super sweet snapshot (for two seconds, anyway) and prepare the following update for you.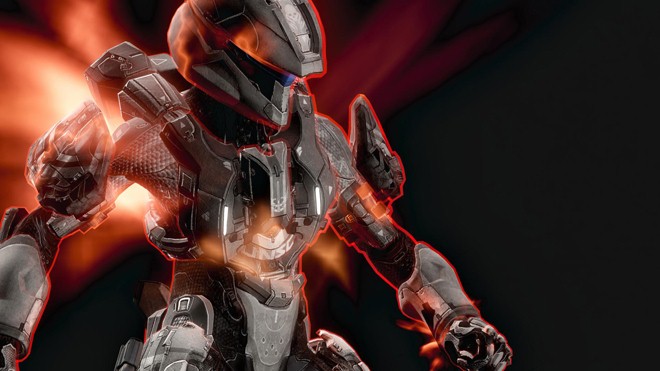 Bravo here with your weekly Matchmaking and War Games update!
First off, we hope you're enjoying Action Sack. We have seen some great feedback thus far. I've been playing in the playlist a bit and got a pretty sweet 2-for-1 snapshot in Binary Slayer. Also, we'll be adding more (super awesome) game types to the playlist on the March 25, which brings me to our next point.
As you know, we have been updating Halo 4 Matchmaking on a weekly basis since launch, offering new experiences each week, as well as reacting to problems, glitches, exploits, etc. Moving forward, we are now experimenting with updating Matchmaking on a bi-weekly basis. Long story short: That means there will not be a Matchmaking update next Monday. Overall, this will allow us to provide you with more substantial updates, bestow attention where it's most needed and allow newly implemented playlists a longer runway to succeed or fail from both a gameplay nuance perspective as well as supplying more data to mine and learn from.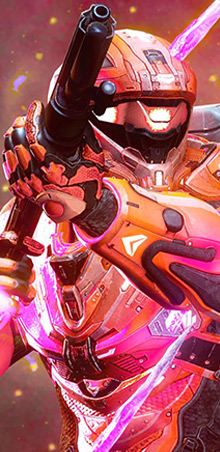 In the coming weeks, you'll see some sizable updates to many of our existing playlists as we prepare to launch CSR next month. We are also in the process of finalizing the design of our FFA playlist and nailing down a plan on how to best bring objective game types to larger parties. There are a lot of decisions to be made for both of these, and they're both on the way. Additionally, as mentioned above, the Multiplayer team is investigating how to best improve the various playlists. If you aren't already doing so, now is absolutely the best time to post in the War Games Feedback section. While you're there, be on the lookout for new weapon-specific threads, where you'll be able to leave feedback on Halo 4's weapons and sandbox. These threads will be posted in the War Games Feedback section tomorrow. As always, we look forward to reviewing your constructive feedback.

After the release of the last TU, we acknowledged there was more balancing to be done and more issues to address, and that we were actively working with the Halo 4 game team to investigate the feasibility of additional fixes. We can now announce that various teams across the studio have indeed been hard at work on an additional title update.
We'll have more details at our PAX East panel but would like to confirm that the "X Marker" upon death will be returning, so you'll soon be notified when and where your teammates are killed by an "X" logo that will appear on your HUD for a brief period. We're pumped to bring this community request back to life and can't wait to hear you screaming "ONE SHOT ON MY X!!" in Matchmaking.
Oh, and if there's no Matchmaking update next week, it's because I'm trying to up the ante with a 4-for-1-Overkill-Snapshot-Extermination in Binary Slayer. I'll save the clip.
Halo 4 Screenshot Spotlight - Snipers


Last week we shined the spotlight on Armor Ability-themed screenshots. This week we decided to go with the long barrel. Take a gander at the gorgeous sniper rifle shots below, then capture your own for your shot at being featured in next week's Bulletin.
For your chance at being in next week's spotlight, take a screenshot of your impressive Forge creation (example). Then tag it with "Forge Art" and "Halo Waypoint", and maybe, just maybe, yours will be featured in the next Halo Bulletin!
And with that, another Halo Bulletin comes to a close. I will see you next week, when we'll be digging into the specifics of the upcoming title and Matchmaking playlist update. Until then...
<3
bs angel
P.S. Discuss.