The Halo Bulletin: 2.13.13
02.13.2013 17:30
Don't make a girl a promise
Something is in the air. I suspect it's related to the post-Taco Tuesday peak in peristaltic activity; however the sudden over-availability of heart-shaped chocolate boxes suggests it just might be love. And that makes sense, considering tomorrow is Valentine's Day.
While I'm more of a lone wolf sort of person (which is appropriate since we're currently building a Free For All playlist), some of you prefer grabbing your favorite Player 2 and settling in for a lengthy co-op session. Should the latter description apply to you, you'll enjoy the following tokens of love.
To properly celebrate your perfect match, we created eight Halo-themed eValentines for your perusal. Your other half will need a basic understanding of Halo to fully appreciate them, but seriously, if they aren't familiar with the Master Chief, are they really worth keeping? That's what we thought.
Now, on to the Halo eValentines!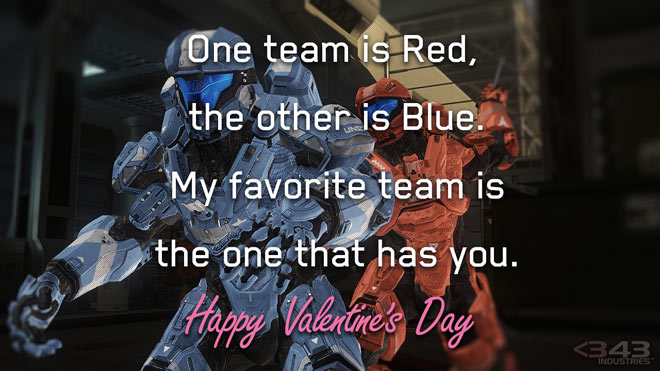 /halobulletins/20130213/valentines_01-2.jpg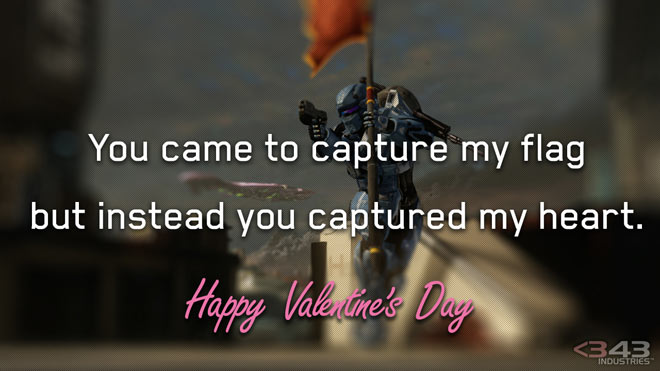 /halobulletins/20130213/valentines_02-2.jpg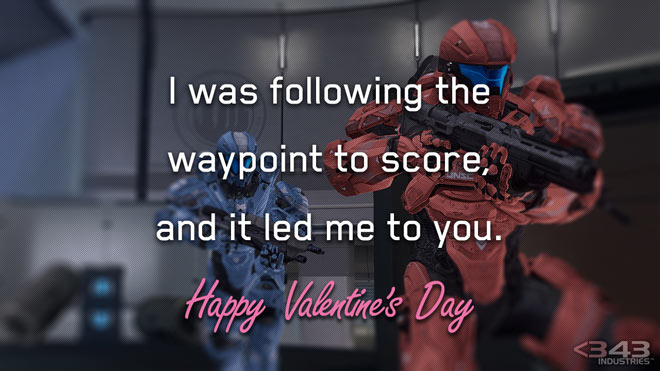 /halobulletins/20130213/valentines_03-2.jpg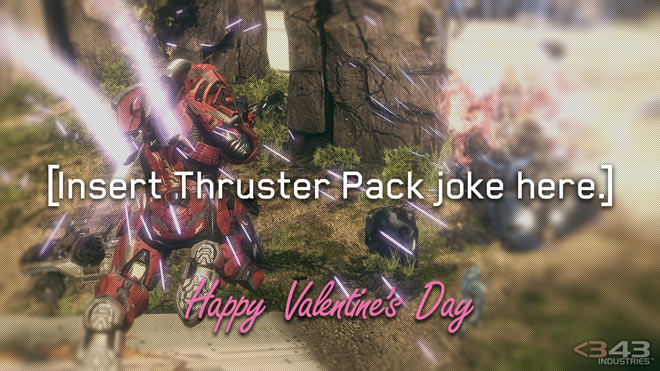 /halobulletins/20130213/valentines_08-2.jpg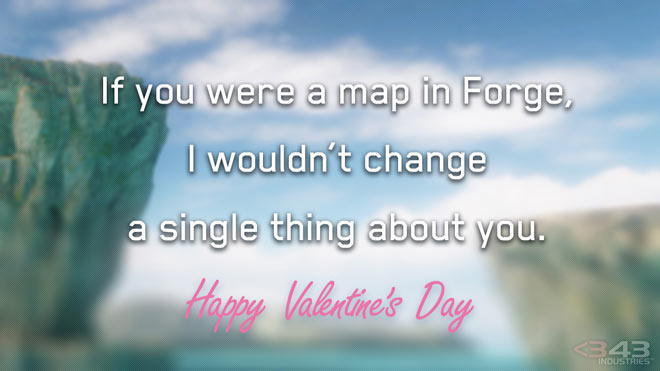 /halobulletins/20130213/valentines_04-2.jpg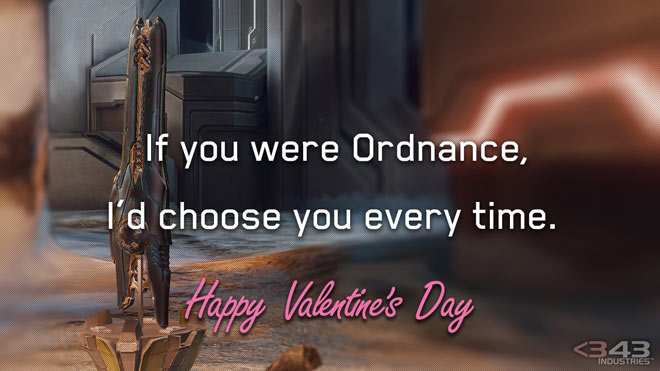 /halobulletins/20130213/valentines_05-2.jpg
/halobulletins/20130213/valentines_06-2.jpg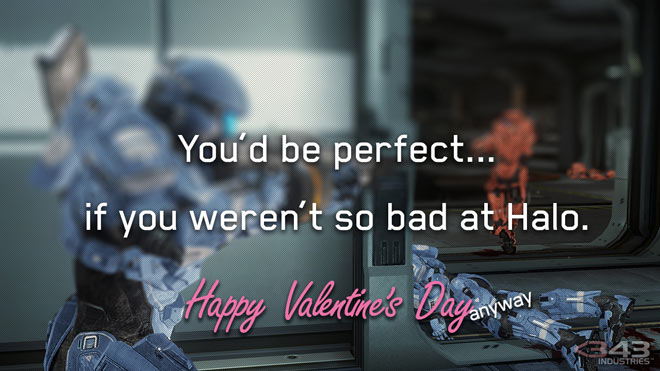 /halobulletins/20130213/valentines_07-2.jpg
To send your Valentine one of the above digital cards, simply right click, "Save as" and send. To post it somewhere for the world to see, insert the URL available immediately below the image into the appropriate code. And yes, you can send them to as many people as you'd like. We won't tell anybody you're looking for additional action in the sack if you don't...
Spartan Ops Update
Spartan Ops episode 9 launched a mere two days ago. If you've managed to stay on top of this particular episodic adventure, you can watch the latest CG cinematic and check out descriptions of the five new playable chapters in our Spartan Ops hub. If you're a little behind or have yet to start on this story-driven game mode, fret not because all episodes, both previous and current, live on your in-game timeline and are always available, regardless of when they were originally released.
As is customary, we're going to tackle the fiction behind last week's episode, not this week's, in an effort to preserve the experience for those that have yet to play the current batch of missions. So sit back, put your feet up and enjoy a summary of Spartan Ops episode 8, penned by Brian Reed, franchise writer and author of Spartan Ops Season 1.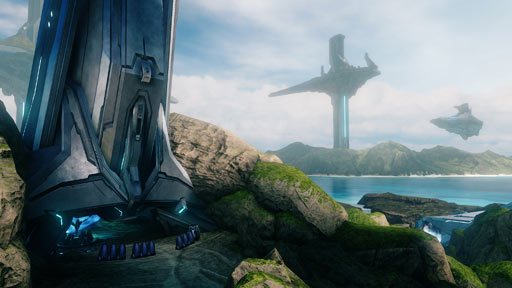 Episode 8 – Expendable

Admiral Osman makes me happy. She's a character that fans of Karen Traviss's excellent Halo novels (Glasslands and The Thursday War) will be familiar with, although they know her from a point in history 5 years before she orders Lasky to assassinate Halsey. And if you don't know her from the novels, you know she's someone Lasky has enough respect for that he straightens his uniform before speaking to her. That's the kind of thing we're trying to do more of, rewarding folks who have sunk time into our Universe, but never punishing those who haven't read all the novels/comics/etc.

One of my favorite bits from a production standpoint is probably something that slipped right by as you watched. And that's good, because it's a small touch and not something you were supposed to notice. It's Palmer denting the holotable. That started as her yelling the line. Then, it became her yelling and hitting the table. Then yelling, hitting the table and denting it. Then at the last second, we had the idea to make the hologram fritz. Like I said, a small thing, but something I enjoyed watching evolve as the show progressed through production.
I hope you enjoyed the behind-the-scenes look at episode 8. And, for those of you that like sneak peeks, here's a screenshot from next week's installment, which will launch bright and early Monday morning.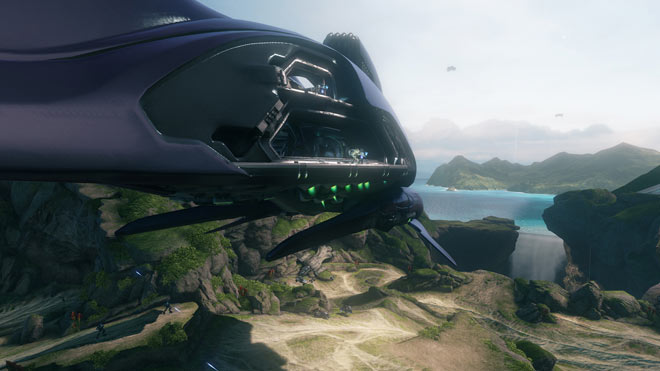 Section 3
/ START FILE/
//CLASSIFIED/
/
/ATTENTION OPERATIVES:
/WE HAVE RECEIVED MULTIPLE REPORTS OF A POSSIBLE ENCRYPTED DATA NODE, RELATED TO THE TOP SECRET DOCUMENT, CODE NAMED "SILENTIUM".
/IF ACCURATE, THE REPORTS INDICATE THAT THE DATA NODE WILL REQUIRE A SET OF TEN (10) GLYPHS, IN ORDER TO DECODE.
/
/RELEVANT GLYPHS HAVE STARTED SHOWING UP IN A COUPLE OF WAYS:
/ 1. IN SOME OFFICIAL TRANSMISSIONS REGARDING "SILENTIUM"
/ 2. AS RECOVERED ENCRYPTED INTEL, WHICH IS LOGGED TO THE SECTION 3 COMMS CENTER OF THE FORUMS
/
/WE EXPECT GLYPH TRANSMISSIONS TO CONTINUE OVER THE NEXT FEW WEEKS. PLEASE REMAIN VIGILANT, AS WE MUST RECOVER ALL TEN GLYPHS IN ORDER TO DECODE THE DATA NODE
.
/
/END FILE/
Next Week's Matchmaking Playlist Update
Last week, through a particularly entertaining video, you were informally introduced to Bravo, the newest member of our Matchmaking Systems Team. While he's frequently working on being the embodiment of your wonder, I did manage to pull him away from that long enough to have him write up the following summary of next week's Matchmaking update. So here is Bravo, along with special guests Ghostayame, Walshy and StrongSide, who are not only pro Halo players that regularly rock my world but are also about to rock yours.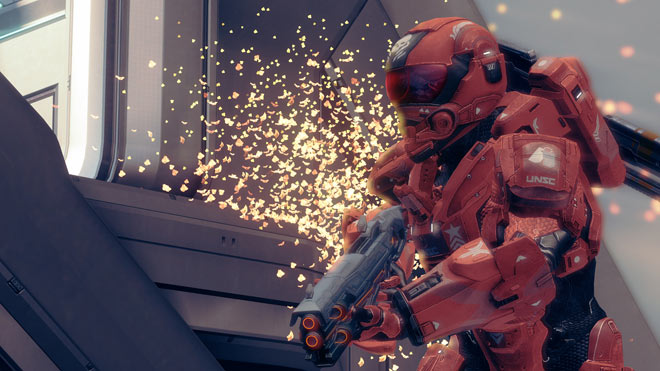 Week of 2/18:
Bravo here with the Matchmaking Update! On Monday, Spartan Ops continues with episode 10, the final episode of Season 1, which will of course contain five new Spartan Ops missions. Also debuting Monday is Team Throwdown, our premiere competitive playlist. We have been monitoring community game type settings and feedback over the past few months, and teamed up with competitive community leaders Walshy, StrongSide and Gh057ayame to build this playlist. We created an experience that will feature the popular "v2" settings and maps, which have been carefully developed and tweaked for competitive play. The playlist will feature Team Slayer, Capture the Flag, Extraction and King of the Hill at launch. Here are some of the overall details:
| Mode | v2 Settings |
| --- | --- |
| Score to Win | Dependent upon game type |
| Loadouts | Game Loadout |
| Instant Respawn | Disabled |
| Death Cam | Disabled |
| Motion Tracker | Ally Movement |
| Personal Ordnance | Enabled |
| Join In Progress | Disabled |
| Guests | Disabled |
v2 Game Loadout
Starting Weapon
Battle Rifle
Secondary Weapon
None
Grenades
2x Frags
Armor Abilities
None
Tactical Mod
Resupply
Support Mod
Explosives
| Game Types | Maps |
| --- | --- |
| CTF | Adrift |
| | Simplex |
| | Solace |
| Extraction | Dispatch |
| | Haven |
| King of the Hill | Shutout |
| Team Slayer | Abandon |
| | Haven |
| | Shutout |
| | Simplex |
| | Solace |
Additionally, we are aware that there is a portion of the competitive community who'd prefer to see game types that utilize the DMR, as well as more of Halo 4's sandbox. As a result, we are working with Walshy, StrongSide and Gh057ayame to develop alternate settings with balanced loadouts that offer varied options for Primary Weapons, Armor Abilities, Tactical Packages and Support Upgrades. We are still making final tweaks to these settings - they may launch with the playlist on Monday, or may be released in a future update. We'll be sure to announce a final, detailed breakdown of the settings that will be featured in the playlist in the Matchmaking section of the forums, so be on the lookout for that this weekend. We look forward to hearing your feedback on this playlist and will make changes and updates accordingly on a regular basis.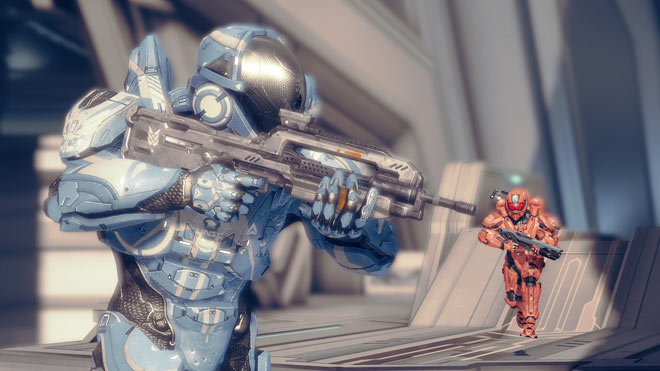 Here's what some of the players we're working with have to say about Team Throwdown:
"Saying that I'm extremely excited about the Team Throwdown playlist would be an understatement. I can personally attest to how much time, work and effort were put into these settings by the entire team, as well as the whole Halo community. These maps, game types and settings bring out a classic, competitive feel, and even provide room for the evolution of a strategic skill gap." - Eric " Gho57ayame " Hewitt
"I am excited to have a playlist that has the most competitive weapons, settings and maps that Halo 4 has to offer!" - David "Walshy" Walsh
"The first time I played these settings, I hit a quick scope to win a 49-49 standoff - what else can you ask for in a competitive playlist? You may not be able to get the rush of a tournament every day, but with this new playlist, you can experience the best competitive settings Halo 4 offers. I like the Battle Rifle start, which adds a definitive skill gap. I personally can't wait to start dominating in Team Throwdown and get my level 50!" - Michael "StrongSide" Cavanaugh
We're proud to be working with these individuals on the Team Throwdown playlist and encourage you to leave your feedback in the War Games Feedback section once the playlist is live.
In other news, we'll be reducing the score limit across the Team Snipers playlist from 60 kills to 50 kills (or 500 points) to account for the fact that instant respawn is disabled. Also, all of you Lockout fans will be happy to know that Shutout will be added to the rotation in the SWAT playlist. We'll continue to add new Forge maps to existing playlists in future weeks to ensure that there are new map and game type combinations to explore. Speaking of maps, we'll also be removing the Crimson DLC playlist from the rotation on Monday in preparation for the upcoming map pack, but Crimson DLC maps will continue to appear throughout various Matchmaking playlists.
If there's no Matchmaking Update next week, it's because I am at home playing Team Throwdown and haven't slept since it launched.
Title Update... Update?
In early January, we announced that we had started work on a title update for Halo 4. That work is nearing completion, and it is expected to release within the next two weeks. It addresses some of the concerns we've been hearing from the community, but just to set your expectations accordingly, we know we still have work to do. There's more balancing to be done and more issues to address, and we are actively working with the Halo 4 game team to investigate the feasibility of additional fixes. We'll share the complete change list after it launches, but here are a few of the big ticket items:
Reduced the range of the Boltshot's damage scaling over distance. The previous effective range for 1-hit kills was 20'-25'. The range has been reduced to 15'.
Fixed an issue that did not allow players to create respawn timers or disable instant respawn in custom games.
Fixed issues with friendly fire against vehicles. If FF is disabled, damage / EMPs from friendly sources will no longer damage vehicles that are fully controlled by your team.
Keep an eye out for the complete change list once the TU is live.
And with that, I'm putting a bow on this sucker and calling it done. I hope you have a wonderful Valentine's Day, Forever Alone Day or whatever you happen to celebrate, and I'll see you back here next week for a Bulletin that is sure to be majestic. Until then...
<3,
bs angel
P.S. Discuss.