The Halo Bulletin: 6.9.12
9. June 2012 18:00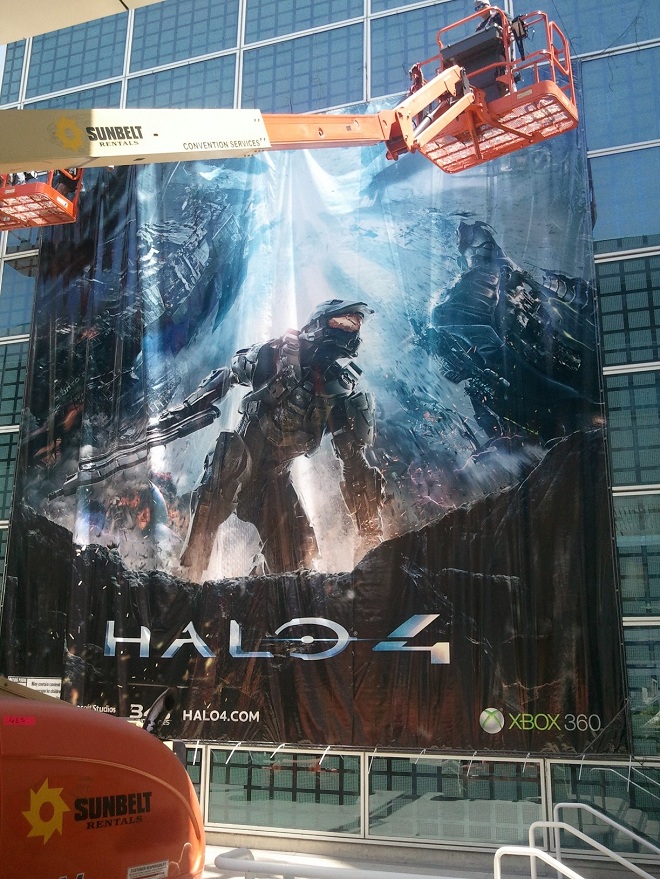 There's no place like E3
Thursday night, after the curtain fell on E3 2012, one of our videographers asked if I would do a quick interview. I said no, he thanked me for being my usual (un)cooperative self, and then began grilling me. After I did the tired version of my now infamous jazz hands move (which, for the record, was actually an excited double wave), he asked me what I was going to do next, now that E3 was officially over. I said, "Wash my feet." After kicking one of my sparkly sneakers toward the camera, I spun around and defiantly marched off, back to my hotel room, to begin dealing with the distracting odors emitting from my shoes.
What happened after that interview was not very exciting, but what happened before it was really quite the experience. So let's rewind a bit and go back to the day it all began.
As the clock struck seven Monday morning, people started gathering in front of the Galen Center for the Xbox E312 Media Briefing. It wasn't slated to start until 9:30AM, but fans, press, and industry folk alike were already lining up, all in hope of securing the best possible seat. Inside the Galen Center, organized chaos quietly ensued as the event staff did their last minute sound, light, and camera checks (interesting side note: Part of the preparations included sending a message to the USC seismic center because, as we learned from our rehearsals, the audio from our presentation registered on their seismic counters!).
343-ers took their seats in the designated Halo section, some showing their excitement through giddy small talk, others sitting quietly, but all anxiously awaiting our portion of the presentation. We've been working on Halo 4 for over three years, and knowing our biggest reveal yet was only minutes away was terrifying and exciting, all at the same time.
When the lights started to dim, an expectant hush fell over the crowd. Every 343-er, from those in attendance to those watching back home, unconsciously held their breath. The moment had finally arrived. We were going to show the world Halo 4.
Our live-action trailer, a standalone piece entitled "The Commissioning" (which was filmed in Bucharest, Romania and was directed by award-winning director Nicolai Fuglsig), opened up our presentation. Some people recognized it as Halo the second it started. For others, enlightenment came later. As people became engrossed in what they were watching, tension filled the room. The scan that swept the ship on the screen simultaneously swept the audience in the theater, and our seats began to rumble as the terror unfolded on screen.
Then, the live action trailer transitioned into a Campaign demo with Cortana (voice actor: Jen Taylor, cinematic performance capture actor: MacKenzie Mason) calling out to Master Chief (voice actor: Steve Downes, cinematic performance capture actor: Bruce Thomas) in a new alien world called Requiem, a mysterious place that harbors dangerous threats and secrets. For those that haven't been following our news closely, the demo was a glimpse into the art, graphics, and gameplay of Halo 4. For those that devour every morsel of news numerous times over, it was full of weapon, storyline, vehicle and enemy reveals.
Among other things, the Campaign demo introduced a brand-new enemy class - the Prometheans. The Prometheans are an elite Forerunner warrior class tasked with defending Requiem. Similar to the Covenant, the Prometheans feature a vast variety of different species with sophisticated tactics, technology and unique abilities. The demo also revealed a first look at three Promethean weapons: the Light Rifle, Repeater, and Scattershot, all of which will be available in campaign and multiplayer.
Even though I had watched Josh rehearse that demo multiple times (yes, the Campaign portion was entirely in-engine and actual gameplay), I still jumped when the Knight's howl penetrated my eardrums; I still cringed when Cortana's ability to function began to deteriorate; and I still got goose bumps upon the delivery of the final, foreboding line, made by an overpowering new adversary who will become Master Chief's first true nemesis.
Halo fan u4iX recorded his initial reactions and thoughts about what he saw, which you can watch below. (Warning: It is unknown if nerd chills are contagious. Proceed with caution!)
After the conclusion of the Xbox E312 Media Briefing, it was time to head over to the Los Angeles Convention Center to make sure our booth was ready. Along with the live-action trailer and Campaign demo revealed at the briefing, we were also offering a complete Halo 4 floor experience, including a theater presentation about Halo 4's Campaign, War Games, and Spartan Ops modes, hands-on time with Multiplayer, and two different ogling opportunities in the form of a life-sized Warthog and everybody's favorite Spartan super-soldier, the Master Chief himself.
We loaded the builds on the boxes, arranged the seats in the theater, did some dry runs of the walkthroughs and then called it a day. And by "called it a day", I mean we ate sushi, drank sake, and attempted to get a few hours of sleep before the doors of E3 officially opened.
Tuesday morning, we assembled at our booth, some of us well rested, and the others well caffeinated. After confirming nothing had abruptly stopped working overnight, we deemed ourselves ready for the masses.
We knew they had started letting people in when a fast-moving stampede took over our section of the floor. What was previously a pristinely empty waiting area was suddenly a four-to-six-hour line. While people waited to enter the behind-closed-doors area of our booth, they watched numerous Halo 4 videos running on a loop on the nearby big screen.
E3 attendees had the opportunity to get hands-on with three of the ten competitive multiplayer maps that will ship with the game. On the first day, they played Haven (formerly Wraparound). On the second day, they explored Adrift (formerly Warhouse). And on the third day, we introduced them to Longbow, a snowy expanse suitable for vehicular and Big Team-esque combat.
Along with our daytime booth activities, we also hosted a few different after-hours events. One was geared towards the press, where they were able to interview various members of the team, check out two new multiplayer game types (Infinity Slayer and Regicide), and play a Spartan Ops mission (the fifth mission of the first week's episode). The other was geared towards the community, where they got to do all of the aforementioned festivities, along with watching some bad-ass, Battle Rifle-loving pros duke it out on the virtual battlefields of Halo 4. If you want to go behind the scenes for the latter event, check out MLG's exclusive Halo 4 multiplayer coverage where they play a five-game series, showcasing a variety of maps, game modes, and game types.
As we rinsed and repeated our way through days one, two, and three, we were excited to see people go through the entrance of our booth, then out the exit, and then later back through the entrance again. That was one of the highlights of E3, knowing that people enjoyed their hands-on time with the game so much that they were willing to wait in the line again, just to get an additional 10-15 minutes on the controller.
Several different media outlets, both community and press alike, covered Halo 4's E3 presence. There are numerous articles and videos available for your viewing pleasure, but instead of linking them all, we're going to guess you can find everything you could ever want to know about what we showed at E3 and more by utilizing your favorite search engine.
E3 was a very important event for us, not just because of the news we revealed, but because we were finally able to show you more of our game. Now that it's all said and done, we're left with just one thought: we hope you loved what you saw.
<3,
bs angel
P.S. Oh, and one more thing. We're not saying this person deserves the Best Hair of Show award, but we would like to officially go on record as saying we totally think this person deserves the Best Hair of Show award. And no, we're not at all biased...