The Halo Bulletin: 5.16.12
16. May 2012 14:00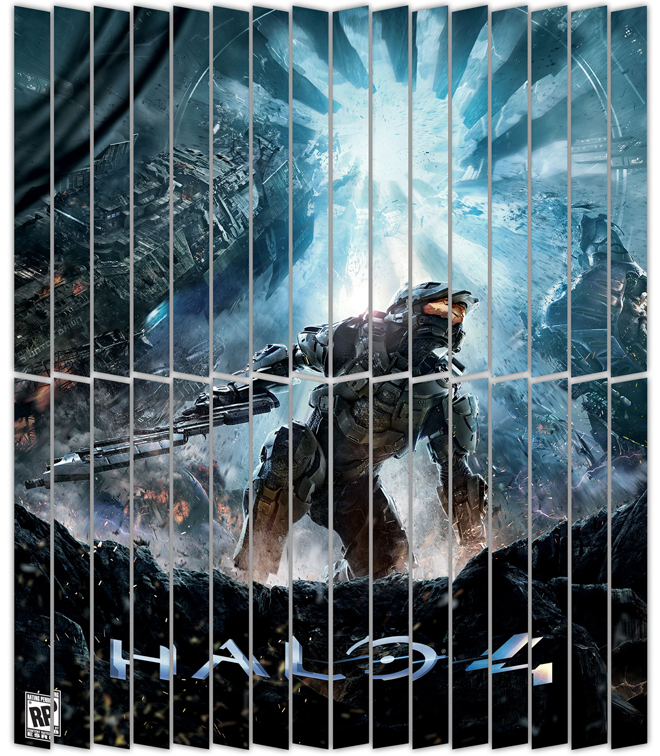 Your piece of the Halo 4 puzzle
Monday afternoon, slices of a Halo 4 image were doled out to the community. Curiosity turned to determination and intrigue to resolution as fans fervently worked to put together the 32-piece puzzle. As forum threads exploded with rampant speculation, slivers became segments, segments became sections, and sections ultimately became the key art for Halo 4.
When the slivers were released into the wild, 343-ers placed their bets on how long it would take the community to piece together the picture. Some said a few hours; others said longer. I put my money on 15 minutes. Considering the first complete image made its appearance approximately 660 seconds after the messages were initially sent, I quickly found myself out five entire dollars. I blame all of you and your stealth URL-detecting skills for the fact that I couldn't get a latte yesterday, just so you know.
Anyway, back to business. Now that we have officially revealed the Halo 4 box art, it only seems fair we also announce what, special edition-wise, will be available at retail come November 6. If you agree with that sentiment, please continue reading. If you don't agree with that sentiment, you should also continue reading. Like how that works? Yeah, me too!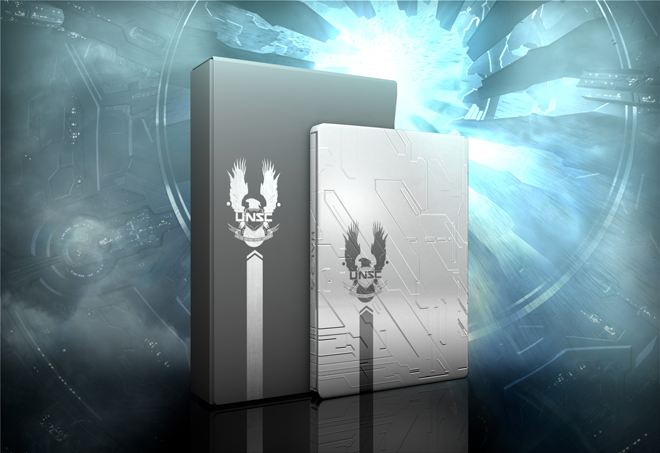 Halo 4 Limited Edition
Available for preorder today, the Halo 4 Limited Edition maximizes your multiplayer experience and puts you in the boots of a Spartan-IV aboard the UNSC Infinity - the hub of your Halo multiplayer career.
The Halo 4 Limited Edition will be available at the estimated retail price of $99.99 and includes:
War Games Map Pack Access

The competitive multiplayer modes of Halo 4 are known as War Games. The Limited Edition includes access to nine maps - three future competitive multiplayer map packs, each including three locations, available for download post-launch on Xbox LIVE. Yes, you read that correctly; you get nine maps in the form of future DLC with the purchase of the Halo 4 Limited Edition. Score!


Specializations

Everyone will have access to select Specializations, but those that purchase the Halo 4 Limited Edition will receive the ability to unlock six Specializations early, available at launch on Xbox LIVE. You can use them, one at a time, to achieve higher ranks in your Spartan career. In addition to gaining access to new ranks, Specializations unlock new customization options. We'll be releasing more information about Specializations at E3, so expect additional details about this particular feature then.


UNSC Infinity Briefing Packet

The UNSC Infinity Briefing Packet includes a Spartan armor customization schematic, information about UNSC weapons, an introduction to the massive ship UNSC Infinity, and insight into what it means to be one of humanity's finest warriors: The Spartan-IVs. Story lovers will especially enjoy this in-fiction offering that provides a glimpse into the indoctrination of Spartans aboard the Infinity.


Halo 4: Forward Unto Dawn Special Edition

The Special Edition of Halo 4: Forward Unto Dawn is a 90-minute extended version of the live-action digital series which will take fans back to the terrifying beginning of the Human/Covenant war, when the Master Chief inspired a young cadet who would eventually become a leader aboard the UNSC's greatest vessel ever: the UNSC Infinity.

Digital content also includes in-fiction bonus content that expands the characters and stories of Halo 4: Forward Unto Dawn, special featurette Bringing Gaming into Reality, and a behind the scenes look at the making of Halo 4: Forward Unto Dawn.


Bonus digital content through Xbox LIVE

The Limited Edition includes the following bonus digital content through Xbox LIVE: unique in-game Spartan-IV armor skin, unique in-game weapon skin for the Assault Rifle, an exclusive in-game emblem, Xbox LIVE Avatar prop, and Xbox LIVE Avatar Spartan IV armor set.
Right about now you may be wondering, "If all those things come with the Limited Edition, what are they going to put in the Legendary Edition?" Here is the answer to that question: There will be two options available at retail for Halo 4 - the regular version of the game and the aforementioned Limited Edition. We decided to focus our efforts on a single special edition instead of numerous ones so you wouldn't have to pick and choose between what ancillary items you want. Now your primary choice is whether or not you just want the game, or the game along with all the goodies. And we're hoping we made that decision an easy one for you...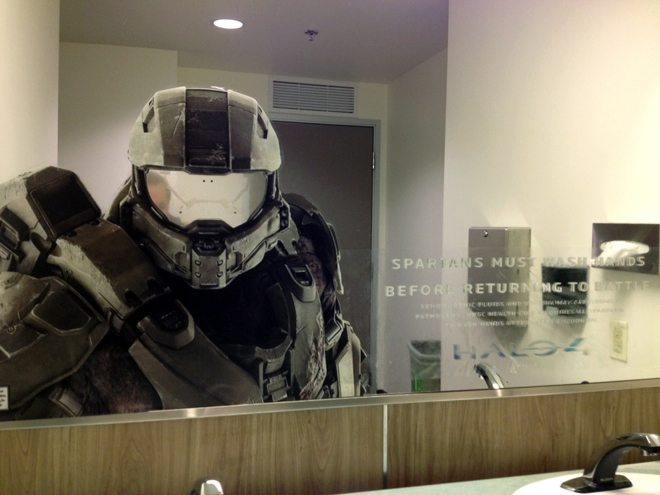 Must wash hands before returning to battle
Along with cutting up images and sprinkling the pieces upon the community, we've continued to maintain beyond full plates as we traverse the road leading up to launch. Section 3, our services team, is putting the polish on a few different updated experiences. Frankie and Kevin are currently at the Halo 4: Forward Unto Dawn set, checking out today's shoot, "accidentally" bumping into the actors and actresses (one of whom is one of my most favorite actresses EVER), and playing around with various weapon replicas every time the person in charge of props turns his back.
The rest of the team is head down in Halo 4, coming up for breath only as time allows. Some are occupied with an upcoming network test. The majority, though, find their days (and nights) consumed with preparation for E3.
Yesterday we were three weeks away from showing you what Halo 4 is all about. Today we are two weeks and six days away. Every second counts as we finalize the builds, take the screenshots, and prepare to reveal new weapons, enemies, game types, and more.
This particular stage of preparation is nerve-wracking. There's an indescribable current in the air, one that gets more intense with each passing day. When you pour your heart and soul into something, when you are determined to do right because you know what you're creating is important to people, the pressure elevates you and fosters an atmosphere that breeds strong focus and drive, where the team is only capable of performing at their very best. That's where we're at, in over-drive, with the E3 finish line coming into sight.
We are so excited to show you more about our upcoming game. 20 days, and counting...
<3,
bs angel