The Halo Bulletin: 3.28.12
28. March 2012 21:00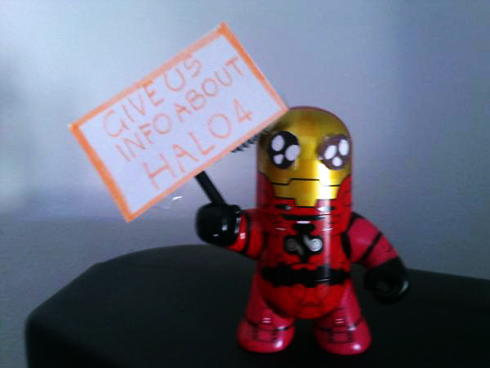 Extra! Extra! Read all about it!
If the Internet didn't exist, if the Covenant invaded Earth 500 years early, and if I were a Grunt, major Halo 4 announcements would probably come from a four-mandibled Elite in a Warthog, power-sliding around corners and expelling equal amounts of spittle and news directly into a bullhorn. If you were to inspect the backside of this information-dispatching vehicle, you would then see me, struggling to stay on top of a skateboard, holding on to the rear bumper for dear life, and offering as many details about the already released headlines as my methane re-breather allowed, all the while keeping an eye out for that ever-elusive food nipple.
What? Holding on to a speeding Warthog would undoubtedly make me work up a big, Grunty thirst. Don't judge.
Anyway, you're probably wondering why I concocted such a strange story. In my defense, I was attempting to create an analogy that offered insight into my role in the news-dropping process. After rereading it, though, the only thing I can say is it made sense at the time....
I don't think I can dig myself out of this slipspace-sized hole, so let's go ahead and get started on your weekly Halo Bulletin. We have April's Matchmaking playlist update to discuss, along with some other Reach and Waypoint-related tidbits, but let's start with Warhouse. Our Making Halo 4: First Look video already revealed it as one of the multiplayer maps currently slated to ship with Halo 4, and I just happen to have some additional insight into this particular playspace.
And don't worry if you're still picturing me as a skateboard-riding Grunt. At this point, I'm just going to roll with it.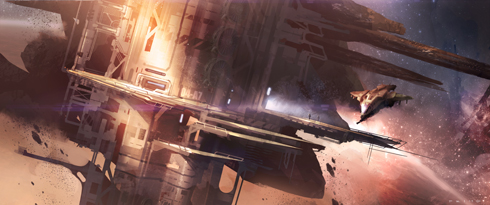 Warhouse
You look to the left and see nothing but industrial, man-made surfaces. A glance to the right, however, reveals space as far as the eye can see. As you wander around one of the exposed platforms on a mysterious mining ship, you become captivated by the dramatic vista.
After working your way through the numerous levels, stairs, and crates that litter the outer deck, you sneak a furtive glance inside the spacecraft, which reveals the sounds and shape of a half-constructed mech. Curiosity gets the better of you, and you decide to venture down the vessel's tight and twisted corridors for a closer look.
We hope you have a weapon because if your experience is anything like ours, you're going to need it.
By the way, welcome to Warhouse.
The original concept for Warhouse (which is a working title and not the final name) was to build a smaller level catered to Slayer. It was born from the idea that a symmetrical map doesn't have to be generic. We wanted it to feel like something memorable, from an interesting and unseen part of the Halo universe, that tells a story.
We explored several ideas for the theme, including a space platform, a spooky science experiment, and a jungle-bound UNSC facility for bio research. We settled on the space-platform idea, which eventually evolved into a stratospheric gas-mining ship. This idea offered not only more explanation for gravity, but also greater opportunities for orienting players.
Inspiration for this map came from a wide variety of places, including oil refineries, giant mechs from films and cartoons, NASA imagery of gas giants, naval shipyards, and aircraft carriers, to name a few. We also referenced numerous well-developed sci-fi places throughout its development.
Because Warhouse is a symmetrical map, our greatest challenge was making sure players know where they are at any given point, and yet having it make sense as an inspiring visual story. There are lots of complex mirrored paths which could be overwhelming, so we had to develop landmarks and key features to give players a sense of unique position.
Adding another layer of complexity to situational awareness was the fact that this map is made entirely of man-made surfaces, with no terrain. Answers came in the form of symmetrical design elements that fit within each side's geometry and convince players that each side is visually very different.
We wanted this playspace to be similar competition-wise to older symmetrical maps in previous Halos, so we sought influence from those, and also from the industrial close-quarters combat in more recent games. There are many paths from the center room, allowing you to surprise opponents from unexpected directions and separate them from their comrades. There are also numerous over-and-under pathways that can be used to sneak up behind opponents who are holding their ground. Since this map is symmetrical, one team doesn't have an advantage over the other based on where they spawn or what part of the map they control.
If you are a fan of small-team, close-quarters combat, or you love wreaking havoc with effective, close-range infantry weapons, Warhouse is for you. If you're not a fan of small-team, close-quarters combat, or you don't love wreaking havoc with effective, close-range infantry weapons, Warhouse is still for you. You'll see. In Holiday 2012, of course. :)
Warhouse Concept Art Wallpapers
If the aforementioned information leaves you wanting more of a certain stratospheric gas-mining ship, please snag one of the following pieces of Warhouse concept art in wallpaper form, and adorn the technological device of your choosing with it. I won't apply any peer pressure, but I will say you know you want to...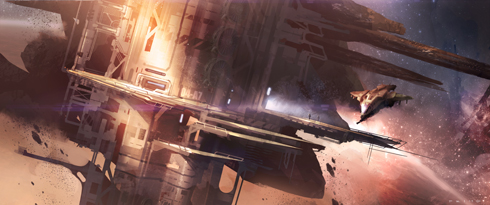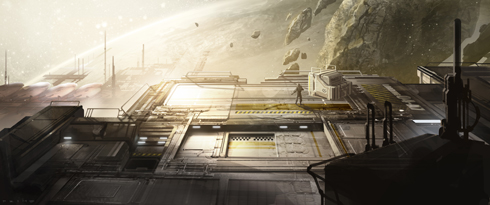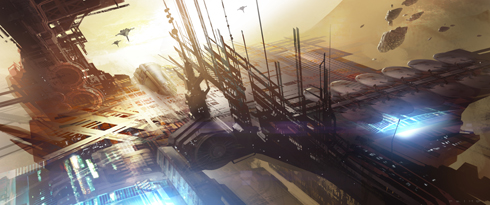 We're working on making wallpapers out of last week's Wraparound concept pieces as well. Please consider that (everybody say it with me now) "coming soon!"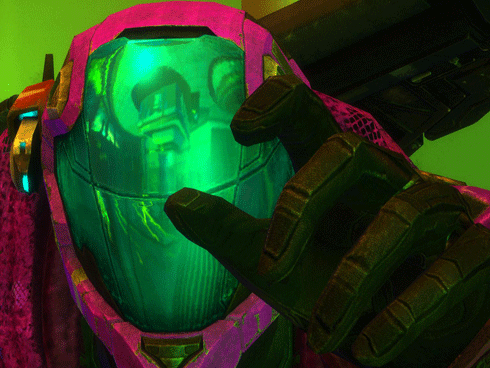 April Matchmaking Playlist Update
A wise man once said, "It's not the size of your update that matters, it's how you use it." That general sentiment is particularly relevant for the month of April, as your next matchmaking playlist update, which goes live on April 3, is a bit on the lighter side. Thankfully good things come in small packages, so with that in mind, let's dive into the specifics of April's modest but welcome list of changes.
BTB Heavies score to win reduced to 150.

We noticed that this particular game type has been ending with the time limit the majority of the time. To help the score limit and time limit be more balanced, we reduced the winning score from 200 to 150.


Big Team Battle updated.

Delta Facility and Cragmire, both user-created maps that host the Heavies game type, were removed from Big Team Battle. Their creators are updating them, and we'll reintroduce both playspaces once they're ready for the masses.


Super Slayer updated.

The following changes were made to the Super Slayer playlist: Elite Slayer and some user-created maps were removed, and big-party matching was enabled (teams of 3-4 will be matched with other teams of 3-4).


Swat updated.

Uncaged and Pinnacle were removed from Swat.


MLG updated.

MLG was updated to Version 7 for both maps and game types, which are currently being played this MLG season. The third voting option was also removed, per MLG's request.


Arena updated.

The Jetpack loadout was removed from Arena. We will be watching Arena's population to help determine whether or not this will be a permanent change.


Powerhouse updated.

Fusion cores were added to the Concrete Vents area. This may or may not be relevant to jetpackers' interests...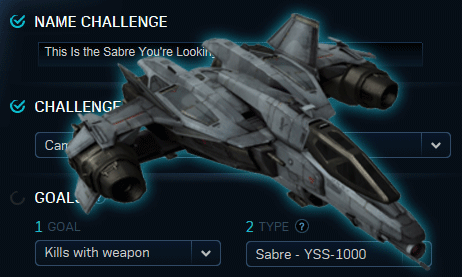 Custom Challenge of the Week
If you have a long night of solace ahead of you, you're in luck, because for the next several days, we're rewarding kills achieved with the YSS-1000 with a higher than average payout. Forum-goer Schatten Blitze has decided it's time to warm up the engine on your favorite barrel-rolling starfighter, often referred to as the Sabre.
From now until next Tuesday at 11:59 p.m. Pacific Time, setting up a Custom Challenge with the Sabre—YSS-1000—as the type of weapon will result in ten times the usual multiplier. This is a Campaign-only challenge, and I encourage you to accept it. If you like extra credits jingling in your virtual pocket, that is.
Happy Sabre-ing!
Double Super Jackpot Weekend
Last weekend we featured a Super Jackpot in two different playlists. In honor of its double-tacular awesomeness, we have decided to continue the festivities this weekend as well. So, starting on Friday and ending on Sunday, hopping into Team Objective and Super Slayer will present you with the chance of receiving a cool 20,000-credit bonus. What does it mean exactly? Well, we'll leave the deciphering to you.

Final Transition for Halo Services
The final transition for Halo services takes place in four days. As part of this planned stage, Bungie will no longer be able to update game stats and player service records, host new user-generated content, or operate the Bungie Pro Service after March 31. The most noticeable impact will be on features seen exclusively on Bungie.net, such as rendered films, nameplates, and Halo: Reach API keys. They are not included in the transition, and we do not have plans to develop similar features for prior games.
Part of the final transition for Halo services is unlocking Halo 3 Recon armor for all Halo 3 players. That process, which was started this morning, will take place in waves over the next few days. If Recon isn't unlocked for you today, please check back later.
On April 1, we will begin increasing Halo: Reach File Share capacity from 6 slots to 24 slots at no extra charge. This will also take place in waves, and the process is expected to last several days. We thank you in advance for your patience as we work to give this expanded access to all Halo: Reach players.
The real-time export of Halo 3 and Halo 3: ODST data to the web will not be supported on Waypoint at this time, as we are focused on bringing Halo: Reach File Share access to the Halo Waypoint website, expanding our Halo Waypoint services, and to be perfectly frank, building features and support for Halo 4. We'd like to assure you that data collection is still happening behind the scenes, and those numbers will continue to be reflected in your Halo Waypoint Career.
This summer, we'll be bringing Halo: Reach File Share access to the web version of Halo Waypoint. That means there will be a short period where new Halo: Reach user-generated content will not be accessible from the web. All Halo: Reach files will continue to be accessible in-game, though, just as they are today. We know not having web access is less than optimal (/understatement), which is why we will continue working hard on our version of the File Share system. We'll share images and information as that quickly approaching date gets closer.
As always, thank you for your patience and support. Until next week...
<3,
bs angel
P.S. If changing the appearance of your personal computer is on your weekly list of things to do, here is the latest Friday Caption Fun picture to help with your recurring endeavor. Embiggen, snag, and then hit the latest installment to contribute your witty quip. Off you go!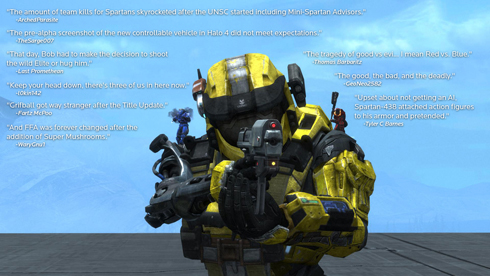 P.P.S. Discuss.