The Halo Bulletin: 11/17/11
18. November 2011 01:31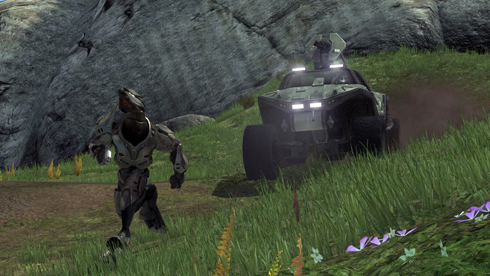 I still know what you did last Monday
I may not know what you did last summer (although I highly suspect it involved a parade of beauty contestants, a somewhat accidental splatter, and a vengeful, hook-wielding fisherman), but I do know what you did last Monday. At least if you were at any of our launch festivities, I do, anyway.
Monday night, at numerous U.S. Microsoft stores, Halo's tenth birthday was ushered in with a bang. And when I say with a bang, I mean with caffeine-laced energy drinks, pepperoni-adorned pizza, and some classic Red vs. Blue multiplayer action. Set to the tune of numerous chanting monks, swag was deposited into eagerly awaiting hands while headshots were served on a silver platter. The second the clock struck 12, however, attention instantly shifted to acquiring the newest installment of the Halo franchise.... Halo: Anniversary.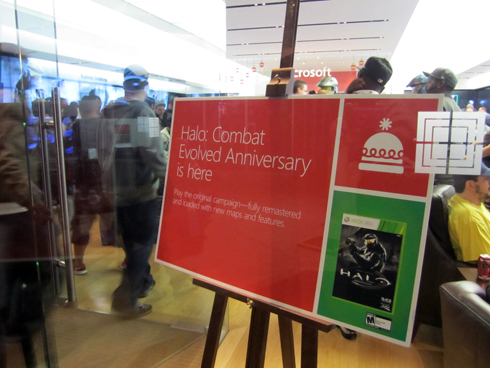 Halo: Anniversary – We have lift-off
I find launch events -- Halo's in particular, of course -- to be positively intoxicating. Waiting for something you've been anticipating for months while surrounded by people sporting Halo shirts, Halo tattoos, and even custom Halo costumes, is an incredible experience. As Spartans mingle with civilians, there is always an indescribable sense of excitement in the air, one that is not only palpable but also borderline tangible. If you need a visual, picture everybody having Inclement Weather. And yes, the vibe is truly that electric.
That night, upon arriving at the University Village location, I was greeted by a familiar face. One so familiar, as a matter of fact, that he came bearing a gift: deodorant. Oh yes, his nasal passages had not forgotten the smell I tend to emit toward the end of the day. Or even the beginning, actually. Anyway, behind Mr. First-in-Line was a seemingly endless stream of anxious fans. Considering the temperature was more than a little chilly, I think the only thing keeping them warm was the sheer excitement of the evening.
When the doors opened, those rushing in were greeted first with a blast of warm air, and then with a sight for their undoubtedly sore eyes: screen after screen of the most beloved multiplayer maps from the last ten years, patiently awaiting their Spartan's arrival. It took no time at all for the room to fill up with shouts of joy, cries of defeat, and occasional accusations of screen looking. (For the record, I was not guilty of the latter, contrary to whatever photographic evidence may or may not surface in the near future.)
Back to the topic at hand, though. Two hours of capturing flags, arming bombs, and straight-up slaying only whetted the appetites of those involved, because the very moment the calendar switched over to the 15th, the focus turned to securing the game, and then to hurrying home to begin a fight that originally started exactly ten years ago.
For those that believe a picture is worth a thousand words, here is a small glimpse into the madness that was the midnight festivities. And, just to save you from needlessly complicated calculations, these images are worth 16,000 words. So, don't tell me this is a short Bulletin. 'Cause math is clearly on my side with this one.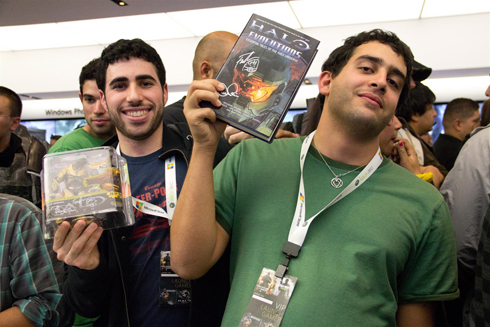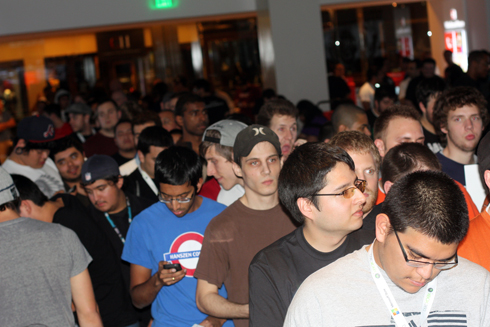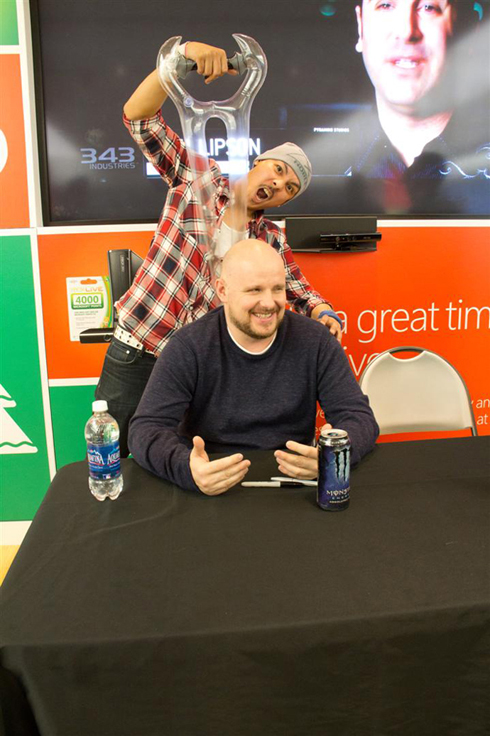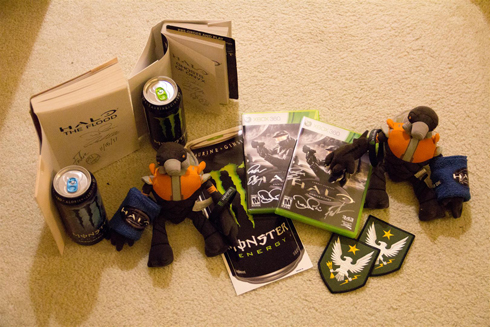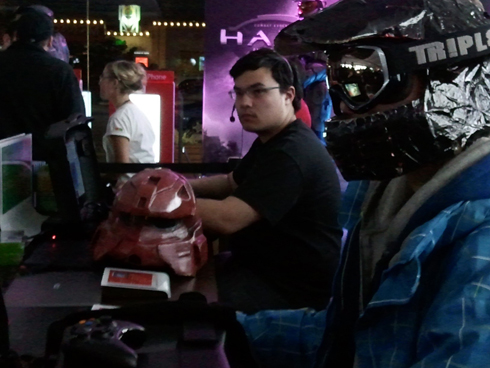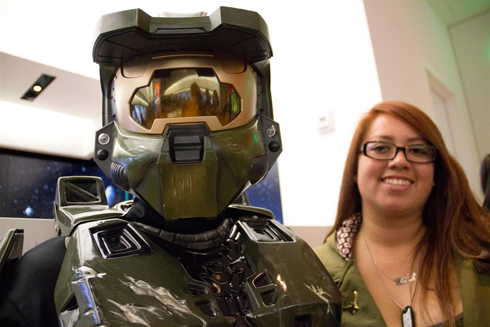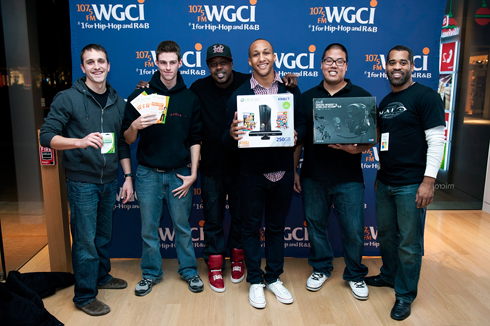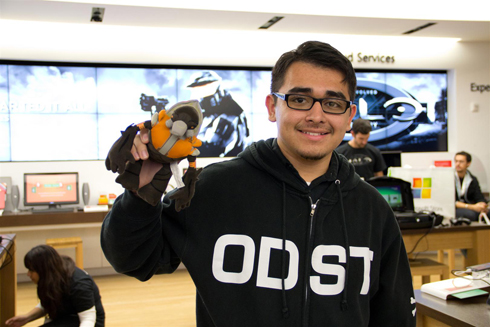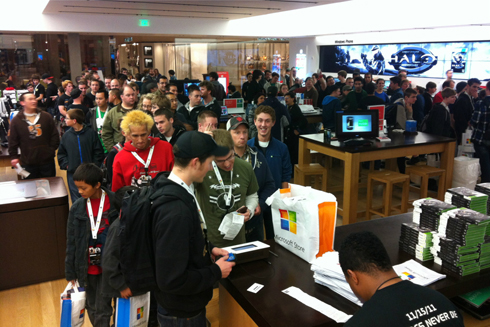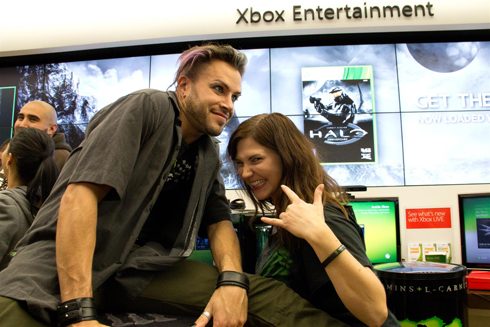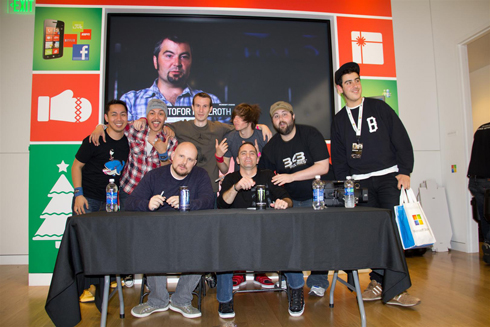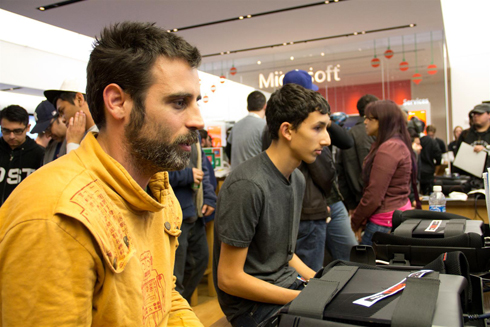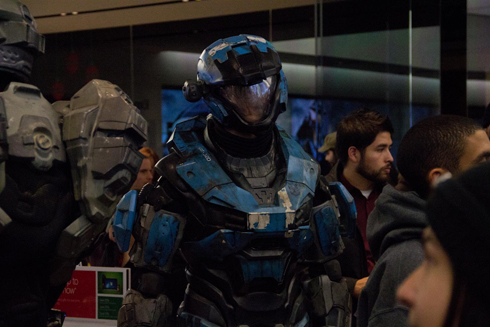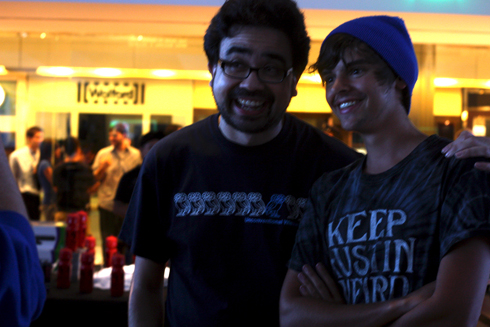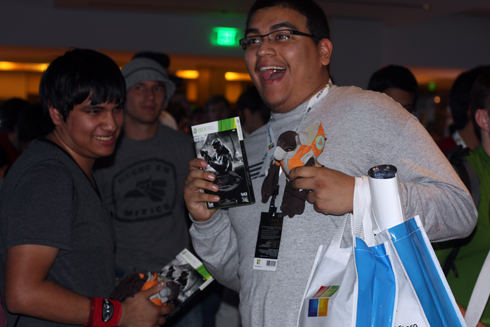 Many thanks to the people who captured these images. Charles Valerio and Denmark Valerio specifically, we love your pictures, but please remove the sword from Frank's back at your earliest convenience. He's starting to walk funny.
Halo: Anniversary Reviews – It's amazing! I love it! And you will, too!
I was originally going to use this portion of the Bulletin to tell you my thoughts about Halo: Anniversary. However, I realized I have already been doing that for the last several weeks, if not months (it's amazing! I love it! And you will, too!). So, in an effort to give you a break from my rather inane drivel, I will instead share the opinions of other people. Here's a small serving of quotes, followed by a heftier portion of review links.
"It's amazing! I love it! And you will, too!" –Jessica Shea
-Accepts handwritten note from Frankie-
-Reads, "Y U NO DO IT RITE?"-
-Eats a handful of chocolate covered espresso beans and continues-
"The original game we all know and love is still there, unchanged, but damn does it look great!" –Gaming Examiner
"The remastered audio is amazing! The guns, vehicles, enemy weapons, and soundtrack have never been so crisp. This is all done in surround sound, so use your stereo, or headsets to experience the sound in all its glory." –Podtacular
"This is a game about the arc of a perfectly thrown grenade, a game about tense games of cat-and-mouse with foes as powerful as you, a game about constant improvisation with the tools at your disposal. It's a game that always feels tactical, and a game that – even now – has the capacity to surprise. It might be older, it might look younger, but this is still Combat Evolved." –Edge Magazine
A tasteful and refined version of the original revolutionary title – G4tv.com
A true homage to the original – God is a Geek
A lot of bang for your buck – Destructoid
The original Magnum is back – Teabag Prevention
A triumphant return to 2001's other space odyssey – OXM
The more time you put in the more Halo reveals itself – CVG
It reminds me why I have fallen in love with the Halo universe – StickSkills.com
You never forget your first – Joystiq
Halo welcomes you with open arms like it was only last week – Thesixthaxis.com
Paying due reverence to the vaunted original game on its tenth birthday – Giant Bomb
There are many reviews out there, so hunt them down should you be interested in more. And, if I may be uncharacteristically serious for just a moment, I'd like to say that we're so excited Halo: Anniversary is finally in your hands. We love Halo, and we appreciate you. So we hope, more than anything, that you enjoy your time with the game.
Halo: Anniversary Concept Art – Now in wallpaper form
Certain Affinity, the talented team behind the Anniversary maps, recently shared some of their concept art with us. These pieces served as inspiration and artistic guidance in the development process of the seven maps, and our artist, being the nice young mouse -- er, man -- that he is, converted them into numerous conveniently sized dimensions. So if you need more papers for your wall, tops for your desk, or screens for your lock, get to right-clicking and setting as background, because these images aren't going to jump on your various technological devices themselves, you know.
Halo Waypoint – Anniversary isn't the only new thing around here
Upon visiting Halo Waypoint this week, you may have noticed some changes. That's because an update, on console, mobile, and web, went live on Monday. It was a bumpy ride at the beginning, but after a little elbow grease and a lot of headlight fluid, it's finally smoothed out (thanks for your patience while we ironed out the wrinkles, by the way). Along with getting a facelift, there is new functionality as well. Spend some time surfing, and get to know the new digs. We'll share some navigation tips soon, but exploring various nooks and crannies just might open up some doors you weren't expecting. And that's all I have to say about that.
Community Questions – They're Coming Back, Y'all
The community questions portion of the Bulletin took a short break, but it's back this week with three more inquiries. Will one of them address a subject that's been keeping you up at night? There's only one way to find out, and that's by forging ahead!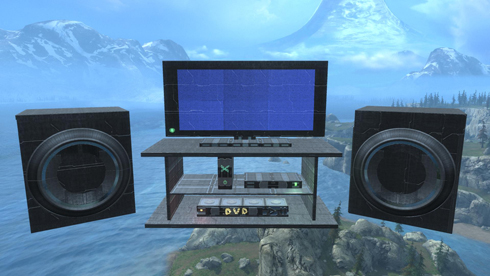 With the recent sale on the Halo: Reach DLC, do you have any plans whatsoever for making any playlists (other than the premium ones) 'All DLC Required'? –Astrogenesis
I snagged a member of the Matchmaking Systems Team, tied him to his chair, and blindfolded him. I then banged his head against the keyboard. This is what came from it:
"I would like to see lists as DLC-required (because I have, and love, all of the Reach DLC, and I bet you do too :] ), but we have to be careful about requiring all DLC because it inevitably means that some players won't be able to access some content. This can become problematic if, for instance, there are achievements tied to a list that a player can no longer access. This is not to say that we won't be requiring DLC for playlists in the future, just that we have to make sure before taking that step that we aren't denying players access to content necessary for an achievement.
This question probably stems from the fact that after buying DLC, you don't feel like you're seeing it as much as you'd like. This is a legitimate concern, and we've taken a couple of steps to ensure that you're going to be seeing DLC more often in the future. The first step we've taken is to adjust the Matchmaking algorithm to match players who have DLC with other players who have DLC much more often than in the past. The next step was upping the weighting for DLC in our playlists so that you'll see the DLC in your voting options more frequently. The final piece of the puzzle was releasing 6 (!) amazing new multiplayer maps with Halo: Anniversary and adding those maps to the regular playlist rotation. The combination of these three things means you're going to be able to enjoy your DLC in MM much more often than ever before."
Hhmmm. I should bang his head against the keyboard more often.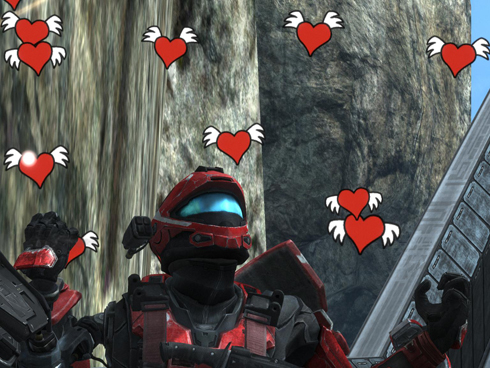 I've always played with my wife in split screen. Halo: CE, 2, 3, ODST, and Reach.... but now, unless I'm wrong, is it not possible to play the Anniversary campaign in split screen, logged into Xbox LIVE? Do we have to go "offline" to play together? –ANGEL AZRAEL PT
I'm happy to report that you and your wife can still split-screen together online. Enter the Campaign menu, hit "Y," and select "My Xbox 360 Console." The secondary account will show up automatically, and then you can play split-screen Campaign while logged into Xbox LIVE.
And remember, the couple that slays together, stays together! Or separates. But definitely one or the other.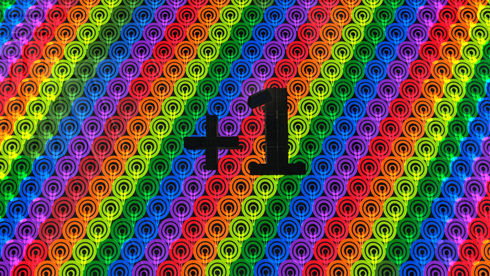 When can we expect to see the Custom Challenge system become available? -Pwnage x360a
Funny you should ask, because it's available now! From one of the developers:
Custom Challenges are a new feature that allows players to create challenges for Halo: Reach. After creating a Custom Challenge, you can then issue it to your friends to complete within a limited timeframe.
Here is how you can access Custom Challenges:
On Web
Go to http://halowaypoint.com.
Click 'Sign In' at the top of the site.
Sign in with your Xbox LIVE credentials.
Once signed in, click your gamertag at the top of the site, which will then display your Career drop-down menu.
Custom Challenges is on the right side of the drop-down. Click View Challenges.
This opens up your Challenges page, which includes the Daily and Weekly Halo: Reach challenges at the top, and the Custom Challenges section below that.
On Xbox 360
Launch Halo Waypoint.
Select your Player Card from the Career panel.
Navigate left twice to the Custom Challenges panel, and press A.
On Windows Phone
Launch Halo Waypoint.
Select your Player Card from the Career panel.
Pan twice to the right, or once to the left, to the Custom Challenges panel.
You can create challenges on both Web and Windows Phone 7 by specifying certain variables and constraints, including time limit, game mode, etc. Once the challenge is created, you can issue the challenge to up to seven Xbox LIVE Friends. Whoever accepts the challenge is then competing to see if they can finish the challenge within the allotted time. Time starts as soon as the challenge is issued, and the Creator is auto-included.
We'll have more details about Custom Challenges soon in the forums. Stay tuned.
Now, I don't know about you, but I have some Anniversary to play. Hope to see you on the virtual battlefields this weekend…. And back here next week, of course, for our customary Bulletin antics.
<3,
bs angel
P.S. Super Jackpot Weekend. 15,000 cR. Anniversary Classic Playlist. Friday through Sunday. Enjoy.
P.P.S. Just because I feel like you haven't gotten enough wallpapers yet, here's one more in the form of your Friday Caption Fun image. Do with it as you choose, and then hit the most recent addition to our TGIF festivities to contribute your hilariously witty quip. Off you go!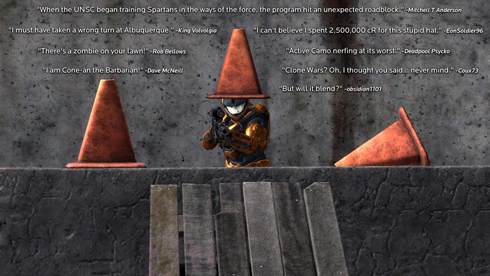 P.P.P.S. Discuss.