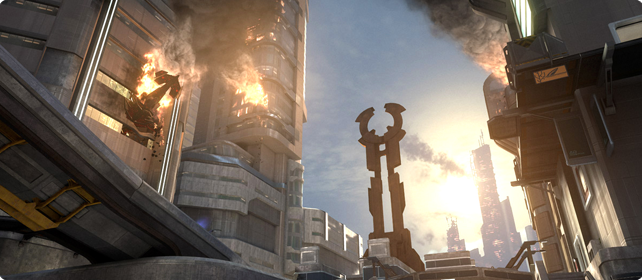 The Halo Bulletin: 9/14/11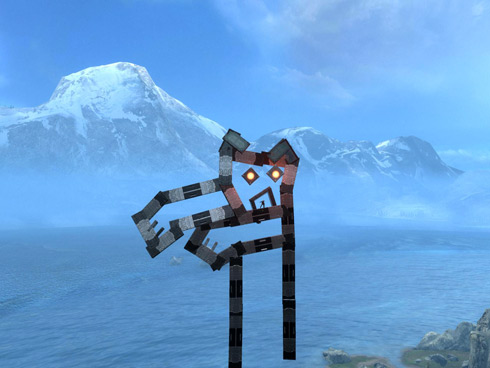 Long Cat is Long
Some people say I spend the majority of my time sitting around, clicking my way through a never-ending stream of feline-focused pictures coupled with grammatically incorrect captions. Considering the breadth of things I manage to accomplish each and every day though, I find that unfounded generalization highly offensive. Take my daily YouTube routine, for example: I spend vast amounts of time viewing user-generated video content, the most entertaining of which are often set to toe-tappingly catchy tunes. It's because of that time consuming habit that I can now recite the days of the week in order. At least Thursday through Sunday, anyway.
It was during one of those virtual video watching adventures that I stumbled upon a lip-syncing creation of epic proportions. The previous holder of that title involved a spectacles-wearing young lad whose claim to fame was exaggerating his facial expressions while simultaneously expressing the fact that he exists solely in a pre-adult sleeping state. My most recent find, however—which was new to me but ancient in internet years—took the same concept to the next level by not just synchronizing magnified mouth movement but also utilizing a visual effect that basically stretched the entirety of the singer's face. Instead of the uppermost part of his body being round, that particular aspect of his anatomy was morphed into an oddly enthralling elongated state. There's really only one way to properly describe it, and that would be, "Long head is long." And, for the record, there's a certain rather lengthy cat that knows exactly what I'm talking about.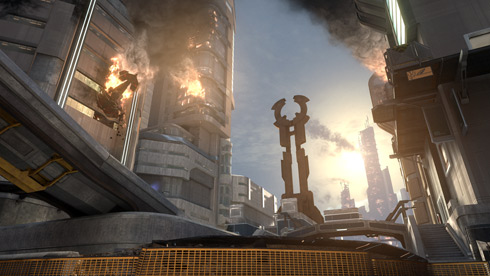 The Writing on the Wall
While we're on the subject of heads that are long, this seems like the perfect time to talk about yet another map that will be shipping with Halo: Combat Evolved Anniversary. Whether or not you make a habit of paying attention to the writing on the wall (and by wall, I of course mean our whiteboards), you'll be excited to hear that an updated version of Headlong is officially joining the ranks of new and improved maps that include Beaver Creek, Damnation, Timberland, Prisoner, and Installation 04. That's right, everybody's favorite large-scale Multiplayer map from Halo 2 has been rejuvenated with not just stunning visuals but also a layer of fascinating new fiction.
Breakneck—which is Anniversary's adaption of Headlong—is located in Section 21 with a view of downtown New Mombasa and the collapsed space tether. The city has been flooded from the recent slipspace rupture, and construction was abruptly halted during the Covenant attack. Despite the fact that numerous buildings have been partially destroyed—with some even housing flaming ship segments—one monument remains standing, tall and defiant. I guess you could even say to the end.
For those of you that haven't had the pleasure of playing on this asymmetrical construction site, it's well-suited for vehicular combat, objective-based gametypes, and Big Team-esque Slayer battles. One base is an evacuated civilian structure, replete with potted plants, art, and hardwood floors, while the other is an unfinished skyscraper with concrete walls and steel columns.
There are multiple paths to take when maneuvering between the two primary areas. Whether you tiptoe across the precariously-hanging crane, sneak through the defensive Sniper building, or rush straight across the large and open expanse that is the middle basin, you'll more than likely notice small design changes that differentiate Breakneck from the original. Take, for instance, the teleporter: originally appearing on the balcony of Blue Base, it has since been replaced by a large man—or as I prefer to say, Spartan-spewing—cannon. Panels were also added to one of the Blue Base balconies to provide additional cover when moving from building to building. Red Base got some love as well, in the form of an extension on the Engineering Hallway behind the Construction Building and a gap in the ceiling of the Office. If you're wondering why there's a gap, it's because there was an explosion. And also because artists like blowing sh-, I mean stuff, up.
To give you a better feel of the space, here is a gallery full of gorgeous images taken from the reimagined map. Feel free to ogle to your heart's content. I mean, it's only new Title Update information patiently awaiting you after the gallery…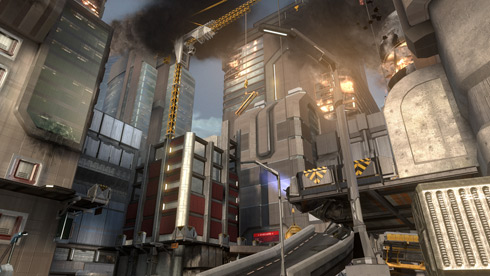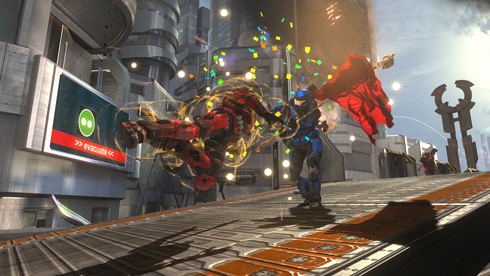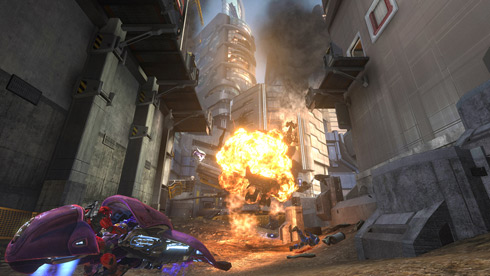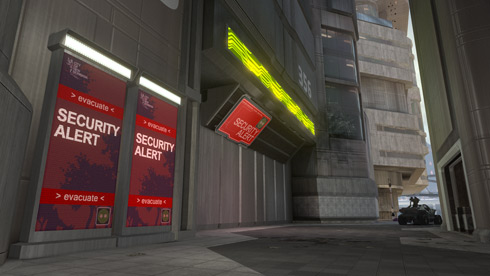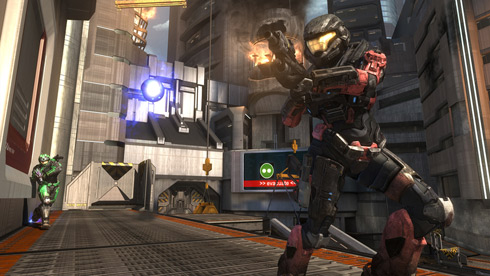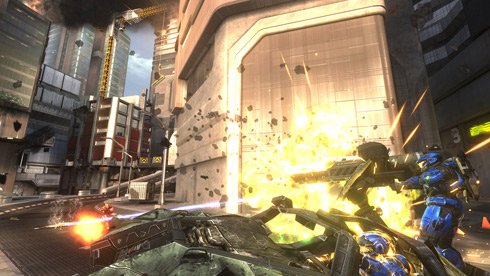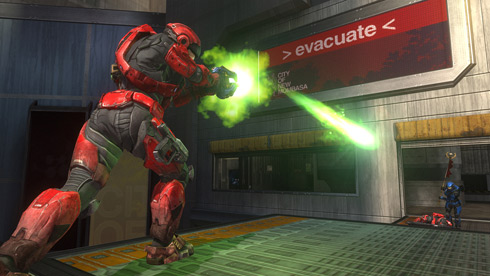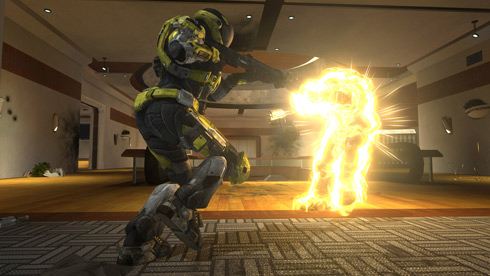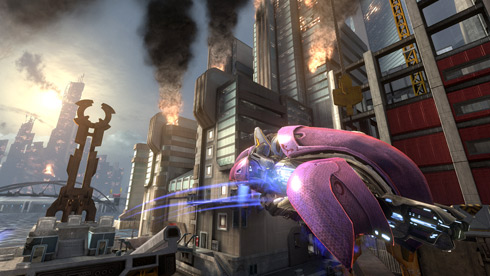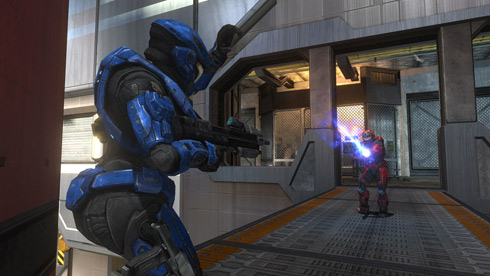 Don't tell anybody, but I may or may not have selected the last image in an effort to forever immortalize the moment I stuck David Ellis. Let's just say he bet I couldn't stick it. And I had to prove him wrong.
I Said a Hip Hop, Hippie to the Hopper
Halo: Anniversary, which is coming bundled with Breakneck and six additional Multiplayer playspaces, will be on a store shelf near you November 15th. According to my extremely precise and detailed calculations, that's in roughly two months. Before that, though, on September 21st, you'll be prompted to download a Title Update for Halo: Reach. It's important to note that you won't see any perceptible changes in Halo: Reach Matchmaking immediately after the download. In an effort to provide some much needed clarification, here's a brief timeline of what you can expect in regard to the upcoming Title Update and beta matchmaking playlist:
September 20th
On this day, you will play Halo: Reach. You will lose a few games, primarily because of the jerkface that took the sniper and sent the bullets whizzing by the heads of your enemies, instead of directly through them.
September 21st
On this day, when logging into Halo: Reach, you will be prompted to download the Title Update. You'll start playing, notice nothing seems different, and then recall that I said, in this here Bulletin as a matter of fact, "You won't see any perceptible changes in Halo: Reach Matchmaking immediately after the download." The majority of players will only complete the first two steps, though. Curses.
October 3rd
'Twas the night before the Beta Hopper, when all through the game, not a creature was stirring, even the Gúta were tame. The AAs were hung on the selection screen with care, in hopes that the hopper soon would be there. The Spartans were nestled all snug in their beds, while visions of zero bloom danced in their heads…
October 4th
On this day, you will log into Halo: Reach and immediately notice—assuming you're the observant type—a brand spankin' new playlist. Changes will be isolated to that one particular area, so should you want some Vanilla Reach, you will simply access your regularly frequented playlists. Should you want a new flavor, though, I recommend diving directly into the beta matchmaking hopper. This 4v4 playlist will feature both Slayer and Objective gametypes, with DLC maps being optional. In an effort to provide an environment conducive to soliciting Title Update-specific feedback, all Objective gametypes will have DMR starts. Throughout the time this playlist is active, we'll be watching not only the decisions you make in Matchmaking, but also the thoughts and opinions you leave in our forum. And it's with that data that we'll continue crafting the best possible playing experience for you and your Halo-loving buddies.
Here are the specifics of the beta matchmaking playlist, if you'd like to drill further down. Please note all gametypes utilize 85% bloom (unless otherwise noted) with all the Title Update changes implemented—minus the addition of the Combat Evolved Magnum. It's also worth noting this hopper is not intended to represent the makeup and content of the non-beta hoppers, and that all things are as ever, subject to change based on test data and numerous other super-secret and highly scientific factors—a few such things being whether or not the sun is shining and if Frankie has facial hair that day. (Just kidding, by the way. Well, for the former at least.)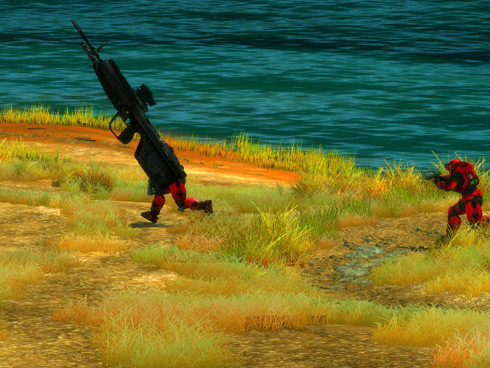 Beta Matchmaking Playlist Specifics
Team Slayer (AR Start)
Condemned
Tempest
Unanchored
Asylum
Uncaged
Reflection
Countdown
Boardwalk
Powerhouse
Zealot
Team Slayer DMRs
Condemned
Tempest
Unanchored
Highlands
Asylum
Uncaged
Reflection
Countdown
Boardwalk
Powerhouse
Zealot
2 Flag Slayer
Multi Flag
Tempest
Unanchored
Highlands
Neutral Flag
1 Flag
Reflection
Boardwalk
Powerhouse
Speed Flag
3 Flag
3 Plots
Tempest
Countdown
Boardwalk
Neutral Bomb
Team Oddball
Asylum
Reflection
Countdown
Team Hot Potato
Unanchored
Asylum
Countdown
Team Crazy King
Condemned
Reflection
Countdown
Zero Bloom Team Slayer DMRs
Condemned
Tempest
Unanchored
Highlands
Asylum
Uncaged
Reflection
Countdown
Boardwalk
Powerhouse
Zealot
We still have some tuning and testing to do before the beta hopper is rolled out, but in the interim, our not-yet-uploaded custom game file should give you a hint of how some of those beta features will feel. Shortly after the Title Update releases on September 21st, you will be able to download, share and play this gametype in custom games, taking advantage of the variety of options offered in the Title Update. If you forgot what exactly is being addressed in the Title Update, check out the August 31st Bulletin. There you will find more information than you could even begin to hope for and then some. Primarily because I have a habit of oversharing. Totally my bad.
Oh, and if you were looking for your favorite three-shot weapon, the official Anniversary playlists, along with the classic Magnum from Halo: Combat Evolved, will be released alongside Halo: Anniversary on November 15th.
Now that both Headlong and the beta hopper have been covered, let's dip into a few of your sometimes Halo-related and sometimes not questions.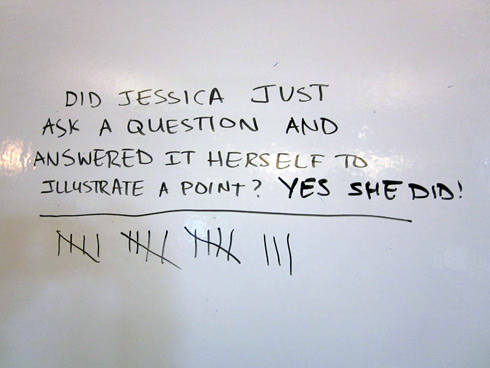 Will 343 make a couple of custom gametypes featuring the TU changes available for download on the day the TU is released so we don't have to wait till October to try out the changes? - SketchyBR
Will we make a couple? No. Will we make one? Yes. Will it be available the day the TU is released? No. Will it be available shortly thereafter? Yes. Did I just ask four questions and answer them myself to illustrate a point?
No comment.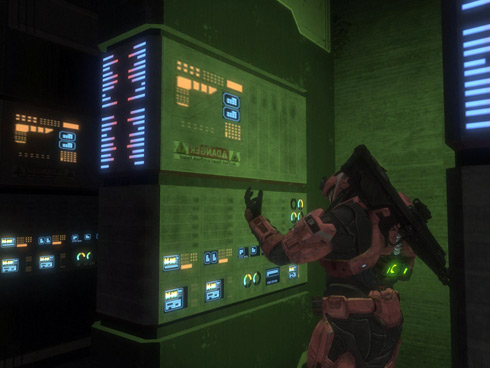 Should we expect 343 to continue playlist maintenance? - GiggityGuy7
We are already dipping into that aspect of things, and we're currently in the process of developing an appropriate cadence. Much like we just shared information about the upcoming beta hopper, we'll continue to use the Bulletins as a way to communicate upcoming changes. Stay tuned for more info.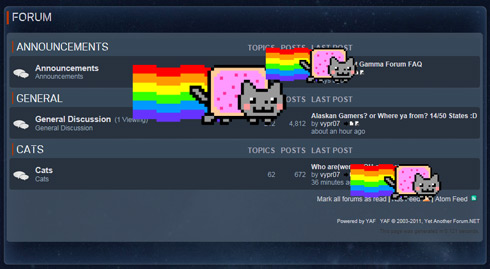 Is there going to be an update for Halo Waypoint? For example, expanding the forums from beta into a (whatever it's called after a beta), fixes for bugs/glitches, new features, etc. - USATOPGEARUSA
Halo Waypoint will be updated across all three screens around the same time that Halo: Anniversary releases. As far as the forums go, we've already started the user-assisted testing phase of the next iteration. Feel free to check out the Gamma and let us know what you think.
And with that, I do believe we covered our seven-day allotment of news. So, until next week…
<3,
bs angel
PS: Today, for your Friday Caption Fun-related wallpaper-type image, I offer you something our artist describes as "magically dynamic." I just call it cool. Embiggen, set as desktop, and then join in the quip-like fun!