The Halo Bulletin: 2.5.14
02.05.2014 20:10

A typical morning at the studio involves a cup (or three) of coffee, a quick game (or three) of Matchmaking, and a meeting (or three) that cover one if not all of the numerous projects we're working on. This morning though, on an incredibly oversized 220" screen, we watched a live broadcast of the Seattle Seahawks parading through the crowded streets of downtown Seattle (strangely enough and certainly unrelated, our studio was not crowded and instead as barren as can be). While the local news coverage of the event provided more ridiculous moments than actual coverage of the parade itself, such as the news anchors' repeated failed attempts to get the attention of the Seahawks passing by, it was exciting to witness the city's celebration of our first world championship, and see the (and I'm quoting the local news anchor here) "Big vehicles with big people in them" cruising through the city. After one last celebration for our team, Dr. Phil popped onto the screen, and that's when we realized it was time to turn the TV off and try to get a little bit of work done.

Speaking of football, we hope that you got a chance to partake in some Halo 4 Spartan Bowl over the weekend. We all know how the big game ended (woo-hoo!) but we thought you'd enjoy hearing about how the two teams faired in-game.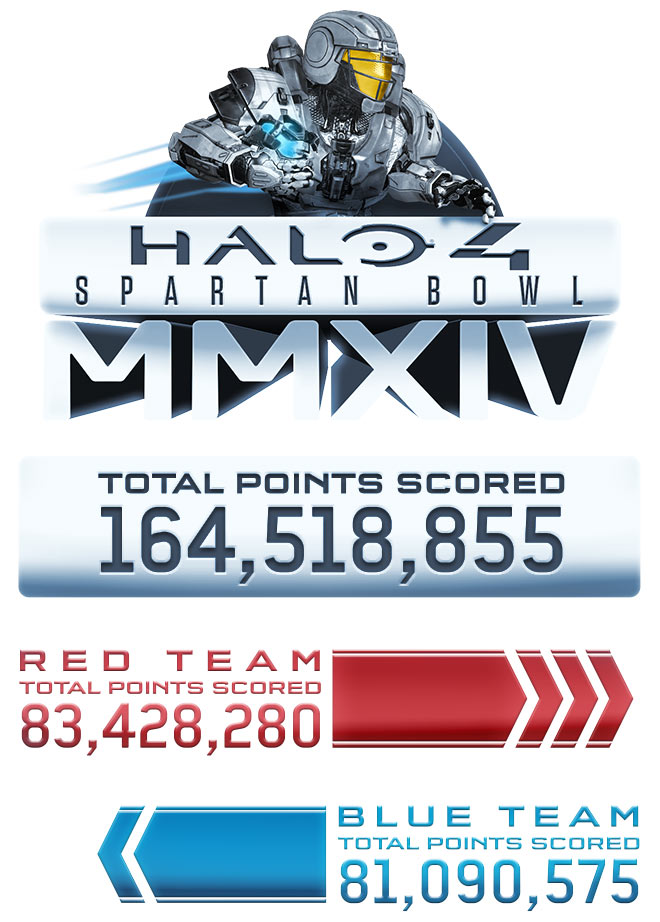 Although we know who quite handily won the real game, the Halo 4 Spartan Bowl had a slightly different result. As you can see above, the Broncos-themed red Spartans appear to have edged out the real championship team. bs angel would like me to add that if you played as the Seahawk-themed blue team and lost at all over the course of the weekend, you may be permanently banned. I think she's kidding. But is she? Either way, if you hopped into the playlist and contributed to any of the 164,518,855 points that were scored over the weekend, we'd like to thank you, and hope you enjoyed the games.

Next up, let's see what else is going on in the world of Matchmaking.
Matchmaking Playlist Update


Heavies went live as our featured playlist on Monday morning, and we've seen that thousands of you have joined the action. The playlist, which stole the top spot from Big Team Battle for three days running, is packed with heavy vehicles and large weapons and features both Slayer and King of the Hill on Wreckage, Shatter, Harvest, Daybreak, Outcast and Perdition, Longbow, Ragnarok, Vortex, Meltdown, and Exile. As we mentioned last week, the playlist is a great stomping ground to rack up vehicle and weapon commendations along with ridiculous and explosive Matchmaking memories, and also several achievements. The Crimson DLC Mantis achievements "Bigfoot," "David and Goliath," and "Pump Yer Brakes," are all achievable in Heavies, so get 'em while they're hot. The playlist, will be around until February 17th - hop in and join the action!

We'll have all the juicy details for the upcoming update (and the Big Rumble Playlist) next week, but first we've got a new Community Choice Poll that will help determine one of the game types that we include in Big Rumble.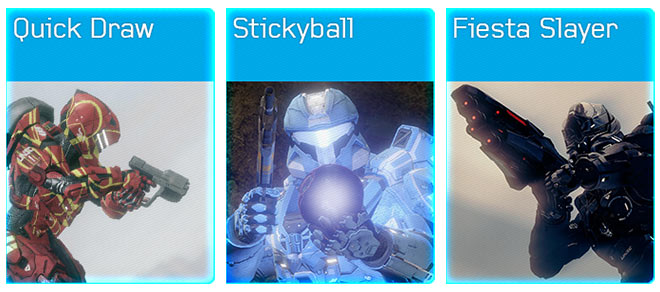 Big Rumble will feature 12-player Free-For-All on medium-sized maps and a combination of game types at launch. One of those game types will be one of the above, and we need you to select which! Read more about each option below.

Quick Draw
A brand new game type to Halo 4, Quick Draw lets players battle it out with just Magnums, Frag Grenades, and the Dexterity Support Upgrade. In Quick Draw, the fastest on the trigger will emerge victorious.

Stickyball
Originally announced as part of the Oddball playlist last October, Stickyball equips players with the Sticky Detonator and Plasma Grenades. In an FFA setting, there are even more explosions, frantic escapes, and things getting stuck to other things. It's messy, good fun.

Fiesta Slayer
There's no doubt that 12-player FFA is already a party, but add in random weapons, and you've got a real Fiesta. Players respawn with random primary and secondary weapons.

Head here to vote on the Waypoint forums where voting will be open for approximately four days. Next week we'll announce the Community Choice winner along with the Matchmaking Update!
Halo eValentines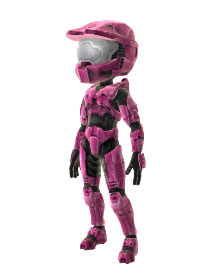 You may recall last year that we created some Halo-themed eValentines that featured a collection of pick-up lines that any Halo fan would appreciate. If you happened to share one of these cards with your "favorite Player 2," as bs angel put it last year, there's a good chance that you are now together or joined in wedlock, as they were masterfully written to melt hearts. This year, we're looking for the best community-crafted Halo-themed valentines to share and woo us!

If you have an idea for a creation, send it to bsangel [at] halowaypoint.com and we'll select our favorites for next week's Bulletin. Whether you create it digitally, with tape and scissors, or use an in-game screenshot, those of you who submit a creation may or may not receive festive-colored Spartan armor for your Xbox 360 avatar...

Stop by next week to see our favorites, and also to grab the last minute eValentine that you'll undoubtedly need because you once again forgot that Valentine's Day was already here (bs angel edit: tsk tsk). Don't worry. We got you. Actually, your fellow community members do - make sure you thank them!
Gamers for Giving Preview

Coming up this weekend is Gamers for Giving, a charity gaming tournament and LAN party that happens to be all sorts of awesome. I've had the privilege to attend the event in past years, and we at 343 Industries are honored and excited to partner with them yet again for their fantastic, frag-filled festivities. I'll be heading out to Michigan this weekend to check out the Halo 4 action, and whether on the live stream on in-person, you should as well!

I was going to tell you about the event and charity myself, but then I imagined bs angel making a very nervous, tense face, shaking her head, and waving her hands in suggestion that I should let our friend Zach Wigal (who may know slightly more about Gamers for Giving) give you the details. So then I decided to do just that.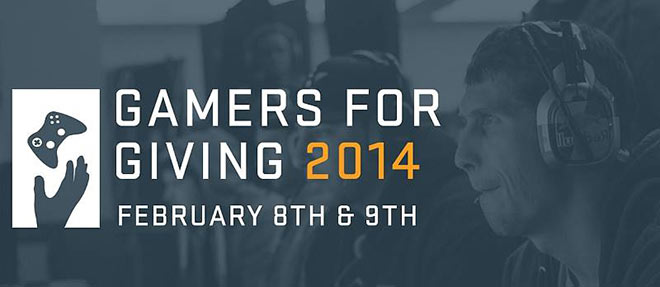 Hey, Zach! Thanks for joining me today. We've got Gamers for Giving coming up this weekend - tell us, just how busy have you been?

Hey, Bravo! Between finishing school, handling regular work, and organizing Gamers for Giving, the past couple of months have been packed. I definitely plan on taking a little bit of a break once the event is wrapped.

Taking a step back, can you tell us a bit about the origins of Gamers Outreach Foundation and Gamers for Giving?

During my junior year of high school a group of friends and I tried organizing a Halo 2 tournament for our student body. A few days before the tournament was supposed to happen, a local police officer who belonged to a media censorship organization called The Parent's Television Council found out about our tournament and called our school's superintendent asking her to cancel the event. It was his opinion that Halo and other M-rated videogames weren't appropriate for high school students to be playing. He basically ascribed to the 'Jack Thompson philosophy' of the time, and felt videogames were having a negative influence on the minds of youth. Our superintendent revoked our rental permit shortly after she received his call, and we had to cancel our event.

Growing up, I was always involved in the 'normal' school activities. I played sports, made okay grades, and was involved in music, but playing videogames was the consistent hobby. I really resented the idea that my mind was somehow being corrupted because I enjoyed playing games like Halo.

I decided the most productive course of action would be to move forward and organize a new tournament that would raise money for charity. I wanted to show the police officer that gamers were a friendly group of people, and that our event could actually benefit the local community for the better. A year after my high school tournament was canceled, the same group of friends and I hosted Gamers for Giving - a competitive gaming event that raised money for charity. We had around 400 people show up, and after covering the event's expenses, we were able to donate $4,000 to a local chapter of the Autism Society of America. Not bad for a bunch of high school students!

I had never been involved with charity work prior to hosting Gamers for Giving, but its importance was quickly ingrained. Having done this for a few years now I've come to believe that's the natural process for becoming involved with philanthropy. Unless you have a personal connection to a cause or you're able to make that initial leap of faith to get involved, it's easy to be inactive or unaware. Videogames were the bridge that connected the dots for me, and Gamers Outreach Foundation was created to support more activities like Gamers for Giving.

Fast forward to present day, the organization now has its own initiatives. We build portable gaming carts for kids in hospitals, and send videogame care packages to U.S. troops overseas. Gamers for Giving is the annual fundraising event which helps us kick start our work each year.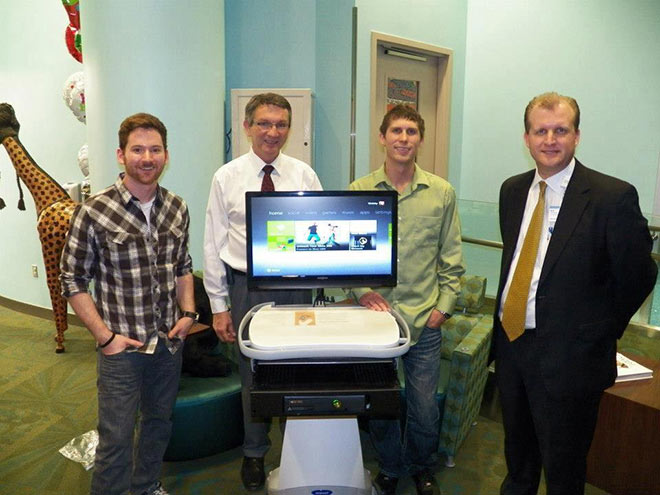 How much preparation goes into something of this scale? When and where does the work begin?

Event management is a lot of work, and as an organizer the challenge of constructing events changes with scale. Gamers for Giving has about a 10 to 12 week build window. First, we work to recruit support from partners within the industry, as well as from Eastern Michigan University, where our event is hosted. These partners provide us with the resources to actually conduct the event, and help us cover overhead so that our attendee entry fees and donations can be used to support Gamers Outreach charity programs. Receiving support from folks like Astro Gaming, Twitch.tv, and 343 plays a big role in our ability to conduct a successful event.

Once support has been lined up, we begin solidifying the details of the event. We address questions like "What activities should be at this year's event?", "How many attendees can we accommodate for each activity?", and "Where will we find equipment to support the event?"

As those questions are being answered, we simultaneously begin promoting the event. Thankfully, a number of eSports personalities have become involved with Gamers Outreach over the years, so their collective voices help us get the word out to folks beyond our immediate reach. That cycle continues until the weekend of the event - and our first priority then shifts to making sure our attendees have a fantastic time. We want our attendees to enjoy gaming in a competitive, friendly environment.

Aside from all that, the purpose of Gamers for Giving is to help build portable videogame carts for kids in hospitals and send videogame care packages to troops overseas. Thanks to a company called Kona's Korner Productions, we're able to stream Gamers for Giving and collect donations from supporters across the internet. This year, we're trying to raise $20,000 to kick off Gamers Outreach activities.

How can the Halo community get involved this year?

Halo is how we started, so we're proud to be able to support another tournament at this year's event! Halo fans are welcome to participate in our 4v4 Halo 4 tournament on Sunday, February 9th. Team passes are $100, and can be purchased online at http://www.GamersforGiving.org. For those unable to attend, we'll be streaming the event at http://www.twitch.tv/GamersOutreach. Donations can be made on our website, or during the live stream of our event. As of this interview, we're only $7,000 away from the goal! Anything the Halo community can contribute would help!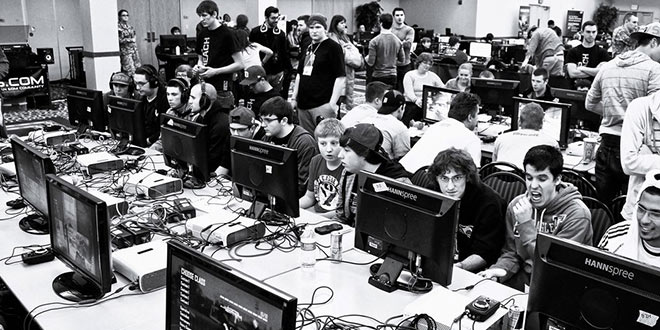 Thanks for taking the time to sit down with us this week. I'll see you this weekend for some Halo 4 action!

Any time, Bravo! It's going to be a good one.
--------------------

Stay tuned to Waypoint and our official Twitter account for Gamers for Giving updates this weekend and into next week. Next up, bs angel is back with another gallery of in-game goodness.
Screenshot Spotlight: Heavy Vehicles

Last week, we turned the spotlight on nature. This week, we decided to go with things that are large and in charge. Take a gander at the following heavy vehicle screenshots, and maybe even find inspiration to make your own.

For your chance at being in the next spotlight, take a screenshot that reflects love (KEEP IT CLEAN) and then tag it with "Love" and "Halo Waypoint", and maybe, just maybe, yours will be featured in the next Halo Bulletin!
And with that, this week's Bulletin comes to a close.

Until next week,

Bravo