Spoilers are currently disabled.
(All newsposts are visible.)

View the Archives:
| | | |
| --- | --- | --- |
| | October | |
October Archived News
News October 29 2015

All the bling. All of it.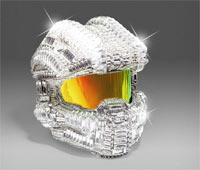 This is... amazing. A cosplayer and a designer have teamed up to build a helmet with 25,000 Swarovski crystals on it, and are selling it on eBay to raise money for the Make-A-Wish foundation. There is still over a week remaining on the auction - current bid is a bit over $3500 US. (The helmet is in Taiwan, and being auctioned by Xbox Taiwan.) Whether or not you can afford this, you owe it to yourself to at least go look. Thanks to Tex for the heads-up on this. (Louis Wu 19:54:32 UTC) (permalink)

News October 28 2015

PUMPKINS. WE NEED YOUR PUMPKINS.
I'm beginning to get nervous - we might have left the launching of this year's Guilt O'Lantern contest too late to actually be viable. There are only 3 days left for entries, and as of now, we don't have enough to even HOLD the contest! Please... won't you consider the baby squash? Carve your pumpkin today! (And send us the pictures.) (Louis Wu 21:18:32 UTC) (permalink)

Episodes 3 and 4 of The Sprint Out Now
After the successful launch of their latest game, 343 Industries is revealing from behind the scenes in episodes 3 and 4 of season 3 of The Sprint. These are some of the best videos to watch for those interested in Halo, video game development or the old school vidocs that used to accompany game or DLC launches. (Thanks ChrisTheeCrappy!) (MacGyver10 18:18:30 UTC) (permalink)

Lockeout - now with a winner!
Congratulations to Jordan117, whose gamertag was picked at random from the pool of folks who entered our Lockeout contest - he gets to spend the next few hours downloading Halo 5! (Well, and playing it after that, of course.) Thanks to everyone who entered, and thanks to 343, for the code! If you didn't win, here's hoping you find another way to grab a copy, because this game is pretty serious fun. (Louis Wu 18:19:27 UTC) (permalink)

Halo 5, The Light Is Green
We had Bonnie's take on the release of Halo 5, but here a little late (from us, not them) is Josh Holmes penned launch into Halo 5. (MacGyver10 18:02:13 UTC) (permalink)

News October 27 2015

Lockeout - A Halo 5: Guardians Giveaway
Thanks to our friends at 343, we've got a digital copy of Halo 5: Guardians to give away - and please, blame me, not them, for the fact that you're going to win it tomorrow instead of yesterday. But hey - free is free, right? Swing by our contest page, sign up, and you're in the running! Winner will be picked tomorrow - you've got just under 24 hours to get your name in! (Louis Wu 19:48:45 UTC) (permalink)

News October 26 2015

Use #Halo5 and Get A Free Twitter Emojii Added!
For those that Twitter!
(MacGyver10 21:27:40 UTC) (permalink)

Hunt The Truth - S02E06: Transcendence
The latest episode of Hunt The Truth is live a little early (some video game launches tomorrow or something). Maya risks it all to spread the truth, the anomaly is revealed, and a new hero rises on Laika III. (Thanks Grizzlei!) (MacGyver10 21:18:04 UTC) (permalink)

Halo 5 Review Roundup
Since today is the day before the launch of the latest game in the Halo franchise, you can expect to see a LOT of reviews to start popping up today. Here are the ones that have been shared on our forum so far! REMEMBER, there may be some campaign spoilers in these, so be forewarned!
(MacGyver10 16:11:16 UTC) (permalink)

Bonnie Ross Reflects on 343 Industries Journey to Halo 5
Alexis shared a beautiful blog post from Bonnie Ross, head of 343 Industries, where she reflects on what brought her and her team to this point before Halo 5's launch. These are the kind of things I like to see developers share, as their passion for a game can be contagious! (MacGyver10 16:07:53 UTC) (permalink)

'The Walking Ted' Machinima Series
IKP has begun exploring a new world with their latest series, 'The Walking Ted'. The world has been overrun with "walkers" and there is only one man that has the special skills required to stop the zombie apocalypse. Check out the forum post if you'd like as well! (MacGyver10 16:05:50 UTC) (permalink)

Rockslider's Banshee snatch, Rendezvous Exploration
Rockslider has been taking out the banshee he snatched not too long ago for a little exploration in H:CE. Go check out his forum post for your video flavor! (MacGyver10 16:01:59 UTC) (permalink)

CARDO TAGE: You Spin Me Right Round Baby
Apparently CARDO 8 ATL has friends that were pretty bored and wanted to make him a nice montage video to tide his anticipation over for Halo 5. Go check out the video on YouTube that he shared in our forum for some nice 'surprise' beat downs and more! (MacGyver10 15:59:00 UTC) (permalink)

'Halo: The Fallen' Fan Film Out
It's been just over a month since we posted the trailer, but the Halo fan film, 'Halo: The Fallen' is out now on YouTube for you to check out. Set during the events of HALO: Combat Evolved, a group of soldiers and survivors from the Pillar of Autumn make their way across the mysterious Halo landscape fighting for their lives against Covenant forces. It's a sizable film too at over 40 minutes! (Thanks robofin117!) (MacGyver10 15:54:27 UTC) (permalink)

You Got Your Star Wars in My Halo. You Got Your Halo in My Star Wars!
Busy day today Halo fans, but let's start things off with a simple one. Leviathan noticed what seems to be some similar art assets showing up in Star Wars from another universe we at HBO are familiar with. (MacGyver10 15:52:28 UTC) (permalink)

News October 25 2015

Canon Fodder: Locke and Load
Are you gearing up for Tuesday's launch of Halo 5? Well, GrimBrother One has got your back - the latest installment of Canon Fodder covers topics like the Halo 5: Live event that streams Monday night in anticipation of launch, gives you insight into some of the new weapons you can get your hands on via the REQ system, hints about audio logs hidden in the Campaign, touches on stats options that will be available to you and customization options you might enjoy playing with, and even points you to the companion Art of Halo 5: Guardians book. It's your one-stop shop for checkboxes to tick off! Go give it a read. Then go discuss it on our forum! (Louis Wu 17:25:19 UTC) (permalink)

News October 23 2015

The Halo 5 Effect from Microsoft Stories
Microsoft has one of coolest pieces on Halo 5: Guardians I've read a while. They cover the passion of the fanbase, the history of Halo and Xbox, the stories of the developers behind the games and more. Definitely worth a bit of your time if you can check out The 'Halo 5' effect from Microsoft Stories. (MacGyver10 19:15:54 UTC) (permalink)

News October 22 2015

The Real Master Chief
Bloomberg Businessweek has put 343's Bonnie Ross on the cover, spotlighting her management of the Halo franchise (and most recently Halo 5) as a linchpin of Microsoft's gaming efforts. Fantastic article (even if Frank O'Connor is described as "a cue-ball-headed 45-year-old") - go give it a read! (There's a behind-the-scenes video where Bloomberg's Editor-in-Chief and Creative Director discuss the article, as well.) (Louis Wu 22:35:28 UTC) (permalink)

Strategy, Substance and Style: Advanced Halo 5 Tactics
The Halo Twitter account shared a new video for Halo multiplayer. Strategy, Substance and Style: Advanced Halo 5 Tactics covers a range of Spartan Abilities and customization, new starting weapons and will teach you a few pro moves as you prepare to enter the Arena next week. (MacGyver10 20:42:47 UTC) (permalink)

Showcasing Spartan Communities
I think we figured out why KP left our HBO Spartan Community...to make a killer video showcasing the new Spartan Communities. Maybe not, but still, it helps us sleep better having a reason. (Thanks kidtsunami!) (MacGyver10 20:40:35 UTC) (permalink)

Visualize an Old School Sangheili Warrior
With the recent change in leadership, Visualizing the Halo Universe will continue now with Round 21! Go check it out in our forum and come up with your best rendition of a Sangheili warrior from the old school! (MacGyver10 20:35:23 UTC) (permalink)

News October 21 2015

Marty Shows How Halo 2 Music Could Adapt to Your Experience
The mythic, music maker himself posted some gameplay from Halo 2 that shows how the music and audio adapts itself to your experience while playing! (Thanks robofin117!) (MacGyver10 22:11:51 UTC) (permalink)

Halo 5 Gamerpics Coming to Your Console Now or Later
Just in time for the release next week, Xbox has made available a collection of gamerpics for Halo 5: Guardians. They start rolling out to different Xbox Live regions today! (MacGyver10 21:56:29 UTC) (permalink)

Guilt O' Lantern 2015 - it's on
I wasn't sure it was gonna happen this year, but hey - how could we not? It's been going for more than 10 years now! If you love Halo, and you want to express your creativity on the side of a pumpkin, this contest is for you! We're much later than usual with this announcement, but you still have almost two weeks to get your entries in to us, so you should be good. All details are on the Guilt O' Lantern 2015 contest page. Do something Halo 5 related - have fun! (Louis Wu 20:01:11 UTC) (permalink)

News October 20 2015

Forbes Pits Destiny vs Halo 5: Guardians Already
If you hop over to our sister site DBO, Kermit posted a link to Forbes Online where they compare the year old Bungie game Destiny to 343 Industries upcoming Halo 5: Guardians. It is a little difficult obviously for a straight comparison (though the author seems to have little trouble with that barrier), but it does bring up valuable questions as to what makes a game enjoyable and what the average consumer might expect from their FPS these days. Go give it a read here! (MacGyver10 22:04:47 UTC) (permalink)

Halo 5: Guardians Limited Collector's Edition Unboxing
IGN has 'picked up their copy' (or finally opened the gift that was sent them) of the Limited Collector's Edition of Halo 5: Guardians, but what is cool is they filmed themselves unpacking this colossal box! Side note, if you plan on switching out your download code for a physical disc, make sure your console is registered first!(Thanks ChrisTheeCrappy and thebruce0!) (MacGyver10 21:34:07 UTC) (permalink)

Hunt The Truth - S02E05: Where The Third Life Shines
The latest 'Hunt The Truth' is online today. The crew gets grounded, Maya remembers a safe place, and the Triad rises all in this latest episode! (Thanks mid7night!) (MacGyver10 18:33:06 UTC) (permalink)

'Visualizing The Halo Universe' Will Continue With TDSpiral
As we pointed out a week ago, Postmortem was looking for someone to take the reigns of his fan-creation submission-heavy 'Visualizing the Halo Universe' as he was low on free time. With the desire to see someone else take up the mantle, he posted a call for a new bearer, and it looks like TDSpiral has answered the geas instilled in him. Go check out his forum post to see how things will change, and how they'll stay the same! Thanks TDSpiral for keeping this awesome community-driven project going! (MacGyver10 15:13:24 UTC) (permalink)

Halo 5 Soundtrack Free To Listen, Coming Next Week for Purchase
So Tuckerscreator let us know that 343 Industries has put the Halo 5 soundtrack up on Soundcloud completely free for an entire week! Thebruce0 also posted information on how you can purchase your copy of the Halo 5 soundstrack next week with a few different ways for you to get your hands on the album! (MacGyver10 15:09:24 UTC) (permalink)

News October 19 2015

Halo Pack in Minecraft Updated for Halo 5: Guardians
Looks like the Halo pack for Minecraft has been updated to include all the members of Blue Team and Fireteam Osiris for free! Download the update if you already have the pack!
(MacGyver10 21:56:29 UTC) (permalink)

Join Up With a Halo 5 Spartan Company (Also Get a Free REQ Pack!)
A flashback to Halo 2's clan system? That remains to be seen, but there is some cool functionality in the new Spartan Companies at Halo Waypoint. Unite together under a common banner and rise up the ranks of Halo 5: Guardians. You also get a free REQ pack with a guaranteed cosmetic item by registering for a company! Tex has set up an HBO Spartan Company, so if you feel so inclined, and Tex likes you enough, join up! (Thanks davidfuchs!) (MacGyver10 21:52:13 UTC) (permalink)

Customize Your Halo 5 Spartan Before Launch!
Halo 5: Guardians doesn't launch for another 9 days, but in the meantime, you can customize your spartan as you see fit and with the available items at Halo Waypoint! (Thanks kidtsunami and KP!) (MacGyver10 21:49:46 UTC) (permalink)

Canon Fodder - Sending Out an S.O.S.
The latest Canon Fodder came out this past Friday, and Grim clarifies some of the confusion around 'the Storm Covenant' or lack thereof more specifically. There's some expectations laid out for new types of campaign levels, and more info on the HuntTheTruth podcasts and 'Halo Live' on the 26th! Go give it a read on Halo Waypoint! (MacGyver10 21:44:48 UTC) (permalink)

A Yellow Energy Sword and Red Hardlight Shield on PC
Bizargh dropped by to let us know some folks have ported some of Halo's assets to the Source Engine and can now colorize the energy weapons into various colors! They even put together a short video showing the hardlight shield off! (MacGyver10 21:39:47 UTC) (permalink)

Halo Community Update - 10/16/15
Grim stopped by with a cringe-inducing title for the latest blog on Halo Waypoint. Along with further explanation of the CSR, we get a first look at the new medals and returning commendations for Halo 5. These things might be good to know as you earn both XP and REQ points via medals and commendations. An MCC Playlist update and 'Play of the week' sum up another Halo Community Update, the next to last one before launch! (MacGyver10 21:35:50 UTC) (permalink)

Halo 5 Arena Multiplayer Scoped In On
Lots of news to catch up on from over the weekend, but first is another blog from Josh Holmes, this time on Arena Multiplayer. He goes over CSR (competitive skill ranking), how Arena is divided into seasons and how you'll find people to play against. Check it out on HaloWaypoint! (MacGyver10 21:33:08 UTC) (permalink)

News October 16 2015

Halo Themed Cars and Chief Waving His Captured, Green Flag This Sunday
For the racing fans out there, it will be neat to see the Chief and Kiki Wolfkill of 343 Industries waving the green flag this weekend from the Hollywood Casino 400! Also look for the Halo 5: Guardians themed race cars!
(MacGyver10 22:14:26 UTC) (permalink)

Nak3d Eli's Zero-Shot Halo 2 on Legendary
While it's not technically a true zero shot run for speedrunning's sake (he did die, the deaths are just cut out here), what Nak3d Eli's Zero Shot Halo 2 Legendary run shows is still very impressive! He live steamed the action, but a fan of his cut out the deaths to make this a semi-digestible, three hour video. Go check it out! (Thanks Nikko B201!) (MacGyver10 14:25:50 UTC) (permalink)

News October 15 2015

You Won't *Believe* What Nathan Fillion Said About Halo 5!
Obvious Buzzfeed title aside, check out the king of Castle on Jimmy Kimmel via YouTube. They talk about how much more infinitely handsome Sgt Buck is than the person that portrays him. (Grizzlei would ship 'em both!) (MacGyver10 21:30:13 UTC) (permalink)

It's Not a Grunt Birthday, But It's Still A Party for Halo 5 on October 26th
While Halo 5: Guardians launches on the 27th of this month, looks like the 26th is when the party gets started. Grimbrother One gave us an invitation to the 6 hour shindig that features exclusive gameplay, celebrity guests, developer interviews and world exclusives! See the announcement trailer on YouTube, the same place the live show will air! (MacGyver10 14:58:38 UTC) (permalink)

Halo: Last Light Digital eBook On Sale at Amazon
If you haven't yet picked it up, the 'Last Light' novel for Halo is on sale now on Amazon if you like digital ebooks. Thanks Arithmomaniac for letting us know! (MacGyver10 14:56:44 UTC) (permalink)

News October 14 2015

The Complete List of Halo 5 Achievements
Those of you wanting to avoid all spoilers might want to stay away from it, but HaloWaypoint has posted a list of the complete launch achievements for Halo 5: Guardians! (MacGyver10 20:05:02 UTC) (permalink)

Halo PC Mod, the SPV3 Project, Has Gameplay Video and More to Check Out
Masterz1337 is back with more on the SPV3 Project that is currently modifying Halo PC. They've set up a subreddit for you to discuss the project, and have also posted a pair of videos. One on the soundtrack for the game, and another showing off some early footage of the new guns, new enemies and maps they are working on! This really seems like a great labor of love for Halo PC, and if you own a copy of the game I'd encourage you to check it out! (MacGyver10 19:51:10 UTC) (permalink)

NOKYARD Discusses Halo 5's Forge with Grifball Hub
One of the elite forgers that was invited to 343 Industries to refine Halo 5's forge mode is talking to us over at Grifball Hub. You can listen to him talk about the new mode coming this December on YouTube. (Thanks Bounce-A-Gon!) (MacGyver10 19:48:08 UTC) (permalink)

Oversee Visualizing the Halo Universe for Us All
Postmortem has been enticing our forum goers to expand the Halo universe for over three years now, but the problem is he just doesn't have the free time anymore to invest properly in his series. If you're interested in helping continue his 'Visualizing the Halo Universe' series, everyone at HBO would love for you to check out his forum post and throw your hat in the ring! (MacGyver10 19:44:06 UTC) (permalink)

News October 13 2015

MCC Content Update Out Now
The next time you log into the Master Chief Collection, you'll be prompted to download the latest update. The folks at HaloWaypoint have typed out what you can expect to see changed in this content download! (MacGyver10 22:59:09 UTC) (permalink)

How You'll Play Together at Halo 5 Launch
Many people will be jumping right into Halo 5's multiplayer modes come launch day, and over at HaloWaypoint, they've outlined the multiplayer playlists we can expect on launch day! (Thanks Bounce-A-Gon!) (MacGyver10 22:57:11 UTC) (permalink)

Hunt The Truth - S02E04: Jackals
The latest episode of Hunt The Truth is up now as we learn a lot more about the Jackal species of the Halo Universe (maybe a little too much!). Kig-Yar pirates imprison the crew, an ancient phrase becomes a warning, and Maya puts it all on the line as well in this episode that continues the story of HtT! (Thanks asa!) (MacGyver10 22:54:00 UTC) (permalink)

Thoughts on Brutes via The SPV3 Project
The world of Halo has many interesting characters, places and species, and Masterz1337 of the SPV3 Project has shared an amazing piece they put together on the Brutes of the Halo universe to flesh out the species for their project. Go give it a read! (MacGyver10 22:50:03 UTC) (permalink)

Incoming Request: Show Your Halo Fandom!
For those of us not on the Waypoint forums, Hyokin posted a request from Bravo that they're looking for some fan videos for Halo fanatics to show their passion! (MacGyver10 22:05:13 UTC) (permalink)

News October 12 2015

Halo: Fall of Reach Animated Series Up for Physical Pre-order
HaloWaypoint has a link up now that sends you to Amazon for a pre-order of the Halo: Fall of Reach animated series on DVD or Blu-ray with a release date of December 1st. If you're not picking up one of the LE copies of the game, this is another way for you to get your hands on it! (MacGyver10 17:16:30 UTC) (permalink)

Halo 5: Guardians Launch Gameplay Trailer
Looks like we're getting to the final stretch (just over two weeks!) of the hype train for Halo 5: Guardians! Grim stopped by our forum this morning with the Halo 5: Launch Gameplay Trailer featuring a bunch of cool gameplay and some serious exposition from Halsey, Locke and of course, the Chief! After you watch it, check out our forum and leave your feedback on the post 343 Industries' very own GrimBrother One left! (MacGyver10 17:05:58 UTC) (permalink)

You Can Change Your Stars...and Grass and Mountains
There's been mention of the different skyboxes and general views you can choose from with Halo 5's new forge maps, but the fine, fine folks over at Customs Night have linked us a GIF showing the differences these make on one map. Thanks Bounce-A-Gon! (MacGyver10 17:02:05 UTC) (permalink)

Rockslider's Maximized Airtime for the Banshee Snatch
After Rockslider's huge time shave on Ducain's old Maw Banshee Snatch trick, he's back this week to show you how you can maximize your flight time with that purple aircraft! (MacGyver10 16:59:51 UTC) (permalink)

Treesicle's Take on Cortana
The folks at Treesicle have put together and interesting video called 'Cortana (Halo): The Story You Never Knew'. It gives a very cool take on our digital AI after about three minutes of a rambling intro. Thanks to Free Weights for the heads up! (MacGyver10 16:54:21 UTC) (permalink)

News October 9 2015

New Machinima, 'Halo: Believers' Trailer (Updated)
IESUProductions stopped by our forum with news of a trailer for their new Halo machinima, 'Halo: Believers'. According to the YouTube description, the crew of the UNSC Infinity rescue a team of mysterious Spartans known as "Black Team" from a derelict vessel in deep space, whose covert and bloody mission will change their lives, and their entire universe, forever. Go give the trailer a look to get a feel for the mood of their new series. Update: IESUProductions is back with an extended edition of their latest trailer with added voice over and a tease at the end for a little viral marketing campaign they're trying out. Let him know what you think on Twitter at @AwbreyDana. (MacGyver10 19:39:29 UTC) (permalink)

EB Australia Hooking Up Halo 5 LCE Owners
Luigifreak let us know how the exchange of digital codes for physical discs will go with the Limited Collector's Edition of Halo 5 in Australia...it won't! No worries though, EB games has confirmed they will supply a free disc at no charge! How nice! (MacGyver10 19:37:21 UTC) (permalink)

Halo 5 Micro-transactions Won't REQ Your Wallet After All!
Josh Holmes is back with more REQ goodies in the latest update to the REQ system blogs. Not only do we get a sneak peek at a few more cards and further discussion of what to expect at launch, but we finally get pricing for purchase of the silver and gold REQ packs using real money ($1.99 and $2.99 respectively). Go read Building Your REQ Collection: Part 2 at HaloWaypoint! (MacGyver10 19:31:29 UTC) (permalink)

Joel McHale Loves Halo More Than His Kids
While we're all excited about Halo 5: Guardians release coming closer, Joel McHale might abandon his kids in favor of shooting aliens! (MacGyver10 19:27:44 UTC) (permalink)

Canon Fodder - A Time to Give Tanks
Grim dropped by last night with the latest Canon Fodder, covering the new UNSC vehicles available in Halo 5 (particularly Warzone) and the new trailer for the animated series, 'Halo: The Fall of Reach'. Head over to HaloWaypoint and give it a read! (MacGyver10 19:25:08 UTC) (permalink)

View This News From Elsewhere
While we knew spectator mode was available in the Halo 5 MP beta, Josh Holmes went into further detail on what we can expect with the new way of watching Halo multiplayer. Thanks Bounce-A-Gon! (MacGyver10 19:23:08 UTC) (permalink)

The Worldview of Fireteam Osiris
Bounce-A-Gon has screen capped a YouTube video to give you a look at some of Fireteam Osiris' HUDs. Check 'em out in this forum post! (MacGyver10 19:21:13 UTC) (permalink)

News October 8 2015

'Halo: The Fall of Reach' Animated Series Trailer
As a part of the Limited Edition (physical and digital) or Limited Collector's Edition, you receive a new animated series based on 'The Fall of Reach' and the beginnings of the spartan program. Xbox today has released a trailer for the series set to launch the end of this month with the release of Halo 5: Guardians. (Thanks The BS Police!) (MacGyver10 17:39:13 UTC) (permalink)

Cortana Looks 'Brilliant' In This Lit Up Piece
Eric Rodrigues has been making great Halo art for over a decade and sharing it with us at HBO. He recently emailed us a beautiful shot of Cortana that he gussied up a bit. He drew a pose of Cortana, engraved it into a sheet of lucite with his dremel and then framed it with a LED strip to create a brilliant piece of art! (MacGyver10 16:04:12 UTC) (permalink)

Old Weapons in Halo 4
Speaking of cut content, looks like a few weapons from Reach made their way into Halo 4. Gamecheat13 found both the Plasma Launcher and Focus Rifle laying around in Halo 4 code. Once again, gamerguy2002 summed up the finds in our forum. (MacGyver10 16:01:37 UTC) (permalink)

Laugh, Laugh and Bang Bang in Halo CEA
Lord Zedd is back slinking through the coded underbelly of Halo games and found some unused skulls that were planned or played with in Halo CEA. Both the 'Laugh' and 'Bang Bang' skulls are fleshed out a little bit in the cut content he found. (Thanks gamerguy2002 for the thorough post in our forum) (MacGyver10 15:45:55 UTC) (permalink)

News October 7 2015

Rockslider Improves the Maw Banshee Snatch
Rockslider is back with more shenanigans in Halo CE, this time improving upon someone else's shenanigans. Investigating the business of snatching a Banshee on The Maw, he found a way of speeding things up a lot. Ducain suffered five hours of weapon accumulation to overload the game back in 2004, but he has that work down to around 80 minutes. Check out his links in our forum for your favorite way of watching! (MacGyver10 22:43:53 UTC) (permalink)

From Paper, to Video, to Music
Wahrer has done some pretty amazing transcribing, and not of words, but of music! Based on the compositions shown in writing in the Sprint Season 3 videos, he's put the notes to music. Pretty cool! (MacGyver10 22:41:40 UTC) (permalink)

It's Gold!
According to Josh Holmes on Halo Waypoint, Halo 5 has officially gone gold - it's certified and ready to ship. Now all that's left is the wait until October 27! I'm drooling... (Thanks, The BS Police.) (Louis Wu 14:57:24 UTC) (permalink)

News October 6 2015

Forge in Halo 5 Confirmed As Best Ever and Coming in Decemeber
We know there have been many people waiting on news of Halo 5's forge (our own Hyokin for instance), and today 343 has put up a new article and video going into some detail on the latest iteration of forge. It seems some community forgers had the chance to help in its creation, and many of the new features are implemented directly from community wishlists! Thanks for stopping by with the great news, Grim! (MacGyver10 22:04:18 UTC) (permalink)

Hunt the Truth - S02E03: Safe House
thebruce0 has linked us to the latest episode of season 2 of Hunt The Truth. A friend returns from the dead, a safe house becomes a trap, and Maya is faced with a decision that will change her life forever. Go check it out on the HtT blog! (MacGyver10 22:01:55 UTC) (permalink)

Forbes Videos on Halo 5
Forbes has released a couple of videos for the upcoming Halo 5, and Grizzlei in our forum has linked to both part 1 and part 2 for us if you want to check out her post or join in on the discussion! (MacGyver10 21:59:34 UTC) (permalink)

News October 5 2015

How to Switch Your Digital Code for a Physical Disk in Halo 5: Guardians Limited Collector's Edition
Did you order the Limited Collector's Edition of Halo 5: Guardians, but were bummed when you found out it came with a digital copy of the game, not a physical? Looks like there's information now on Xbox.com on how to switch your digital code for a physical disk! Thanks Grizzlei! (MacGyver10 21:02:50 UTC) (permalink)

The Sprint Season 2- Episodes 1 & 2
While we had the teaser not too long ago, 343 Industries has surprised us today with the release for both Episode 01 'Composer' and Episode 2 'Press Start' of season 2 of The Sprint! Go watch them and see more of the musical composition process for Halo 5, as well as the motion performance stage-to-capture development of the opening cinematic for Osiris. In the meantime, you can also mark your calendar to expect episodes 3 and 4 the day before Halo 5 launches (Oct 26th) and episodes 5 and 6 a few weeks after (Nov 16th). (MacGyver10 20:12:38 UTC) (permalink)

News October 4 2015

Pumpkin Chief
Free Weights stopped in with a photo he took at a pumpkin festival in Germany.
Amazing! (Louis Wu 23:09:53 UTC) (permalink)

Unsung Hero of the Halo Franchise
Pretty interesting podcast from the Science Fiction Show - Eric Trautmann talks about how the first Halo novel came to be. Some of his recollections are pretty surprising! Thanks to Grizzlei, who found this on Eric Nylund's blog. (Louis Wu 23:01:54 UTC) (permalink)

Unfathomable
The Community Update didn't get posted this week - but in its place, you get a roundup of multiplayer impressions - a nice go-to list if you're trying to soak it all in! (Louis Wu 22:58:53 UTC) (permalink)

Designs of the Times
This week's Canon Fodder went live (as usual) on Friday - and (as usual) it's worth your time. Wanna see how your favorite vehicles are getting modified for Halo 5? It's in there. Wanna know what you can do with the Halo Channel app? It's in there. Wondering why the Blue Team and Osiris Team entries in the Universe database were missing? It's in there! Go read. Thanks, Urban Reflex. (Louis Wu 22:54:55 UTC) (permalink)

News October 2 2015

Fear the Replicated Pink Mist
Bravo knows how to deal out the needles to our elite enemies, and it looks like thanks to NECA, you can also have your very own replica needler for $300. (MacGyver10 21:29:05 UTC) (permalink)

Another New Halo TV Ad This Weekend
The BS Police shared 343's tweet from earlier today. Looks like we get two weekends straight of new Halo commercials!
(MacGyver10 20:15:07 UTC) (permalink)

Halo 5 Emblem for Watching the Halo Channel
I believe we somehow missed this during the summer (couldn't find a news post about it), but if you haven't yet downloaded the Halo Channel app on your phone or Xbox One, check it out and watch a video to receive a special promotional REQ pack with an exclusive emblem. (MacGyver10 20:04:51 UTC) (permalink)

Pieces of Our Thoughts on Halo, Visualized
Xbox and 343 Industries have created a Halo 5: Guardians Visualizer that lets you share your thoughts about Halo. As more and more people add to it, the Chief's helmet will be fleshed out through the wireframe skeleton to display pieces that hold everyone's messages. An interesting marketing piece that lets you add your own thoughts! (MacGyver10 19:56:35 UTC) (permalink)

News October 1 2015

Building Your REQ Collection: Part 1
While it's devoid of any further details to how the system itself will work, the latest news update at HaloWaypoint shows off some of the REQ cards you can unlock while building your collection. There's a good wall of text that goes into great detail on the shotgun of choice for Kelly-087, called 'Oathsworn' and a few blurbs for other cards in the REQ system. Thanks Bounce-A-Gon! (MacGyver10 18:29:32 UTC) (permalink)

Woaf 117: Part 10 - A Bridge Too Short
The Woaf is back with part 10 of his Woaf 117 series. Barry makes sure the Woaf knows he is incapable of driving...right before the Woaf kills him! Check it out on YouTube for more! (MacGyver10 18:26:50 UTC) (permalink)

| | | |
| --- | --- | --- |
| | October | |