Spoilers are currently disabled.
(All newsposts are visible.)

View the Archives:
| | | |
| --- | --- | --- |
| | November | |
November Archived News
News November 29 2016

Graphic Novel Anthology, 'Halo: Tales from Slipspace' Out Now
The new graphic novel anthology from Dark Horse Comics and 343 Industries is out now, called 'Halo: Tales from Slipspace'. If you're a fan of the comics, check out this complete collection of new Halo stories from some of the industries' best!
(MacGyver10 21:23:07 UTC) (permalink)

Termacious Trickocity Clips Into the Crow's Nest Cutscene Room
The SuperWaffle shared the latest video from Termacious Trickocity. After they discovered the cutscene room on Crow's Nest, they then spent some time figuring out how to get in there! It's all chronicled in their glitch/trick video on YouTube. (MacGyver10 21:05:55 UTC) (permalink)

Morpheus Montage Monday: 'Evadur's 1st Montage(MLG)'
Morpheus is back (and we're late!) again with another Montage for your Monday. The guy learned to edit video just so he could post it, and it's some pretty good editing for a newbie! You can find 'Evadur's 1st Montage(MLG)' on YouTube! (MacGyver10 21:02:54 UTC) (permalink)

Rockslider Picking Apart Covenant in Cavern Megabattles
Rockslider is back with another take on his patented 'megabattles', this time in the cavern on AoTCR. Check out his post in our forum to pick your video preference! (MacGyver10 21:01:05 UTC) (permalink)

News November 25 2016

Halo Legendary Crate at an awesome price
A few weeks ago, we opened the October 2016 Halo Legendary Loot Crate and showed you the goodies. The next one is focused on Halo: Combat Evolved, and we'd offered you a way to grab it for a 10% discount. Well, if you act fast, you can blow that discount out of the water; Loot Crate is offering a 25% Black Friday discount on this crate, good today only! Swing by and check it out - comes with some sweet loot! (Black Friday code is at the top of page, in the orange banner.)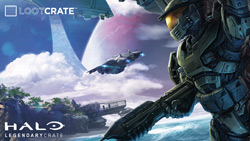 (If it matters to anyone, I'm pretty sure we don't make any money off this. It's just a great deal.) (Louis Wu 19:45:54 UTC) (permalink)

News November 23 2016

Make Dr. Halsey's Journal from the 'Halo: Reach LE' Your Own Personal Journal for Charity
The boss man, Louis Wu, shared in our forum a custom, limited-edition of the Dr, Halsey's Journal that come with Halo Reach LE's that has blank pages for YOU to fill in as your own, personal journal. It's up for auction now on eBay, and 100% of the proceeds benefit The Leukemia & Lymphoma Society for Jordan Silcox! (MacGyver10 21:44:05 UTC) (permalink)

Max Hoberman Redefined Gaming As We Know It Through Halo 2, Go Let Him Know We Want to Hear About It!
When Bungie created Halo 2, they redefined how we play games online in so many ways that are even today carried on by Xbox, PlayStation, Nintendo and even PC! Max Hoberman, the man hehind the revolution, recently asked on Twitter if anyone would be interested in hearing him do a talk on the process, so please go let him know there's interest!
(MacGyver10 21:41:09 UTC) (permalink)

The Chief Encourages You to Sign Up for Fireteam Apollo by Buying Loot
LootCrate is gearing up for their third Halo Legendary Crate with signups due by December 15th. They even got the Chief to do some voice over for their new commercial showing off some of the goodies that have been and will come! Don't forget you can see us unboxing the most recent box and use our discount code to get some money off! (MacGyver10 21:37:45 UTC) (permalink)

The Didact's Gone Crazy, He's Slashing Prices Left and Right!
Lots of sales over the next week, and the Gear crew at 343 have put together a great, comprehensive list of what's being discounted. Some of the highlights I saw where MegaBLOKs, a custom printed Halo ornament featuring YOUR spartan, 40% off the Astron Gaming Halo headset, discounts on apparel and every, digital Halo comic at Dark Horse for $20 total this coming Monday!
(MacGyver10 21:25:09 UTC) (permalink)

News November 22 2016

Wu is Old, This Tweet is Gold! Thanks 343!
Claude got a shout-out from 343 Industries yesterday on his birthday!
(MacGyver10 21:11:14 UTC) (permalink)

Interview with 343 Industries and Creative Assembly on Halo Wars 2
For those interested in the upcoming Halo Wars 2, the Xbox Wire has a piece up interviewing 343 Industries and Creative Assembly on next year's Halo RTS!
(MacGyver10 21:09:53 UTC) (permalink)

Morpheus Montage Monday Mystery features 'Return to The Sky', Edited by Halzred
Morpheus has chosen to highlight a rather unique montage this week, as while it was edited by Halzred, there's no mention of the spartan doing all the work! It comes straight from the doubles playlist in Halo 1 MCC, so check out 'Return to The Sky' on YouTube! (MacGyver10 20:41:27 UTC) (permalink)

News November 21 2016

FUDcast Crew Joined by ToaFreak of Halo Canon to Discuss Halo: Mythos and Halo: Fractures
Davidfuchs let us know that Dani and ToaFreak of Halo Canon fame join him on the latest FUDcast to talk Halo: Mythos and the Halo: Fractures anthology. Show notes and listening options are available here! (MacGyver10 22:26:03 UTC) (permalink)

Halo Community Update - 11/18/16 'Quick Reflects' and Josh Holmes Leaving 343 Industries
He's been here less than a month, and already GrimBrother One is kicking Ske7ch out of the community update seat and writing it himself! Actually, there's a recap of the HCS tourney and Ske7ch's discovery of the Prisma app that took him away form home, the 15th anniversary of Halo fun and news that Josh Holmes, studio head of 343 Industries, is leaving to pursue independent gaming (thanks UnrealCh13f for the heads up too). If you want to check it out for yourself, you can read the entire thing at HaloWaypoint! (MacGyver10 22:19:28 UTC) (permalink)

'Spartans Never Die, They Just Go Senile.' - Happy Birthday Louis Wu!
Without him, we would be nothing. Non-existent! A very special birthday shoutout to our illustrious leader, Louis Wu!
Special thanks to Leviathan for the artwork! (MacGyver10 20:13:33 UTC) (permalink)

News November 18 2016

DrBizz Gets Into Invisible Death-Box on Halo 2's The Great Journey
DrBizz is back at it again! Here's his own words on his latest trick!
Another big trick here, On The Great Journey, way outside the level there is a large, floating invisible box with livable space inside it that is used during the ending cutscene after killing Tartarus.The new graphics in MCC allowed me to stumble upon it because there are visible graphics used such as flames and the explosions used during that cutscene. There is an odd "void" space around all sides of it which kills you fairly quickly, but I was able to get into this room by getting out of a Spectre during the launch and get smashed inside it. A very interesting place, never been accessed before by a non-modding player.
Check it out on YouTube to see this awesome feat! (MacGyver10 22:54:30 UTC) (permalink)

News November 16 2016

Arby's and The Chief, LOLOLLOLOLOLOLLLOLOLOLLOL
Not 0nlee doe th3y hav da meetz, butt dey seem 2 hav da CH33FI3R 2! LOLOLLOLOLOLOLLLOLOLOLLOL
(MacGyver10 16:24:17 UTC) (permalink)

'HBO: We Get Talked About' or 'HBO: Bravo Doesn't Understand Us' or 'HBO: We Were YouTube/Reddit/Social Media to Halo Before They Even Existed'
If you missed the livestream last night, you missed a TON of talk about our hallowed, sacred halls here at HBO! Jeff Easterling, aka GrimBrother One and Wu's adopted son, was not only wearing 'Levi's HBO Brothers' shirt and talked about it, but Grim, Ske7ch and Bravo all spent some time talking about the original, grandaddy-of-Halo-fansites HBO! (Thanks Leviathan!) (MacGyver10 15:49:13 UTC) (permalink)

Pro-Pipe, Sentinel Beam and Anti-Air Wraith Teased as New Halo 5 Content Coming Soon
While the livestream last night was sparse on new Halo 5 content, Nikko B201 reminded us that we DID at least get a teaser of the anti-air wraith, grenade launcher and sentinel beam!
(MacGyver10 15:46:58 UTC) (permalink)

The Making of Halo: How Combat Evolved from Blam!
There's plenty of history out there on the origination of Halo, but Oozer3993 dropped by with his self-penned history on 'The Making of Halo: How Combat Evolved from Blam!' It's about a 11-minute read, but starts with three people in a back room in Chicago putting together the pieces that would eventually make Halo. It's a pretty decent collection of facts (with sources!) and does a good job recounting the start of Master Chief and his ringworlds. (MacGyver10 15:39:44 UTC) (permalink)

Morpheus' Montage Monday Features B SIK's 'Combat Evolved, Halo 1 Montage #3' for Halo's 15th Anniversary
Morpheus, whether intentionally or not (we all know the truth!), waited till yesterday, the 15th anniversary to release his choice for this week's Montage Monday. Check out B SIK's 'Combat Evolved' for some ridiculous map control and awe-inspiring snipe skills! (MacGyver10 15:36:01 UTC) (permalink)

News November 15 2016

The Vengeful 'Vadam's Tribute to Halo's 15th Anniversary
The Vengeful 'Vadam posted his own tribute to the 15 years of Halo existence. Check out his video tribute here on YouTube! (MacGyver10 23:22:13 UTC) (permalink)

Halo Livestream to Celebrate 15th Anniversary 3:43 PST or 6:43 EST
The Halo 15th Anniversary livestream is getting ready to start! Lots of cool stuff and a few surprised I'm told will be on there!
(MacGyver10 23:20:39 UTC) (permalink)

Halo 15th Anniversary Overview on HaloWaypoint!
Wow, there's a lot of stuff on the Halo twitter feed and elsewhere to celebrate Halo's (and Xbox!) 15th anniversary! Check out this post at HaloWaypoint to see an overview of all the ways 343 is celebrating today! There's a new plasma grenade plushie, Xbox gamerpics, the live stream and recounts form 343 employees on their time and introduction to Halo! (MacGyver10 23:17:05 UTC) (permalink)

News November 14 2016

Play MCC Tomorrow Night at 9p EST With HBO Folks to Celebrate 15 Years of Halo
In addition to tomorrow's stream at 3:43p PST, Schooly D is asking the HBO faithful to assemble for a little celebration of Halo's 15th anniversary. Check out his post in our forum, and be ready to boot up MCC at 9pm EST tomorrow! (MacGyver10 22:59:05 UTC) (permalink)

Rockslider Is Back After That Banshee on AoTCR
Rockslider is back after that banshee with 10 more attempts at hitching a ride at the bridge in Attack On The Control Room. Check out his post to watch the video! (MacGyver10 22:57:43 UTC) (permalink)

Halo Community Update - 11/11/16 'Next Stop: Memory Lane'
This past Friday's update hits ya in the feels with its nostalgia-induced gut punch. Some info on tomorrow's coming celebration of Halo, some community spotlights and other fun stuff. Lots of community flashbacks as well, and even a shout out to our very own Updates archive! Check it out over at HaloWaypoint! (MacGyver10 22:54:24 UTC) (permalink)

News November 11 2016

Celebrate Halo's 15th Anniversary on November 15th With 343 Industries on Twitch
This coming Tuesday, 343 will gather on Twitch to celebrate the 15th anniversary of Halo! There will be freebies given out, plenty of Halo gameplay, a special community playlist in Halo 5 and a few surprises! So far, all they've set up is a Facebook event for the day, but we're to hear more news soon I'd say in today's community update whenever it hits! (Thanks davidfuchs!) (MacGyver10 16:30:42 UTC) (permalink)

Small Update to Halo 5 Helps 343 Pinpoint Server and Melee Registration Problems
Have you or a friend had trouble connecting to Spartan faces with your melees? Random disconnects getting you banned from matchmaking because they're counted as 'quitting games'? Looks like 343 is hoping a small update will help them figure out how to stop both of those from happening anymore!
(MacGyver10 16:28:03 UTC) (permalink)

News November 9 2016

Happy 12th Birthday Halo 2 (Relive the Magic with Our Halo 2 Updates Library!)
I sunk more hours into Halo's 2nd game than any other single piece of media in my lifetime (including reruns of MacGyver!), and for many, it welcomed them into the joys and pre-teen smacktalk of online gaming for the first time! If you want to relive the magic of one of the biggest video games of all time, check out our classic library of Halo 2 Weekly Updates from Frankie! You can relive the build-up for Halo 2, and see how Frankie started out with Halo updates, as the excitement builds for Halo 2's launch! Happy Birthday, Halo 2!
(MacGyver10 22:08:46 UTC) (permalink)

News November 7 2016

Hot Wheels Makes Tiny UNSC Warthog for Your Orange, Loopty-Loop Tracks
RVideo shared in our forum that the new Hot Wheels UNSC Warthog is out on Amazon now! It's the first in their new 'Screen Time' series and a 1/64 scale straight from Halo! (MacGyver10 20:10:31 UTC) (permalink)

Rockslider Catches Banshee Pilots Mysteriously Falling Dead
Rockslider has dissected Halo: CE more than most, and yet he STILL finds unusual happenings like these banshee pilots dropping dead for no apparent reason! Check it out in his forum post for your preferred video flavor! (MacGyver10 20:07:02 UTC) (permalink)

Halo Community Update - 11/04/16
Last week's Community Update gets personal with new/old community manager, Ske7ch! He answers a bunch of questions about himself and Halo before letting Grim out of the pumpkin to show off some Halloween themed fan creations and a Battlefield 1 insertion into Halo 5's Forge! Make sure you check it out at HaloWaypoint! (MacGyver10 20:03:10 UTC) (permalink)

News November 5 2016

Unboxing: Loot Crate Halo Legendary Crate
Last month, we mentioned the latest Loot Crate Halo Legendary Crate, with an ODST theme... have you wondered what's inside? Wonder no more! We opened one, and, in a first-ever here on HBO, are offering a YouTube unboxing video! (Don't look outside - you might see pigs flying.) The window for grabbing this particular crate has closed... but the next one comes out in late December, and you've got until mid-December to order it! (The unboxing page contains a link and a discount code that'll save you 10%, if you're so inclined...) (Louis Wu 15:53:22 UTC) (permalink)

News November 4 2016

Papercraft Chief Cosplay In Low-poly Mode
CheapLEY shared a cool cosplay that he found while on Reddit. It looks like a low-poly Master Chief made of papercraft, though Rev said it might have started as a scale test before a full armor build. (MacGyver10 20:54:55 UTC) (permalink)

If Master Chief Were Adorable, He'd Look Like This Corgi
There's been many iterations of the Chief throughout the 15 years of Halo, but this one feels like it might be the most likely to kill us...with cuteness. (Thanks Louis Wu!) (MacGyver10 20:48:30 UTC) (permalink)

News November 2 2016

Forge's Halo-ween Prefab Contest Results Are In
The folks at Forge Hub held a contest for designers to put together some Halloween pre-fabs, and the now have the results in of their 'Halo-ween Prefab Contest' to check out! (MacGyver10 21:33:56 UTC) (permalink)

Halo's Legendary LootCrate #3 Tackles 'Halo: Combat Evolved'
With the latest ODST LootCrate out in the wild now (I love my 'feet first' pants!), they've jumped the next one to the top of my favorites list already by choosing to focus on Halo: CE with Legendary Crate #3! Sign up by 12/15 (not 11/15 like the tweet says) to get in line for the next box!
(MacGyver10 21:30:43 UTC) (permalink)

New Winter Season Starts off In Halo 5's Arena
The Fall season has ended, so jump into ranked playlists and play 10 games to be sure to pick up this 'Winter Season' emblem in Arena play!
(MacGyver10 21:29:39 UTC) (permalink)

Morpheus Picks 'Death Machine' from Hyena for This Week's Featured Montage
Morpheus shares another great montage from the THF crew! Check out the 'Death Machine' from Hyena in this week's Montage Monday choice. (MacGyver10 21:27:46 UTC) (permalink)

| | | |
| --- | --- | --- |
| | November | |