Spoilers are currently disabled.
(All newsposts are visible.)

View the Archives:
| | | |
| --- | --- | --- |
| | April | |
April Archived News
News April 29 2016

Studio Boss, Bonnie Ross, Talks Halo with Glamour Magazine
Glamour Magazine spent some time with studio boss Bonnie Ross talking a lot of Halo, technology and storytelling!
(MacGyver10 21:38:54 UTC) (permalink)

Great Halo 5 and Halo 2A Multiplayer Montage from SpartanTheDogg, Edited by Snipetality
Lots going around today about Spartan's Halo Montage edited by Snipetality. It's pretty cool to see a pro level player pull off some of these moves against other pro level players, and the editing really is top notch. It clocks in at 20 minutes (with a long intro and credits though), so make sure you have time to check it out before you start! (MacGyver10 21:36:14 UTC) (permalink)

News April 28 2016

Rockslider Teases an Elite Pilot That's Horrible at His Job
Rockslider had a little fun with a banshee stuck on the first AoTCR bridge. Check out his post in our forum for your preferred flavor in video-viewing! (MacGyver10 19:59:01 UTC) (permalink)

News April 27 2016

Recapping the Pro League Debut from PAX East
Been following the Pro League for Halo 5? Check out this great recap of what went down at PAX East this past weekend from HaloWaypoint! (MacGyver10 15:13:25 UTC) (permalink)

Lots of Cold, Angled Metal for These Forerunner Concepts
Woahtheredudex found some Forerunner concept art from Paul Richards that he posted to the Halo Reddit earlier this week. And while it might not be the BEST version of a War Sphinx out there, there are some really cool ideas for various Forerunner tech and beings we've heard about before. (MacGyver10 15:03:10 UTC) (permalink)

News April 25 2016

You Don't Put a Skirt On a Dead Dog
Some things change, some things stay the same forever and ever. Back in 2012, nillapuddin did some artistic work on the mothership for a college course he was taking. It's fun to reminisce about things that never happened...or never will! (O.G. Since 1999, baby!) (MacGyver10 16:15:42 UTC) (permalink)

Halo Community Update - 04/22/16 ('Control Freak')
While this week's Community Update was rather small (THANKS Pax East!), there's still some good stuff on the new web-based file browser, upcoming Infection maps, Super Fiesta with REQ weapons and new emblems coming with the next update! Check it out at Halo Waypoint to see all the goodies inside it's sweet, candy center. (MacGyver10 16:13:19 UTC) (permalink)

Canon Fodder - Bits & Pieces
The Father of Fodder stopped in with more Canon for us to chew on last week. There's love for the Promethean Soliders, Xbox 360 and more in Canon Fodder #72! (MacGyver10 16:10:23 UTC) (permalink)

Halo Game. Blouses.
A good 'One One Se7en' comic helps lighten the mood when you lose such a bright star in music like Prince. (Thanks Sep7imus!)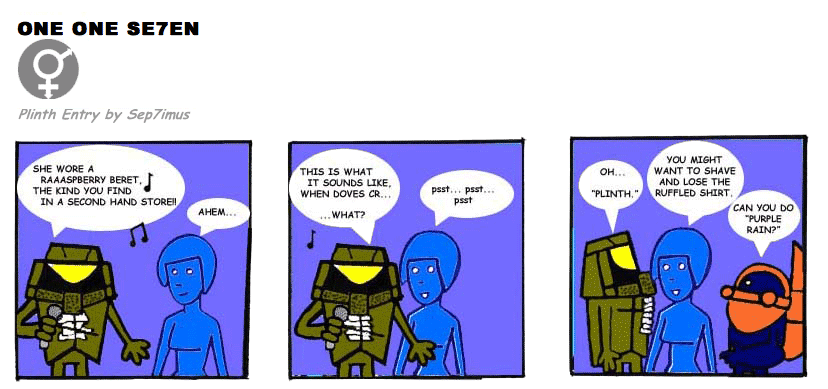 (MacGyver10 16:05:45 UTC) (permalink)

News April 22 2016

Fan Fiction Friday - Parts 10 and 11 of LORC: Beginnings and more
We have two stories in the pipeline for you today on another Fan Fiction Friday. HWPD continues their amazing 'LORC: Beginnings' story arch with parts 10 and 11 of Act 1 following Nick/Ryau, and a new story about 'The Last ODST' comes from Thel Vadam. (MacGyver10 15:10:22 UTC) (permalink)

Halo 5's New Online File Sharing Explained
Wu's adopted son, GrimBrother One, spent some time explaining the new hotness that is the HaloWaypoint file sharing system. You can read how it works at the link!
(MacGyver10 14:53:05 UTC) (permalink)

News April 21 2016

REQ Weapons In Arena Matchmaking and Fileshare Searching on HaloWaypoint Now
General Vagueness brought to our attention some cool new stuff with Halo 5! You can now search through the Halo 5 fileshare on HaloWaypoint. With this API, it probably means it's coming in-game soon as ChrisTheeCrappy pointed out. Also, REQ Weapons are now in the 'Super Fiesta' playlist in Arena matchmaking. Nice surprises for Halo 5 players today! (MacGyver10 22:10:57 UTC) (permalink)

Escape the Pillar of Autumn Level in Halo Reach
The SuperWaffle stopped in with a new, never-done-before trick for Halo Reach! With their two new tutorials, you can get out of the very end of the level Pillar of Autumn! Cool Stuff! (MacGyver10 22:08:45 UTC) (permalink)

Halo 3's Graphics Are Still Pretty Amazing Today
With the recent announcement of Microsoft to discontinue manufacturing of the Xbox 360, a lot of people are looking back on the games that defined the console. Halo 3 is by far the game that meant the most for Microsoft during that time, and really changed the gaming landscape in general. HaloTupolev did a piece on Halo 3 and its graphics, so go read their thoughts on this cultural icon. (Thanks uberfoop!) (MacGyver10 22:04:41 UTC) (permalink)

Halo's Place In Science Fiction, Thoughts on the Book, 'Halo: Cryptum'
Adv Jones on our site, or DilDev on The Halo Archive, posted her latest piece on the lore of our ringworld universe. Check out 'Halo's Place In Science Fiction - Cryptum' for her thoughts on the book by Greg Bear. (MacGyver10 22:01:50 UTC) (permalink)

Mega Bloks Says, 'Once an ODST, Always an ODST.'
Back to the grind, and Quirel let us know that the first in a series of 'Halo Heroes' stop-motion episodes from Mega Bloks is up! Go check it out to see more about our ODST buddy, Buck! (MacGyver10 21:59:41 UTC) (permalink)

News April 18 2016

Speed Run Records Already Being Set on Halo: CE's AoTCR With Sligfantry's New Banshee Grab Method
After Sligfantry's new banshee grab method, ColdGrunter used it to set a new record of 4:50 for AoTCR on Legendary just before beating his own new world record with a 4:42 run! You can check the records page for AoTCR to see if anyone beats this new record further still! Thanks to Rockslider for the heads up, who also has been doing some record-breaking of his own in the PAL version of Halo: CE! (MacGyver10 15:34:03 UTC) (permalink)

DrBizz Launches Back Up FROM THE BOTTOM of Cairo Station
Earlier this year we let you know how DrBizz finally made it below the bottom of the Cairo Station elevator, well he's back with a cool trick that follows that up thanks to the MCC on Xbox One! Check out what he had to say about this new gameplay magic:
'So, on Cairo we were never able to launch all the way from the bottom back up to the station because it was simply too far. But with the new skull (Feather) that drastically increases the distance you can launch I have been able to do it. And, it's an especially cool setup being able to get a launch checkpoint down there in single player by beating down an invincible Miranda Keyes and creating a ton of plasma grenades (with Pinata Skull).' (MacGyver10 15:23:15 UTC) (permalink)

Halo Community Update - 04/15/16 ('Campaign Relief')
There's something for everyone in last week's update, and I don't even think that's hyperbole! Whether you want info on the Arena refresh, Warzone Firefight's beta, the new Infection gametype, new Forge pieces, returning spartan armors or a campaign update, this past week's update has you covered! (MacGyver10 15:18:43 UTC) (permalink)

Canon Fodder - Stand Your Ground
GrimBrother One swung by his old haunts last Friday to let us know about the latest Canon Fodder! It's a fairly juicy one too as it spends a lot of time on the upcoming ground-expansion for Halo: Fleet Battles called Halo: Ground Command. In a surprisingly non-corporate-sounding move, Grim also interviews the fans behind the Sins of the Prophet' mod of Sins of A Solar Empire: Rebellion. Lots of good stuff in the recent Canon Fodder! (MacGyver10 15:14:26 UTC) (permalink)

News April 14 2016

Warzone Firefight Beta Extended An Extra Day for Slow Start
Due to a wonky start with dedicated servers and the REQ system, 343 Industries has extended the Warzone Firefight beta an extra day!
(MacGyver10 23:33:30 UTC) (permalink)

Warzone Firefight Available Now, Celebrate by Reading!
Our most infamous HBO poster has put together some fancy words to commemorate the Warzone Firefight beta available now in Halo 5. Support the old man and check out his piece and interview with the forefathers of Warzone Firefight! (MacGyver10 23:30:40 UTC) (permalink)

An Alternate Intro Scene for Halo: CE's AoTCR Restored
Masterz1337 found what looks to be an alternate introductory cutscene to Attack On the Control Room in Halo: Combat Evolved! Check out his post to see how he restored it, and what else he believes to have found! (MacGyver10 23:28:31 UTC) (permalink)

News April 13 2016

Warzone Firefight Beta Kicks Off Tomorrow
Don't forget that tomorrow starts the weekend beta for Warzone: Firefight! Get those fireteams of 8 together to take on hordes of covenant and prometheans!
(MacGyver10 17:37:55 UTC) (permalink)

Rockslider and Sligfantry Help Those Speedrunners on AoTCR Even More
You know that AoTCR trick that provided a new opportunity to speedrunners? Well both Sligfantry and Rockslider have new methods for you to shave precious time off that level's total! Check out Rockslider's post for his new controlled method of grabbing an early banshee, or check out Sligfantry's post for a faster version of his banshee grab from the rim of a bridge. (MacGyver10 15:25:27 UTC) (permalink)

News April 12 2016

Pros and Challengers Vie for HCS Glory in First Pro League Season
TeamBeyond has put up a great summation of the upcoming HCS Pro League for Halo 5. ESPN and 343 Industries released a lot of information on the structure and timeline of how this inaugural season will play out. (Original ESPN article) (MacGyver10 16:15:40 UTC) (permalink)

Do Halo 5's Cutscenes Leave the Story Feeling Incomplete?
Dildev over at The Halo Archive has put together a piece on 'The Problem with Halo 5's Cutscenes'. Go give her article a read to see if you agree with her conclusions on the game's cinematic scenes. (Thanks Adv Jones!) (MacGyver10 16:08:33 UTC) (permalink)

News April 11 2016

Grunts Lived Carefree Until Warzone: Firefight, Preview Their Demise Tomorrow
Tomorrow at 3pm PST, you'll be able to catch the first look at live gameplay of Halo 5's Warzone Firefight mode. Watch on Twitch, YouTube or the Halo Channel tomorrow!
(MacGyver10 22:06:24 UTC) (permalink)

See How You'll REQ Some Aliens In Warzone Firefight
ChrisTheeCrappy posted a link to IGN where they spend some time with the new Warzone Firefight mode. Check out their article and videos for a preview of the new mode coming next week in an early beta version! (MacGyver10 14:22:20 UTC) (permalink)

Canon Fodder - Looking Glassed
Our previous poster, now personable purveyor of principle, stopped in with a link to his latest Canon Fodder. You can read it over at Halo Waypoint for more info on the machines that help recover and profit from a glassed planet or a few new starships coming to Halo Fleet Battles! (MacGyver10 14:14:33 UTC) (permalink)

Doubt Linda Could Shoot With It, but LEGO Looks Cool
People have made some pretty amazing things out of LEGO in the past, and we can now add Linda's Nornfang sniper to the always expanding universe of creations! [WARNING for headphones users, unnecessary loudness at 1:45 into the video!] (MacGyver10 14:12:28 UTC) (permalink)

Marty Answers the Big Questions of the Universe
This past weekend, not only did Marty show up on HBO, but he took the time to answer questions on DBO as well. There's some really great stuff in there, and a lot of it is about Halo of course (check this out for info on the originals of 'Wort Wort Wort' and Joe Staten's grunty voice!) Also, if you're still interested in supporting a working musician, from the time of this posting, there's still 36 hours to back Marty's Kickstarter! (MacGyver10 14:08:28 UTC) (permalink)

News April 7 2016

Longtime Halo Gal, the Hawty BSAngel Leaves 343 Industries
The original Hawty McBloggy turned Halo's bsangel is saying goodbye to 343 Industries tomorrow. No word next on what's coming for her, but for a fan (that's been around almost as long as HBO) turned Halo creator, it's been fun to watch her rise through the ranks. Thanks Jessica, and best wishes for whatever is next for you!
(MacGyver10 19:06:29 UTC) (permalink)

Try The New Halo 8-Player Co-op Early Next Week
If you didn't read the 'Ghosts of Meridian' patch notes yesterday, or maybe you're living under a rock, you might have missed that one week from today Halo 5 will feature a Warzone Firefight beta test on the Escape from A.R.C. map. It will run from next Thursday through the following Monday and give you your chance to try the 8-player PvE early!
(MacGyver10 15:23:59 UTC) (permalink)

News April 6 2016

Cosplaying Things That Are New and Different Is Good
Through the years, we have seen A LOT of Halo cosplay, but off hand I can't recount seeing an engineer from Halo being modeled. Check this one out from Alexis, and her Twitter account has many more cool pictures of this work in progress!
(MacGyver10 19:46:19 UTC) (permalink)

New Head-to-Head-to-Head-to-Head Team Matches In Halo 5
The next social playlist is live now in Arena matchmaking! Grab your crew and face off against another team in combat while you face off against another team in combat while you face off against ANOTHER team in combat.
(MacGyver10 19:15:13 UTC) (permalink)

Maybe Now Some Halo Fan-sites Can Get Back to General Halo Discussion?
At the end of yesterday's livestream, 343 Industries teased their next content update 'Memories of Reach'. You can check it out here, just make sure you're up to date on your immunizations. (MacGyver10 19:11:45 UTC) (permalink)

Halo 5's 'Ghosts of Meridian' Out Now! Watch and Read About It Here.
If you missed the livestream yesterday, you might not have heard that the 'Ghosts of Meridian' update for Halo 5 is out today! You can read the full patch notes at HaloWaypoint (thanks Gravemind!) or watch the launch trailer for GoM which also includes a preview of the Warzone Firefight beta (and a cool new Covenant Spirit!) coming next week! (MacGyver10 19:05:42 UTC) (permalink)

Help Marty O'Donnell Make Music With Your Monies
Famed composer of the Flintstones vitamins jingle and a few video game sountracks, Marty O'Donnell still needs your help in getting his music out to the public. Check out his Kickstarter for the Echoes of The First Dreamer to see how you can help out in the final 6 days! (Thanks Tuckerscreator!) (MacGyver10 19:02:42 UTC) (permalink)

News April 5 2016

Halo Livestream Starts Now on Twitch and The Halo Channel
The Halo Livestream starts any minute now! Watch it for the reveal of the 'Ghosts of Meridian' update coming soon!
(MacGyver10 21:56:58 UTC) (permalink)

A Wallpapered Warthog Desktop
A buddy of mine I know through work just so happens to be a killer graphic artist, and a couple weeks ago whipped together a cool UNSC Warthog wallpaper. You can also check out his Behance profile for wallpapers of the BTTF time machine and Jurassic Park jeep! (MacGyver10 21:46:21 UTC) (permalink)

Halo 5's 'Ghosts of Meridian' Livestream This Afternoon
Don't forget to tune into the Halo Livestream this afternoon to see a complete breakdown of the upcoming 'Ghosts of Meridian' update.
(MacGyver10 16:15:19 UTC) (permalink)

Make Cool Halo Websites (or Apps), Win Cool Halo Stuff
Kidtsunami let us know of an interesting contest if you can scribble together code. The Halo API Hackathon is looking for people to use the new data 343 Industries is providing to make websites and/or apps. Engadget mentioned it as well, so hopefully there will be plenty of people coming up with cool stuff from the data we'll all get to use in the future! (MacGyver10 16:07:42 UTC) (permalink)

News April 4 2016

New Forge Foliage and Weather Effects Coming with Update
Last week, Tom French sneakily posted some new updates coming with the Ghosts of Meridian update for Forge. New foliage, 'canvas skins' and weather effects!
(MacGyver10 18:35:35 UTC) (permalink)

Sligfantry's Bridge Banshee Grab Could Shave Time Off Your AOTCR Speedrun!
After some time off last week to get sick and not work on the house like planned, there should be more regular posts each day like this one from Sligfantry! Looks like he found a way to grab the banshee on AOTCR from the FIRST bridge. Rockslider looks to have been able to do it before, but they both do seem to employ different techniques. Give his post a read for the details and how you can shave time off those Halo: CE speed runs! (MacGyver10 18:30:25 UTC) (permalink)

News April 2 2016

No Joke
It was released yesterday, on April 1... but it's a real Canon Fodder nonetheless. Info about Ghosts of Meridian's Tyrant map, plus Hammers and Knights and super-cool screenshots. Go read it! Thanks, Grim. (Louis Wu 18:15:05 UTC) (permalink)

A Window? Just on its own?
It's that time again! Rooster Teeth has released a trailer for Red vs Blue Season 14 - we're still a few weeks away from the actual season, but this should give you a sense of what's coming. Or... maybe not. (It's pretty odd, in the typical RT-funny-weird style that makes you laugh and shake your head at the same time.) (Louis Wu 18:11:44 UTC) (permalink)

A Musical Hello to Ireland
Marty O'Donnell and Mike Salvatori sang the Halo monk chant as part of their introduction for the 2nd Annual Dublin International Game Music Festival - I got chills! (Feel free to comment on our forum.) (Louis Wu 18:09:19 UTC) (permalink)

Ghosts of Meridian info released
I'm out of practice, but let's see if I can't at least post a few of the most recent news bits. Gamespot unveiled information about the next Halo 5 Free DLC maps, coming out this month - swing by for screenshots and commentary! Thanks to ChrisTheeCrappy, who found this on IGN. (Louis Wu 18:04:31 UTC) (permalink)

| | | |
| --- | --- | --- |
| | April | |