Overview
Frigates are a necessary addition to the space vessels of the UNSC. They primarily provide escort duties for larger ships and are often assigned patrol missions, rather than being a frontline vessel. The conflict with the Covenant has redirected many frigates to much more active battle roles. One of the key frigates of note in recent times is the UNSC In Amber Clad FFG-142, under the command of Commander Miranda Keyes, daughter of the late Captain Jacob Keyes. The In Amber Clad is the second UNSC ship to discover a Forerunner artifact ringworld known as Halo.

The ship emblem for In Amber Clad is worn on the right shoulder of the commanding officer's uniform: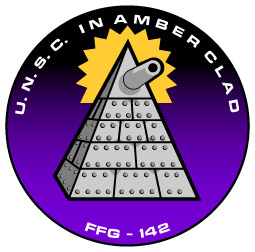 History
On October 20, 2552, the UNSC frigate In Amber Clad was reassigned from its duties to dock with Earth Orbital Defense Array station Cairo. Commander Miranda Keyes, In Amber Clad's commanding officer, was to accept the Colonial Cross, a medal being posthumously awarded to her late father. During the ceremony, where Sgt. Maj. Johnson and Spartan-117 were also Colonial Cross recipients for their actions in defense of humanity at Halo, Cairo Station and her battle cluster came under Covenant attack.
All thumbs lead to full-sized images
| | | |
| --- | --- | --- |
| | | |
| In Amber Clad | In Amber Clad docked at Cairo Station | In Amber Clad, FFG-142 |
As the Covenant made their approach to Earth, In Amber Clad followed and was amongst the first UNSC presence in the East African Protectorate of New Mombasa, Kenya, to deploy Marine forces to combat the Covenant incursion. A short while later, when the Covenant carrier jumped from Earth, In Amber Clad was deft enough to hitch a ride within the Slipspace field of the departing carrier and brought it, along with a few of the city's buildings, to the gas giant planet Substance, around which orbited another Halo ringworld.
| | | |
| --- | --- | --- |
| | | |
| In Amber Clad rushes to intercept the carrier | The carrier enters Slipspace with a passenger | In Amber Clad arrives at Delta Halo |
In Amber Clad stayed on-station at Halo to supply weapons and equipment to the Marines and Spartan-117. The ship was overtaken by Flood Combat Forms at Halo's Library and a precision Slipspace jump was executed by the Flood, positioning the ship within the Covenant city/station of High Charity in nearby orbit of Delta Halo. In Amber Clad glided into a large support pillar inside the city and embedded itself into the structure, damaging it beyond repair.
| | | |
| --- | --- | --- |
| | | |
| In Amber Clad jumps inside High Charity | In Amber Clad above the hanging gardens | The frigate's final resting place |
Airlock
At the forward starboard portion of the upper mandible of In Amber Clad is the main boarding airlock. This is a standardized hatch that can hard dock to other UNSC ships and installations. In addition to providing pressurized atmospheric ingress/egress for crewmembers (such as when docked at a space station), the airlock contains connection umbilical trunks for electrical power, fuel transfer, and data waveguides. The hatch is divided horizontally with each half retracting into the ceiling and floor.
Bridge
At the very top of the frigate is the bridge. It is a modest-sized room with seated positions for seven officers and crew, and a central situation table. A large window affords a view out the bow of the ship. Behind the viewport is the navigation (starboard) and tactical (port) stations. Centrally located behind the NAV and TAC consoles is the command chair. The chair is accessible from the port side and has a data console on the left arm. The bridge holotank is situated to the right of the command chair. Remaining positions around the bridge's periphery are designated for other common bridge stations such as Communications (COM), Engineering (ENG), Ship Operations (OPS) and Computer Status. The exit to the bridge is a sliding hatch located at the center aft bulkhead.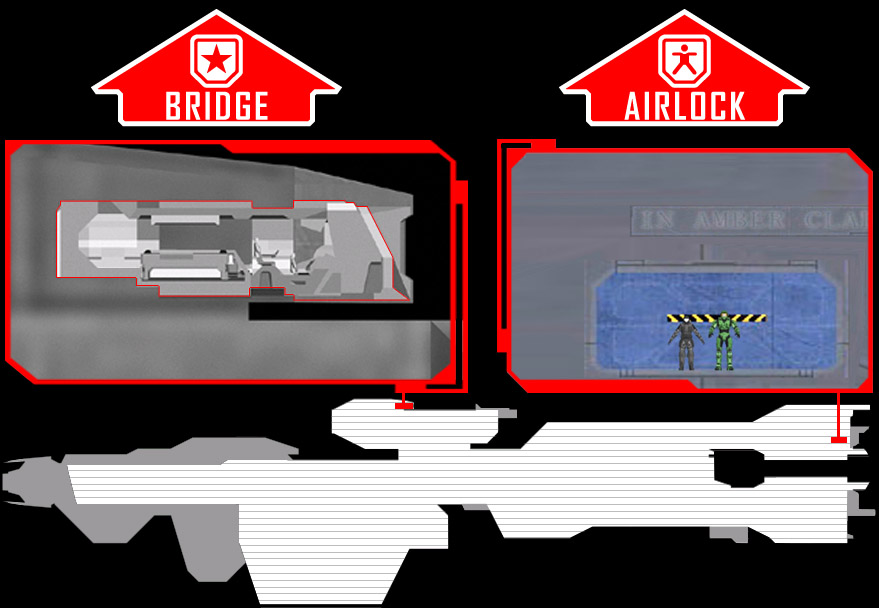 | | | |
| --- | --- | --- |
| | | |
| Bridge viewport from outside | Halo viewed through main viewport | Bridge auxiliary stations |
| | | |
| In Amber Clad bridge | Command chair, data pad, and holotank | Situation table |
| | | |
| Commander Miranda Keyes | Navigation (NAV) station | Tactical (TAC) station |
Armor/Weapons
Frigates are protected by 60cm-thick armor plating made of Titanium-A. It is about half the thickness used on UNSC destroyers.
Several armaments are standard to all frigates in the UNSC. The Magnetic Accelerator Cannon (MAC), Archer missiles, and a Shiva nuclear warhead missile are in every frigate's inventory.
The shells used in the MAC system contain a depleted uranium payload with a casing made of super-dense ferric-tungsten. The shell's total mass is 600 tons and can be fired at a velocity through the MAC at 30km/s. This MAC round can puncture a Covenant ship's hull with a 10m diameter hole.
Archer missiles have been used for years as a standard inventory weapon on UNSC ships. The wide-girth round munitions destroy their targets using a fusion-based high explosive. Archer missiles are stored in pods and launch through round hatches. Standard Archer missile pods contain 8 missiles each, although larger pod variants can carry up to dozens.
HEV Bay
Most UNSC ships have been retrofitted to carry HEV pods for their ODST complement of Marines since the ODST project began. On October 20, 2552, In Amber Clad released eleven HEVs to the surface of Delta Halo to secure a landing zone for the mechanized infantry to follow. Each HEV bay on board is pressure-sealed in corridors of six pods each. Once an HEV operation has been approved and the pods have been occupied by ODSTs, the corridor is depressurized to vacuum. The HEVs are clamped from above and are held in place over their respective launch chutes. The ejection tubes have retracting hatches that expose the pod to space. Once the clamps disengage, the ship's computer calculates the force required to blow the HEVs out of the ship taking into account tactical situation, obstacles, trajectory and destination.
| | | |
| --- | --- | --- |
| | | |
| ODST exits HEV pod | ODST and HEV pod | Airlock in HEV bay |
| | | |
| HEV pod rapid deployment | Empty HEV chute | Empty HEV bay |
Engineering
Frigates like the In Amber Clad have two engine cores feeding two main and two auxiliary engines. The engine baffles are strengthened vanadium steel, heat-resistant to withstand fusion thrust. UNSC ships can travel both at sublight speeds as well as in Slipspace. The Slipspace velocity of UNSC ships is approximately 2.1LY/day. This is about four times slower than Covenant Slipspace velocities, capable of about 8LY/day.
Cargo/Equipment
The In Amber Clad's Pelican Hangar has its hatch at the aft end of the ship's wide mid-section. Several Pelican and Albatross dropships are stored and maintained in the hangar and maintenance facilities on board. Garages for the complement of Scorpion tanks and the ship's fleet of Warthogs are stored in proximity to the dropships.

Clarion Spy Drones are kept on board for surveillance purposes when moving the ship itself into a dangerous situation is not warranted. They relay visual and telemetric data to the ship from many kilometers away. Most frigates carry three drones as standard equipment.
| | |
| --- | --- |
| | |
| Pelican Hangar | A Pelican docks with the frigate |
Known Frigates
Frigate Name
Remarks
Alliance
With Gettysburg, aided destroyer Iroquois at Sigma Octanus July 17, 2552.
Arabia
Destroyed October, 2525.
Commonwealth
Commanding Officer: Captain Wallace.
Fair Weather
Destroyed July 18, 2552.
Gettysburg
Fought at Reach. Returned from Halo campaign, September, 2552.
Gorgon
Served in Admiral Cole's fleet among the Outer Colonies.
In Amber Clad
Commanding Officer: Commander Miranda Keyes. Discovered Delta Halo
October 20, 2552. Destroyed October, 2552
Meriwether Lewis
Former posting of UNSC officer Jacob Keyes.
Midsummer Night
Former posting of UNSC officer Jacob Keyes.
Vostok
Destroyed October 2525.