September 15, 2003
Halo for Windows Goes Gold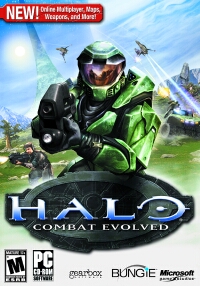 Microsoft Game Studios, Bungie Studios and Gearbox Software today announced that Halo® for Windows has gone gold and is scheduled to hit store shelves on September 30 for an estimated retail price of $49.99 (U.S.).

In the distant future, the fate of mankind hangs in the balance as a fierce alien faction known as the Covenant pursue the fleeing Earth forces to the ancient ring-world Halo. As the legendary cyborg super-soldier Master Chief, you must battle to unravel the mysteries of Halo and save humanity from the ruthless Covenant threat.

Halo, the critically acclaimed best-selling Xbox game, is coming to Windows gamers for the first time with new exclusive features, including online multiplayer support, new maps, vehicles and weapons. Halo is optimized for the PC with the precision offered by the mouse-and-keyboard and full support for high-end hardware including graphic resolutions up to 1600 by 1200 and beyond. Halo's online multiplayer feature will enable players to battle it out with fellow gamers worldwide in a variety of individual and team-based games. Halo for Windows was developed by Gearbox Software in conjunction with Bungie Studios. For more information, please visit the official site at http://www.microsoft.com/games/halo/.

Bungie was founded in 1991 with two goals: to develop games that combine brilliant technology, beautiful art, intelligent stories and deep gameplay, and then sell enough of those games to achieve the real goal of total world domination. Over the last 10 years it produced games like the Marathon Trilogy and the first two Myth games, hailed as classics by critics and gamers around the world. "Halo: Combat Evolved," its latest game, has achieved phenomenal success on the Microsoft Xbox video game system. More information on Bungie can be found at http://www.Bungie.net/.

Gearbox Software was founded in January of 1999 by a group of experienced 3d game artists, designers and engineers in Dallas, TX. The developers at Gearbox Software have contributed to many of the most acclaimed franchises in interactive entertainment - including "Civilization," "Duke Nukem 3d," "Quake", "Half-Life", "James Bond 007", "Counter-Strike", "Doom", "Tony Hawk's Pro Skater" and now "Halo: Combat Evolved."

Microsoft Game Studios is a leading worldwide publisher and developer of games for PC gaming, Xbox® video game system and online platforms. Comprising a network of top developers, Microsoft Game Studios is committed to creating innovative and diverse game portfolios for the PC (http://www.microsoft.com/games/), including such franchises as Age of Empires®, Flight Simulator and Zoo Tycoon®; Xbox (http://www.xbox.com/), including such franchises as Halo®, Project Gotham Racing® and NFL Fever; and Zone.com (http://www.zone.com/), the official games channel for the MSN® network and home to such hits as Bejeweled and OutSmart™.
---