9 May 06: The shirt is still available, but it is no longer at the preorder price, and the raffles are closed. Go buy one anyway - they're cool!
E3 2006 - and What we have for you
Here we go again!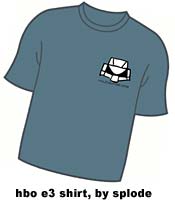 You going to E3? No? Well some of us are. And we thought we'd let some of you share in the fun... in our own peculiar way, of course! So while Frankie masters the art of saying a lot without saying much.* We're here to give you a whole bunch of stuff to chew on!

Our first big announcement is that we've teamed up with the kind folks at splodeswag.com to offer the first ever HBO shirt. Yes, now YOU can be the cool one walking down the street, Travolta-stylin' as you show off your nifty HBO Stone-colored Tee! Let folks stare at Stuntmutt's 117 on the front, and then do a double take as they read the funky Halo-licious OMG-I've-been-there wise words plastered on the back!

But wait, that's not all! First off, in our continuing tradition of not selling out while we live off food scraps, we're not making any money off this shirt! And for the next week, neither are the kind folks at splodeswag! That's right, the introductory pre-order price for this shirt is $11.29! That even covers XXL size, which you big boys know usually costs you an extra DingDong or Ho Hos!
Wait! Before you trip over the virtual bitstream as you go to buy a shirt, we're actually offering more! More you ask? YES, MORE!
Thanks to the kind generosity of some of the most talented Halo fans out there, we are going to be RAFFLING away one-of-a-kind POSTERS of fan-created Halo art! Yes, you've seen some of them highlighted in the HBO Gallery Pages, and while it was fun to have them as virtual wallpaper, wouldn't it be cool if you could have it as a poster? Seven (!!) artists agreed to submit hi-res art which we are now in the process of converting to single posters. YOU can enter a raffle to win one of these posters as a thank you for purchasing a shirt! These posters are printed on photo-quality paper, and carefully rolled into a mailing tube before being shipped to the lucky winner.
Some of the art you may have seen before, but some of it was created just in time for this raffle! That's right, this is their first *appearance*, so without further ado, get ready to pick your jaw up off the floor as you feast your eyes on these:
Click the thumbs for larger versions. Once larger versions have loaded, you can navigate by clicking on them (to select the next image), mousing over the image (which should bring up 'Next' and 'Previous' tabs), or using the 'N' (for Next) and 'P' (for 'Previous') keys on your keyboard. You can close the images by clicking the marked spot, or with the 'C' key.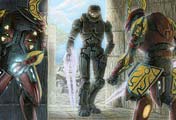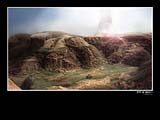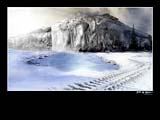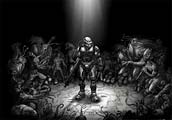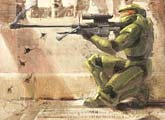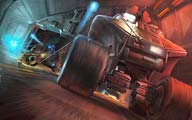 Whew! I bet you think we're done, right? Well... NO! We've gone loopy on Jackal-juice soaked Miami-Chiba! There's ONE more raffle you can enter! This one's has conditions though... so ONLY enter if you know you've got the stuff to handle it!
Going on four years, Dean's Halo LANfest has been a staple for us folks visiting LA for E3. It's a bona-fide HBO-style LANfest... we play Halo for hours-and-hours, staying far away from Slayer-only matches. We favor the unusual and orphaned game types out there that require not just persistence but also a willingness to try something different. We're not in it to WIN WIN WIN. We wanna have fun! And the fabulous Dean helps foster this sense of camaraderie by breaking open his wallet and feeding us great food, drinks, and ice cream. All while laughing and smiling as we invade his home! It's usually a private affair, by invitation only. But this time, we've secured THREE seats for THREE lucky winners! Yes, if you can get your butt to Dean's home in LA on the day of May 12, you can come join us for what is to be a fantastic LAN party.
OK, now that you've woken up your family as you scream uncontrollably and punch your kidneys to make sure you ain't dreaming, the big question is: I'm about to buy the shirt, so how do I enter these raffles!?!? Easy! Visit the HBO store at splode, and order our loverly shirt. After you've paid for it, you'll be presented with a simple form; fill it out with your name and email address, check the boxes for the raffle(s) you want to enter, and hit the submit button - you're done!
OK enough of the over-the-top hyperbolic salesman talk... here's a straight list of what's being offered and any rules that need to be followed:
Yes, we're offering the first official HBO shirt for purchase! Sizes are adult M, L, XL, and XXL
Until May 8th, these shirts are on a pre-order sale at $11.29.
Splodeswag.com is handling manufacturing and distribution of the shirts (and collecting the cash). The current estimation is that the shirts will start shipping around May 10th.
The shirt design and content are copyright Jason "Stuntmutt" Cascarina and halo.bungie.org.
The posters content are indubitably copyright by the respective artists. All we're doing is printing them out all big and shiny for your wall!
Until Monday, May 8th, as a thank you for purchasing the shirt, we are holding TWO raffles.
To enter these raffles, just order the shirt, and fill out the simple form on the thank-you page. DO NOT forget to enter the raffles after checking out. We are not responsible for correcting any unfortunate mistakes!
YOU ARE RESPONSIBLE FOR MAKING IT TO THE LAN PARTY. Do NOT enter the Dean LAN Party Raffle if you will be NOWHERE NEAR LOS ANGELES on the day of May 12. That's just mean, and we have a tradition at these LAN parties of mocking people who are mean in a way only possible at Halo LANs.
We will have standby winners in case the initial winner of this raffle has to cancel, but we are *not* responsible if the standby gets notified too close to actually make it. Sorry folks, understand that we're doing this as a gift and if real life gets in the way of the logistics, there's nothing we can do about it.
You can enter BOTH raffles or only ONE raffle. You can even enter NO raffle, but hey, might as well take a shot at winning one of the posters, right?
The LANfest winners will be randomly chosen and announced on Tuesday, May 9 at 1 AM UTC. You will be notified by email! If we don't hear back from you in a day or so, you will forfeit the prize and it will go to the next randomly chosen raffle entrant.
The poster winners will be randomly chosen at Dean's LANfest on May 12. The winners will randomly win one of the ten posters. We'll do our best to announce them at the same moment on HBO's front page. The actual posters will have been printed or close to being printed. They will ship ASAP to the winners.
The posters will be mailed in a sturdy mailing tube, lovingly rolled up by the HBO elves. We regret that we cannot be responsible for any damage in transit; we'll do the best we can, but you ain't payin' for this stuff.
* We feel for ya Frankie, we really do!