The Halo Bulletin: 6.25.14
by B is for Bravo
06.25.2014 16:59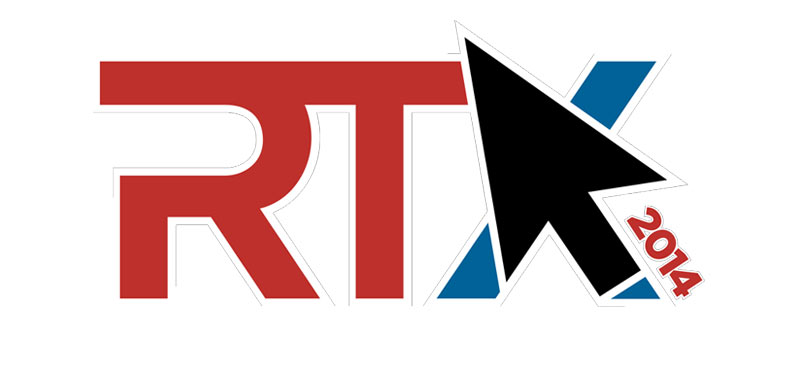 In less than a week, we'll once again be packing our bags for even more warmer weather. As we mentioned just after E3, we'll be spending our Fourth of July weekend at this year's Rooster Teeth Expo (RTX), an annual pilgrimage/celebration of all things Rooster Teeth that we look forward to each summer. We have a bunch of fun stuff planned for those of you who will be joining us on the show floor, as well as those of you who will be participating in the festivities via panel live streams and at-home-on-the-couch Twitter scrolling. Here are some of the things we'll have going on next weekend!
Swing by the booth!
If you'll be on the show floor, be sure to swing by the Halo booth and say hello! After saying hi, you'll have an opportunity to pick up some super-limited-edition swag, wearables, and more from our store. But that's not all!
Halo: The Master Chief Collection Campaign Demo
We've got exclusive behind-closed-doors demos of Halo: The Master Chief Collection going all weekend. This will be your first chance to see Campaign gameplay, UI, and more. To get an exclusive look, be sure to arrive early each day and hop in line!
Play-a-Pro
This year, with the anniversary of Halo 2 filling everyone's hearts with love and fond memories, we've decided to bring a truly old school competition to the show floor.
We're hauling some giant, heavy CRT TVs, original Xbox consoles, several "Duke" controllers and other sundry treats for the First and Only Official Fourth of July 2014 Classic Halo Play-a-Pro Competition (we probably need to come up with a better name for it...any suggestions?). Be sure to get in line early for a chance to play one of 343's skilled Halo champions on a classic throwback setup and win fortune and glory. We'll also have freeplay during the event, so if you're just itching to play a Lockout 2 vs. 2 with your friends, you can, because we like you.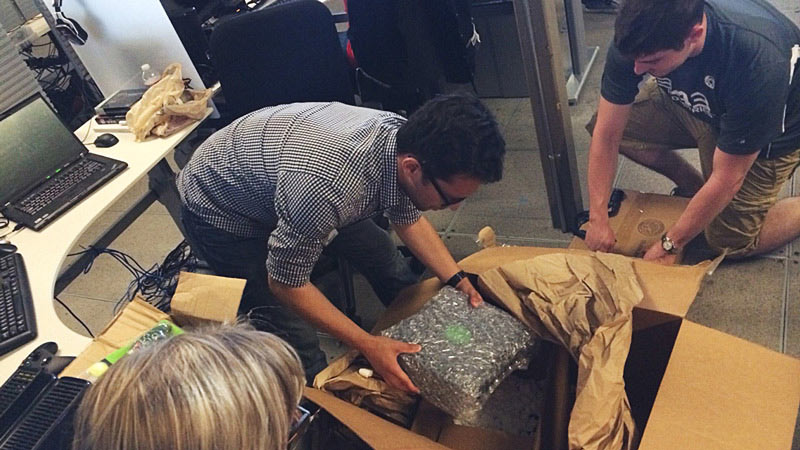 The unboxing (or was this re-boxing?!) of ancient relics that will soon be heading down to RTX.
Halo: The Master Chief Collection Panel

If you find yourself with an extra hour on Saturday, July 5 from 12-1 p.m. CT, we'd love for you to join us for an exclusive look at the development of Halo: The Master Chief Collection. Designers and devs from 343 and Certain Affinity will be discussing the design and vision of the project, with original Halo 2 development stories from lead Halo 2 multiplayer designer/Certain Affinity president Max Hoberman. We may even have a few surprises in store. Whether you'll be in the room with us, watching on Twitch, or listening from the hallway with your ear against the wall, we can't wait for you to join us. We'll have more specifics and Twitch details next week.
If you can't make it to the show, we'll have plenty of updates, giveaways, and more on Facebook, Twitter, Instagram, and right here on Waypoint. Stay tuned for updates!
Halo: The Master Chief Collection RTX Panel
July 5, 12:00 PM to 1:00 PM CT
Main Hall, Austin Convention Center
Watch Live: http://RTXevent.com/RTXLive/
Halo: The Master Chief Collection Pre-Order Skulls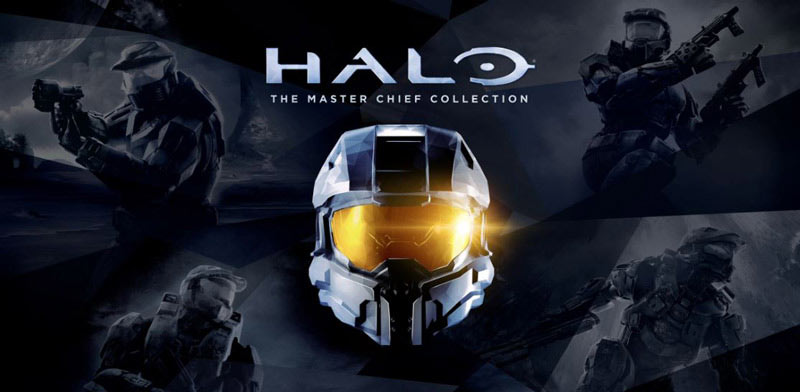 We know many of you are itching for pre-order bonus details, and Halo: The Master Chief Collection has a variety of pre-order Skulls (game modifiers that dynamically affect campaign gameplay) available at various retailers. Below, you'll find the latest for US pre-orders. If you're outside of the US, check with your local retailer in your region for available pre-order offers.
| | | |
| --- | --- | --- |
| Skull Name | Description | US Pre-Order Location |
| Bandana | Unlimited ammo and grenades | Gamestop |
| Grunt Funeral | Grunts will explode after their death | Best Buy* |
| Piñata | Enemies will drop plasma grenade with every melee | Amazon |
*US Best Buy pre-orders will also receive a Prima Games Multiplayer Map Guide.

By pre-ordering at one of the above locations, you'll gain exclusive access to the corresponding Skull, so choose wisely! After a certain period of time, the Skulls will become unlocked for all players.
We'll have lots more juicy info on Halo: The Master Chief Collection (including more info on pre-order Skulls) in the near future. Stay tuned!
Halo: Escalation #7


This week, Halo: Escalation 7 - "The Fall of New Phoenix" - drops into your local comic shops and online! Here's an intro to the issue:
Eight months ago, an attack on Earth left seven million dead, including the family of Spartan Gabriel Thorne. Today the city has been opened from quarantine, and Thorne is going home to see what's left and what it has to do with the Master Chief.
This issue is written by our very own Brian Reed, and the cover art done by our very own Sparth. We got an exclusive peek at some of the early line art used while pulling the story together. Check it out below:
To pick up the newest issue, head here.
Matchmaking Playlist Calendar Update

We've got some new Halo 4 Matchmaking playlists on the way this summer! Check out our newly updated calendar below, which can always be found here.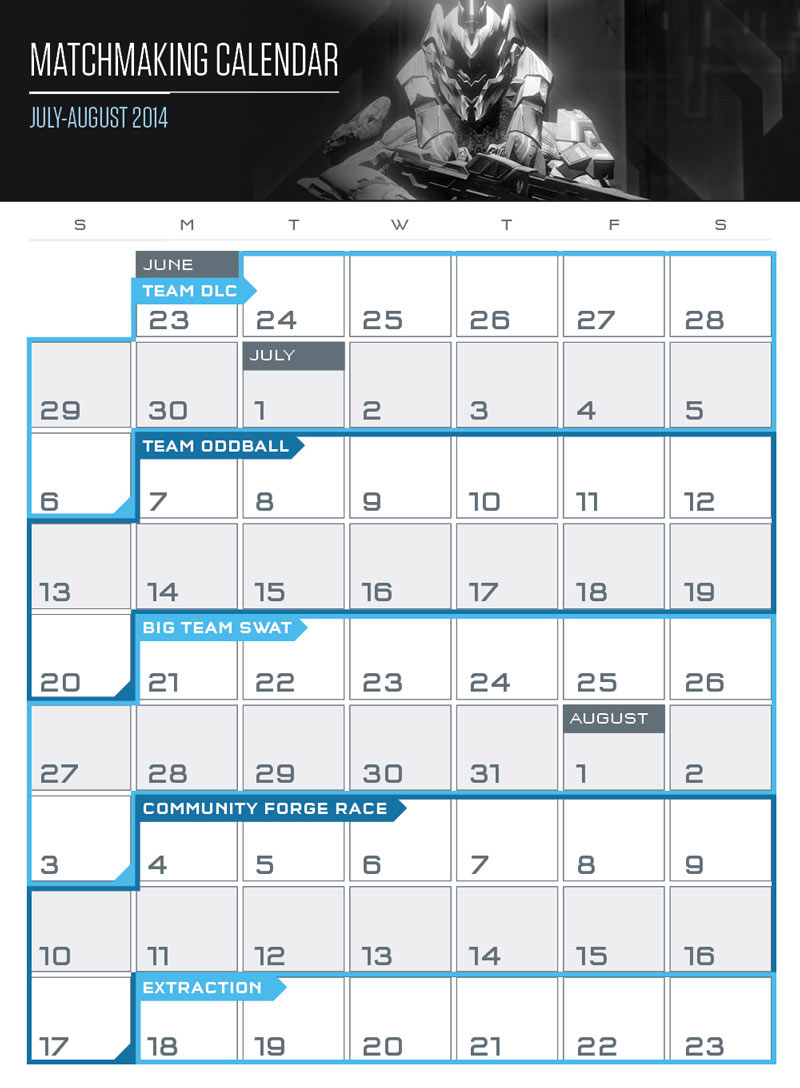 In the event that you're viewing this Bulletin on a tiny screen, we've also listed the game types and their featured time periods below:
July 7 – July 21: Team Oddball
July 21 – August 4: Big Team SWAT
August 4 – August 18: Community Forge Race
August 18 - September 1: Extraction
We'll have more details for each of the above playlists as their start dates get closer! We hope you're looking forward to the return of some favorites, as well as brand new playlists, such as Community Forge Race. If you're aware of some great tracks that are compatible with Halo 4's Race game type, shoot 'em over to me on Twitter!
Silentium Beckons

Starting at 9:00 PST on Monday, June 30, due to routine maintenance, several features on Waypoint may be unavailable including stats, file share, and other features. Do not despair! We expect this downtime should only last about two hours and we'll be sure to update you once we're back in fighting shape.
Thanks for your patience and understanding. If you have friends who don't frequent Waypoint or read the Bulletin (gasp!), be sure to let them know!
Screenshot Spotlight: LightRifle

Two weeks ago, we turned the spotlight on the Ghost. Take a gander at the following LightRifle screenshots, and maybe even find inspiration to make your own.
For your chance at being in the next spotlight, take a screenshot that features a Rocket Launcher and then tag it with "Rocket" and "Halo Waypoint," and maybe, just maybe, yours will be featured in the next Halo Bulletin!
And with that, this week's Bulletin comes to a close.
Until next week,