The Halo Bulletin: 11.27.13
11.27.2013 15:47

When we last left off, I was very unsure as to whether or not I'd be writing a Bulletin this week. To tell you the truth, with as many cars that I've unlocked in Forza, terrible plays I've made in Battlefield 4, and Upload Studio videos I've watched of bs angel washing baby elephants in Zoo Tycoon, I'm surprised I was able to wake up this morning and scribble together a quick update before the long weekend begins. I speak for several members of the 343 team when I say that over the past week, I've done quite a bit of ranking up, and not too much sleeping. Luckily, I plan on doing a fair bit of sleeping over this holiday weekend, and also playing some Halo 4 Matchmaking - read on to find out why and more!
Matchmaking Playlist Update


This past Monday we updated Grifball with new maps and game types, added Dominion as the featured playlist, and more. To see all the specifics, along with the details of the now underway Team Slayer Top 200, head over to this week's Matchmaking Update. If you're interested in being recognized as one of the top Team Slayer players, be sure to hop into the playlist this week and then check back next week to see the results of week 1. Here's a sneak peek at what next week's Top 200 leaderboard will look like:

Each Top 200 ranking will display each player's gamertag, their CSR, and for level 50 players, you'll also see a comparison bar. As mentioned previously, CSR is determined by who you win and lose against, so it is possible for a level 50 player to be ranked higher than another level 50 player, as displayed in the dramatization above. This is one of the specific reasons that we're particularly excited about the Team Slayer Top 200 - if you're a player who wants to prove that you're one of the best, you can now do so, and also compare yourself against other competitors at the top. Hop into the playlist this week if you'd like to give it a shot!
Turkey Bowl


For many of us, this time of year is about family, food, and football. To celebrate the holidays, we wanted to bring at least one of these into Halo 4 Matchmaking, so we're kicking off the holiday season with our very own Turkey Bowl!

Available from November 28th - December 2nd only, the Turkey Bowl playlist will feature football-themed "touchdowns only" Ricochet gameplay on a custom made football field map, designed by GrifballHub's own NOKYARD. The game type will also feature special edition team colors which are particularly appropriate for this weekend (green and gold vs. powder blue and white).

The Loadouts for the game type have been designed by our Matchmaking Systems Team to give you a variety of options on the football - er - battlefield. They are as follows:

Quarterback:
DMR
Magnum
Hologram
Frag Grenades
Tactical Package: Grenadier
Support Upgrade: Explosives

Lineman:
Assault Rifle
Magnum
Autosentry
Frag Grenades
Tactical Package: Resupply
Support Upgrade: Ammo

Wide Receiver:
BR
Magnum
Thruster Pack
Frag Grenade
Tactical Package: Shielding
Support Upgrade: Dexterity

Linebacker:
Storm Rifle
Plasma Pistol
Regeneration Field
Plasma Grenades
Tactical Package: Mobility
Support Upgrade: Dexterity

Running Back:
Carbine
Plasma Pistol
Hardlight Shield
Plasma Grenades
Tactical Package: AA Efficiency
Support Upgrade: Stability

In the Turkey Bowl, players must work together to move the ball down the field, taking advantage of the limited cover and making sure to keep both feet in bounds. If you'll be at home and gaming this weekend, head into Matchmaking and give the special edition Turkey Bowl playlist a shot!

Also, the Champions Bundle will be on sale for Black Friday! If you have not yet purchased the bundle (and all it has to offer, including weapon skins, armor, maps, and more), you can acquire it by heading to the Xbox Live Marketplace from the Halo 4 main menu, or heading here. The Champions Bundle will be available for $4.99 (50% off) this Friday only.
Community Choice: Race

I am not exactly sure how it happened, but December is nearly here, which means that Race will soon make its way into Halo 4 Matchmaking! We're excited to premiere the Mongoose-mayhem in less than two weeks, and we've got a new Community Choice Poll this week. We'll be detailing the playlist and all tracks next week, but for now, we need your help selecting the map for our final track. None of these have been built yet, so we'll build a custom track tailored to the map of your choosing!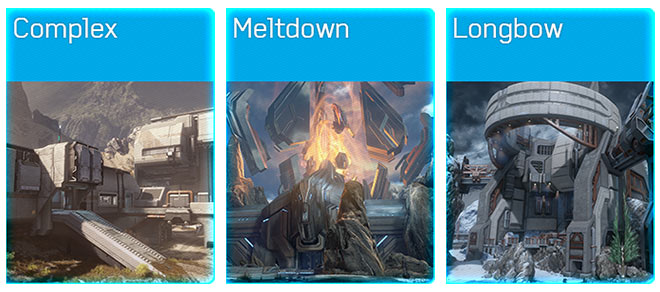 Complex
Wind up, down, and around Complex's dirt paths and navigate in between the fortified bases in a race to finish!

Meltdown
Speed over the Forerunner light bridge and traverse icy valleys and caverns as you battle it out around Meltdown's tight turns.

Longbow
What's more fun that riding a 'goose in the snow?

Head here on the Waypoint forums to vote. Then check back next week to see which map is selected, along with the rest of the details of our next Matchmaking update.
Halo Black Friday Deals

If you're looking for some great deals on all your favorite Halo merchandise, head here for a list of what you can pick up starting this Friday. Plus, for additional Holiday deals, keep an eye out for the Halo Origins Bundle (Halo: Reach and Halo: Combat Evolved Anniversary) and our upcoming Holiday Gift Guide, coming to Waypoint next month.
Screenshot Spotlight: Football

Last week, we turned the spotlight on Harvest. This week, we decided to go with a popular sport. Take a gander at the following football-themed screenshots, and maybe even find inspiration to make your own.

For your chance at being in the next spotlight, take a screenshot that includes snow, and then tag it with "Snow" and "Halo Waypoint", and maybe, just maybe, yours will be featured in the next Halo Bulletin!
And with that, this week's Bulletin comes to a close. Whether you're competing in a Turkey Bowl in Halo 4 or in your own backyard, we hope you have a safe, happy holiday weekend.

Bravo