Bungie Weekly Update: 06/26/09
Posted by urk at 6/26/2009 4:51 PM PDT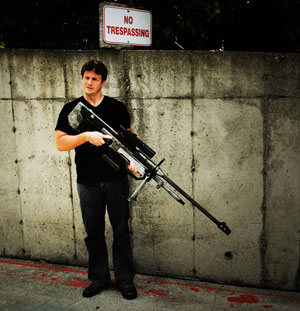 The studio is all riled up this week—thoroughly twitterpated over the arrival of stage, screen, and video game superstar, one Mr. Nathan Fillion. Tons of the guys are pretty excited over the prospect of getting to do a bit of meet and greet with Fillion in person. We're big fans. A few of us even got all gussied up: haircuts, high heels—the whole nine yards. I even saw two typically reserved dudes get into a bit of a tussle jostling for time in front of the men's room mirror. It's a wild and woolly scene this week, my friends.
Jealous
? No? I bet your girlfriend is.
Oh, snap!
Me? I'm playing it cool. Just the high heels. Nothing too crazy. Just keepin' it classy. Seemed like anything else would have come off a bit desperate. Besides, Brian says I'm not allowed within a hundred yards of Fillion anyway. It violates the restraining order. :(
Jokes out of the way, it's been pretty well established that Nathan loves to play him some Halo. And since Halo 3: ODST is all wrapped up and Nathan plays a pretty central role in the narrative of the game as Buck (and also lent his voice to Halo 3), Marty thought it would be cool to extend the man an invite and let him sneak in for some early hands-on time with our squad of Orbital Drop Shock Troopers.
Nathan touched down yesterday afternoon from parts unknown and made the straight shot from Sea-Tac Airport to our digs in Kirkland. Word is his fight against the Covenant extended quite late into the evening hours. Seems he digs the product. He even swooped back into the studio today for another quick fix.
We read on the Internet that he's planning on sneaking out with some "game-shaped booty" tucked away in his back pocket. Celebrity or not, he'll still have to find a way to make it past Jerome with his ill-gotten game undetected. Plus, calling out his plan beforehand is a surefire way to guarantee a friskin'.
Since Brian took some time out of his schedule to show him around and make sure everyone got a handshake (and an iPhone pic), we recruited him to say a few words about Nathan's visit:
Urk's assessment of the hubbub and frenzy leading up to this visit is spot on. Imagine if the Jonas Brothers were paying a visit to a girls boarding school and that's about the level of tizzy that erupted in the studio this week. Really though, that level of fandom is what brought Bungie and Nathan together in the first place. As the story goes, many people here were huge fans of Firefly and we heard that Nathan was in turn a huge fan of Bungie so Marty reached out to him and next thing you know, he was a Marine in Halo 3. However, despite a few years of working together, this was the first time he's ever been to our studio.
Even after a six hour marathon session of playing ODST last night, Nathan came back this morning for a second helping. I was able to witness him playing one game of Firefight and I must admit, the man has skills. He can walk the walk, in addition to talking the talk. In between desk side chats and some top secret Halo: Reach show-and-tell, Nathan has been kind enough to sign copies of Serenity and pose for photos. To me, the most noteworthy aspect of this visit is just how down to earth, genuine and nice he really is. He's been super gracious while here and it's cool to see someone who's as big a fan of Bungie as our team is of him.
Stay tuned to Twitter and every other social networking site for more pics and tweets than you can ever want to see of Nathan and a bunch of game developer dudes.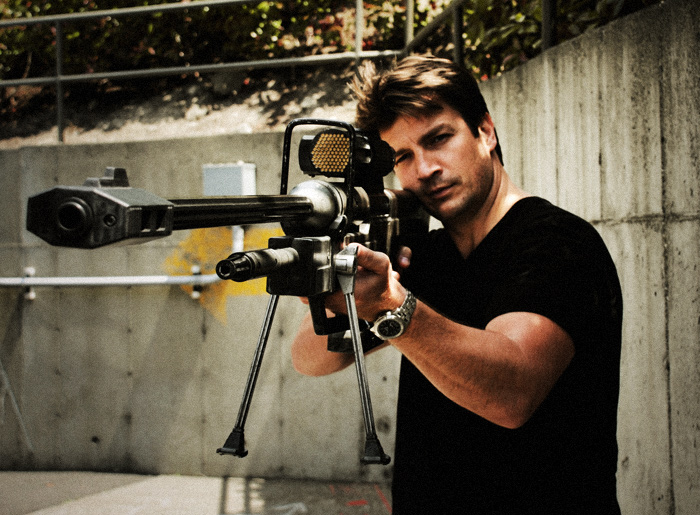 Business Time
Other than the Fillion-induced swoon many of our manliest of men have succumbed to lo these last few days, there's not much else out of the ordinary going on inside the studio. Bungie Day looms, but it's still business as usual as everyone on the floor is hard at work making kick ass games.
The most significant difference in the hive overall is one we've already touched on: the assimilation of the Halo 3: ODST team into Halo: Reach (and elsewhere). I talked a little bit about the studio's modular approach to the floor plan earlier this year, but to give you a small impression of the current layout, where there was once a very clear split among the honeycombed work spaces, segmenting the two projects into distinct factions, that same single line of open space parting the studio proper right down the center merely functions as a walkway. Both sides of the aisle are now guns and keyboards blazing, working together in perfect harmony towards the same, unified goal.
Sounds peaceful, eh? The only wars being waged right now are over precious conference room space. We're busting at the seams. On that note, I'd like to extend a shout out to Running Turtle for scheduling a meeting in the podcast recording studio with far too many dudes in attendance. Ten musky men (and me) locked in a tiny, airtight chamber doesn't exactly make for the most refreshing of experiences, though I guess in several, non-businesslike ways it was pretty productive.
While most of the studio's collective might has made the shift over to Halo: Reach to lend their time, talent, and insights into making it kick tons of ass when it comes out in Fall of 2010, your focus should be elsewhere. There no need for you to invest in cryogenics and endure a frigid hibernation season to help ease your wait—there's only 88 days left until Halo 3: ODST hits store shelves. You're shipping out on September 22nd, 2009. So mark your calendars, pre-order your copy, and GET SET for a combat drop.
Oh and we've said it before, but since various denizens from around the Internet were once again speculating on what else we're whipping up, yeah, we've also got a third, super secret thing in the works that you know nothing about. We'd love to tell you all about it, but as you may have learned from the proceeding sentence, it's super secret. All in due time. When we have something to show you, we'll...uh...show it to you. Until then, mind ya bizness.
Speaking of...
1 v 1 Million for Recon
Bungie Day is less than two weeks away and it looks like our celebratory plans are not only taking shape, but they're coming together and taking on corporeal form, transmogrifying into a living, breathing, gas-emitting thing as we inch ever closer to the 7th day of the 7th month. If you tuned into the latest podcast we pushed out (it's now semi regular!), you should have already gotten wind of what'll be coming out of Shishka on Bungie Day. If that doesn't whet your appetite, it's probably the way I've worded it. Let's switch up the analogy.
Below you'll find not only the delicious, bite-sized details of the July Matchmaking updates Shishka and his chefs have cooking for next month's Playlists, but also the mouthwatering morsels of gooey goodness you'll find inside the Bungie vs. the World Playlist which we'll have up and running all day on Bungie Day, 7/7.
There's gonna be tons of community maps on display (your maps!), dozens of Bungie employees rocking flames and stomping mud-holes in your soon to be thoroughly stomped and mud-holed faces, and of course, ridonkulous amounts of Recon armor on offer. We're (as the kids are wont to say) gonna make it rain.
If you want your shot at extinguishing our flames on your own community turf, all you gotta do is fire up Halo 3 and enter into the Bungie vs. The World Playlist on the 7th of next month. Of course, you'll still have to pull out a victory against one of our numerous four man squads and let's be honest, we've seen your stats, son. Just like that ill wind that blew through the update three paragraphs up, you stink.
Still, it would be an absolute shame if you let your own sloppy online play prevent you from participating in the festivities. You won't necessarily have to pull out a win against the Bungie gladiators to emerge with some sweet digital prizes. There'll be rewards raining down from the Bungie skies all day for even the most unskilled players as we cut our brutal swathe through Halo 3's matchmaking. No need to be intimidated. Hop on in and celebrate with us.
We're also going to have some other goodies for you should you decide to stop by Bungie.net on the 7th and help us celebrate. Maybe even a screenshot. No promises. Stay Tuned.
While you wait, check out what else is going down in Halo 3 Matchmaking for the month of July and keep scrolling for some tasty tidbits on Render-to-Video.
July Matchmaking Updates
Social
Action Sack
ADDED Grifball on Grifbox
ADDED "Team Stickies," a Team Slayer mode where points are scored by sticking opponents with plasma or brute grenades.
ADDED "Dodgeball," an Elimination Team Slayer mode where players attempt to score by sticking opponents or eliminating the enemy team. Best score after five rounds wins. Two community maps were chosen for this gametype.
Playlist weighting tweaked so that weighting is equal across gametypes, rather than gametype/map pairings. Gametypes with a single map variant (such as Sumo) are more likely to occur, now.
Sumo Grande updated to have more spawns in the spawn hives with correct attribution to prevent respawns from occurring on the ground level
Rumble Pit
Zombie shields restored for Save One Bullet
Ranked
Team Slayer
Weighting reduced on Mythic maps to fit naturally into the map rotation
Hardcore
Team Snipers
Mythic Maps added (Optional)
Double EXP Weekends (in order)
Fourth of July (Heroic/Legendary/Mythic Req.)
Grifball (Heroic Req.)
3 Ball (Heroic/Legendary/Mythic Req.)
Team Control (Heroic/Legendary/Mythic Req.)
Living Dead (Social, Heroic/Legendary/Mythic Req.)
7 on the 7th
BUNGIE VS THE WORLD: 4v4 Social playlist on 36 Community-Made map variants. Win Recon either by defeating Bungie in the playlist or by completing certain metrics to be revealed after the playlist is retired.
Bungie Pro Video Coming to Prime Time
The Wolf informed us that the service formerly known as Render-to-Video is still targeting full retail release for Bungie Day. We want to extend thanks to our early beta testers for putting the Hydra Contraption through the paces and for providing us with some really solid feedback to make sure it's in fighting shape when we ship it out into the wild.
If you've been waiting on pulling the Bungie Pro trigger in anticipation of this announcement, you should probably stay your hot little purchasing finger just a little bit longer. Render minutes for the service will not begin to accrue until on or after 7/7, so to get the most of your Bungie Pro purchase, that's the date you should target.
If you picked up a Bungie Pro subscription already, you'll automatically see your experience upgraded, but your minutes will not be replenished until the monthly anniversary of your Bungie Pro purchase date. Of course, that probably means you've already had access to render minutes through our Bungie Pro Video beta.
After launch, Bungie Pro members will be granted five (5) free render minutes per month on their Bungie PRO purchase anniversary date. The render minutes do not roll-over, so you gotta use 'em or lose 'em. But of course, these are bundled into your Bungie Pro offer, which already includes File Share enhancements. The five monthly minutes are provided at no additional charge.
If you buy in to Bungie PRO on or after 7/7 that means you'll get sixty (60) minutes annually. If you bought in before (as mentioned above) you won't begin accruing render minutes until your first monthly anniversary date that falls after 7/7, and of course, you'll only accrue new render minutes for the remainder of the months on your Bungie Pro offer.
There will be an easy way to pick up more paid render minutes should you choose, however we're still finalizing details on how that mechanism will play out. Expect details in short order. You'll have the information you need to make a sound decision before Bungie Day.
For the easily confused:
Bungie Pro Video is going live on Bungie Day (7/7)
It's bundled with Bungie PRO
All Bungie PRO members get 5 render minutes per month
Monthly render minutes do NOT roll-over
You should wait to buy Bungie PRO until on or after 7/7
For those who were planning on stockpiling free render minutes for a full year in order to make the most omg epic montage the Halo community has ever laid eyes on:
Instead of stockpiling, spend 'em each month. Save your video clips straight away so you have them on your hard drive and you can stitch them together as soon as you have all the footage you need.
Blame Stosh
Stosh found this and thought it was funny. Offended in any way? MLG? HLG? Let him have it. It was totally his fault. Stosh.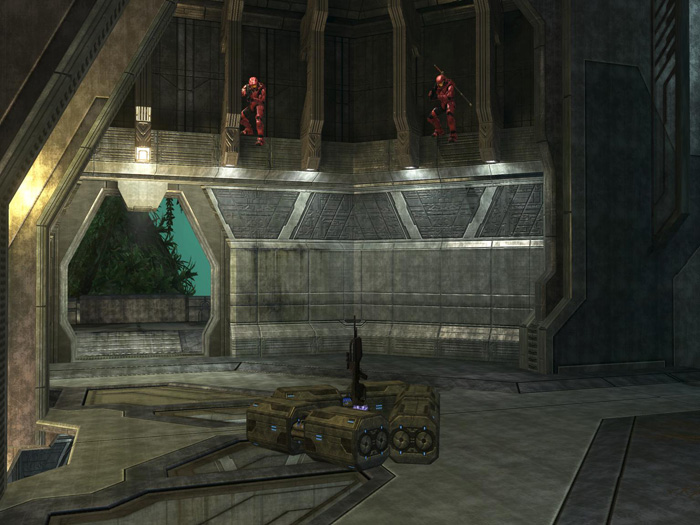 Like a Moth to a Flame
We Out
Short and sweet this week, but what can we say. We're working! Leave us alone. Go outside or something. Wait, scratch that. The outdoors are overrated. Go play some Halo 3. We hear it's pretty sweet.
Have a great weekend, chumps. And thanks for playing.