---
Home | COL0NEL SANDERS | Dusty Boy T | AusQB | jEEborz | skm0000 | Meatball O Doom
a cuban cat | Supergrunt19 | PaperThinWalls | Alec 944 | odmichael | TheMoleN1 | A Deaf Boy
The U2 RoKKeR | bs angel | WaiHo C
---
Week 6 Aesthetic Artist Interview: Meatball O Doom
May 18, 2009
Too many dragons, you ask? No, I say; not enough.
During this week's AAI, Team Pepto interrogates a unique artist in the Halo community, Meatball O Doom. She is a master of Forge Art, especially in the depictions of everyone's favorite fire-breathing mythical creature -- the dragon. Savor this decadent interview and ascertain the techniques and methods of this creative feminine artisan!
When did you first start making forge art in screenshots, and why was it forge art? Why not campaign art, or some other form?
Well, I guess I wanted to try something other than custom games for once. I used to spend all of my time on any infection game that I could join, even if I didn't know anyone in the party. I'd already had some screenshot experience in the Blue Room on Snowbound, but I never really got into it, so I decided to try out different things. I love drawing and anything that has to do with art, and I also loved dragons; so I tried mixing both of those together with my Halo obsession. This resulted in my series of dragon heads and a few full body shots.
And those creations are beautiful, so thanks for the eye-candy! How much influence did your brother have in your Halo 3 Art?
Ah, Dustin.
[Editor's note: "Dustin" is Dusty Boy T's name in real life. -jdars]
He definitely did have much to do with my success in forge art. Heheheh. It's certainly a good thing we get along better than other siblings usually do. When I was making my first dragon, I managed to drag him (by the ear, of course) in front of the television to show him my work. I did this a few times as I progressed through it; asking him if I should 'add that fuel rod cannon for extra effects' or 'turn that gravity hammer so it faces the other way'. He, being as 'artistic' as usual, would simply nod his head or mumble his agreement. Then off to the computer room he went (to further stretch his fame in forums and such). He's been a great help, however, in making me somewhat well-known as well. He puts my screenshots up on forums so that people can talk about them, and it really pleases me to see what people think of my work. I've also been influenced by some of his work. He's mentioned a few times how he catches me walking by the couch (to retrieve a Mountain Dew or whatever) and then makes me blow something up with the rocket launcher. This also pleases me. After seeing what the screenshot looks like once he's finished fiddling with the view angle for hours on end, I am baffled by what had been a simple explosion done on my part. This inspires me to make screenshots as well as he does, but in my own fire-breathing way.
That brother of yours sure is an awesome guy! Are you still actively taking screenshots?
I've certainly slowed on my production of screenshots lately, but I am still producing them frequently. I've not had nearly as much free time as I used to, and the small amount of tiem that I do have is usually spent on the computer or drawing. However, I have started on a number of projects lately, including the guy 'Cats' from Zero Wing (the one who says 'All your base are belong to us') which was requested quite some time ago by Stupidfart9876. I only recently took note of his comment on my first forge art picture, and I've begun to put that one together. Apologies to him for taking so long.
I will continue to speed up my production of screenshots, and it will help if I get some requests. I must warn you, though; if I'm not too motivated to create the screenshot, it may take some time for me to finish it. I have a habit of leaving pictures half-done whether they are drawn on paper or made by weapons. At the moment I have hundreds of unfinished sketches in my sketchbook and on sheets of paper scattered around the house.
Well, let's hope all your requests will be finished and completed. Also, what's the basic process you use when creating a new project or idea?
I usually start by thinking, 'What would look really cool? I mean, really, really cool?' Of course, the answer is always, 'A dragon would look friggin' awesome!' After determining what I would like to forge, I try to think of all the different ways I sketch dragons; whether they have webbed spikes or ram-like horns, large, intimidating faces, or sleek, scheming expressions, totally ripped bodies, or a bony, ribcagey-sticky-outy structure. Once I've decided on something, I use assault rifles and battle rifles to plan it out, as they are average sized, and I can use many of each. Then I set up the rest of the weapons as fillers or detailers. Fun stuff, eh?
Eh, sure is! How long does it take to complete one forge project and photograph it?
Well generally, it doesn't take too long; maybe 10-30 minutes average. I usually try rushing the picture so that I can see the finished product, as I get impatient with the repetitive dropping of weapons. If I get interrupted in the beginning or middle of the process (kudos to Dustin for that), however, it can take weeks for me to finish. I start doodling my own little mangas or dragons, and end up completely forgetting about the picture. Either that or I just don't feel like trying to get our crappy 360 to work.
Ahh, Sanders and I empathize with you there :'( Where do most of your ideas for your different forge art projects come from?
As I said before, I usually start my forge art projects with an idea of a dragon. I used to be more of a dinosaur person until I was about 10, but now I've evolved. Dragons are soooo much cooler than dinosaurs. You know why I think that? They can look however you want them to! Isn't that exciting?
I have done requests in the past, though only very few. I've made 2 or 3 different emblems for my friends based on their gamertags (for some reason they all had to do with cats), and I've made specific orders, as well. I've never done (and will never do) art on scenery. Or mice. I can't draw mice properly. Damned little creatures; sometimes they have legs, sometimes they don't.
Maybe you could hook me up with a requested picture when we're done here? ;) Do you have a favorite screenshot, or a most known?
Well, the one most popular screenshot of mine would have to be "Dragon Head #2", as it has over 12,000 downloads, but my favourite is the one titled "Uhm...?". Sure, "Dragon Head #2" is great and all, but I love the full-bodiness of "Uhm...?". I also love the fact that it is floating weapon art, and not just another one of my 'floor of Foundry' pictures. I actually learned how to make my weapon art air-bourne from Predator5791's tutorial. Thankies for that.
One of many to use Pred's tut - how awesome is he? Being a girl gamer, what kinds of reactions do you get from the community and other Halo players?
Ah. The question I've been waiting for. I've had more than my fair share of comments; especially about my gamertag. The most frequently appearing one would have to be 'Heeeeey, Meatball, do you want to see my meatballs of doom?' Some find it very amusing, but after hearing it numerous times throughout Matchmaking and from friends of my friends, it becomes very old, very fast. I still have to release a chuckle every now and then, just because I know they are thinking, 'Oh, man, I am SO clever.' Yes, my friend; very clever indeed. People don't always respond to my gender in a rude way, though. I've met tons of great people, both male and female gamers, and some of them are now really good friends of mine.
I think it's pretty safe to assume that I'm one your good friends. ;) Are you a talented artist in real life?
I don't usually like to speak highly of myself (which could be somewhat hard to believe at times), but yes, I am talented in art. I started doodling at an early age, as lots of kids do, but I kept my drawings to the paper, not the wall. I continued drawing and expanding my talent, and in doing so, I won a few awards in Elementary school. I now go to a Fine Arts school along with other artists and gifted peoples (gifted in a good way). I draw dragons a lot, but I also enjoy drawing people. I've made some short mangas about my friends and I guarantee that nearly all the pages in all of my books have at least 3 doodles on them. It's pretty crazy. x)
Kudos to you for all your accomplishments. And what better way to commend yourself than here? ;) Would you like to add anything about yourself?
Eh... I'm not sure that anyone is dying to learn any of this, but I suppose it still counts as an answer... For one, most people know me as Meatball, since it's two syllables shorter than the whole gamertag, and that makes it soooo much easier to say.. unless they're reading it for the first time and are totally astonished at its brilliance. Hahaha. Just kidding. Some people hate it, for whatever reason. Psht. A short story of my gamertag's origin: I tried Swedish Meatballs for the first time, I loved them, I included them in everything I did, I decided to get Xbox Live, I decided to include them in my gamertag. Dustin was the one who came up with the 'O Doom' part. My real name is Shaila, and no; it is not pronounced SHY-la or SHE-la. It's pronounced SHAY-la. I play piano and have achieved grade 8 royal conservatory for it, I adore drawing(durr), sometimes I wheeze when I laugh, I can't be bothered to play sports, and I watch anime. Sadly, I haven't seen Sailor Moon. Oh, the tragedy! Haha, and one of my friends introduced me to the term 'taco-bagging' - a female form of tea-bagging. Hahahahaha. I do that all the time. Woot. ;3
Also, though I am a fan of elites(they're much closer to dragons than spartans are; believe me), I almost always hate seeing an elite on the opposing team during matchmaking. I don't mind if they're on my team, but I target them if they aren't. :\
Would you like to make any shout-outs?
Fo shizzle. Notice how I mimicked my brother's introductory sentence to this question? Haha. Anyway. Also resembling his answer, I'd like to make a shout-out to my cat Pumpkin. I too had some great memories with you, my enormous tub of fluff and lard; though you did rip apart my thigh numerous times, lick my face whilst I attempted to get those perfect no-scopes, meow constantly as I tried to speak to my pals, and knock the wind out of me by jumping on my stomach.
Pumpkin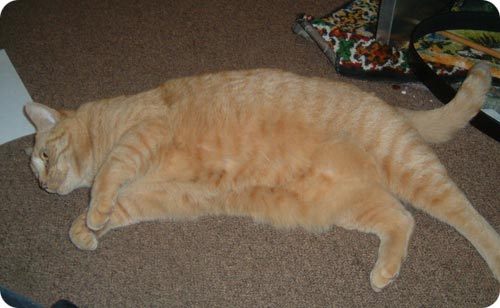 (Pumpkin is not a lie!)
I'd like to make a shout-out to my brother as well, 'cause he was the one who always poked and prodded me to finish my projects.... ooh, and kudos to my friend Hybrid Reloaded (nicknamed Monsieur Hybrid by me); I've endured minutes and minutes of entertainment by sending sophisticated messages to him. Much appreciated, Monsieur. May you forever have luck in roaming through the land of Kitchen in search of the Great Snack Cupboard. Thanks to the community for support (eeeeeeeeeeeeverybody has to say that), and all of my friends on Live, I've had so many good times with all of you. I'd like to mention some, but I'm pretty sure that it wouldn't be appropriate for any younger readers. Heh heh heh. x)
That tub of lard you have as a cat sounds like a real inspiration; after all, it has been the foundation and instigator to several great works of art. I wish I could say the same for me. ;) But I do have a few shout-outs to give to a few people. I'd really like to thank the Webteam on Bungie.net for the new Beta Bungie.net feature, Render-to-Video. It will definitely be an invaluable addition for me and to the site. And, as always, I'd like to make a shout-out to my compatriots in my team and workshop crew, Team Pepto. Thanks guys. Jdars out.
Want to make a suggestion or comment on the interview?
Swing by I <3 Halo Screenshots and have your say!
Gallery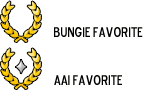 Dragon Head #2

Dragon Head #3

Dragon Head #4

Dragon Star

Forge

Forge 001

Forge 008

Forge 010

New Dragon Head

Uhm...