The Fall of a Warrior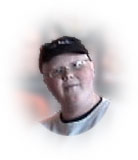 Brian Andrew Morden, a.k.a. *Ar-Isildur to his world-wide Internet friends, 2809 Columbia Dr., Altoona, died early Saturday morning, February 15th at his home after a more than 2 year battle with Ewing's Sarcoma, a bone cancer.
He was born at Altoona Hospital on January 10th, 1984, son of Fred and Dawn (Suckling) Morden.
Brian graduated from Altoona Area High School in June 2002 and received the Verneda A. and Leo J. Wachter, Sr. Foundation Academic Scholarship for outstanding achievements and dedication to family, church, country, education, and enterprise. He was accepted at Penn State University where he hoped to major in film and video. While in high school Brian loved playing his trumpet as a member of the marching, concert, and jazz bands as well as the orchestra and pit orchestra. He also enjoyed playing his trumpet at area churches including First Evangelical Lutheran, Altoona, of which he was a member.
Brian loved working with computers and was an avid online gamer and forum participant. During his "Make-a-Wish" trip to the Bungie company in Redmond, Washington, he contributed voiceovers in the production of HALO, X-box's 2001 Game of the Year. Brian also loved Italian food, loved to cook and was a fanatic Tolkien fan since he was in elementary school.
Brian is survived by his parents Fred and Dawn, his 15-year-old brother Jamin, grandparents Bob and Mary Lou Suckling, many loving aunts, uncles, cousins, numerous friends, and Ali, his four-legged nurse.
Brian is preceded in death by his paternal grandparents, H.C. "Pete" and Bernice Morden.
A memorial service for Brian will be held at First Evangelical Lutheran Church, 1401 12th Ave., Altoona, PA, on Saturday, February 22, 2003, at 5 PM by the Reverends Fred Romig and Jaime Olson.
In lieu of flowers, the family respectfully suggests donations to the Brian Morden Memorial Fund that will provide funding for a "Brian Morden" higher education scholarship, funding for Ewing's Sarcoma research, and contributions to patient care at Children's Hospital 8 North where Brian was lovingly cared for during his battle with cancer. Contributions may be mailed to

Altoona Area Employees Federal Credit Union
908 Pleasant Valley Blvd
Altoona, PA 16602
(814) 942-5431


Make checks payable to Brian Morden, and note that it's for his memorial fund.

Alternatively, you can use PayPal to send money; a linked email address has been set up for him, at

brianmordenfund@bungie.org

This is deposited into the same account.

For ease of use, simply click the 'Donate' button below.


The impetus for this fund came from the Bungie community, not the Morden family. Setup was done by me (Claude Errera, otherwise known as Louis Wu) - as with all bungie.org ventures, there is no profit motive at all. We're simply doing what we can to show our support.
Bungie Sightings has compiled a number of relevant links about Brian, his life, and his contributions to the Bungie community - you'll find them in the right navbar of the site. Particularly poignant is poena.dare's Tribute to Brian.