HALO: THE MOVIE
SCREENPLAY WRITTEN BY
Kellen Squire
OPENING CREDITS ROLL OVER COMPLETE BLACKNESS. IN THE BACKGROUND, THOUGH, WE CAN HEAR NOISES - SHIPS TALKING TO EACH OTHER (OVER SOFT HALO-ESQUE MUSIC- A GREGORIAN CHANT? LIKE IN THE HALO OPENING THEME?)
VOICE 1
Uhh, this is the UNSC Authority... we're picking up something strange on our sensors...
VOICE 2
Roger that, Authority, please keep us-
VOICE 1
Oh my God! It's the Covenant! Hundreds- STATIC.
VOICE 2
Authority? Authority, are you there?
VOICE 3
This is Captain Jodrell onboard the UNSC Sally Ride! Covenant! Covenant everywhere! Reach is under attack!
VOICE 4
Attention, all United Nations forces- this is Admiral Roland Freemont. Reach has come under attack by Covenant forces. Proceed at best speed to rally point Zulu. All ships must inact the Cole Protocol immediately. I repeat-
VOICE 5
(Young) Enact the Cole Protocol? We won't be able to find Earth again!
FOR THE NEXT MINUTE OR TWO, AS THE OPENING CREDITS ROLL, WE CAN HEAR THE RADIO SIGNALS FROM A PTICHED BATTLE. DURING THE BATTLE, WE COME TO UNDERSTAND THAT THE PLANET BEING ATTACKED IS CALLED "REACH". WE HEAR FROM THE COVENANT ONCE DURING THIS TIME, THEIR STANDARD "YOUR DESTRUCTION IS THE WILL OF THE GODS" SPEECH, WHICH IS IMMEDIATELY HECKLED AT BY UNSC FORCES. BEFORE LONG, REACH HAS FALLEN. ALL UNSC SHIPS ARE ORDERED TO FALL BACK. WE CLOSE THIS INTERLUDE WITH...
VOICE 6
This is Captain Jacob Keyes of the UNSC Pillar of Autumn- we're falling back. Generating random jump vector- we won't lead them back to Earth.
CREDITS END. BLACKNESS REMAINS FOR A FEW SECONDS MORE.
SCREEN FADES BACK INTO COLOR. SHOWS OUTER SPACE- SCREEN IS FILLED WITH STARS. MUSIC OPENS, THE SAME AS IN THE OPENING CINEMATIC OF THE GAME.
CAPTAIN KEYES' VOICE
Cortana, all I want to know is-
CORTANA's VOICE
Did we lose them? I think we both know the answer to that.
THE STARFIELD BLURS, AND A LARGE SHIP ENTERS THE CAMERA FRAME, OUTLINED BY A GAS GIANT- THRESHOLD. IT IS THE "Pillar of Autumn", WHICH WE CAN SEE STENCILED ON THE SIDE.
THE SHIP CRUISES THROUGH THE FRAME FOR A FEW SECONDS, BEFORE WE CUT TO THE BRIDGE. THE BRIDGE IS A VERY HIGH-TECH AND BUSY PLACE- TECHNICIANS RUN ABOUT, CREW MEMBERS ARE MANNING HOLOGRAPHIC DISPLAY CONSOLES, TWO GUNNER'S MATES ARE MANNING THE MAC GUN TURRET.
CHARACTERS

- CAPTAIN JACOB KEYES
- CORTANA
- BRIDGE CREWMEMBERS (10-17, MALE AND FEMALE)
- MAC GUN OPERATORS (2)
- MARINE GUARD? (2-3)

NOTES:

- MAKE SURE PEOPLE ARE AWARE OF THEIR BLOCKING- WE DON'T WANT THEM TO ACCIDENTLY HAVE THEIR FINGERS POP THROUGH THE SPACE WHERE THEIR DISPLAYS WILL BE, IF WE DECIDE TO DO HOLOGRAPHIC DISPLAYS
-MAKE THE CREW HAVE SOME SORT OF WEARY TENSION- 30 YEARS OF WAR IS A LONG TIME, AND REACH HAS JUST BEEN DESTROYED- THEY SHOULD BE ANTSY, BUT MAINTAINING THEIR PROFESSIONAL MANNER
BLOCKING-
BRIDGE IS IN A RECTANGULAR SHAPE. THERE IS A CORRIDOR RUNNING THROUGH THE MIDDLE OF IT, CONTAINING A CORRIDOR RUNNING THROUGH THE MIDDLE OF IT.
BRIDGE- APPROXIMATELY FIFTY TO SIXTY FEET LONG, AND THIRTY OR SO WIDE. SHAPED THUSLY: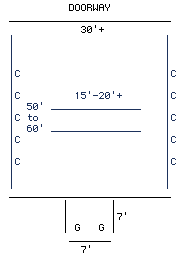 C= COMMAND CONSOLE, WHERE CREW SIT TO WORK ON WHATEVER THEIR STATION DOES. HOLOGRAPHIC DISPLAYS?
G= GUN CREW
AI= CORTANA
K= KEYES
ROOM IS APPROXIMATELY 10 TO 12 FEET HIGH AS WELL.
THE CAMERA FINALLY CENTERS ON A MAN WITH HIS BACK TO THE CAMERA. HE APPEARS TO BE IN HIS FIFTIES, WITH GRAY HAIR, BUT IN GOOD SHAPE. HE TURNS TO TALK TO SOMEONE BEHIND THE CAMERA. HE IS CAPTAIN JACOB KEYES.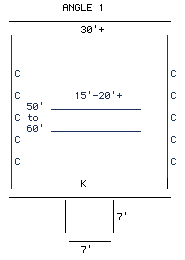 CAPTAIN KEYES
We made a blind jump... how did they-
CAMERA ANGLE WHIRLS. WE SEE CORTANA, IN HER SHIMMERING OPPULENCE, PROJECTED FROM A HOLOPROJECTOR IN FRONT OF CAPTAIN KEYES. BEHIND HER, WE CAN SEE INTO THE DEPTH OF SPACE.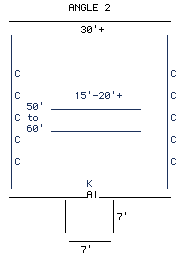 CORTANA
Get here before us? Captain Keyes, the Covenant have always been faster than us. And as for tracking us all the way from Reach, at lightspeed, my maneuvering options were limited.
CAPTAIN KEYES PACES THE BRIDGE FOR A MOMENT. HE WALKS UP BEHIND A CREWMAN WHO IS LOOKING AT A HOLOGRAPHIC DISPLAY OF SOME SORT, LOOKING OVER THE CREWMAN'S SHOULDER.
CAPTAIN KEYES
We were running dark, yes?
CORTANA
Yes, sir, until we decellerated. *No one* could have missed the hole we tore in subspace.
CAPTAIN KEYES SIGHS, AND STANDS UP. HE BEGINS TO PACE THE BRIDGE.
CORTANA
The Covenant are on the far side of the planet, sir. They were waiting for us. There was nothing you could do.
CAPTAIN KEYES WAVES A HAND IN A DISMISSAL GESTURE.
CAPTAIN KEYES
Where do we stand?
CORTANA
Our fighters are mopping up their recon picket right now.
CAPTAIN KEYES NODS. CORTANA CONTINUES.
CORTANA
But I've isolated approach signatures from multiple CCS-class battlegroups... make it... three or four capital ships per group. And in about, oh, ninety seconds they'll be all over us.
CAPTAIN KEYES SIGHS LOUDLY.
CAPTAIN KEYES
Well, that's it, then. Bring the ship back up to Combat Alert Alpha. I want everyone at their stations.
CORTANA
Aye, aye, sir... everyone?
CAPTAIN KEYES
Everyone. Oh- and Cortana?
CORTANA
Hmmm?
CAPTAIN KEYES
Let's give our old friends a warm welcome.
CORTANA SMILES APPROVINGLY.
CORTANA
I've already begun.
CAMERA PANS OUT OF BRIDGE, TO OUTLINE THE PILLAR OF AUTUMN AGAINST THE STARS. THE CAMERA THEN SHIFTS ANGLES UPWARD, UNTIL WE SEE... A GIANT, INTERGALATIC HULA HOOP.
AT THIS POINT, THE SCENE SUDDENLY SHIFTS TO A PYSCHADELICALLY-COLORED ROOM. THE SONG "NO RAIN" BY BLIND MELON SUDDENLY BEGINS TO PLAY. GIVE THE SONG A FEW SECONDS TO LEAD IN, AND THE MASTER CHIEF AND AN ELITE COMMANDER DANCE- NO, MAKE THAT PRANCE... SKIP, EVEN... INTO THE ROOM, AND BEGIN TO DANCE WITH EACH OTHER.
MASTER CHIEF
(singing) All I can say is that my life is pretty plain I like watching the puddles gather, rain
ELITE COMMANDER
(singing) Rrrr rrwow grrr rerrrr rreerrrr rrrrwwow Grrrrrreeaarrreerrrrrwow
(translation- And all I can do is just pour some tea for two And speak my point of view, but it's not sane)
MASTER CHIEF AND ELITE COMMANDER
It's not sane... (Rrrrraaaoww)
THE SCREEN GOES BLACK WITH A GIANT RECORD-CUTOFF NOISE. BEFORE LONG, THE FOLLOWING FLASHES ONTO THE SCREEN:
ERROR 932.2- WRITER EXPERIENCING ACID TRIP. ABORT, RETRY, FAIL, LOOK AT THE SWIRELY COLORS?