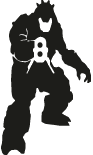 Halo2 XBox tip details
Shoot rockets over the hill

When you have locked onto an enemy in a warthog, ghost etc. If they go over a hill, mountain etc, just aim your rocket to the sky and fire. The rocket will arch into the sky and follow the enemy over the hill, mountain etc.