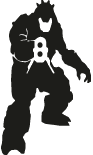 Halo2 XBox tip details
Rockets from the sky

When you are playing with only rockets, get in a high area and crouch. Do it right, and when someone comes down below, jump out and let him have it from the air. He can't respond unless he has godly reflexes and ace marksmanship. Easy kill.