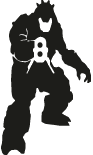 Halo2 XBox tip details
Ghost Busters (honeypot planting)

In a CTF or Assault game, get a sniper and take the ghost and land it over a bomb/flag point. Go hide, but have full view of the fuel tank. When an enemy approaches, if you can't take him out with a bullet, wait till he gets near and shoot the ghost.