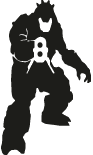 Halo Xbox tip details
Drop the ball and disarm an opponent [can backfire]

And in ball games where this is an actualy ball, you automatically pick it up. "Big deal" you say? What if you were to drop the ball while facing someone? >:) You just disarmed them for a moment. But keep your distance, they might do the same thing to you!