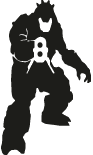 Halo Xbox tip details
Player yo-yo, part of the fun

Here's a coop tip for the Final Run in level 8.
On the side of the structure, there is a door. After using the rockets and snipers to down as many covenant as possible, you and your partner head to the door. One hides inside in the room, and the other goes out on a shooting spree. When he dies, he'll show up back at the room, and either you or him can go again.