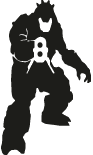 Halo Xbox tip details
Extra Time? [The Maw, Warning: Hitchhikers... ]

In the "Warning: Hitchhikers May Be Escaping Convicts" part, at the end, it always seems like you have about 5 seconds too few on Legendary. However, if you equip the Rocket Launcher, throw a Plasma Grenade at it, wait about 1.5 seconds and then shoot th e Rocket Launcher, then the Rocket should impact it, putting it on its front, and then the Plasma Grenade should blow it over the wall of barrels. Overall this trick saves around 10 seconds.