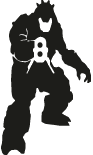 Halo Xbox tip details
Basic use of Marines

Any time you have Marines following you can be a great advantage. All you have to do is run where there are Covenant or Flood and then run back out. The Marines will finish them off so you don't have to risk your own life.