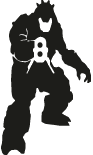 Halo Xbox tip details
Crouching while jumping makes you jump higher

Summary says it all. If you crouch while you're in the air, you can jump ontop of higher obstacles than if you didn't crouch. This makes it easier to get into some of the concrete tubes in AOTCR/TB or ontop of the various storage containers throughout the game.