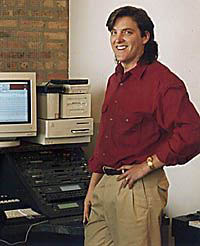 Marty O'Donnell
GamaGeek Summary:
This geek is a seasoned sound designer with a wide swath of influence in the industry, and another head-trauma success story.
Credits:
Riven Audio - Sound Design
Myth I Music/Audio
Myth II Music/Audio
Current Project:
Music/Audio for Septerra Core
Audio/Music Director: Oni
Music/Audio: Halo
Why I Got Into the Industry:
After 15 years of doing TV and radio commercials, I slipped on the ice, hit my head and started wanting to do game soundtracks...
Favorite Type of Game:
Adventure/RPG
Favorite Current Game:
Half-Life
Favorite Game of all Time:
Myst (don't flame me)
Favorite Geek Food:
Wisconsin sharp cheddar
Favorite Geek Beverage:
Black coffee
Favorite Non-Geek Activities:
Playing with my kids
Pet Peeve:
Having to deal with the business side of this industry.
Why I Joined Gamasutra:
I wanted to meet some other people with head injuries.
Favorite GamaSection:
People Search
Favorite GamaArticle:
"The Designer's Notebook: Simplification" by Ernest Adams. Good common sense reminder of why we all enjoy "games" in the first place. Sometimes our quest for simulating reality is futile.
Favorite GamaThread:
The Relationship with the Publisher: How to Handle the Master Without Becoming the Slave
Favorite Geeky Dream:
I dreamt that my music was played right in the middle of Steve Jobs's keynote address at MacWorld in New York.... Oh wait, that wasn't a dream!
Quote:
"...kill all the lawyers." -- Shakespeare